A blend of vegetables, dumplings and Indian spices; this Gujarati Undhiyu is a colorful and super tasty treat with roti or puri!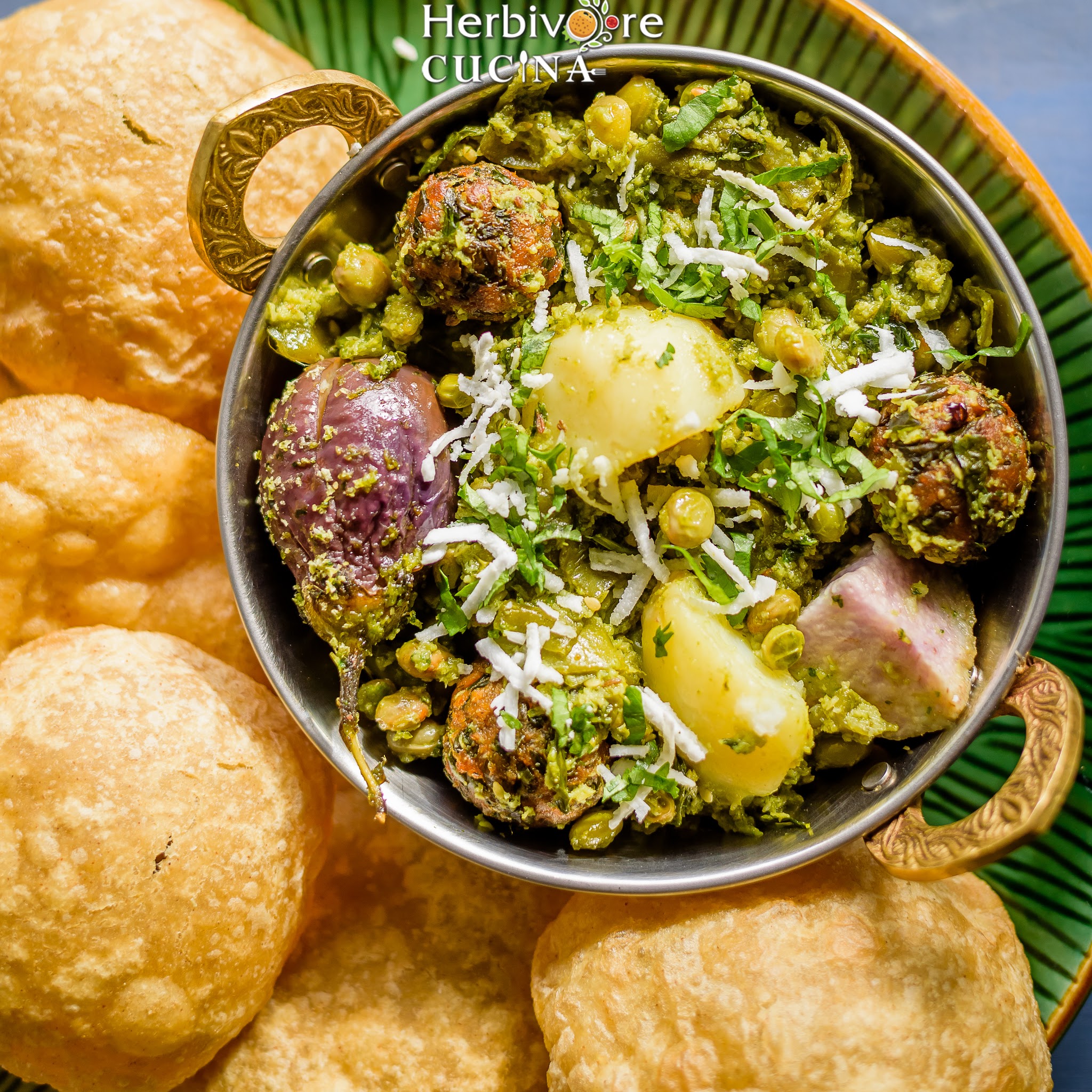 Undhiyu, a seasonal Gujarati specialty is generally made in the winter months. It is made in winter as the vegetables used in it are available in India only during winter.
Undhiyu was traditionally made in an upside down clay pot, mixing seasonal greens and vegetables with spices and flavorful garlic greens. That's where the dish derives it's name, overturned meaning Undhu/उन्धू /ઊંધું in Gujarati. Served with Puri and shrikhand, this dish is a sure find at all Gujarati weddings in the winter months!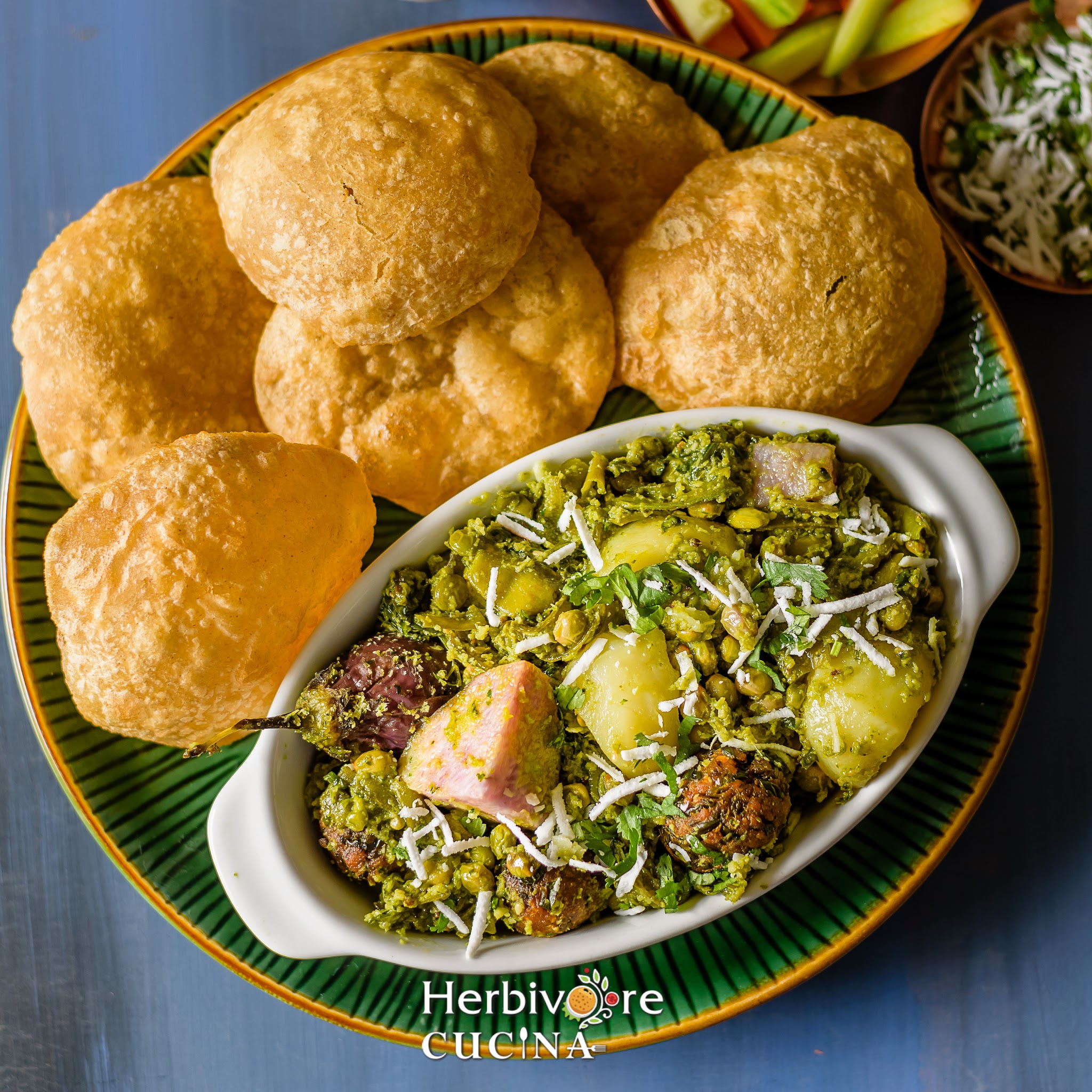 It generally takes a lot of time to make this and a ton of preparation too. While it is easy to consume it in families with a lot of people, we enjoy the dish for a couple of meals as it is difficult to make just a couple of bowls of this one! The ingredient list is pretty long, and even if you add just two pieces of everything; you will end up with a pan full of goodness!
I make this atleast a couple of times every winter; and every time I can find these vegetables in my local Indian store. Being a fan of this winter delicacy; I can have it anytime!


If you are in a region such that you cannot find all the ingredients; you can skip a couple of ingredients yet get amazing results. Plus, if you do not like any vegetables like yam or eggplants; skip them.
An easier option to pick up a packet of frozen Undhiyu mix from the store and make it at home. The packet has all the vegetables portioned and cut. A lot of Indian stores in the US carry these in the frozen aisles.
Traditionally made in a clay pot on fire, I make it in my pan. Depending on how you like to make it, you can choose the vessel. Just make sure it is big enough to fit in all the veggies.


Different regions of Gujarat make a slightly different version of the dish. Some fry all the vegetables before mixing it, some use a truckload of garlic and some skip the garlic all together. This version does not involve frying the vegetables but has a lot of garlic including green shoots.
The best way to make this is to prepare the vegetables the previous day. From removing seeds from Tuvar and lilva to removing leaves from the bunch of Methi; do it all the previous day. That will take a couple of hours if you are using everything fresh.
Inspite of all the prep, the Undhiyu and sides like Shrikhand and Puri take about 2-3 hours to prepare. Though it is time consuming, it is a great treat once done! Plus, it lasts a couple of meals, making all the effort justified. Here is a little secret; the Undhiyu tastes much better the next day, after the vegetables absorb the flavors of the masala!
So now, wait no further. Head straight to the recipe below and make it for lunch or dinner soon!


The recipe below consists of three parts: Methi Muthiya, preparing vegetables and greens and final assembly.
Methi Muthiya
Mix 1 cup of wheat flour with 1/4 cup of gram flour. Add 1/2 cup chopped methi (fenugreek leaves), few sprigs of chopped cilantro, 1/2 tsp. sugar, 1 tbsp. salt, 1/2 tsp. red chilli powder, 1/4 tsp. haldi powder, 1 tbsp. chilli garlic ginger paste, 1 tsp. sesame seeds, 1 tsp. carom seeds and a tsp. of oil. Mix everything well. Add 1 cup water slowly, and knead into a firm dough. make either round or log shaped muthiya and keep aside. These can either be deep fried and added to the undhiyu, or shallow fried to avoid excess oil.
Vegetables
The following vegetables are used in undhiyu:
Greens like Lilva Tuvar, Val Papdi and Surti Papdi 1/2 cup each (Frozen or fresh)

Baby potatoes-10, Purple Yam-1/2 cup, White Yam(ratalu)- 1/2 cup, Baby Eggplant-6, Sweet Potatoes-1/2 cup

Green masala prepared below

Shredded coconut-1 cup

Methi leaves finely chopped-1/4 cup
To make the green masala, add 1/2 cup green chillies, 1 inch ginger piece, 5-6 garlic cloves, a bunch of green garlic shoots along with the garlic, 2 cups cilantro, a pinch of salt, 1/2 tsp. carom seeds, 1/2 tsp. cumin seeds, 1 tsp. sugar in the blender. Add as little water as possible and make a thick green paste. Keep aside.
Next, take the baby potatoes, deskin them and slit them with a '+' shape on one side. Ensure it is not cut through the other side. Repeat for baby eggplants. Cut the remaining vegetables into cubes, about the same size as the potatoes and eggplant.
Mix the green masala with shredded coconut and use 1/4th of the masala to stuff the potatoes and eggplant.


Assembly
Heat 5 tbsp. oil in a big and deep pan. If the muthiya are to be shallow fried, use this oil to shallow fry and make the undhiya in the same oil. This gives the oil an extra flavor!
Once muthiya is crisp and golden brown on the outside, remove from the oil onto a kitchen towel. Add a tsp each of mustard seeds, cumin seeds, carom seeds, sesame seeds and a pinch of asafoetida in the oil.
Once the mustard seeds pop, add half of the remaining green masala and let it sizzle for a minute or two. Then add all the greens to the oil. Sprinkle little salt and sugar on them, to avoid discoloring.
Next layer the potatoes, yams and sweet potato. Put the remaining green masala on the top and finally add the eggplants and muthiya. Top the mixture with fenugreek leaves and some shredded coconut.
Make a mixture of 2 tsp salt, 1 tsp sugar and half cup water. Sprinkle the mixture on top of the undhiyu and cover it. Let it cook for 30-35 minutes till the vegetables are soft.
In order to serve, mix the undhiyu well, top with shredded coconut and cilantro and serve with puri or phulka. Also, to complete the meal, add shrikhand, salad and steamed rice.


Pin for Later