A wreath is an assortment of flowers, leaves, fruits, twigs or various materials that is constructed to resemble a ring. In English-speaking countries, wreaths are used typically as household ornaments, mainly as Christmas decoration. They are also used in ceremonial events in many cultures around the globe. Wreaths have much history and symbolism associated with them. They are usually made from evergreens and symbolize strength, as evergreens last even throughout the harshest winters. Bay laurel may also be used, and these wreaths are known as laurel wreath.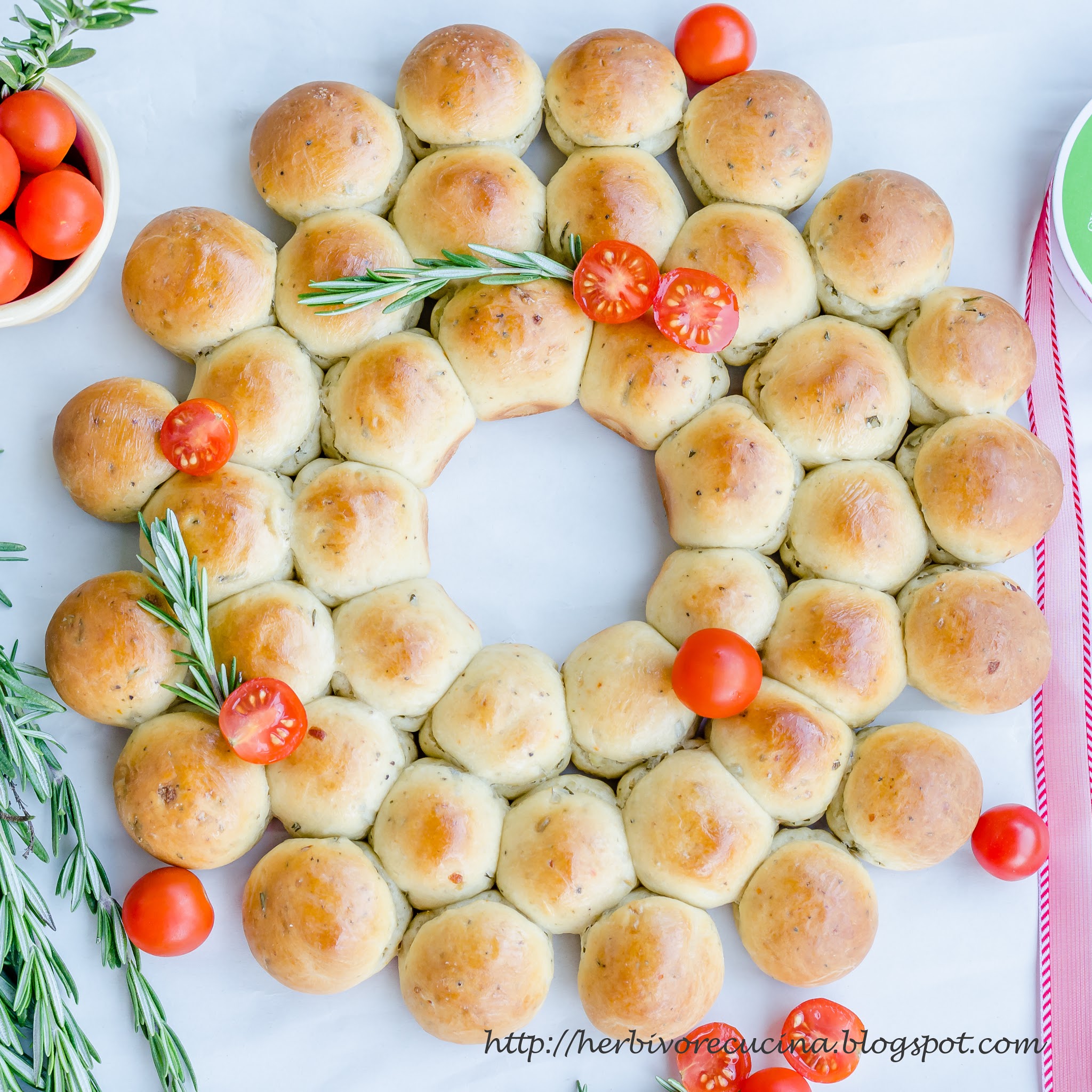 We had a Christmas Potlunch this weekend. The theme was Italian and we had an array of pastas and soups and garlic bread for lunch. The desserts were the best; brownie and tiramisu! We also played White Elephant and had a great time. For this event, I decided to make Rosemary and Garlic bread. To keep up with the traditions of Christmas, I shaped the buns like a wreath and brushed them with rosemary and garlic oil. The sight of the bread was indeed a treat to the eyes!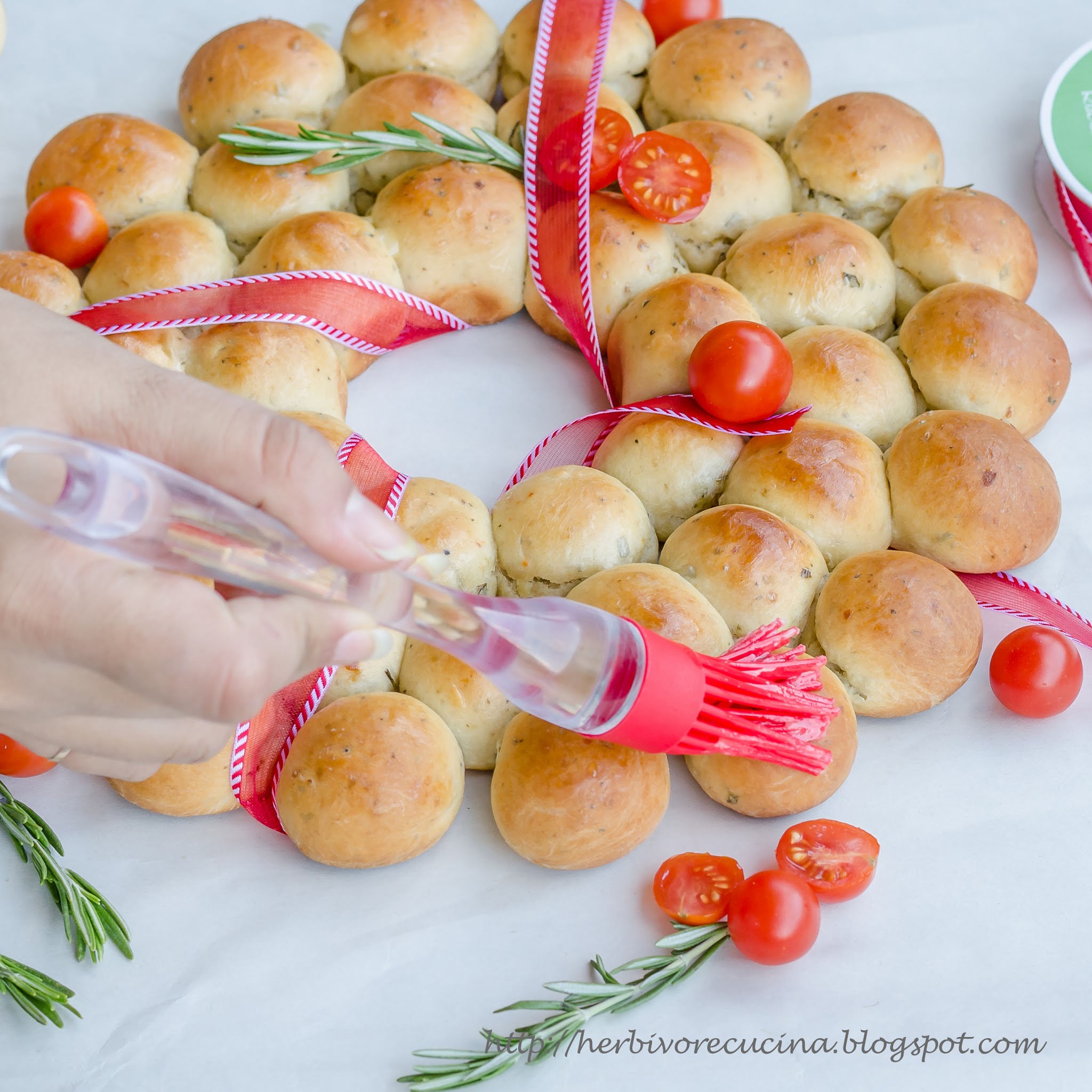 The recipe for this bread is on the same lines as the breads I have baked earlier, like these Rose shaped buns, Garlic Braid and Subway Sandwiches. I added fresh minced rosemary along with garlic and garlic salt. These ingredients combined, gave a great flavor to the bread. So the next time you are hosting a Christmas lunch and looking for a centerpiece, try this rosemary bread. If you cannot lay your hands on fresh herb, add any dry herb of your choice.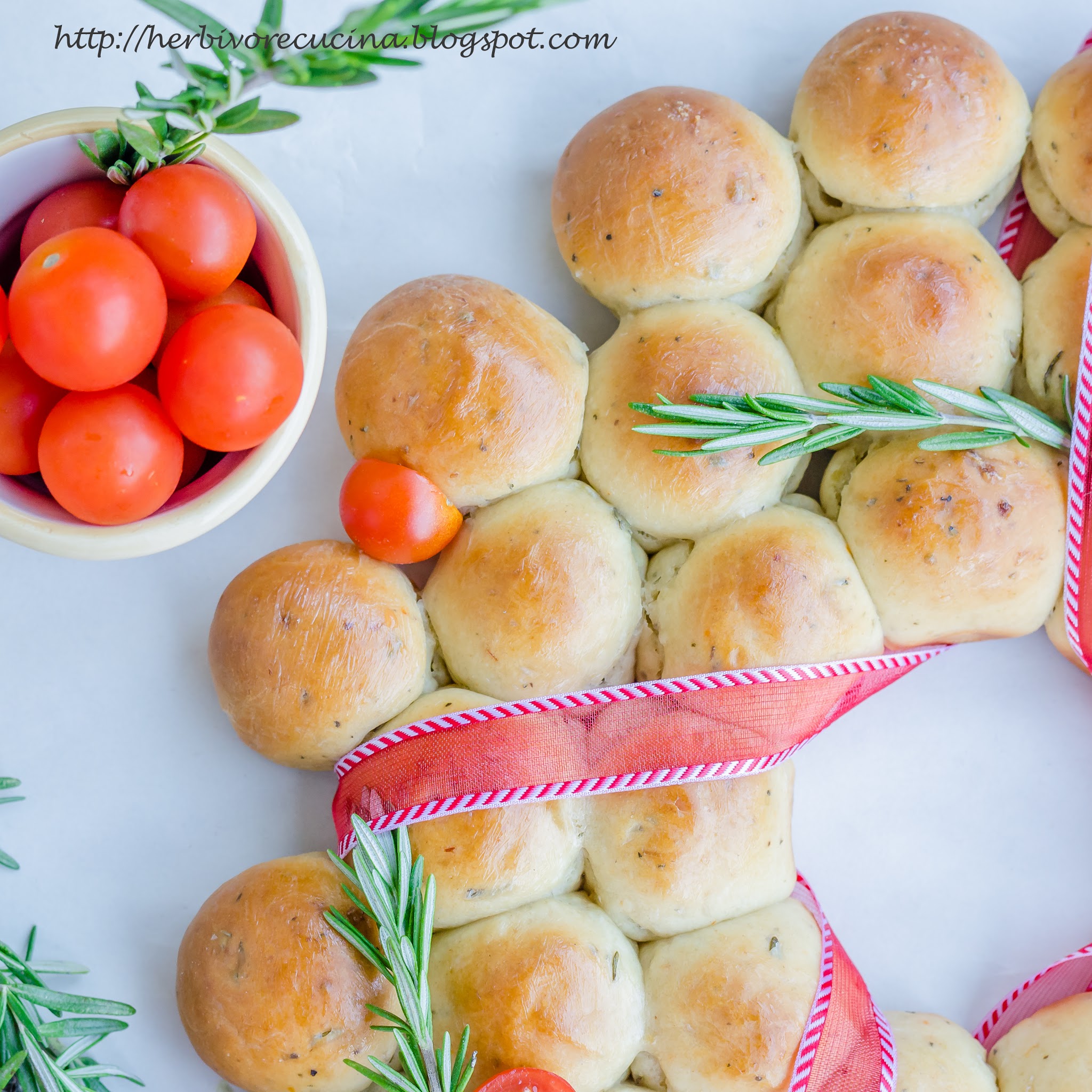 Ingredients
All Purpose Flour/Maida 3 cups
Rapid Rise Dry Yeast 1 sachet (2 ¼ tsp)
Unsalted Butter 3 tbsp
Warm Water 1 cup (100-110 F)
Garlic 3-4 cloves
Fresh Rosemary 2-3 stalks
Italian Seasoning mix 2 tsp
Salt 1 tsp
Garlic Salt 1 tsp
Sugar ½ tsp
Method
Peel and dice garlic cloves. Wash and finely chop the rosemary. Set aside. Heat 1 cup of water to 100-110 F. Add a sachet of yeast, sugar and 1 teaspoon salt. Let the mixture stand for ten minutes till it foams. Melt the unsalted butter in a bowl. In a large mixing bowl, take three cups of flour, garlic salt, italian seasoning, 3 tablespoon butter, garlic pieces, minced rosemary and the bloomed yeast. Mix it all together and form a dough. The dough may be sticky at first, knead it well till it converts to a soft dough. Apply some oil over the dough and place it in a large bowl, cover it with a moist cloth and let stand for 45 minutes to an hour.
After 45 minutes, the dough will be almost double it's size. Punch down the dough and knead it for 5 more minutes. Now, preheat the oven to 375 F/ 180 C. Grease a pizza pan with nonstick spray or butter. Divide the dough into pieces of equal size. Roll the individual pieces to balls, and place them in three concentric circles like a wreath. Leave about ½ inch between the balls. Let the balls rise again for 20-25 minutes. The balls will almost touch each other.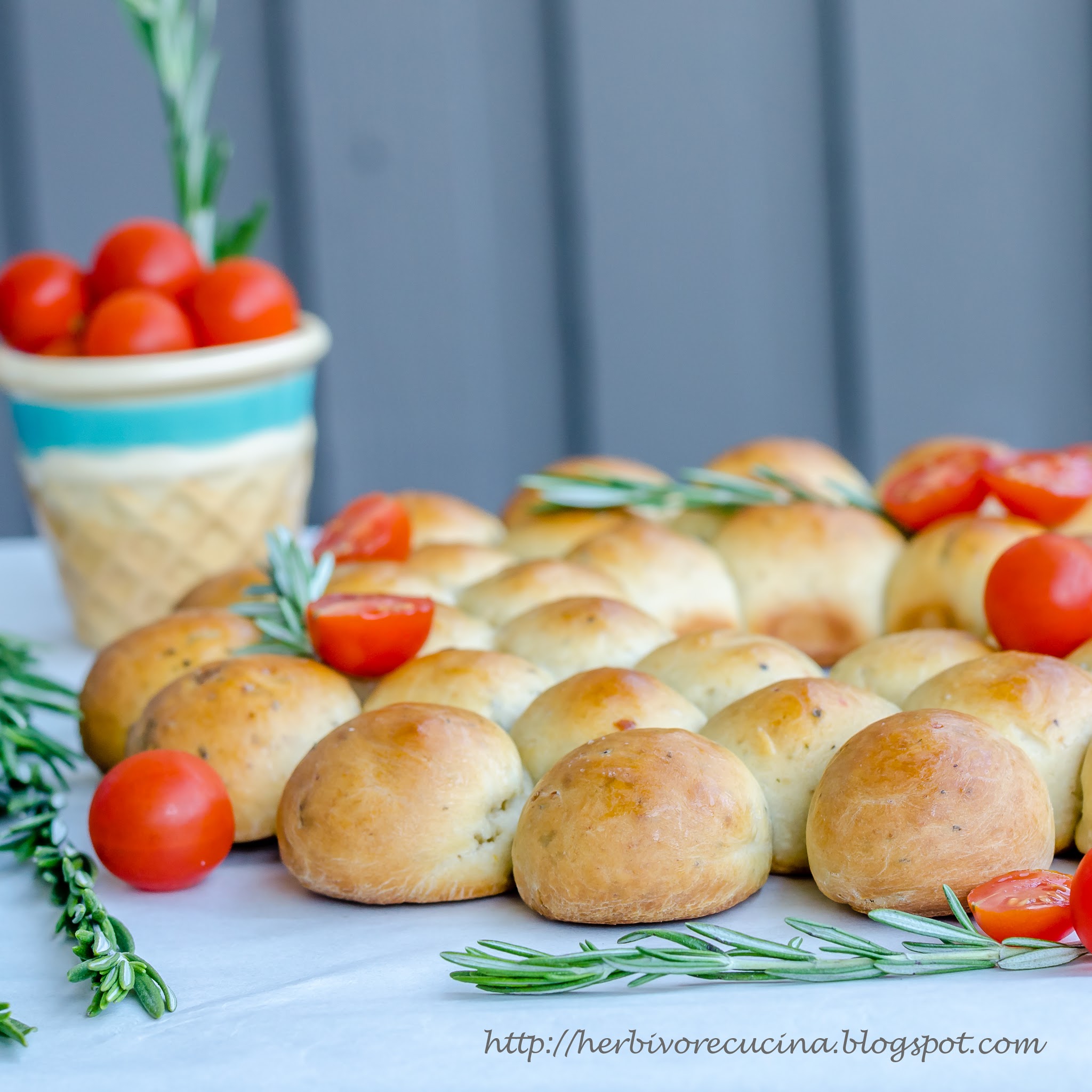 Bake the bread wreath for 10-12 minutes till the top is golden. Remove from oven and let them cool little in the pan. You may choose to apply little butter on top. Then, remove and cool them on a cooling rack. Top with some cherry tomato and rosemary. Serve them as an appetizer or as a snack with butter or herbed olive oil.