This shop has been compensated by Collective Bias, Inc. and its advertiser. All opinions are mine alone. #CampbellsShortcutMeals #CollectiveBias
Make this quick Vegetarian version of Enchiladas; stuffed with delicious quinoa based stuffing. You will fall in love with Mexican food all over again, I promise!
It is August already. We have only FIVE months to race to the end of this year! Can't believe how time flies and we are gearing up for back to school time again! And what better than shopping at Walmart for all things BTS? Looking for a convenient way to shop? Just hover the mouse on the photo below and click to buy directly on the Walmart page.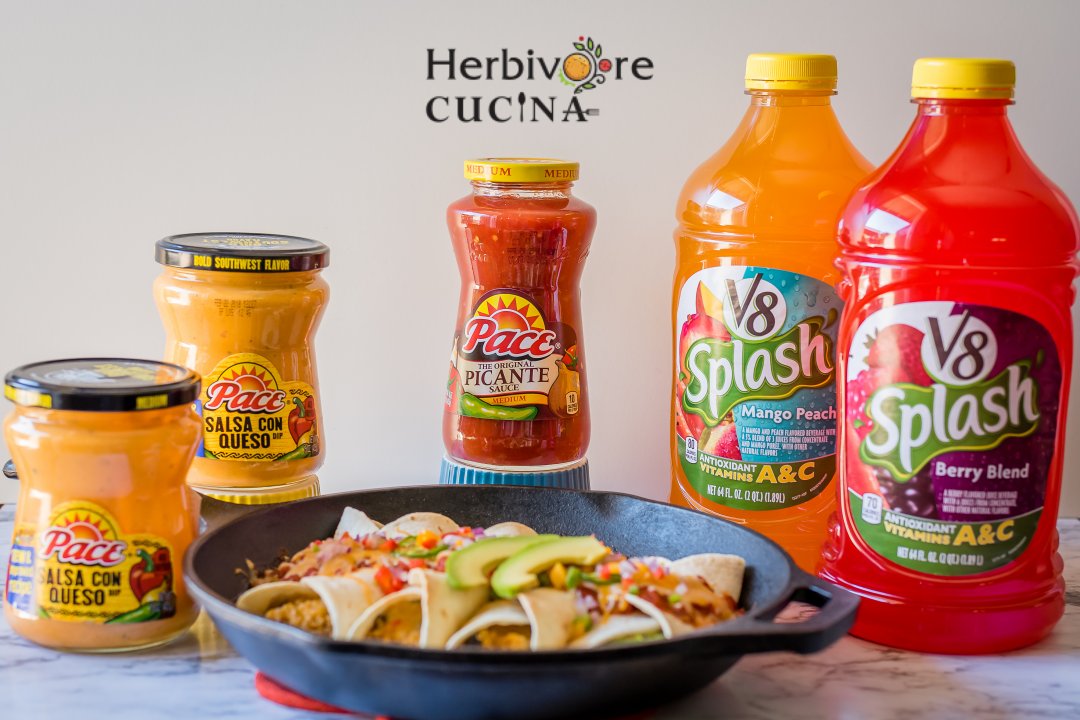 Recently, I was shopping at Walmart amidst parents and kids picking their favorite bags, accessories, dorm essentials and snacks. I was looking to make a few weeknight dinner ideas keeping up with the busy schedule once the school action begins.
That is when I found myself admiring everything on the Hispanic aisle. I was out of salsa and hoped to make something delicious using the sauces. So I picked up Pace® Picante Sauce Medium and Pace® Salsa Con Queso Dip. I totally love the versatility of the products and how they pair up with all things delicious.
From all the flavors that are available, I simply LOVE the Picante Sauces. They have genuine Southwest flavor, made with handpicked vegetables and guaranteed to add a kick to your snacking and cooking. This time I picked up the medium variety, simply admire how they come in so many textures and heat levels.
And yes, have you tried the Pace® Salsa Con Queso Dip? Oh boy, this one is perfect for all your corn chips, vegetable sticks, tortilla chips and what not! I could have this with ANYTHING except ice-cream! LOL! I tried a scoop with home-made flatbread and fell in love how it makes flatbreads so much tastier!
So with all these ingredients in my cart, I needed something that is fresh, tasty and full of nutrients. So I got a couple of V8 Splash® bottles. It is perfect in the heat that we are experiencing right now! Deliciously Fruity, Wonderfully Refreshing, these juices are packed with a good source of essential antioxidant vitamins A & C. I got the Mango Peach flavor and the Berry Blend. They are both delicious.
Still wondering what I made using all these ingredients? Here you go: I made the simplest and most delicious Enchiladas using all this and more. I wanted to make something different from the regular enchilada sauce, rice and beans stuffing. So I made a cheater version of the sauce and substituted rice with quinoa. The result? A really quick recipe that kids and adults LOVE!
Have you ever come back from work totally drained and still have no clue what you shall make for dinner? This recipe is tailor-made for you. Cook the quinoa in a pan and make the simplest enchilada sauce while it cooks.
Once that is done, convert the quinoa to a delicious filling and roll up the enchiladas with that, sauce and cheese. Bake in a pool of the tomato based sauce and enjoy! Really simple right?
Apart from being simple, this recipe has MANY more advantages. It has quinoa, a grain good for everyone, comes together really quickly and is made for school lunchbox! These can be made in bulk and frozen. To send it off to school, just remove the frozen enchilada and place in an oven for 5-6 minutes. Place that, few chips and Pace® Salsa Con Queso Dip for the kids. They will love it and it will make a perfect meal too.
I made just four of these the day I shot them. And trust me, it all came together in under 40 minutes! But I have also made this in bulk, about 12-14 enchiladas and it takes almost the same time. The only extra time required is to roll the rest of them.
Plus, kids LOVE this recipe as it has the queso dip and cheese. Moms are happy sneaking in quinoa and beans. Everyone loves enchiladas and a glass of Mango Peach drink. So overall, it shall definitely make a perfect weeknight for back to school days! And while you whip this up, don't forget to treat everyone with a bowl of salsa, queso and some chips on the side! Plus, check out this social hub for more ideas from Campbell Soup Company products!
Ingredients
Medium size Corn/ Flour Tortilla 4
Pace® Picante Sauce Medium ½ cup
Pace® Salsa Con Queso Dip ¼ cup
Tomato Puree ½ cup
Quinoa 1 cup cooked and cooled
Black beans ¾ cup, soaked overnight
Fresh/ Frozen Corn Kernels ½ cup
Avocado 1 sliced
Onion 1 medium, diced
Pepper 1 medium, diced
Garlic 2-3 pods, diced
Bay Leaf 1
Oil 2 tbsp
Taco seasoning 3 tsp
Salt ½ tsp
Mexican Shredded Cheese ½ cup
Spring onions and sliced jalapeno to top
V8 Splash® to serve
Method
Pressure cook the soaked black beans with ½ cup water, salt and bay leaf.
In a pan heat 1 tablespoon oil. Add the garlic and saute till soft. Then add 1 tablespoon onion and 1 tablespoon peppers, saute till soft.
Once cooked, add tomato puree, Pace® Picante Sauce Medium and about 1 tablespoon Pace® Salsa Con Queso Dip. Mix well and cook till the sauce thickens. Add 2 teaspoon Taco Seasoning, a pinch of salt and mix well. Turn down the heat and set aside.
In another pan add 1 tablespoon oil. Once hot add the remaining garlic, onion and peppers. Once cooked, add 2-3 tablespoon of the sauce made above, cooked black beans and corn kernels. Mix well and cook for 4-5 minutes, till it becomes dry.
Then add cooked quinoa and taco seasoning. Adjust salt if required. Mix and turn down the flame.
Place a tortilla and spread a tablespoon of enchilada sauce on it. Place a quarter of the quinoa bean mixture and sprinkle some cheese. Roll the tortilla and repeat for the remaining tortillas.
In an oven resistant tray or cast iron skillet spread some enchilada sauce. Place the rolled enchiladas and pour the remaining sauce on them. Sprinkle cheese and some taco seasoning.
Bake at 350 F/ 180 C for 12-15 minutes; till the sauce starts to bubble and the cheese melts. Remove and top with sliced jalapeno, onion, peppers and avocados.
Serve with Pace® Picante Sauce Medium, Pace® Salsa Con Queso Dip, sour cream and refried beans. Don't forget to serve your favorite brand of V8 Splash® with it!