It is day 2 of the Blogging Marathon and I continue with the Indian mithai theme. Today I wanted to post something unique yet traditional. I listed a lot of things ranging from Badam Puri to an array of Bengali sweets. But after lot of deliberation, I decided to make Sutarfeni. Yes, making fresh sutarfeni at home.
Sutarfeni is an Indian sweet, shredded, flaky rice-flour roasted in ghee (clarified butter), blended with melted sugar to form a cotton candy, and topped with finely chopped pistachio and almonds. The product is typically flavored with powdered cardamom. It may be white in color, scented with floral essences such as rose water or screwpine, or it may be colored and flavored with saffron.
Sutarfeni is one of the Indian analogues of the Turish pismaniye, which uses wheat flour instead of rice flour, and the Persian pashmak, which substitutes sesame paste for wheat flour. The choice of rice flour as the source of starch is not critical, and regular wheat flour may be substituted. Sohan papdi is similar except that it uses a mixture of chickpea flour and wheat flour as the starting material instead of rice flour. The threads of pismaniye, however, are considerably finer than those of sutarfeni, because the gluten in wheat flour allows the pastry strands to be thinner without falling apart . cardamom is added as a flavoring agent to get a typical Indian touch.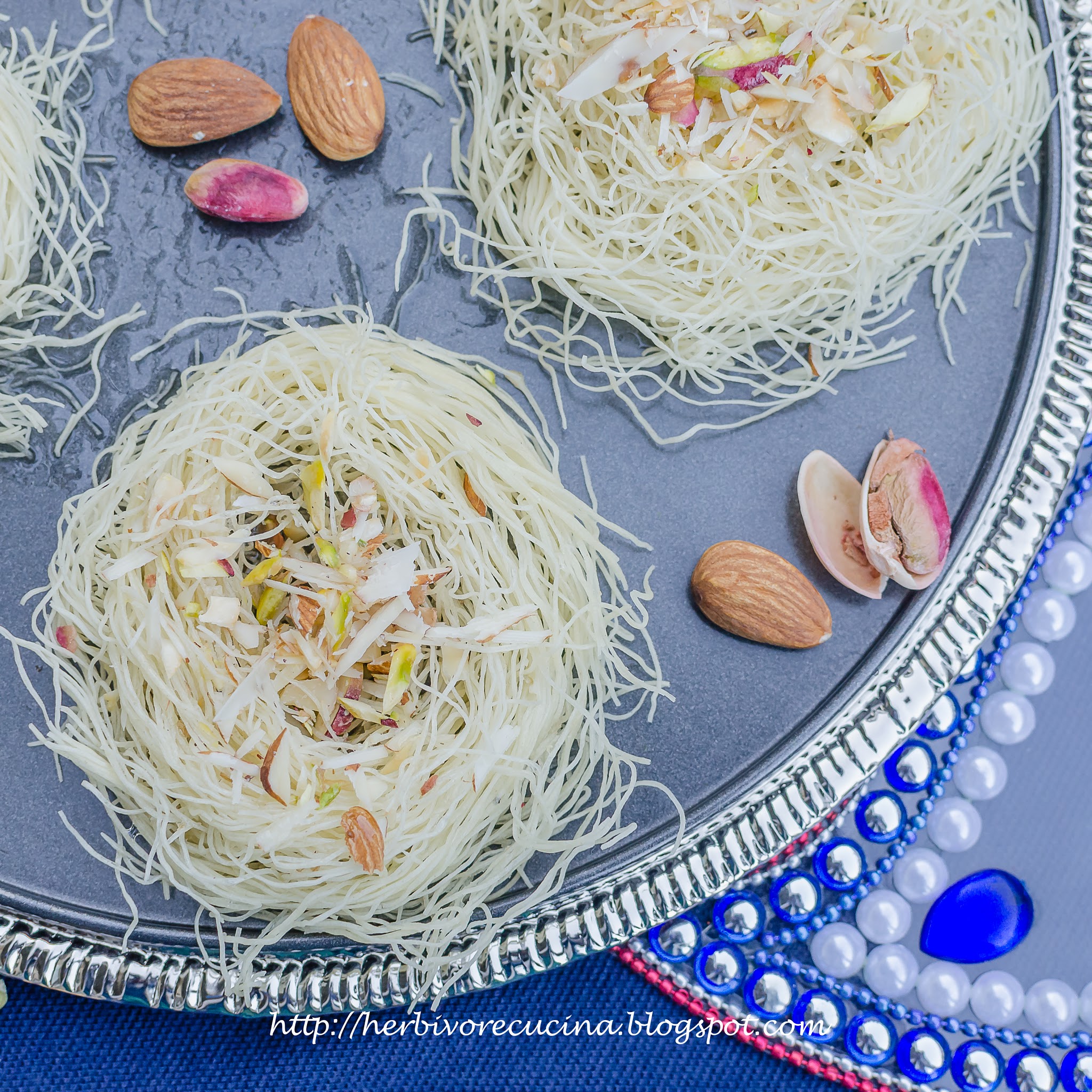 Without special equipment to melt the sugar/flour mixture and spin it into threads, making sutarfeni can be laborious and the recipe is unsuitable for preparation at home. The method involves 3-4 people standing around a large pan and pulling the pastry into a circle that is repeatedly folded upon itself. Alternative recipes start either with shredded filo pastry, which is fried in butter or shortening, or store-bought fried wheat vermicelli. That is exactly the way I made it, using kataifi (shredded filo dough). But I made a slightly healthy sutarfeni, by substituting frying by baking. The trick here is to gradually bake the strands of kataifi at a low temperature, to avoid changing the white color of the raw strands. The pastry is then combined with sugar syrup, which is then gradually absorbed by the sutarfeni, so that the final product is dry. Read on to find the simple recipe that takes less than an hour from start to finish!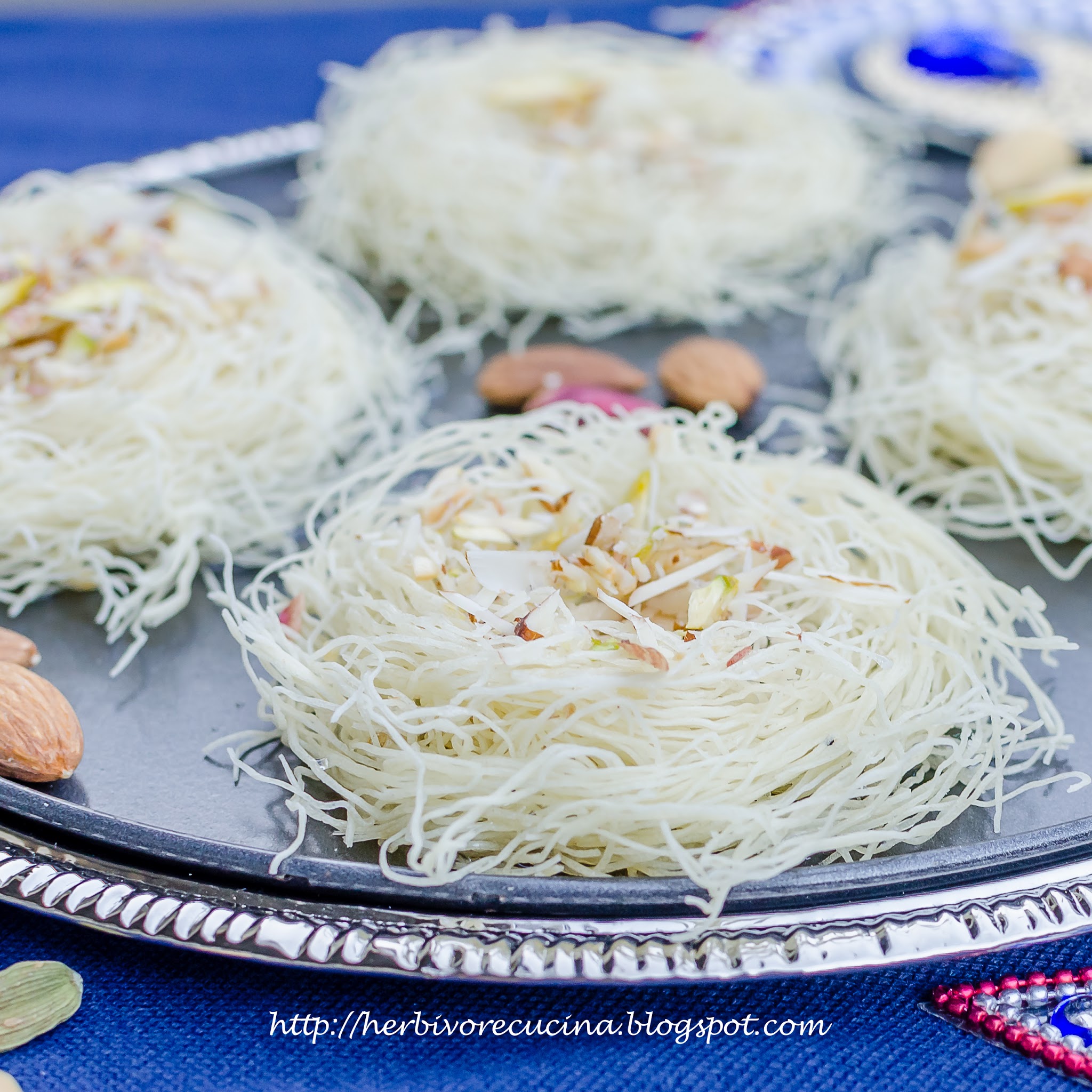 Ingredients
Kataifi 3 cups
Ghee/ clarified butter 2 tbsp
Sugar ½ cup
Water ¼ cup
Cardamom powder 1 tsp
Saffron ½ tsp
Almonds, Pistachios, Cashewnut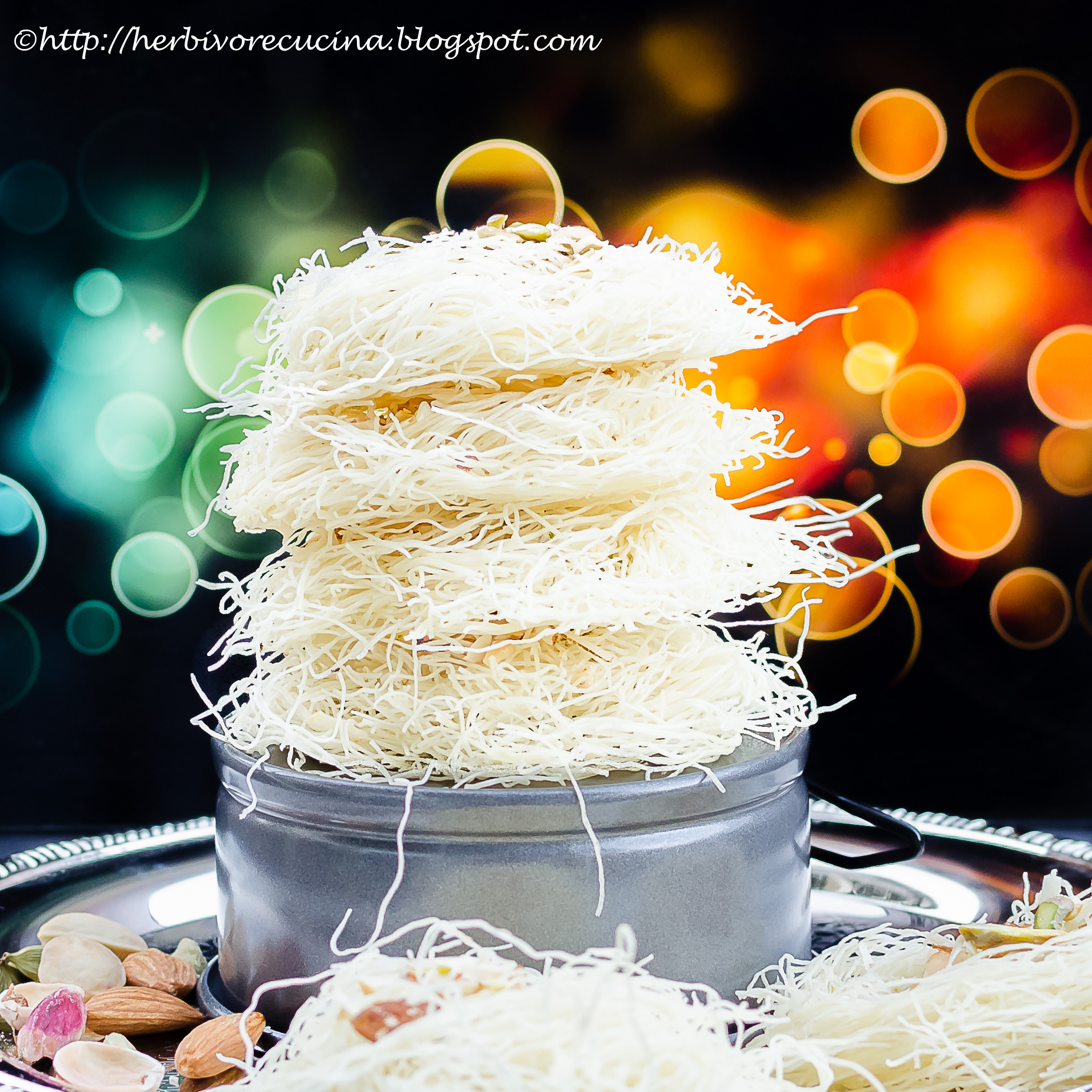 Method
Defrost the kataifi according to package instructions. I used Apollo brand and mine came with the instruction to keep it outside for a few hours. Once it is ready to use, preheat oven to 225 F/ 110 C. The low temperature ensures the sutarfeni do not burn. Line a cookie tray with parchment paper.
In a large plate or baking dish, combine the kataifi with molten ghee and mix it well. Then, divide the kataifi into equal size heaps. Transfer to the cookie sheet and press to form rounds. I made 9 medium size kataifi nests from 3 cups raw kataifi. Bake for 15 minutes, or till the kataifi becomes hard but does not change its color.
While the sutarfeni is baking, make the sugar syrup. For making it, combine sugar and water and bring to a boil on medium flame. Though the consistency is not important, make sure the sugar syrup is sticky. Add the cardamom powder and saffron. Mix well and let the syrup cool. Sliver the nuts and set aside.
Remove the sutarfeni once baked. Transfer to a wire rack and cool it. Once cool, pour 2-3 tablespoon of the sugar syrup on each round. While the sugar syrup is still on top, add the slivered nuts so that they stick. You can also add dried rose petals. Let the sugar syrup get absorbed completely. You can store the sutarfeni in an airtight container for upto a week. Make sure to interleave parchment paper between the layers of sutarfeni.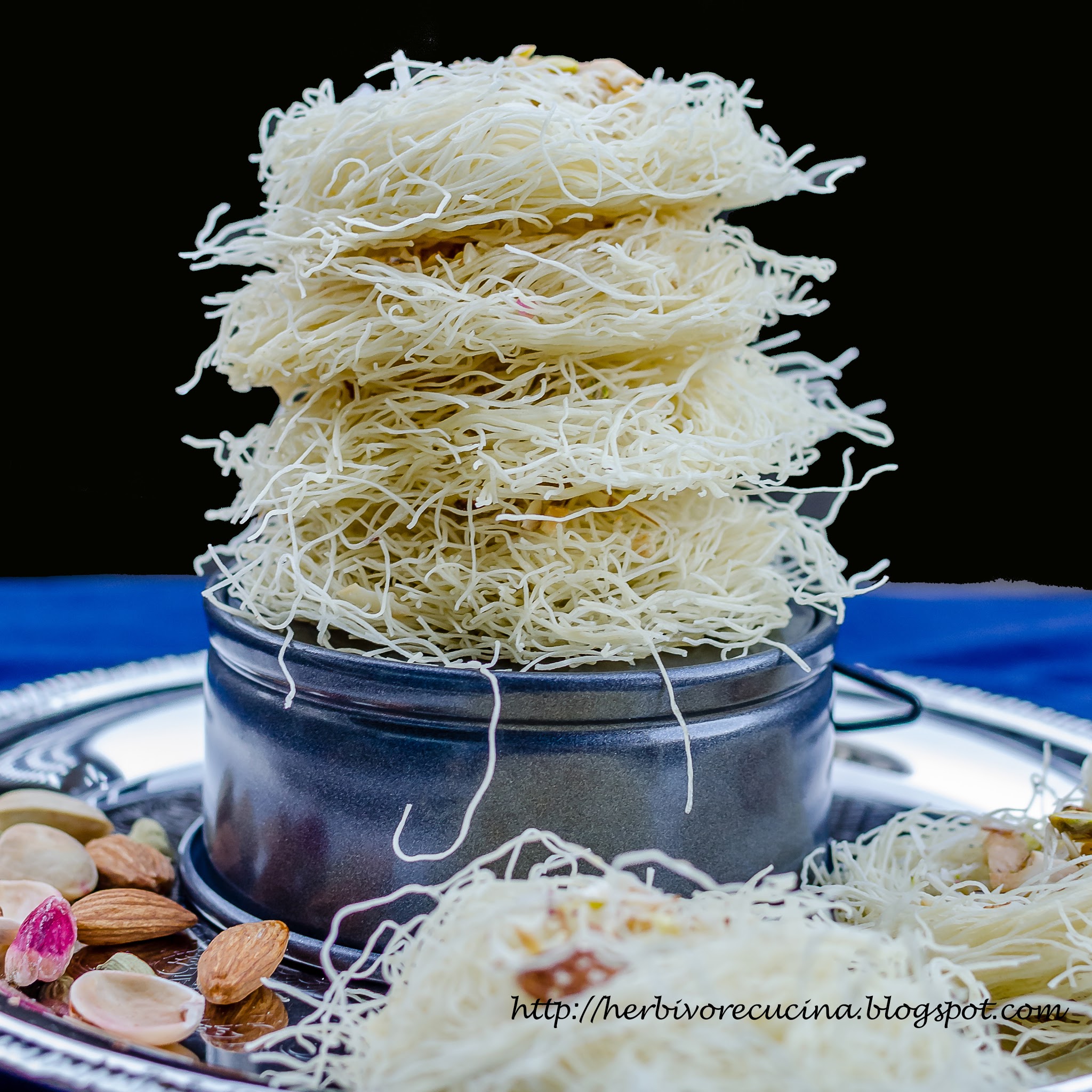 Check out the Blogging Marathon page for more recipes from other blogging marathoners doing this BM#61.