Dainty and delicate French cakes that are perfect with a cup of coffee or hot chocolate! And yes, these are not as difficult to make as they seem.
Desserts, the most celebrated and often the most awaited part of any dinner! And chocolate, it probably makes most desserts even more desirable. For the longest time I have tried to avoid making desserts but when every blog I know of is filled with goodies, it is difficult to avoid it for long.


It amuses me all of us try to read, make, eat and follow everything healthy in January. And as soon as February arrives, we forget all that and start loving desserts, red foods and perfect V-day ideas for our loved ones! So just like all of you, I also baked some goodies, which are coming on the blog in a day or two!
First up are these delicious and super cute Madeleine Cookies. When it comes to desserts, the French probably succeed in hitting the bull's eye each time! All their desserts are full of flavor and have a perfect balance of sugar, butter and cream. Among all the desserts, I LOVE these shell shaped cookies a lot.


Perfectly shaped, super flavorful and such cuties; these cookies are best served with coffee or hot chocolate. Because the combination of chocolate and madeleines is perfect, I decided to take the plain cakes and dip them in chocolate. To decorate them, I used some colored hearts. They became perfect for Valentine's Day!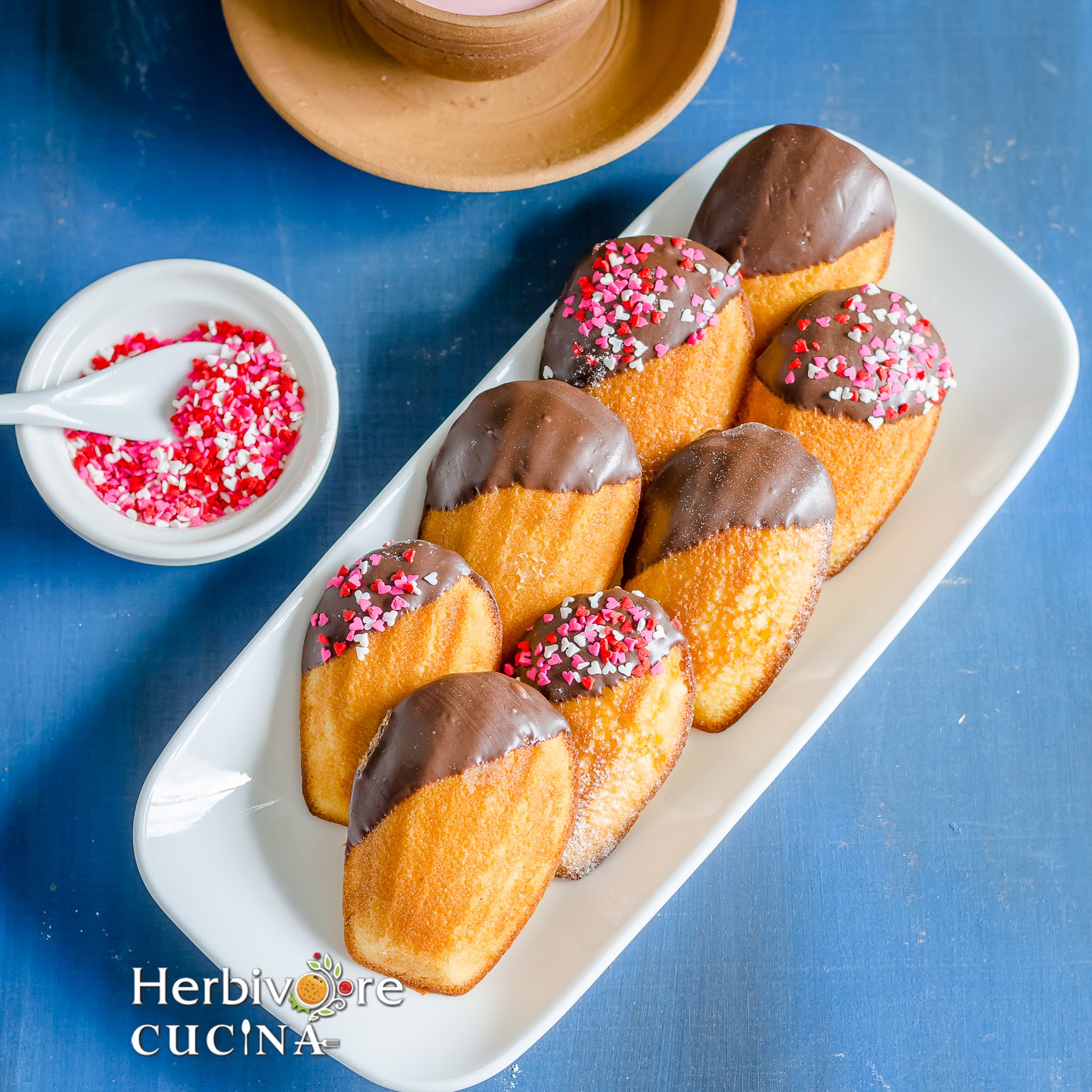 The day I made these, the house smelled SO good with all the baking, especially the flavor of the lemon zest. Until not long ago, I underestimated the power of the one teaspoon of zest. Now, after baking with it for a while, I totally love the flavor and realize that I should not leave it out in my recipes.
The zest gives most baked goods a distinct flavor, that cannot be achieved with any other ingredient. Even in this recipe, do not leave out the zest. It helps to get a really great flavor in the mini cakes. The rest of the ingredients are easy to get and the recipe is rather simple to follow. Just like other baked items, it essentially has a few steps: mix the dry ingredients, beat the wet ingredients, mix everything, bake, decorate and enjoy! As V-day is almost here, I decorated them with mini hearts. You may choose to do that or leave them after dipping in chocolate.


I baked two dozen cookies from the given ingredients, and trust me; you can never have enough of these beauties. I wish I would have baked another dozen. I am already craving them while writing out this recipe. Hope you all enjoy this one!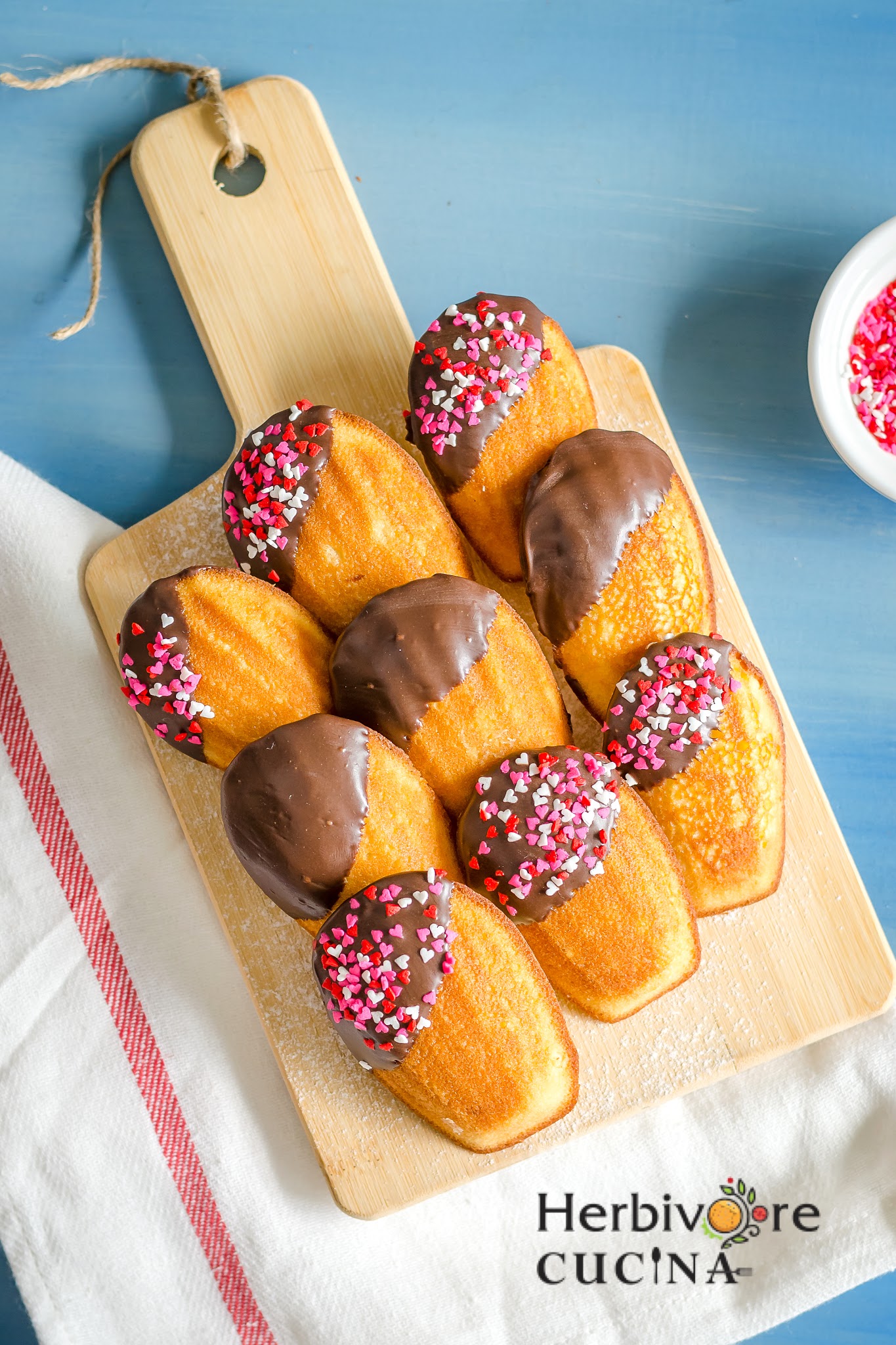 Ingredients

All purpose Flour 1 cup
Sugar ½ cup
Honey 4 tbsp
Eggs 2
Baking powder 1 tsp
Milk 4 tbsp
Unsalted Butter 4 tbsp, room temperature
Vanilla Extract 1 tsp
Lemon Zest 1 tsp
Salt a pinch
Dark Chocolate ½ cup, chopped
Hearts or Sprinkles as required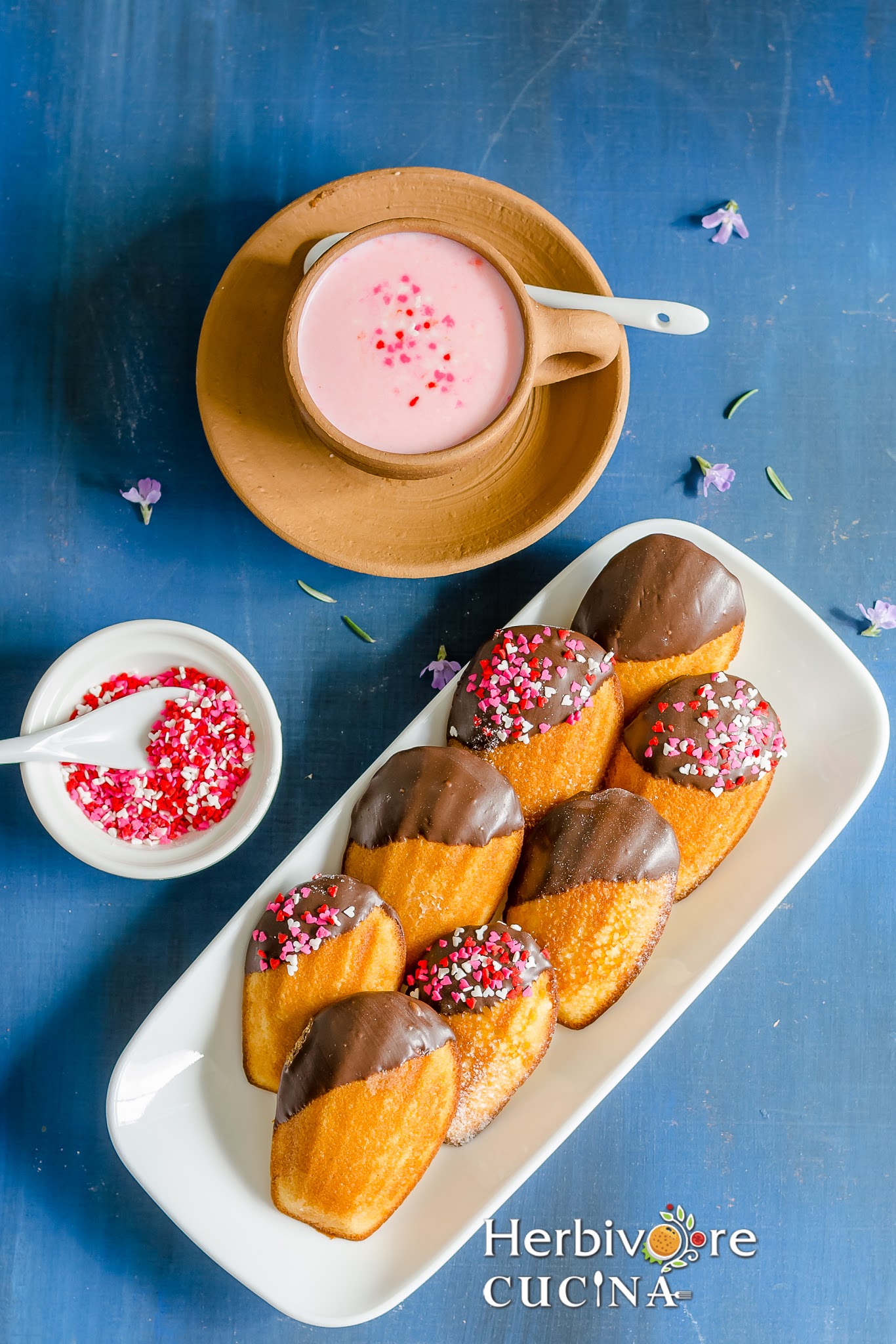 Method
Preheat oven to 375 F. Spray the madeleines cavities with non-stick spray.
In a bowl sift together the flour, baking powder, lemon zest and salt. Set aside.
Using a stand mixer or a hand mixer, beat eggs and sugar to a homogenous mixture. Add vanilla and honey, mix well.
Add half the dry ingredients and half the milk. Mix well. Add the remaining milk and dry ingredients. Beat once again. Then add the unsalted butter and mix well.



Fill the cavities of the madeleines mold with the dough, almost till the top. Transfer to the oven and bake for 8-10 minutes, until puffed and brown.
Once baked, remove and cool for 5-6 minutes. Turn the pan on a cooling rack and cool the cookies for 15-20 minutes.
Melt the chocolate in a bowl. Dip each madeleine cookie in the chocolate and add small hearts or sprinkles. Cool them for 20-25 minutes, till the chocolate is set.