I started baking breads a couple of years ago. Cheese sticks, buns, pizza, garlic breads etc. It was always a good idea to bake breads at home. Freshly baked breads make the whole house smell so amazing. It is my favorite fragrance from the kitchen, followed by the smell of garlic cooking in butter!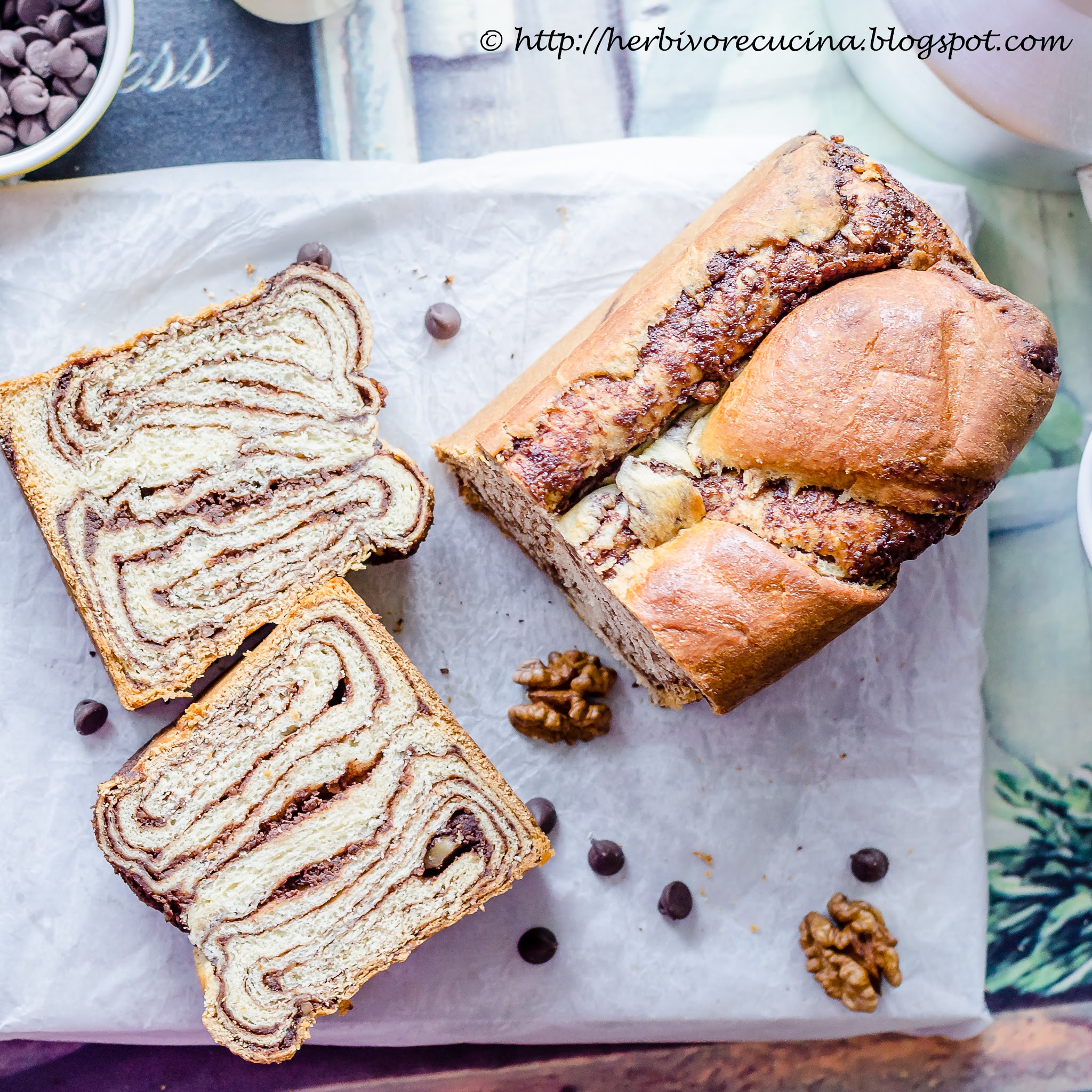 For the longest time I have wanted to bake a bread that looks cute and delicate. Straying away from the regular bread proportions of yeast, water, flour and butter, I wanted to try a bread with milk and or eggs. Then came this event by Shireen Sequeira for Bread Bakers; Breads with Cocoa, Cacao or Carob. Thanks for this awesome idea Shireen! The moment I read this, I was sure this is the time to try what I have been waiting for. Looked up some pinterest boards on chocolate breads and found babka is the most common bread, followed by any kind of swirl bread, stuffed with chocolate and nuts. Croatian Povitica was something that caught my eye!
Wikipedia describes it as: A pastry consisting of a sweet yeast dough (usually using milk) that is rolled out very thin, spread with a nut paste made from ground nuts and a sweetener like honey or sugar, then rolled up into a log shape. This log is either left long and straight or is often bent into a horseshoe shape, egg washed, baked, and then sliced. Nut rolls resemble a jelly roll or Swiss roll but usually with more layers of dough and filling, and resemble strudels but with fewer and less delicate dough layers. Fillings commonly have as their main ingredient ground walnuts or poppy seeds.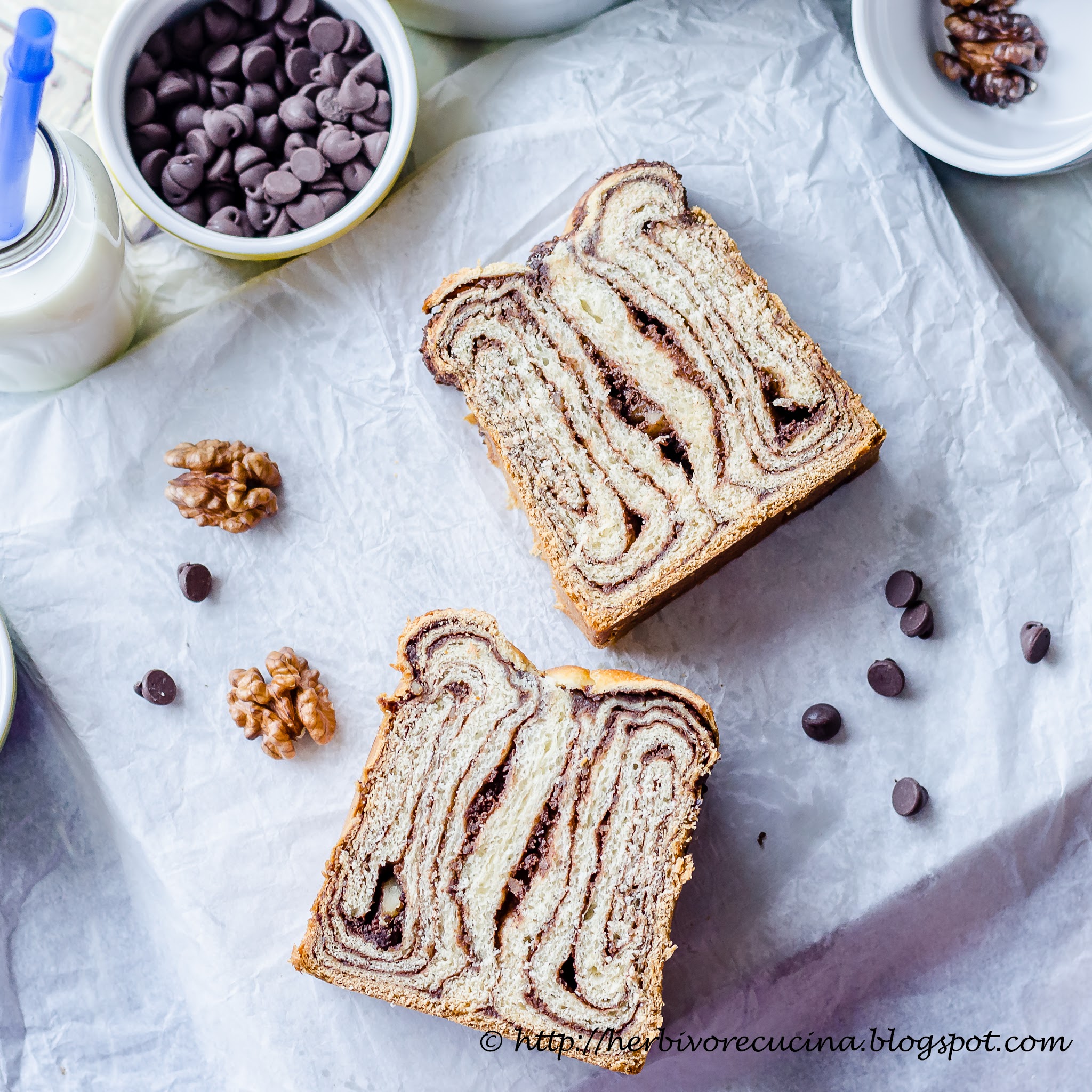 While making this bread,, I have tried my best to make it as close to the original as possible. Few steps will take you to the end of this amazing bread, so DO NOT lose patience mid way! Step one is to get the dough together, with yeast, milk and egg. The second part is the toughest, making the filling. The walnut and sugar mixture was so tempting, that I could lick it all off the bowl! ( that's the tough part, resisting eating all the filling!) Then, roll the dough to a paper thin sheet, stuff, roll and place it in the baking tin. Egg wash and baking completes the bread. It turned out really good, two of finished the 9 inch bread in under 2 days! Here is how to make this awesome bread.




Ingredients
For the bread
All purpose Flour 3 cups
Active dry yeast 1 sachet (2 ¼ tsp)
Confectioner' Sugar ⅔ cup
Unsalted Butter 3 tbsp
Salt a pinch
Egg 1 medium
Milk 1 cup
Water ½ cup
Vanilla Extract 2 tsp
For the filling
Walnuts ¾ cup
Confectioner' Sugar ½ cup
Unsweetened cocoa powder 2 tbsp
Unsalted butter 3 tbsp
Egg yolk 1 medium egg
Milk 2 tbsp
Vanilla Extract 1 tsp
For the wash
Egg white 1 medium egg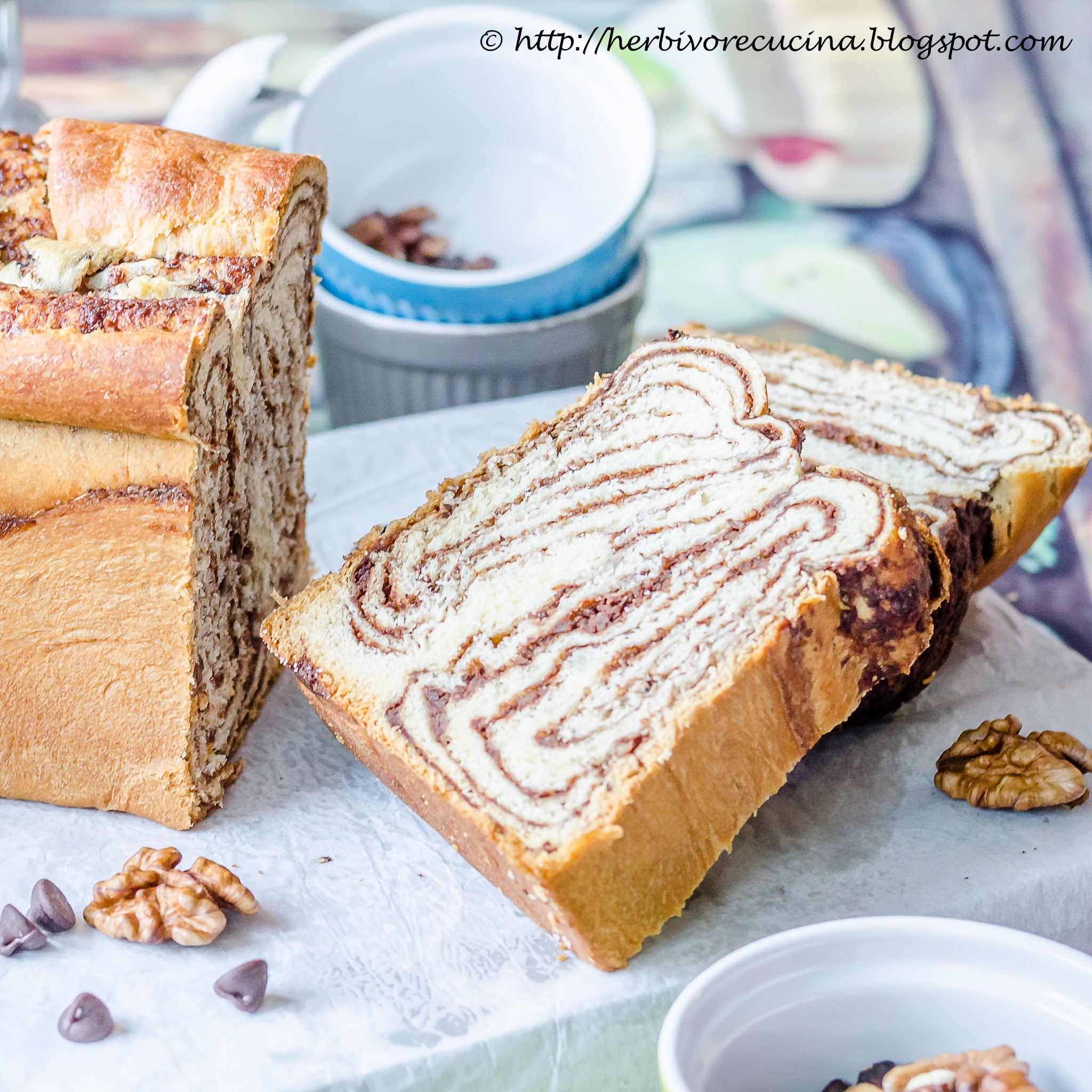 Method
Heat ½ cup water with salt and a pinch of sugar. When it is at 110 F (just warm) add the yeast, mix well and rest covered till the yeast blooms. Beat one egg. Add milk and vanilla extract and bring it all together. Melt the unsalted butter.
In a large mixing bowl, add flour and sugar. Mix well. Add the bloomed yeast mixture, milk and eggs mixture and the melted butter. Using a stand mixture or with your hands, mix it all together till you get a smooth soft dough. It took me about 15 minutes to make a really smooth dough. Keep the dough covered in a warm place and let it rise for an hour.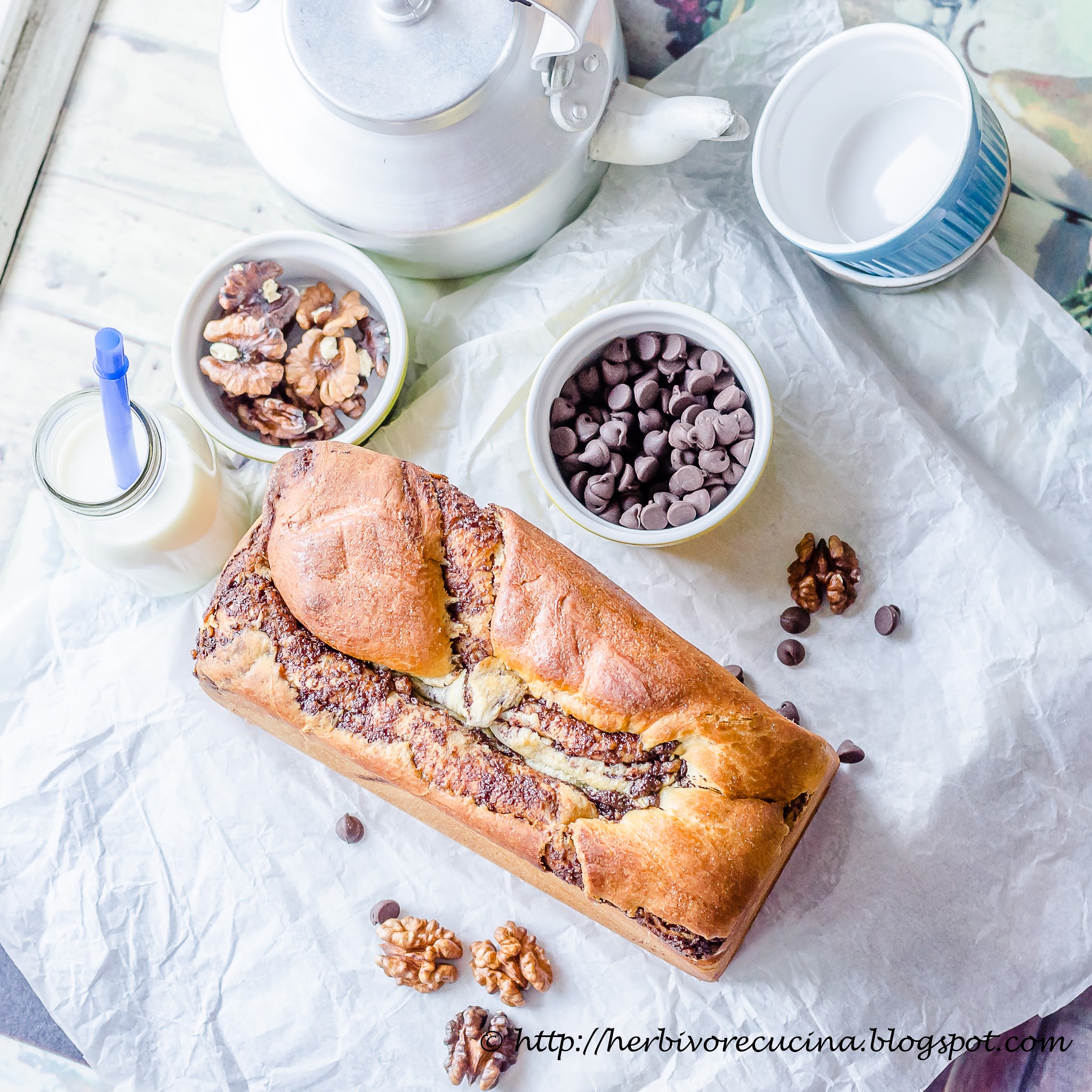 While the dough is rising, lightly roast the walnuts (optional). Process the walnuts to a grainy mixture. Add sugar and cocoa powder and blend it all well. Separate the yolk and white of an egg. Beat the yolk well, add vanilla extract and milk and mix well. When the dough has risen to double its size, mix the wet and dry ingredients of the filling and add 2 tablespoon molten butter to it. Set aside. Line a 9" bread pan with butter or nonstick spray.
Place a large cling film sheet on the countertop. Take the dough and place it on the film. Roll out the dough to make a sheet that is translucent. Mine came out to be about 40" x 20". The sheet has to be really thin. This can take some time and patience but it is worth the effort!
Spread the 1 tablespoon butter left from the filling evenly on the sheet. Then, add the filling, spread it all over the sheet till it is covering almost every corner of the sheet. Roll the sheet from the shorter side to get a roll that is 40" long. Place the roll in a U shape in the baking tin. Tuck the end below the long side. Cover and let it rise for 30 minutes.
Beat the egg white leftover from the filling. Once the bread rises, preheat oven to 350 F/ 180 C. Lightly apply the wash on top, bake the bread for 15 minutes. Lower the temperature to 300/ 150 C and let the bread cook for another 30 minutes or till a toothpick inserted in the middle comes out clean. If the top starts to brown quickly, cover with a foil and cook.
Remove from the oven, cool for 10 minutes and transfer to a cooling rack. Let it completely cool before slicing it. Enjoy the bread after all the effort you put in!!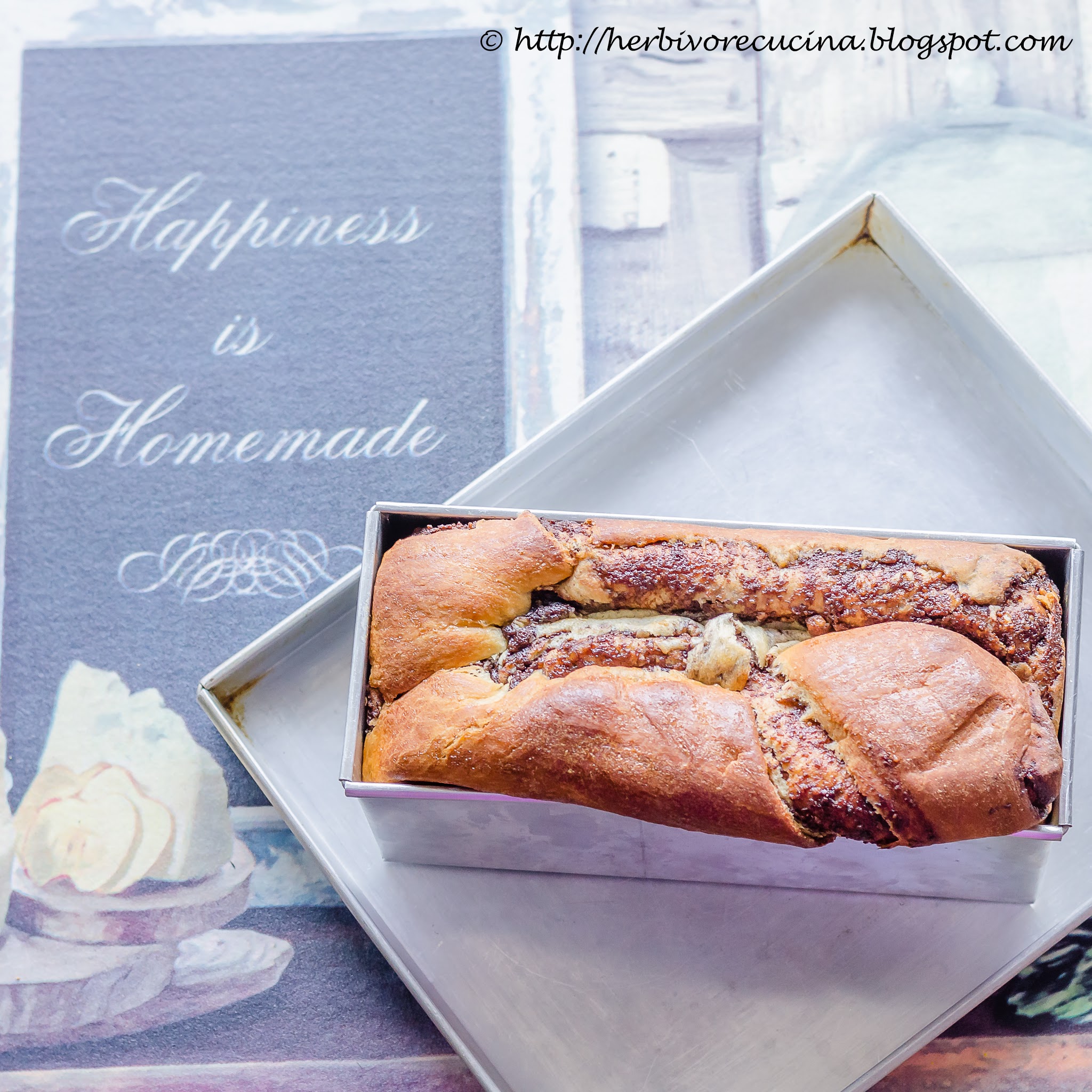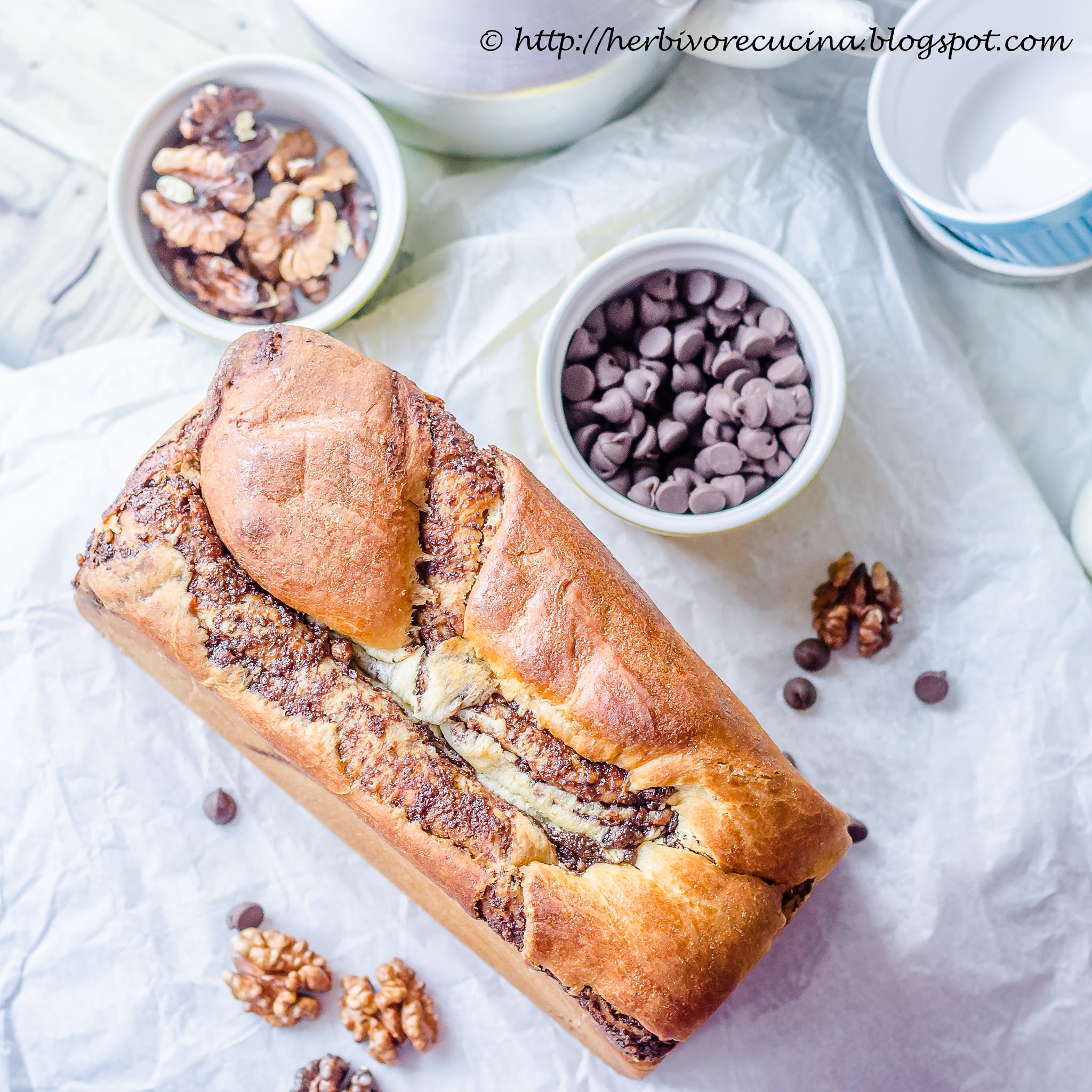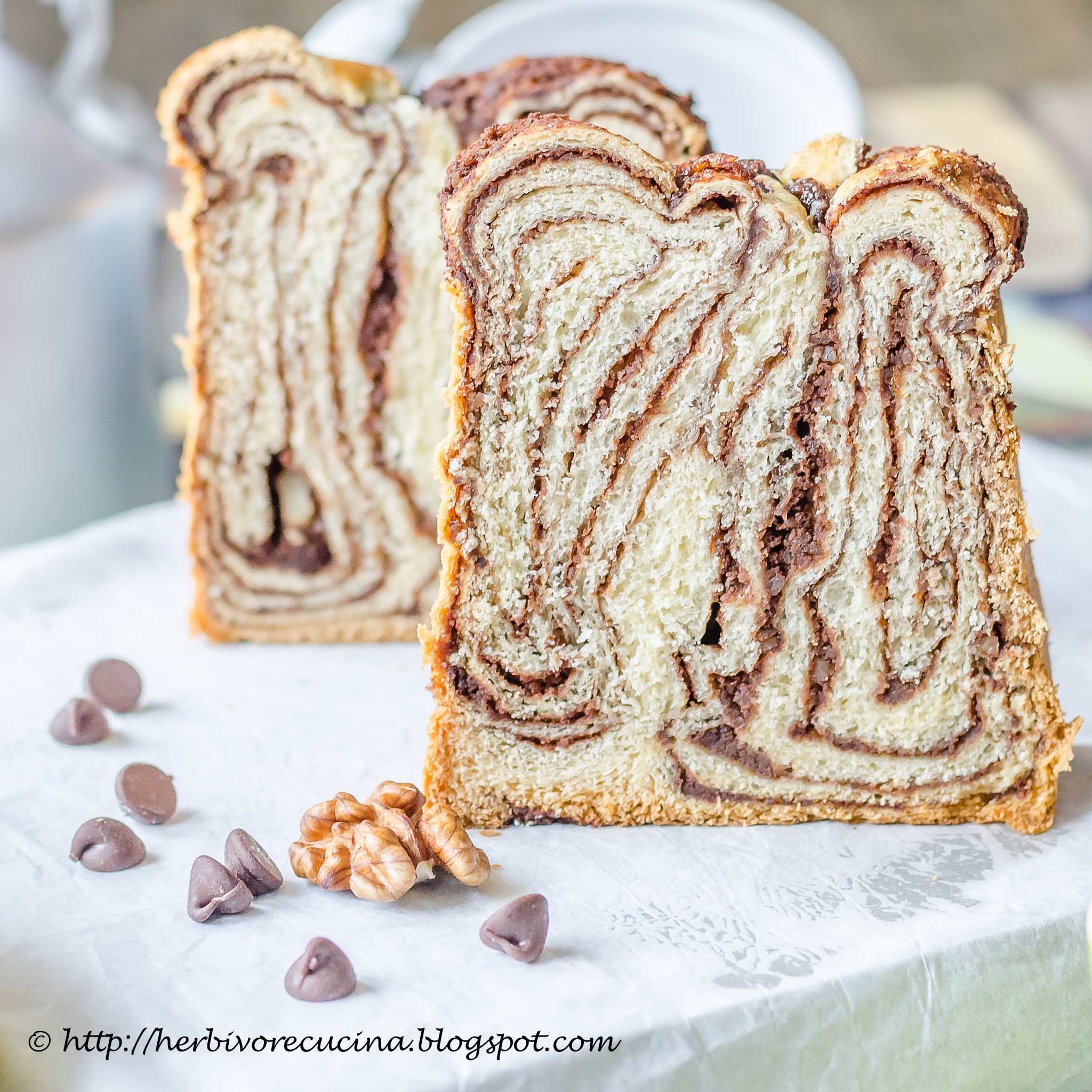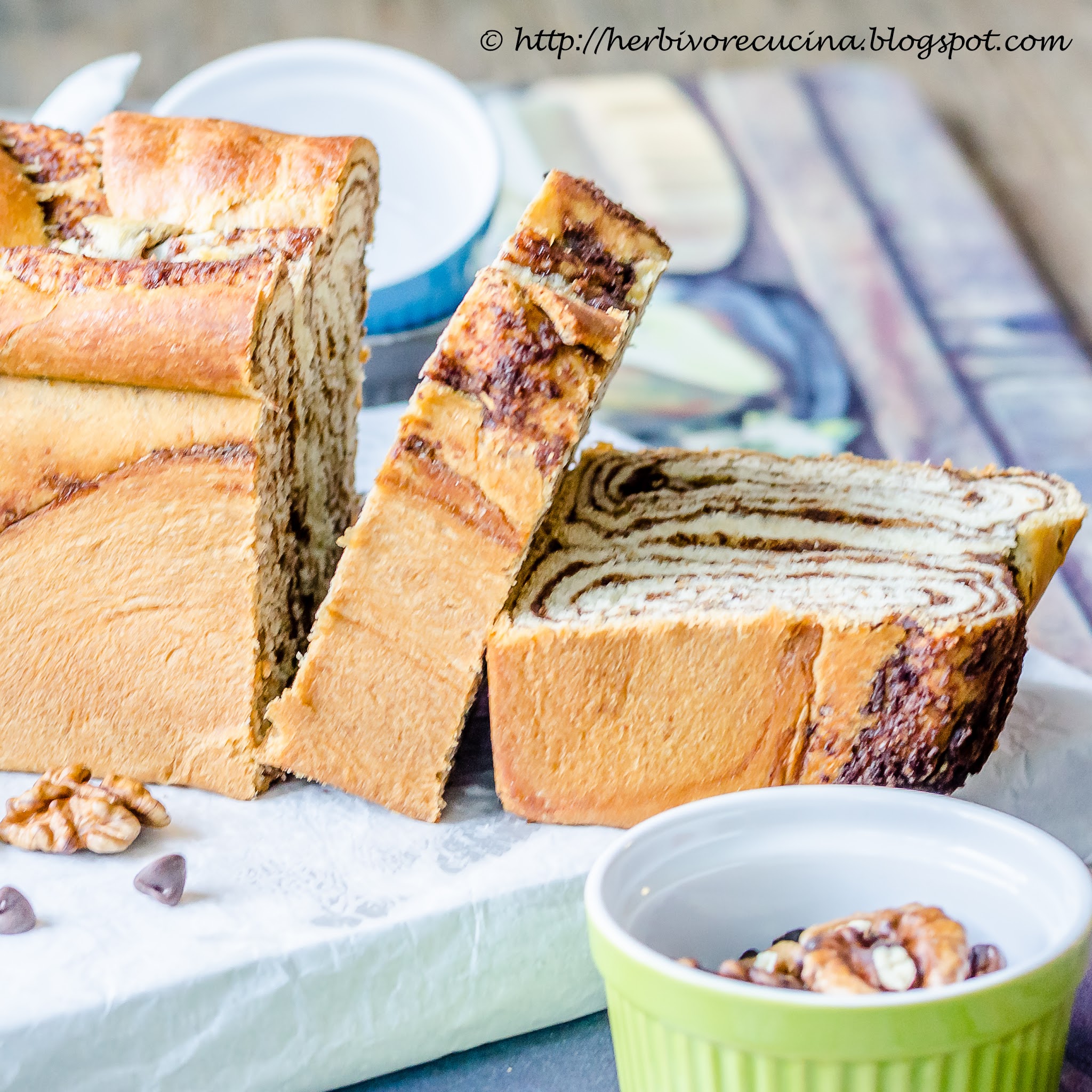 Here is a little about the event:
#BreadBakers is a group of bread loving bakers who get together once a month to bake bread with a common ingredient or theme. You can see all our of lovely bread by following our Pinterest board right here. Links are also updated after each event on the BreadBakers home page. We take turns hosting each month and choosing the theme/ingredient.
If you are a food blogger and would like to join us, just send an email with your blog URL to Stacy @ foodlustpeoplelove@gmail.com.
Here is what all of us came up with, for the Breads with Cocoa, Cacao or Carob in any form event.