A delicious baked Pancake, this Dutch Baby is crisp on the edges and soft in the middle. These beauties topped with fruits, cream and sugar are PERFECT for breakfast!

Valentine's Day is here and so is another edition of BreadBakers. This time our wonderful hostess is Mayuri Patel, who blogs on Mayuri's Jikoni. When I read the theme she decided for us as 'Pancakes', I was almost convinced to bake something that was savory; just to get a break in all the sweet goodies I baked for Valentine's Day. Then I noticed that the event falls ON Valentine's Day and I changed my mind.

Dutch Baby Pancake, sometimes called a German pancake, a Bismarck, or even a Dutch puff, is a sweet popover that is normally served for breakfast. It is derived from the German Pfannkuchen. It is made with eggs, flour, sugar and milk and served topped with sugar, butter, fruits and cream. I had read about these magical pancakes and they were on my to-do list since forever!

For the past few years, I make a V-day brunch on the weekend around this time. This year too, I planned something for Sunday. And with this theme in mind, I thought I would do a Red Velvet Pancake. But finally in Saturday I changed my mind and decided I was going to make these baked Pancakes, something I wanted to make for a while now.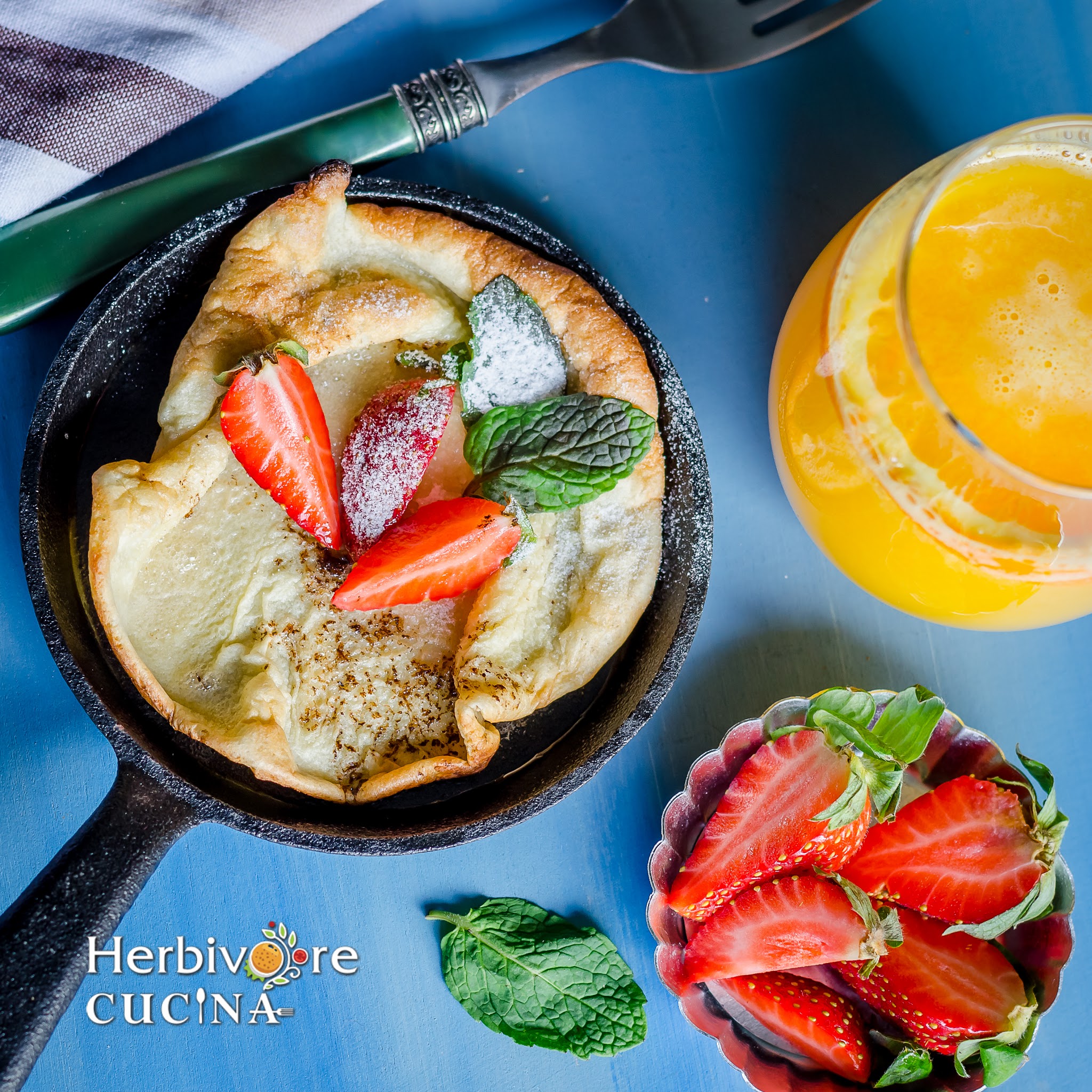 Knowing how funny these Dutch babies can be, I mixed all the ingredients the night before and refrigerated it. The day was going to be sunny and I couldn't be happier! On Sunday, I fired the oven, kept the pancake to bake and grabbed my camera and tripod so I do not miss the beauty of these babies when they are at their best. I set up everything and left space for the skillet on the table.

As soon as the small one was baked, I got it to the table and shot it. But in decorating with fruits and sugar, I missed them at their best. However, the shots were still pretty and I included them in the post. With that experience, I think I almost decorated the large one in the oven and shot it immediately when it was out of the oven. With the light and the puffed up Dutch Baby, I was pretty happy with the shots!

So if ever you want to make these for a crowd, get all your guests together first, then get the baby out of the oven. This way they see all the drama and are amazed at your culinary skills =) Because, making these is pretty simple, just mix the ingredients, pour onto a heated skillet and bake. The fun is in watching the pancake rise from the sides and dramatically fall back in no time. I topped this one with strawberries, mint and sugar. Toppings like Vanilla ice cream, other fruits, cream and maple syrup work really great with these too.


Ingredients

All Purpose Flour ¾ cup
Eggs 3
Milk ¾ cup
Vanilla extract 1 tsp
Sugar 2 tbsp
Unsalted Butter 3 tbsp
Salt 1 pinch
Strawberries, mint and powdered sugar to top
Method

In a blender add the flour, eggs, milk, sugar, vanilla extract and salt. Blend to a homogenous mixture and pour in a mason jar. Cover and refrigerate overnight for best results or atleast an hour.

When ready to bake, preheat oven to 450 F with a 12 inches cast iron skillet or 2 cast iron skillets ( one 9 inch and one 6 inch). When heated, remove the skillet, add unsalted butter and swirl it around to coat the pan evenly.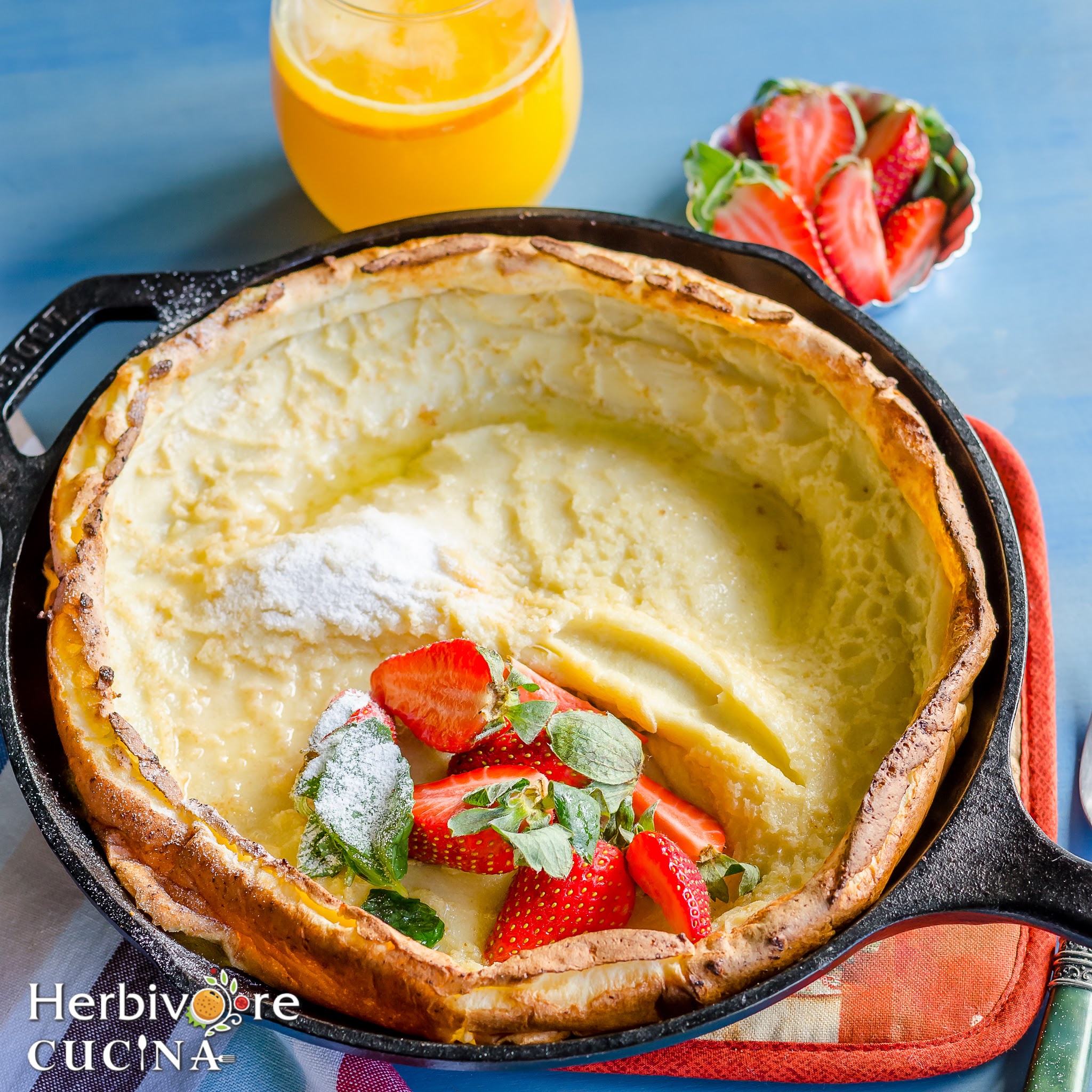 Then pour the batter and immediately place in the oven. Bake for 15-18 minutes, till the sides fluff up and the centre is cooked. My 6 inch skillet was done in 10 minutes and the 9 inch one in 17 minutes.

Remove from oven, top with cut strawberries, mint leaves and powdered sugar. Serve immediately before the sides start to fall back.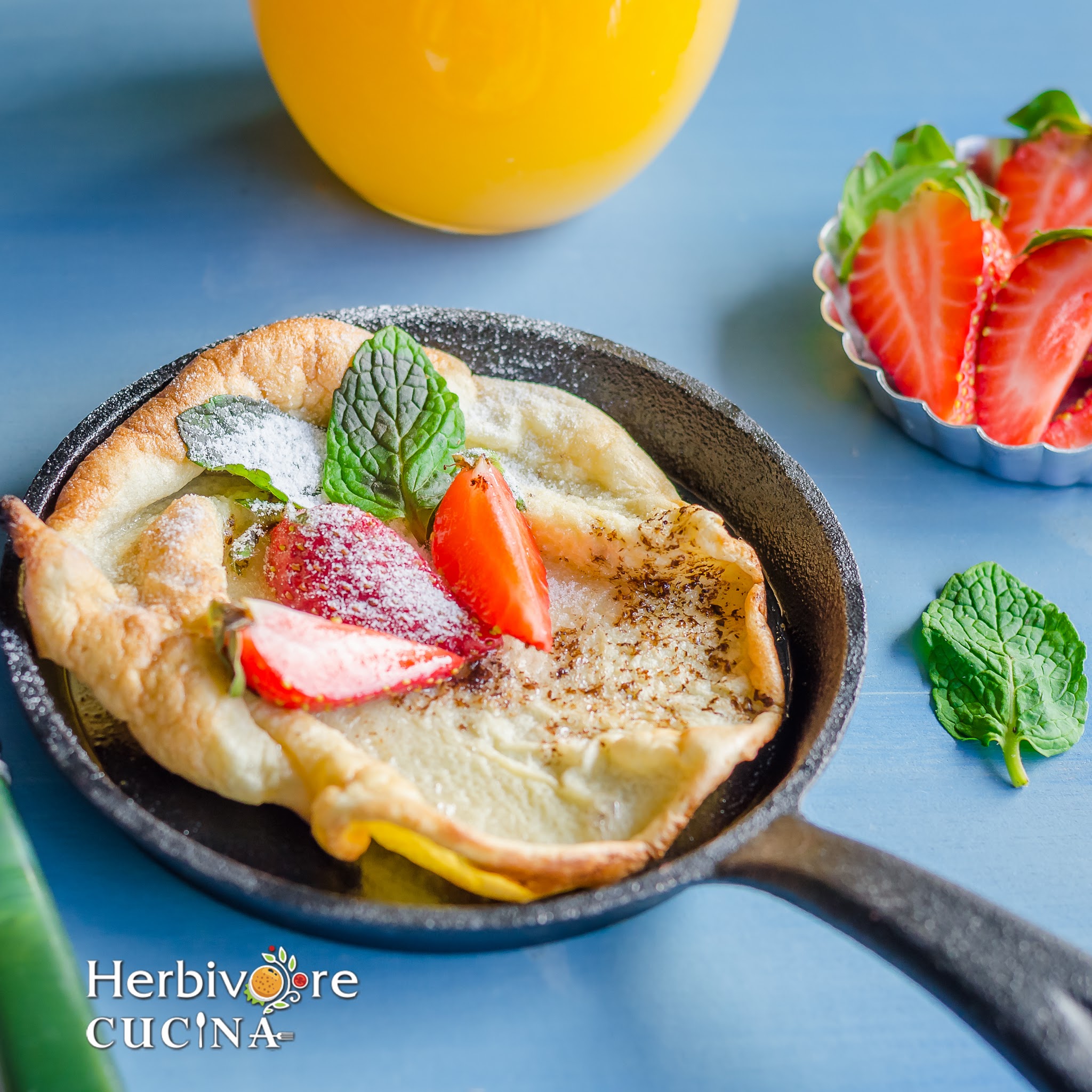 #BreadBakers is a group of bread loving bakers who get together once a month to bake bread with a common ingredient or theme. You can see all our of lovely bread by following our Pinterest board right here. Links are also updated after each event on the #BreadBakers home page.
We take turns hosting each month and choosing the theme/ingredient. If you are a food blogger and would like to join us, just send Stacy an email with your blog URL to foodlustpeoplelove@gmail.com.
Check out the Pancakes that our fellow #BreadBakers have baked this month: