This shop has been compensated by Collective Bias, Inc. and its advertiser. All opinions are mine alone.#SpringItOn #NestleKitchen #CollectiveBias
A FIVE ingredient make-ahead dessert that is super easy to make and delicious too. These jars are perfect for Spring parties or get togethers!
Spring has finally arrived and it is time to start planning Easter, barbeque parties and treats for kids' Spring break fun. Apart from all this, Spring brings the annual season of decluttering, cleaning, starting new plants for summer and a lot of other activities.
So when it comes to entertaining this Spring, you need easy recipes that require minimum ingredients and can be made ahead of time. Is this on your mind too? Then this post is made specially for YOU!
Moms-on-the-go need desserts that come together really quick right? Something that can be made ahead of time and served really quickly and without any mess. I have seen my friends trying to balance kids, work, entertaining and Spring cleaning all at once! That was the inspiration when I made these jars.
For a mom who LOVES to entertain, this one is perfect. Bake the cookies on Friday night and cool them overnight; make the mousse on Saturday morning and you are all set for a party on Saturday or Sunday!
I made these jars for my last party, and I literally had to ask parents to restrict their kids to just one jar to avoid a sugar rush! Yes, these colorful jars are so delicious that kids and adults will enjoy them thoroughly. And the best part, they need just FIVE ingredients, can be made ahead of time and are so easy that you can get your kids involved in making them too! Isn't that the best way to keep kids occupied during Spring break? I am sure it will be great for kids to DIY desserts, topping the pre-made desserts with fresh fruits!
In this recipe I combined flavors, textures and colors to make a super vibrant dessert. The bottom layer is made of Nestlé Toll House Refrigerated Cookie Dough. Not only is cookie dough easy, convenient and delicious, you will fall in LOVE with the fresh new flavors for Spring! They have morsels of white chocolate and a delicate strawberry centre, perfect to put a twist on a classic! When baked to perfection, this layer is crispy and crumbly.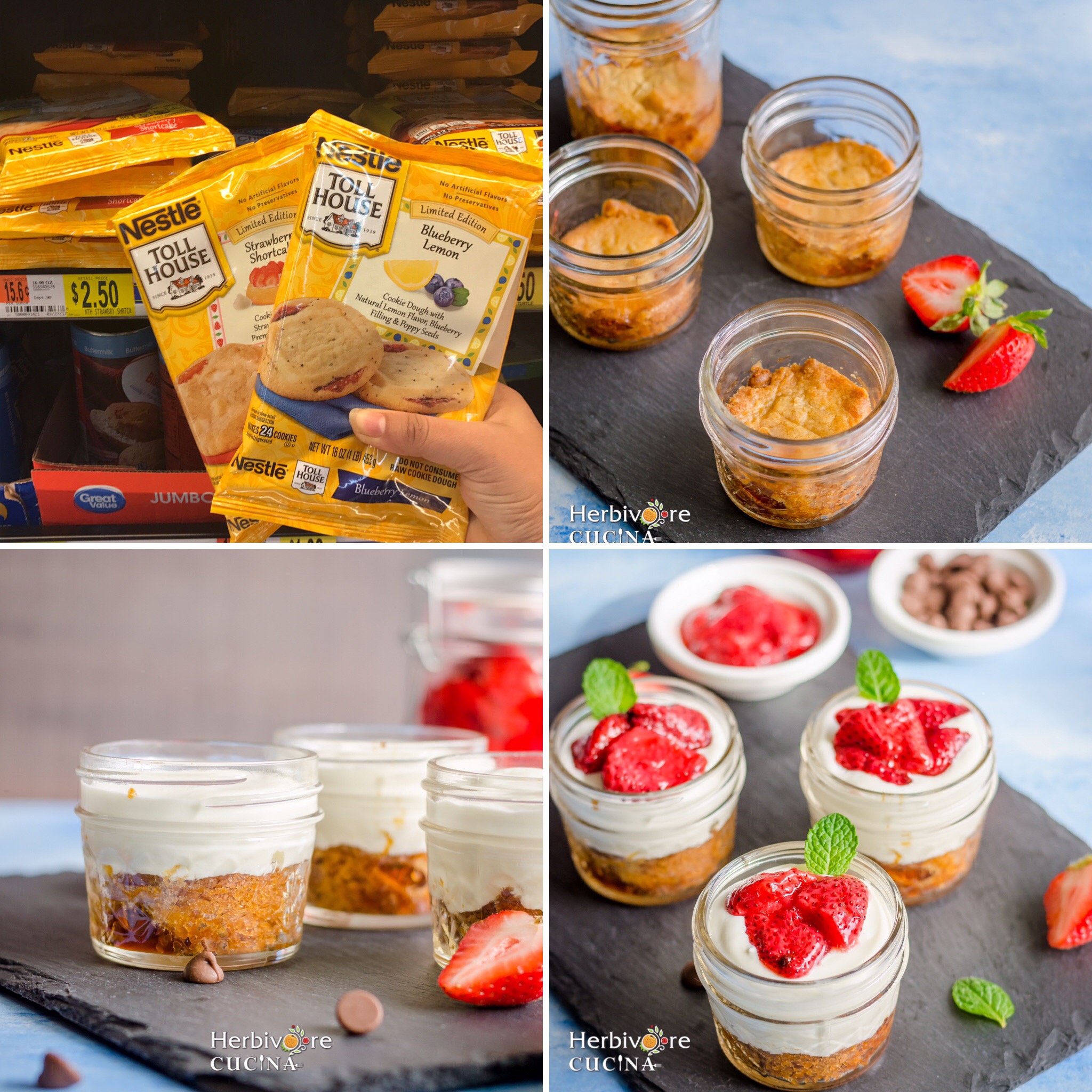 Above the cookie layer is a velvety mousse made with French Vanilla Flavored Nestlé Coffee-mate Liquid Creamer. This layer is creamy and full of flavor. The coffee mate is perfect to stir up the creamy goodness of French Vanilla or Hazelnut flavors for a smooth, sweet sip. It allows you to create the perfect cup by adding just the right amount of flavor.
Finally, the top is roasted strawberries, partly sweet, partly sour, little soft little juicy but totally indulgent!
I got all the ingredients I needed for this recipe from Walmart. The products were super enticing and looked perfect for a lot of recipes this Spring. So I got two Nestlé Toll House Refrigerated Cookie Dough (Strawberry and Blueberry limited time flavors for Spring) , a French Vanilla and a hazelnut Nestlé Coffee-mate Liquid Creamer and a few packets of Nestlé Toll House Morsels ranging from milk to sweet and dark to white! I bet you need them ALL this Spring and to find recipes that are perfect, head straight to this gallery from Nestlé. Create new and delicious recipes with Nestlé Toll House right away!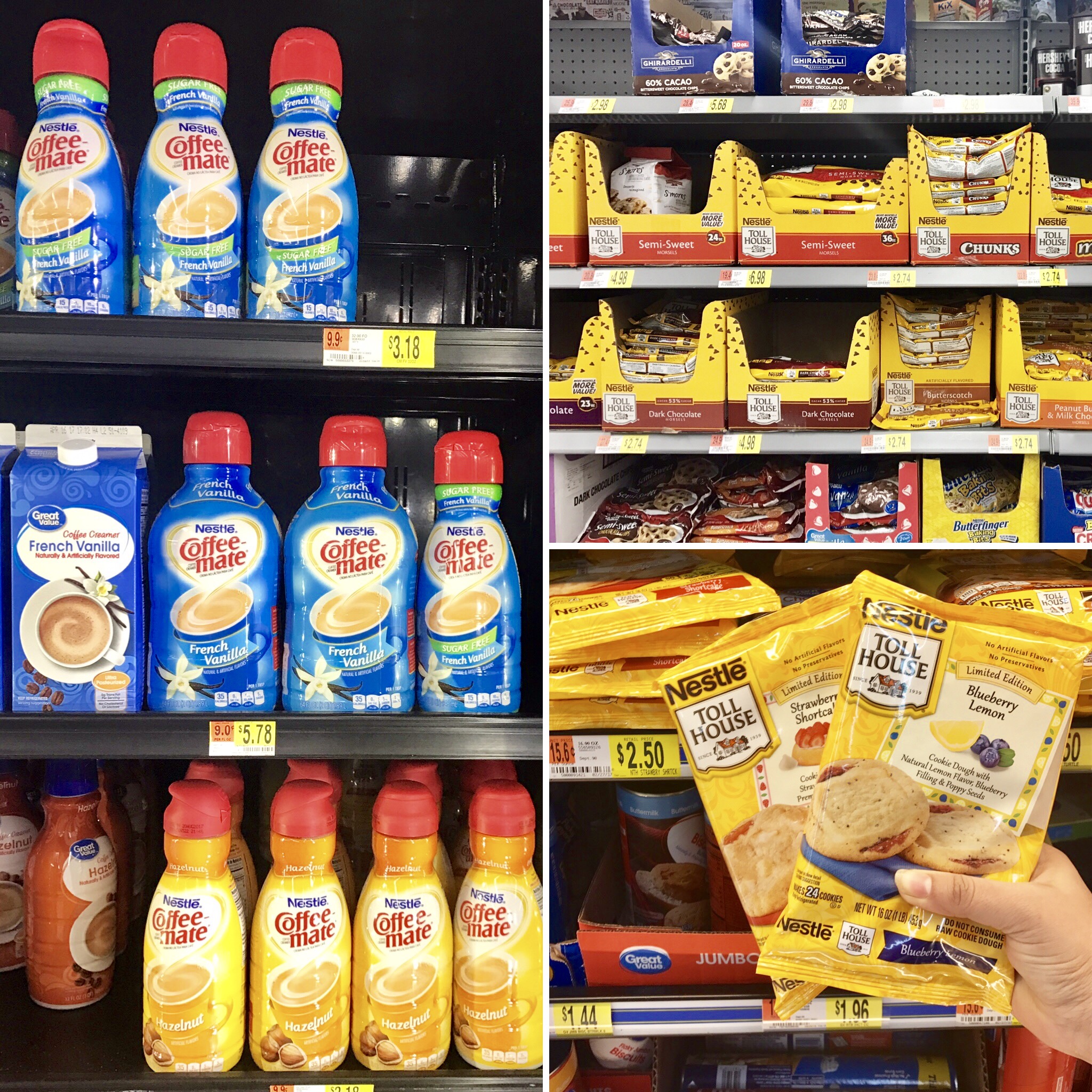 Coming back to the recipe, here is how I made these jars. I added the cookie dough to the base of the jar and baked them. While laying them out, I was tempted to try the dough as it smelled delicious; but remember never to consume raw cookie dough, ever! The cookie dough made my task so simple and quick, no more mixing, stirring or the like. Just break the pieces apart and start baking!
The Mousse layer came together in five minutes flat! Just mix some Lactose-free and Cholesterol free Nestlé Coffee-mate Liquid Creamer with cream and whip whip whip! The flavor of the mixture is such that it needs no added sugar. Layer this over the cookie and they go straight to the refrigerator.
Enjoy the party with your guests or entertain your kids through the event. When it is time for desserts, just top the strawberries and let them DIG IN! Isn't that perfect to make something delicious on the go? Thinking of a dessert to take along for a party? Just grab these jars and off you go! No spilling, no mess and total portion control. For the upcoming Spring, you need these jars for sure! Don't forget to get your kids involved in this activity. It will be PERFECT for Spring break activity!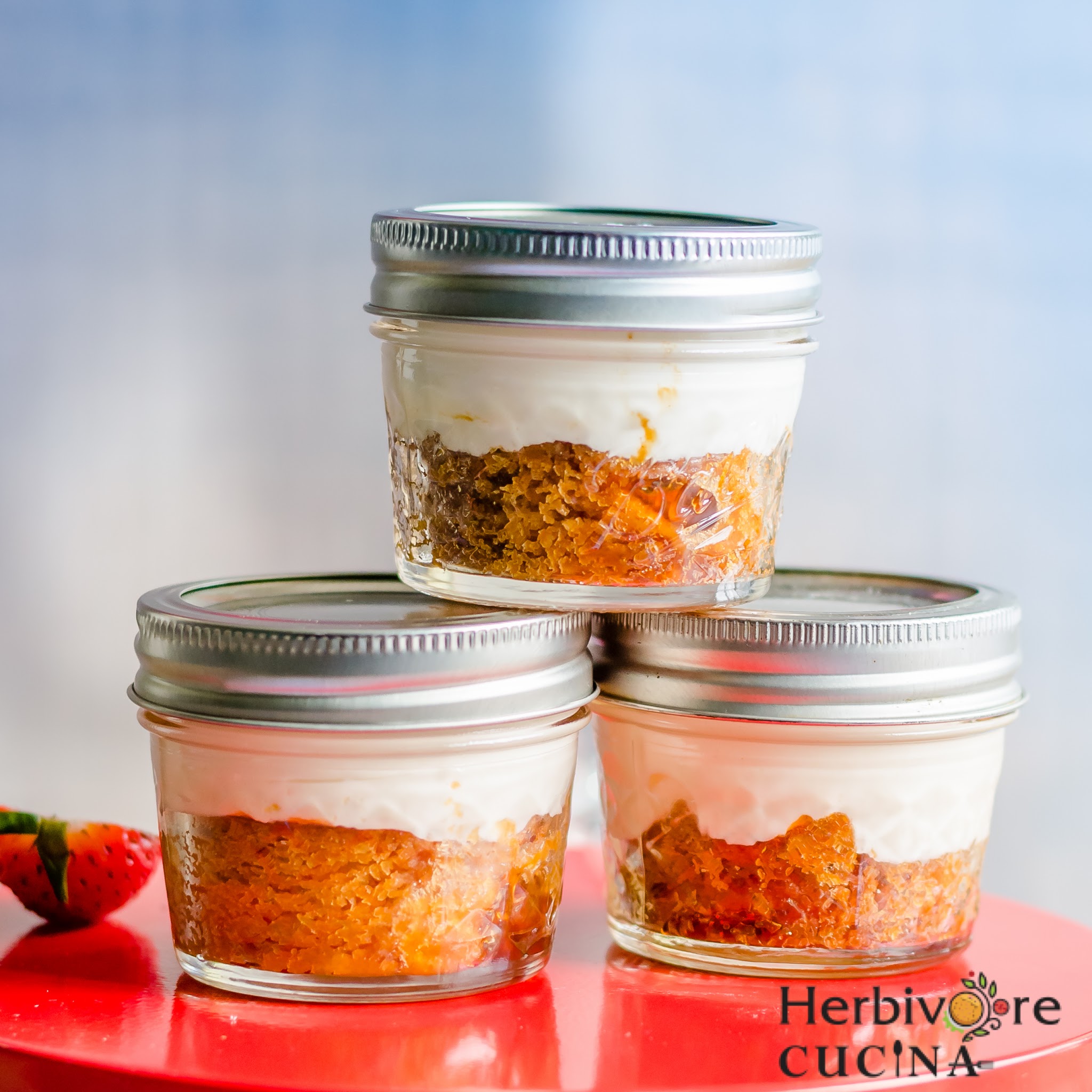 Ingredients
Nestlé Toll House Refrigerated Cookie Dough(Strawberry Shortcake) 2 pieces/jar
Heavy Whipping Cream 1 cup
Nestlé Coffee-mate Liquid Creamer (French Vanilla) ¼ cup
Strawberries 10-12
Sugar 2 tbsp
Method
For the Cookie Layer
Preheat oven to 350 F/ 180 C. Open the Nestlé Toll House Refrigerated Cookie Dough and cut 2 pieces out of it. Place them in a dessert mason jar. Repeat for remaining jars.
Place the jars in the oven and bake till the cookie spreads at the bottom of the jar and cooks through.
Once the cookie jars are done (mine took 14-15 minutes) remove and cool completely.
For the Roasted Strawberries
Wash and cut the strawberries into pieces. I cut the small ones in half and the large ones into fours.
Spread them in a baking tray and sprinkle sugar on them. Toss them and place in the oven preheated to 350 F/ 180 C. Bake till the strawberries are soft and release some juices. Cool to room temperature.
For the Mousse
In a bowl add whipping cream and Nestlé Coffee-mate Liquid Creamer (I used French Vanilla flavor). Whip till soft peaks appear.
Pour the mousse over the cookie layer and refrigerate till ready to serve.
To serve, top the jars with roasted strawberries and chocolate chips or mint leaves if desired.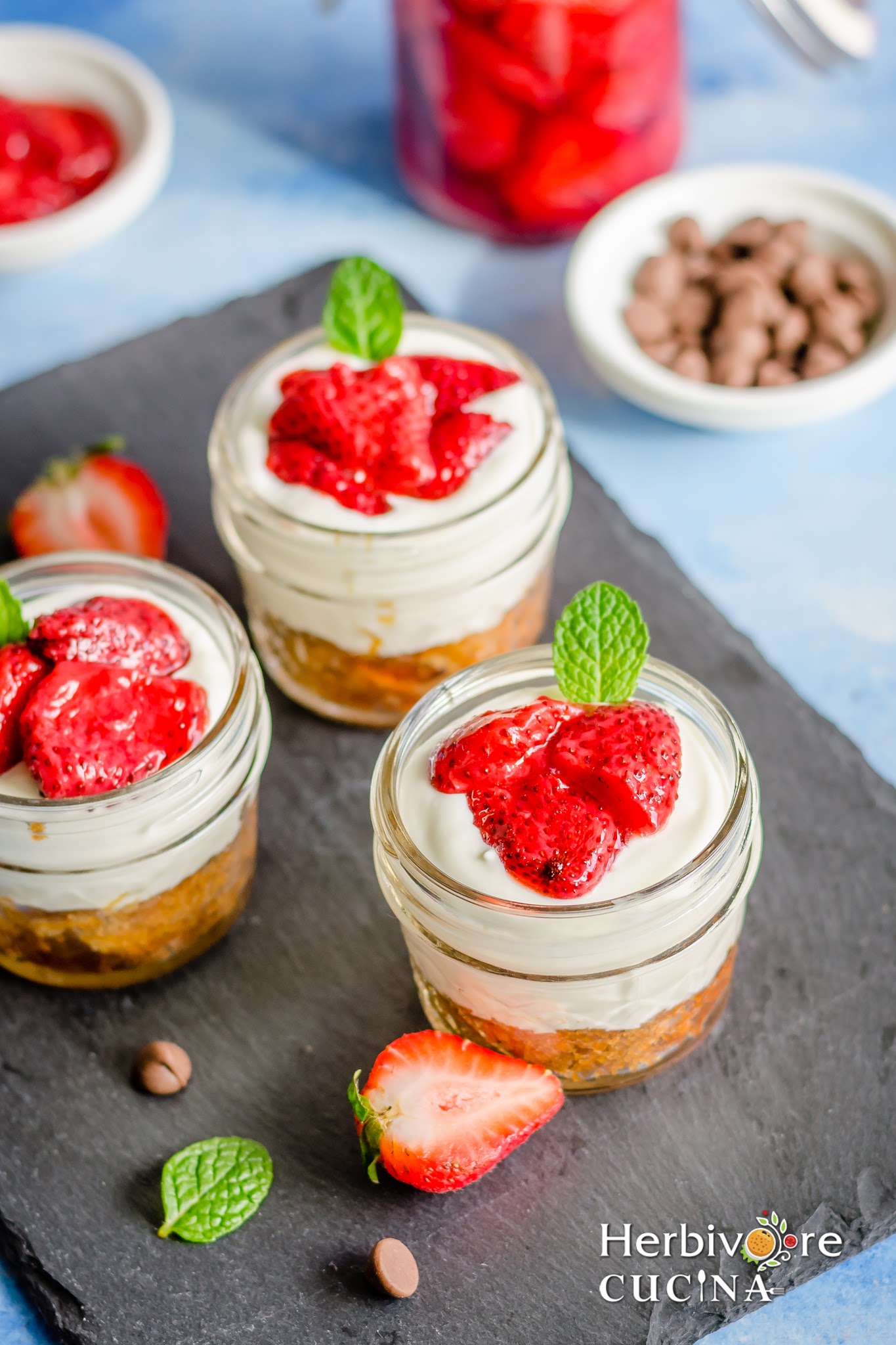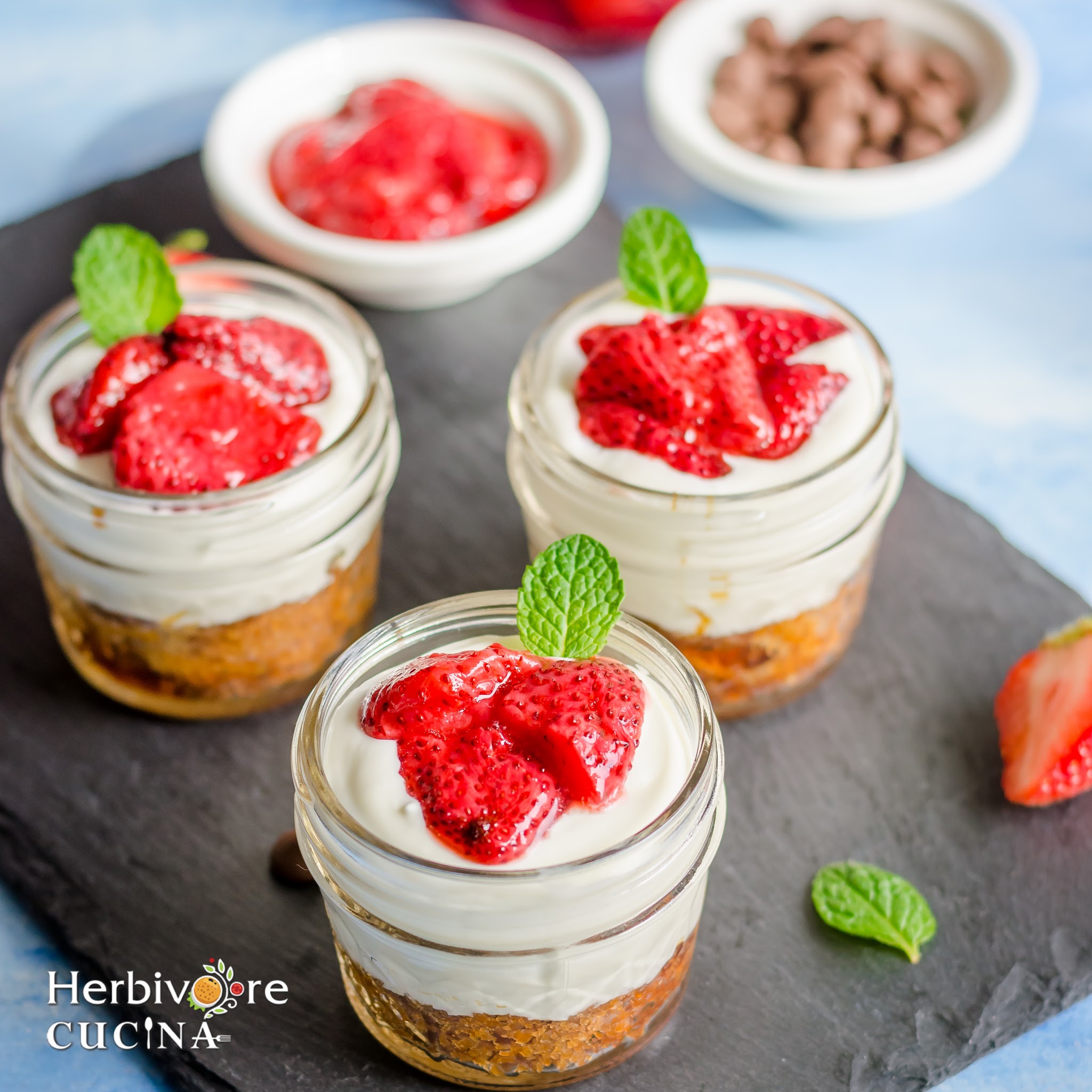 Pin for later