Blogging Marathon #73 Week 4 Day 1
Theme: Ingredients through Mail
Dish: Foxtail Millet Upma | Thinai Arisi Upma


South Indian style upma made from Foxtail millet, vegetables and spices. This amazing one pot breakfast is perfect for busy mornings!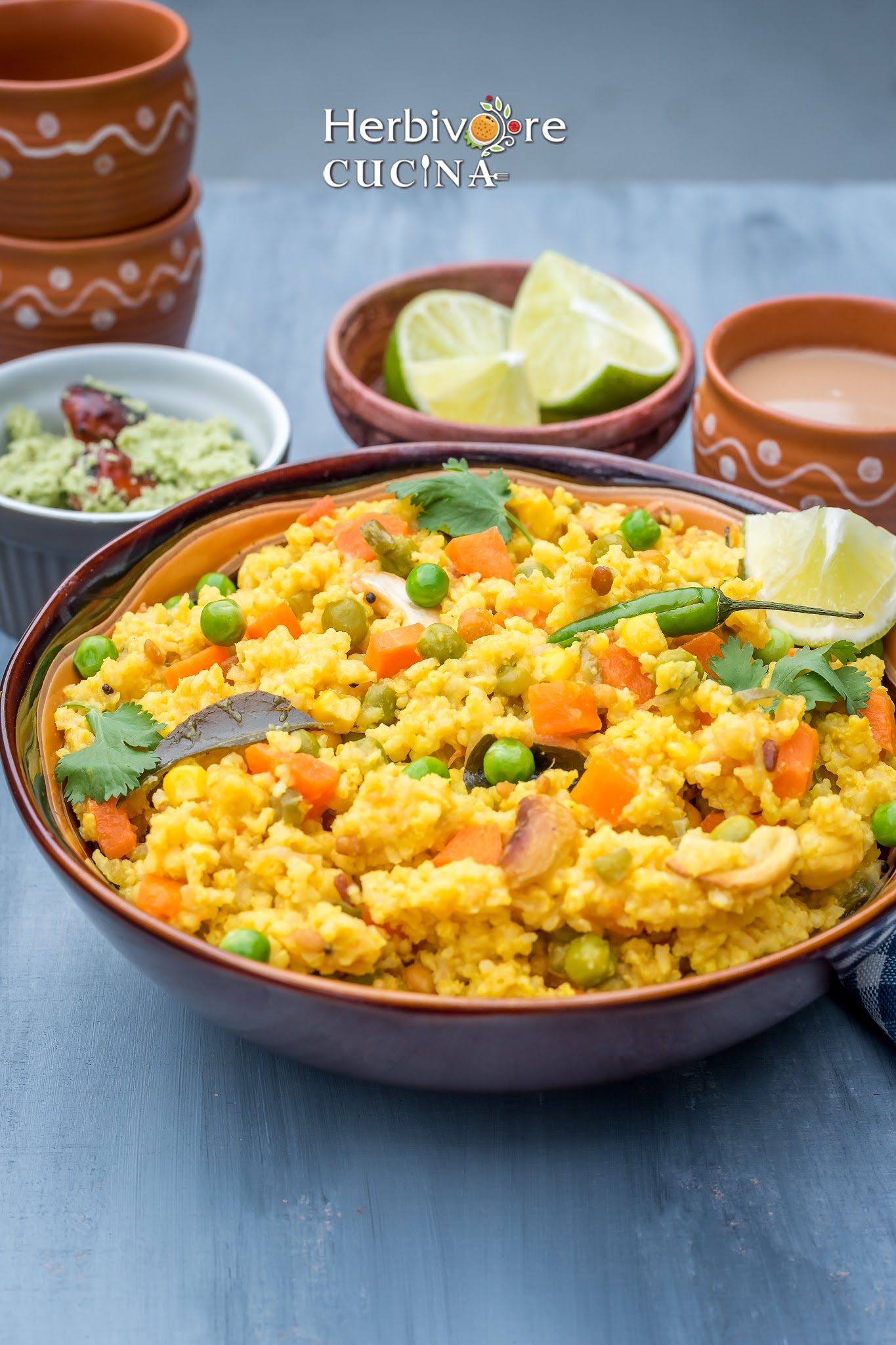 Foxtail millet, an annual grain from consumed in India is an interesting millet. This millet is high in carbohydrates, which serves as an excellent source of energy from carbs. It is a food rich in dietary fiber and minerals such as copper and iron. Pretty similar to quinoa, this grain is a more affordable one.
Little did I know all this till this theme for the Blogging Marathon came up, Ingredients by Mail. I was paired with Srividhya, who has a wonderful blog Vidhya's Vegetarian Kitchen. Instead of mailing the ingredients, we decided to meet up and exchange the ingredients. It was such a wonderful evening, gobbling down cakes and discussing blogging, food and other things.
Along with all the fun, we exchanged our ingredients for this Marathon. Among the ones I got, this was the ingredient I never had before. Tiny seeds that looked really cute in a light yellow color. I realized the seeds are foxtail millet and I was excited to use them really soon! This millet is also known by these names: dwarf setaria, foxtail bristle-grass, giant setaria, green foxtail, Italian millet, German millet and Hungarian millet.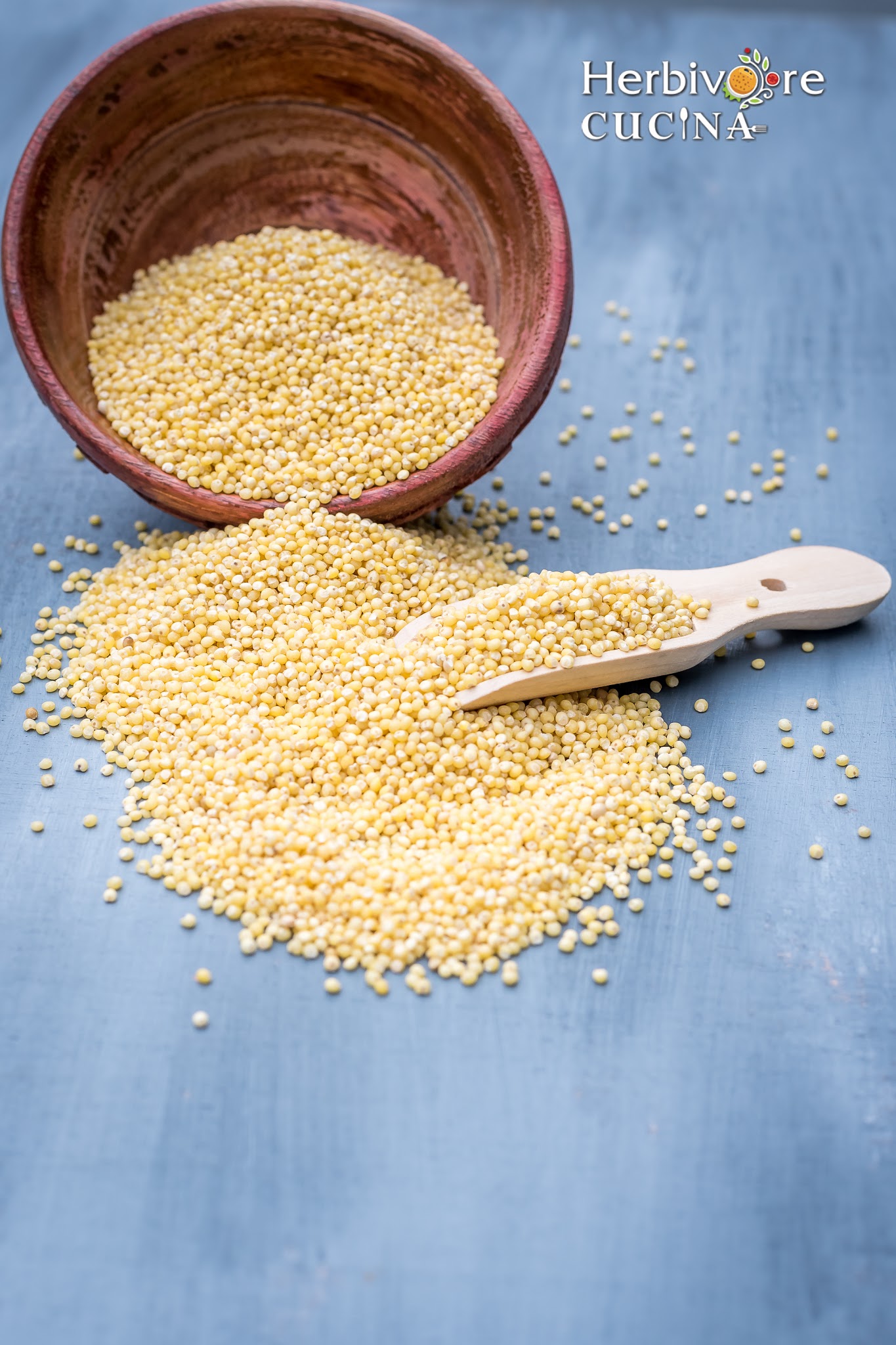 I looked up recipes using this millet and found A TON! From sweets to fermented idlis and from khichdis to humble stir fry. From all the recipes I saw, I thought I wanted to make a breakfast dish using this millet. I looked for a recipe and found this amazing upma by Jyothi Rajesh on her blog Curry Trail. I instantly knew I was going to make this!
So last weekend I decided to make this for breakfast. The sun was playing hide and seek behind the clouds and I managed a few shots of the yummy breakfast. I served it with a simple Cilantro Coconut Chutney and hot Masala Chai. It was a perfect breakfast on a stormy morning!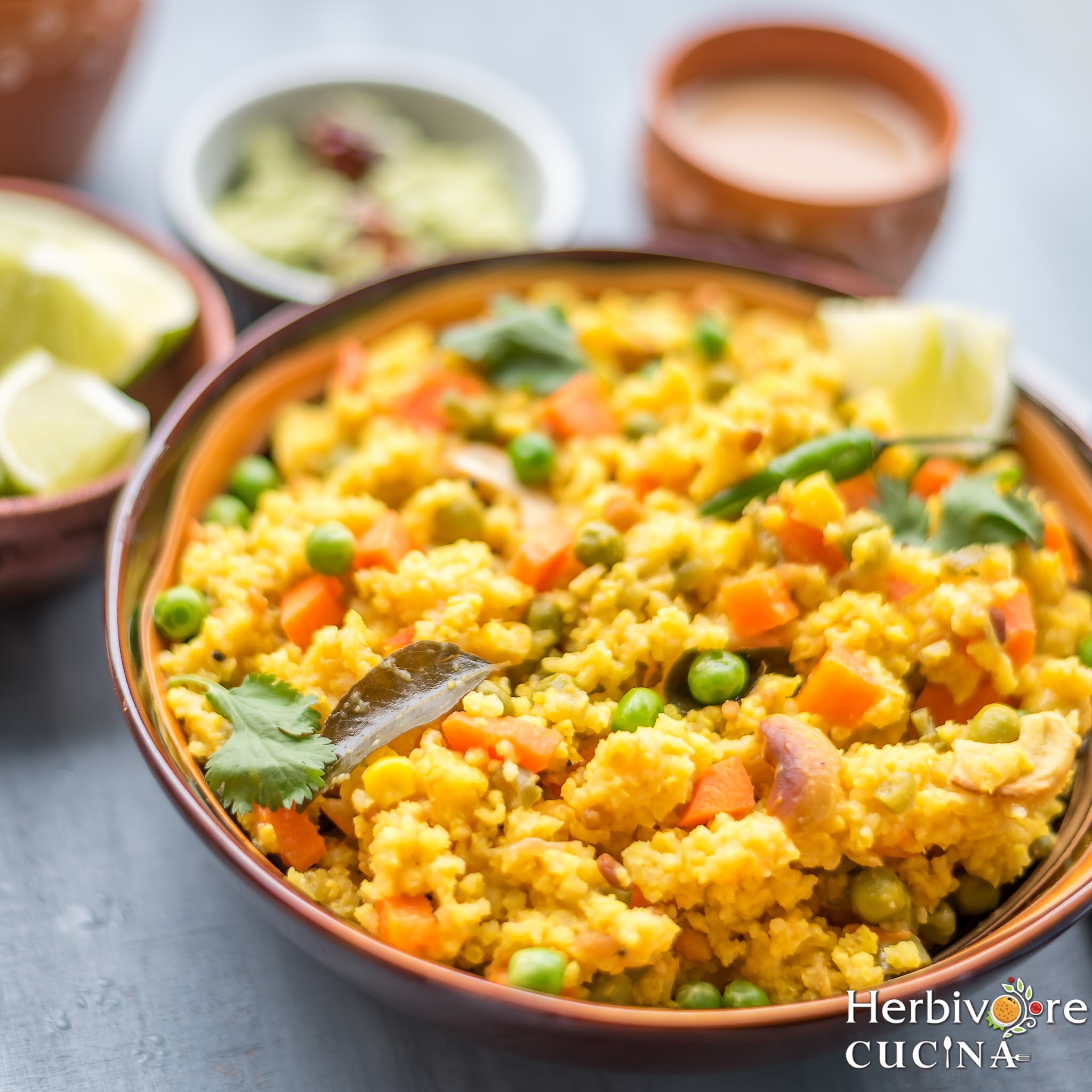 Substitutions


For this recipe I used one cup of foxtail millet and realized on making that it was enough for 3-4 people! The millet absorbs water and becomes almost double. Plus, I added a lot of vegetables to make the dish interesting. I added carrots, peas and french beans. However, you can also add potato, broccoli, corn and cauliflower. I made this in a mixture of ghee and oil. However, if you like one more than the other, use that.
Adapted from here
Ingredients

Foxtail Millet 1 cup
Mixed Vegetables (Carrots, Green Peas, French Beans) ¾ cup
Onion 1 medium, sliced
Tomato 1 medium, diced
Ginger 1 tsp, grated
Cashew Nuts 4-5
Chana Dal 1 tsp
Urad dal 1 tsp
Mustard Seeds ½ tsp
Green Chilli 2-3
Curry Leaves 4-5
Turmeric Powder 1 tsp
Ghee/ Oil 2 tbsp
Salt 1 tsp
Lemon Juice 1 tsp
Cilantro to top

Method


Wash and soak the millet in enough water for 30 minutes. In a bowl add a cup of water and cut vegetables. Microwave for a couple of minutes till tender.

Heat oil or ghee or both in a pan. Add mustard seeds and once they pop, add urad dal, chana dal, slit green chilli, cashewnuts and curry leaves. Once the dals become a little dark, add onion and ginger. Saute till soft.

Then add the tomatoes and saute till soft. Next add the cooked vegetables. Also add some salt and the turmeric powder. Mix well and add 3 cups of water. Bring the water to boil.

Drain the millet and add them to the boiling water. Cover and cook till the water is absorbed, the millets cooked. Uncover, adjust the salt and add lime juice. Top with cilantro and serve with Cilantro Coconut Chutney and hot Masala Chai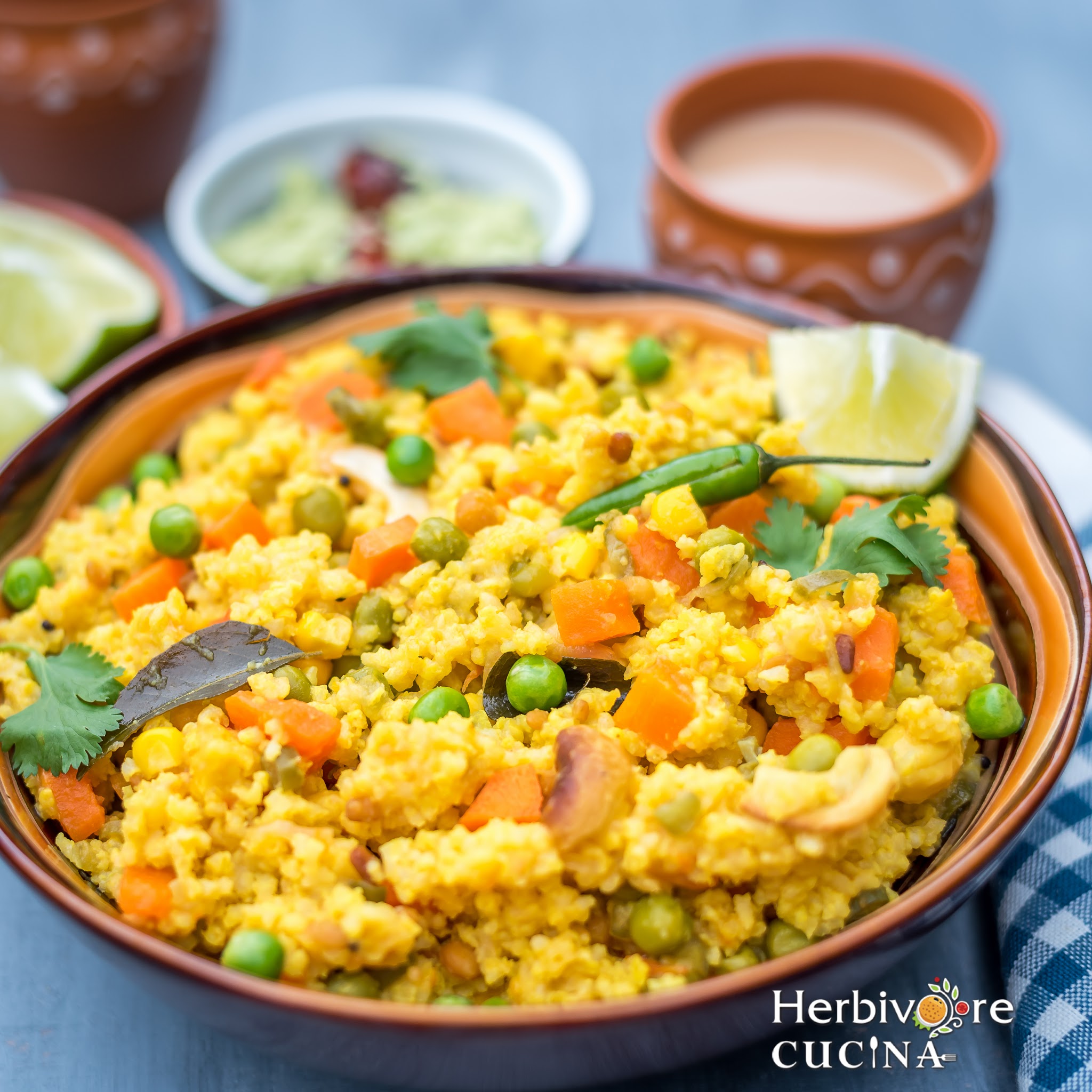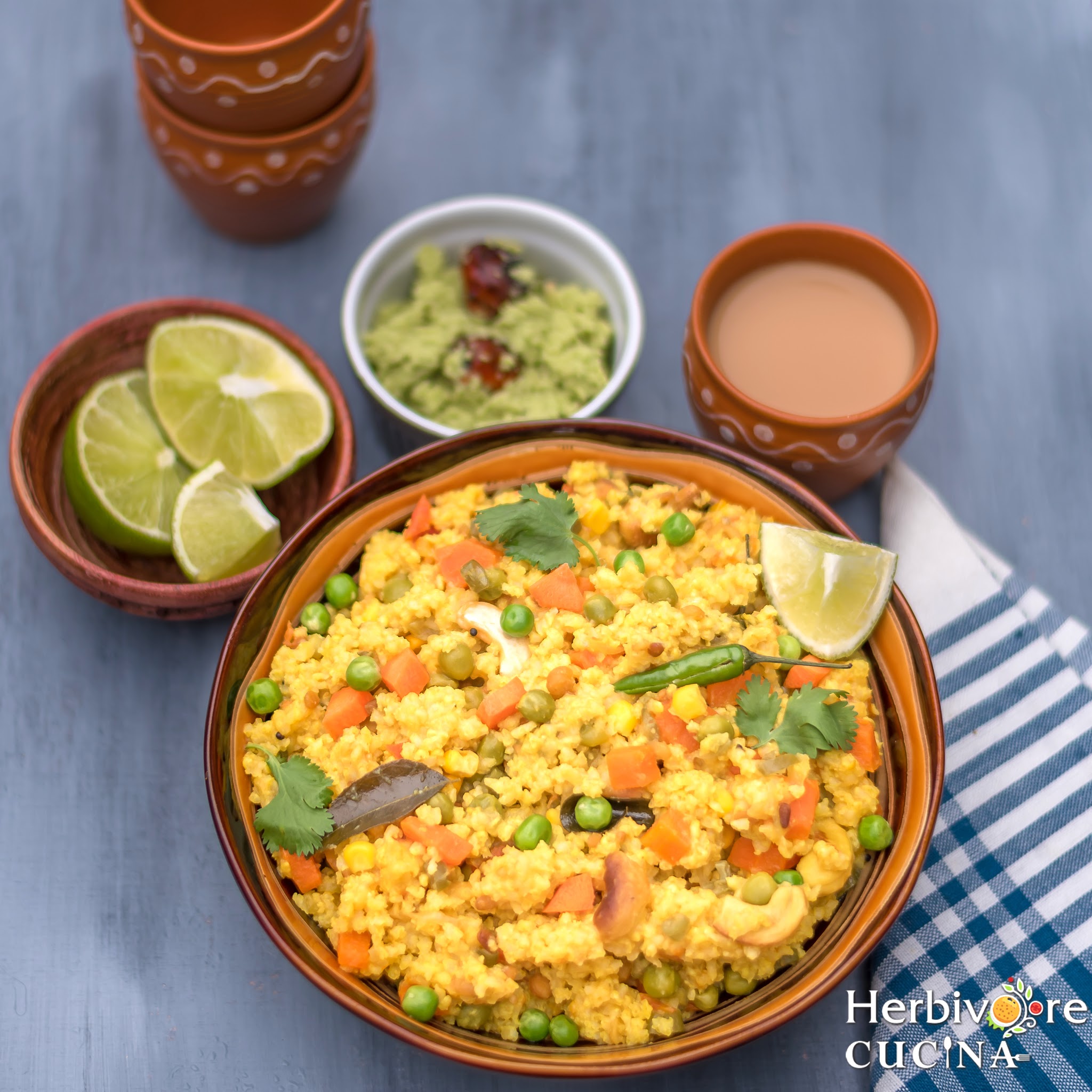 Check out the Blogging Marathon page to see what the other Blogging Marathoners are doing for BM#73