Blogging Marathon #66 Week 2 Day 2
Theme: Sandwiches without bread
Dish: French Macarons

Everytime I walk into a pastry store and get myself a cake or pastry I order one that is served with a Macaron on top. Lately I became biased to Paris Baguette, a store that has almost all pastries served with a macron. And each time I visit Costco, I want to grab the colorful Macarons from the frozen aisle. A lot of my Foodgawker favorites also includes various kinds of macarons. This has been my love for the French dessert. Finally this week, I made the dish that has been on my to-do list since the longest time. Today is the second day of the Blogging Marathon and my theme is Sandwich without bread. So a Macaron Sandwich fits the bill!
Am I an expert in Macaron making? No. Have I made it multiple times? No. Do I think this recipe is no-fail? Maybe! Is this my original recipe? Definitely not. Did my Macarons come out just as expected? YES YES YES. So with this background, let me redirect you to a couple of sources I used to make this dessert. First is this video that a friend redirected me to, and second is this recipe by Manali.
Before narrowing down to this recipe, I looked online for recipes and found multiple options. Those options included aging the egg whites, using egg white powder and many other ingredients I was not sure I could pull through. These two recipes were straightforward and simple; ingredients that are easily available, method that is fairly simple and results that looked promising. A lot of recipes called for a macaron sheet, I did a small DIY for that. Just search for google images on macaron sheet and print out a sheet of your choice. I used a 1.5 inch macaron sheet. Place that under a parchment paper and pipe the macarons on the parchment. Worked perfectly for me, and the printed sheet of course is reusable.
Before diving into the recipe, here are my learnings from making them:
* Separate the egg whites and yolk when they are cold and then let the whites come to room temperature before you start using them
* Sift the flour very well, else the big particles will come in the way and spoil the Macaron piping. I made my own almond meal and it took a while to sift it all, but the effort was worth it!
* I was scared that I would burn the Macarons and sat like a hawk in front of the oven. You need to do that as it only takes a few seconds to waste all your effort! But do not underbake the macarons. They will be gooey inside. If they come off the parchment paper easily, they are done right.
* Measure all the ingredients well. And I trust more of the eyeball than theory. So I did not follow any of the ideas of folding in the eggs to almond flour in 30 strokes or 45 stokes. It worked pretty well for me
So here is the recipe I used combining various online tips and tricks and the outcome was just as we hoped it to be!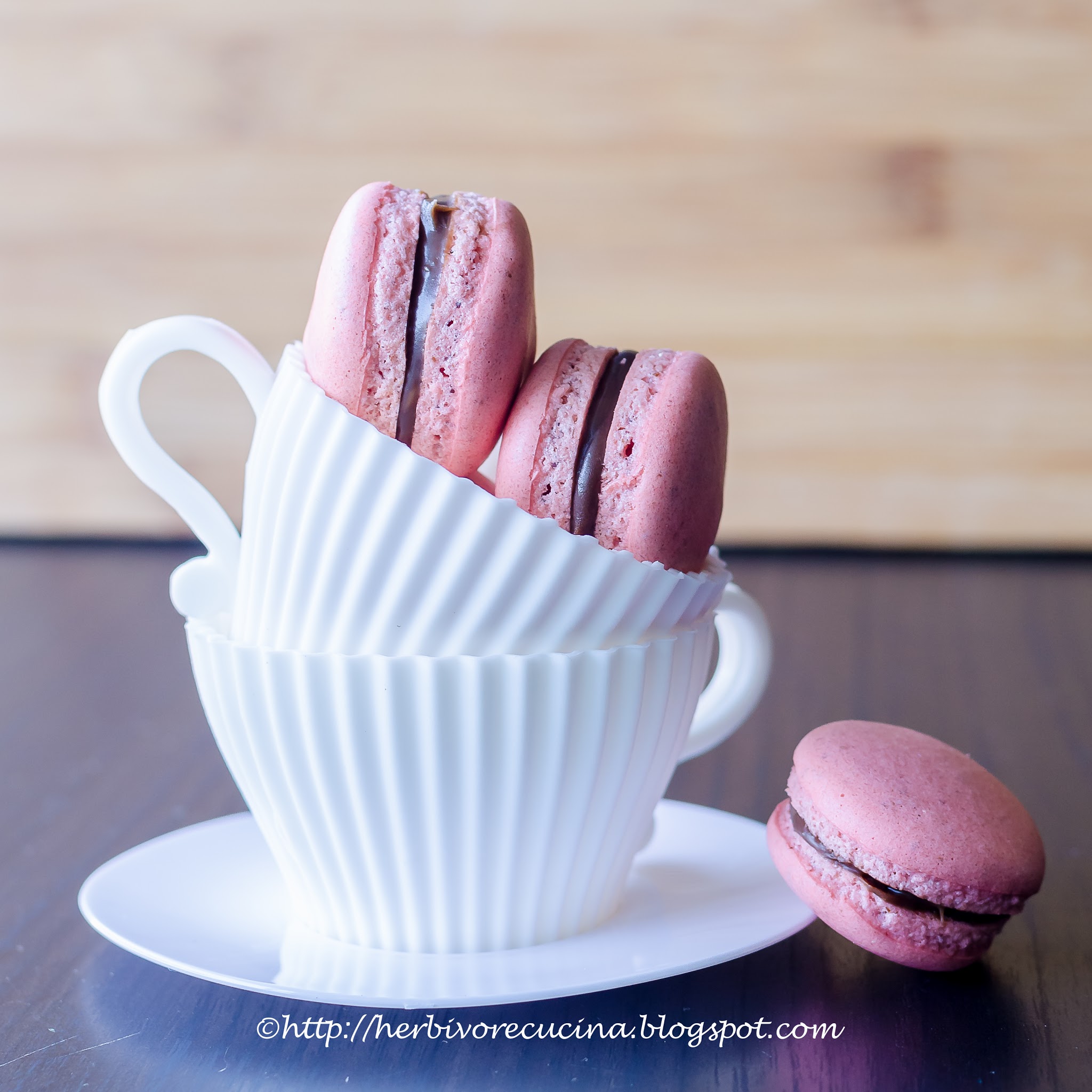 Ingredients
For the crust
Almond Flour (home-made or store bought) ½ cup
Eggs 2 (whites only)
Powdered Sugar ¾ cup
Granulated Sugar 6 tbsp
Gel Color a few drops
For the filling
Fresh Cream ¼ cup
Dark Chocolate ½ cup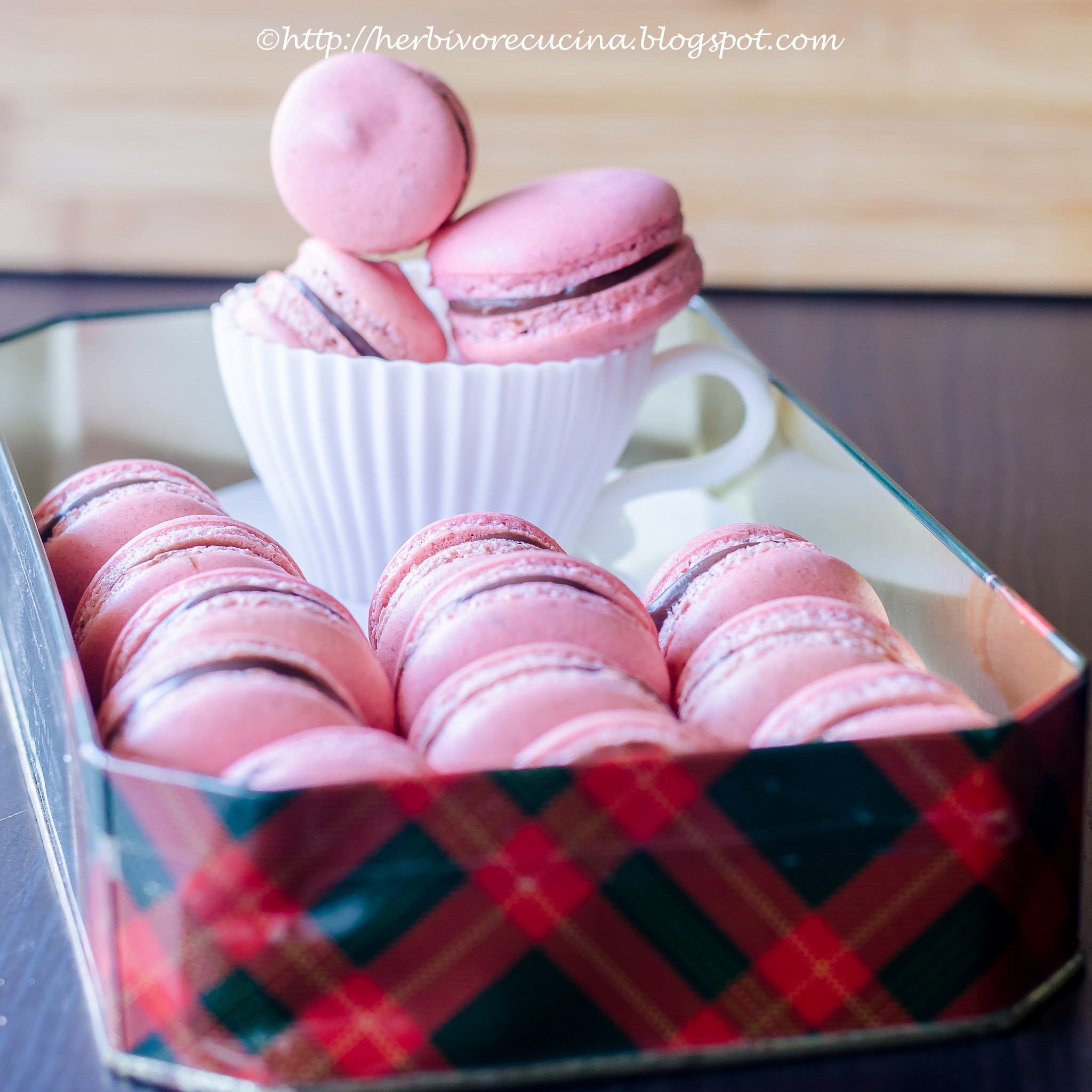 Method
Sift almond flour through a thin sieve. Remove all big particles. Then, mix with powdered sugar and sieve a couple of times. This helps to mix the two well and remove any of big particles of almond or sugar.
Beat the egg whites till foamy. Slowly add the granulated sugar, one tablespoon at a time and beat till the mixture is thick. Add gel color and mix till the mixture is evenly colored. The thickness is perfect when it does not fall off even when the bowl is overturned.
Slowly add one third egg mixture to almond and sugar and fold it in. Mix in and add second part and third part while folding in the mixture. Mix well but do not over mix.
Transfer the mixture to a piping bag fitted with round nozzle. Place a non stick baking tray, then the printed sheet with rounds and finally a parchment paper. Pipe the rounds. Tap the tray a couple of times on the counter to remove any air trapped. Let the macarons dry for 30 minutes. Hopefully the tops will dry by then. Touch one and check. If the tops are not dry, let them dry for another 10 minutes.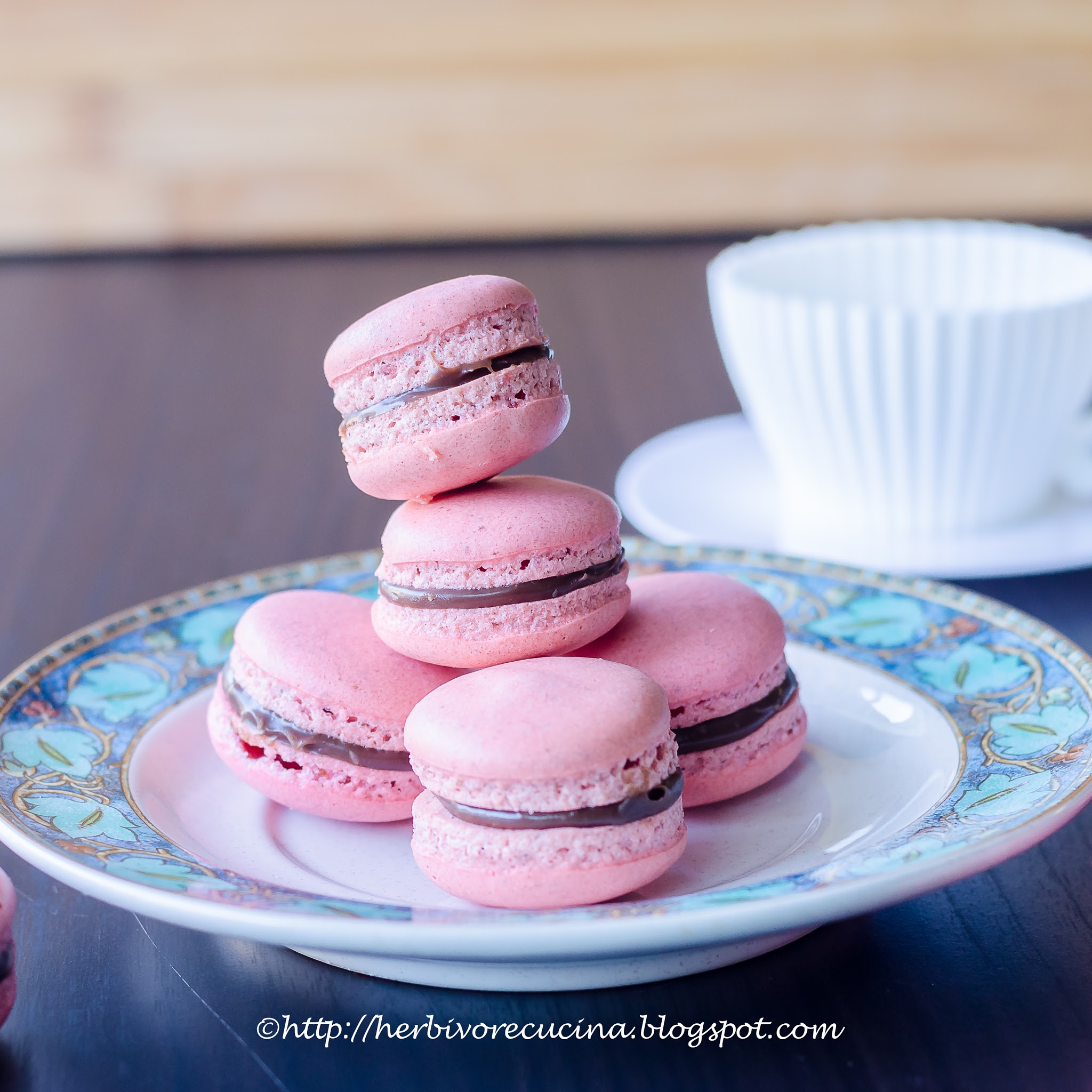 Preheat oven to 300 F/ 150 C. Place the macarons in and bake for 12-15 minutes till the bottoms are light brown. The macarons should rise and develop feet. Keep a close eye as it takes just a few seconds to burn. Mine took 14 minutes to bake. Remove and let them cool. They will come off the parchment paper quickly.
Let the macarons cool completely. Meanwhile, make the ganache filling. To do so, microwave cream and chocolate for a minute. Mix well and if chocolate is still particulate, microwave for another 30 seconds. Mix and refrigerate till thick. Transfer to a piping bag.
When ready to make the macarons, match the macaron shells by size. Pipe the ganache on one and cover with the other. Refrigerate overnight and serve at room temperature.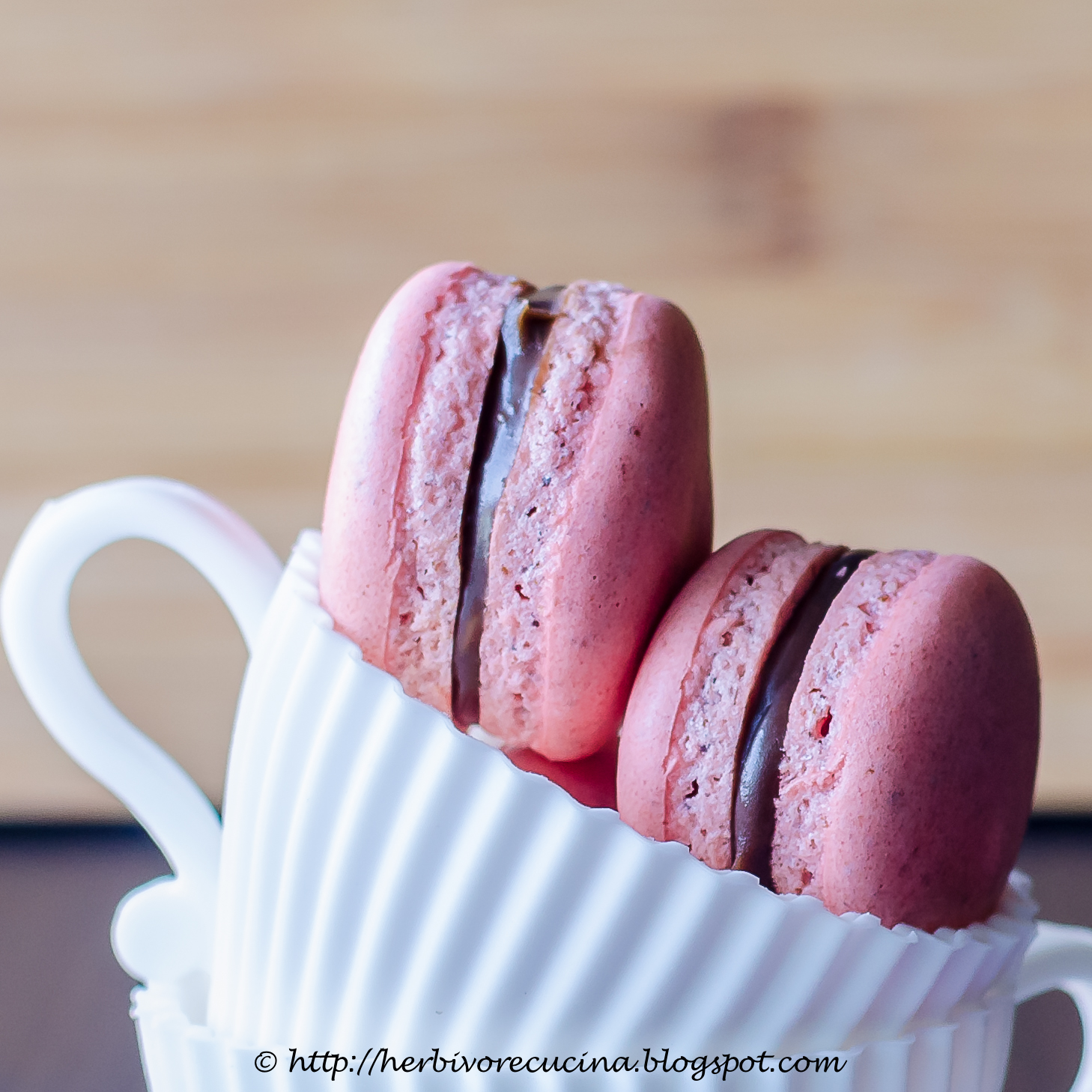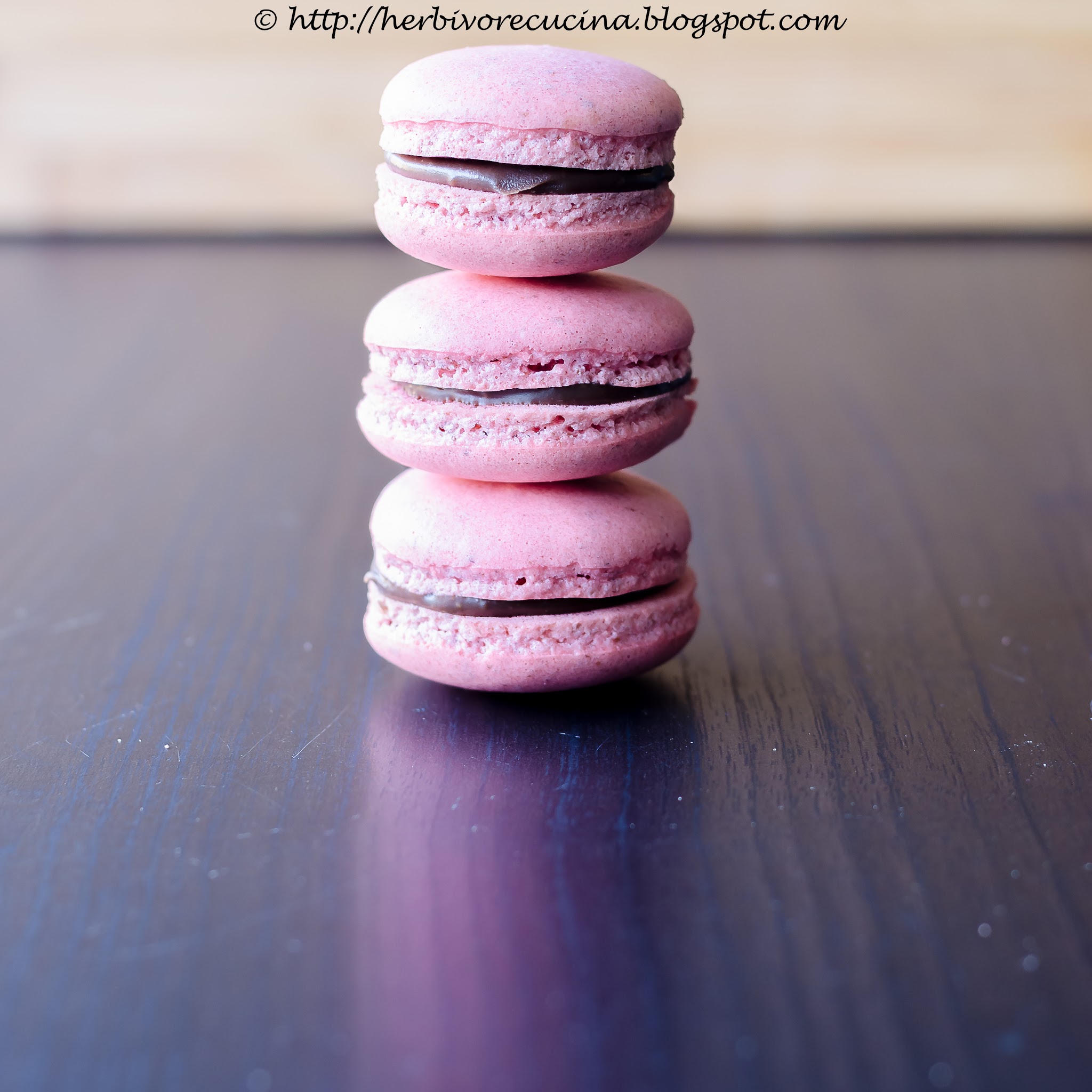 Check out the Blogging Marathon page for the other Blogging Marathoners doing this BM#66