It is November and it is time for yet another edition of the monthly event for Bread Bakers. This month our hostess Karen from Karen's Kitchen Stories has chosen the theme 'Root Vegetables'. So our options to use were one or more from onions, shallots, carrots, potatoes, radishes, rutabagas, parsnips, ginger, turnips. Though I initially thought I would do a bread with beets or carrots, I finally did a Garlic based bread.
We as a family LOVE garlic in all our breads, stews, vegetables, curries and soups. So given a chance to make garlic bread, I was not going to let go of it very easily! Besides I wanted to start prepping my blog for the upcoming Holiday season, and this bread sounded perfect for Thanksgiving or even Christmas. The bread is made of basic ingredients like most other breads. The garlic herb butter is really yummy and makes the bread taste awesome. But for me, the shape of the bread makes it a winner.
I love to have decorative food on my dinner menu for all my parties and bread is no exception. This sheaped bread is my favorite. The bread is made from ten roses and arranged to make a perfect wreath for Christmas dinner. Each rose does take some effort to make, and I vow everytime that I would not make this next time around. But I always end up making another batch of thr rose bread and we really like them on our dinner table.
The method to make the breads is simple but time consuming. I have a step by step collage to guide you how to make the roses. Following the steps and a little bit of patience would lead you to perfectly shaped roses each time. The division of dough into small parts is approximate, I just eyeball the proportions and it turns out pretty even. If you would like perfectly sized roses, use a kitchen scale to make the parts. Also, if you would like a more Christmas perfect bread, add Cranberry jam instead of garlic butter. It gives the bread that perfect pink tinge that makes them apt for Christmas. If you prefer dinner rolls shaped as roses, eliminate the filling and make the plain ones. Hope you enjoy these rolls and make them for the upcoming Holiday season!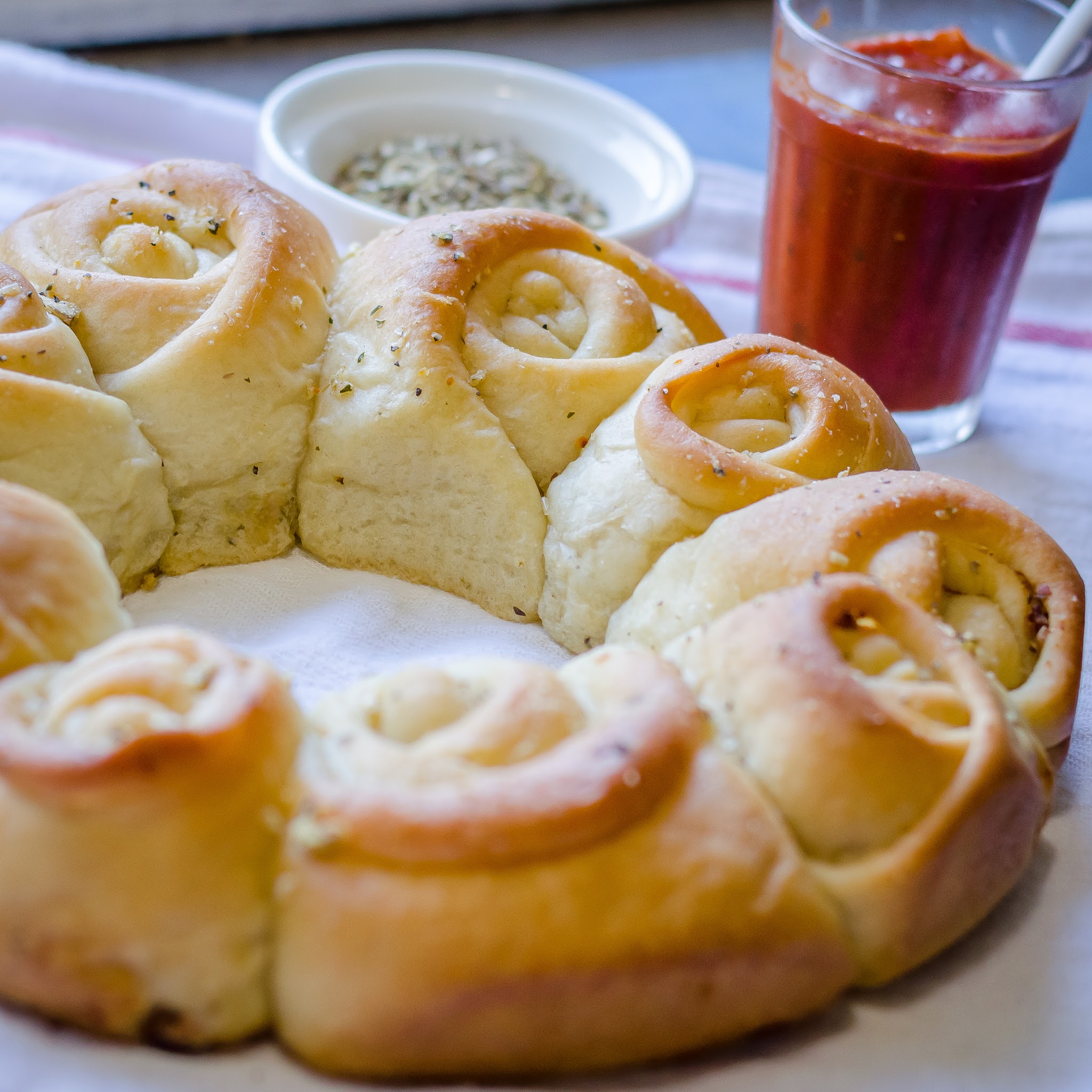 Ingredients
All purpose Flour 3 cups
Instant Yeast 1 sachet (2 ¼ tsp)
Unsalted Butter 3 tbsp
Salt 1 tsp
Sugar 1 tsp
For the garlic herb butter
Unsalted Butter 2 tbsp
Oregano 1 tsp
Garlic 4-5 cloves minced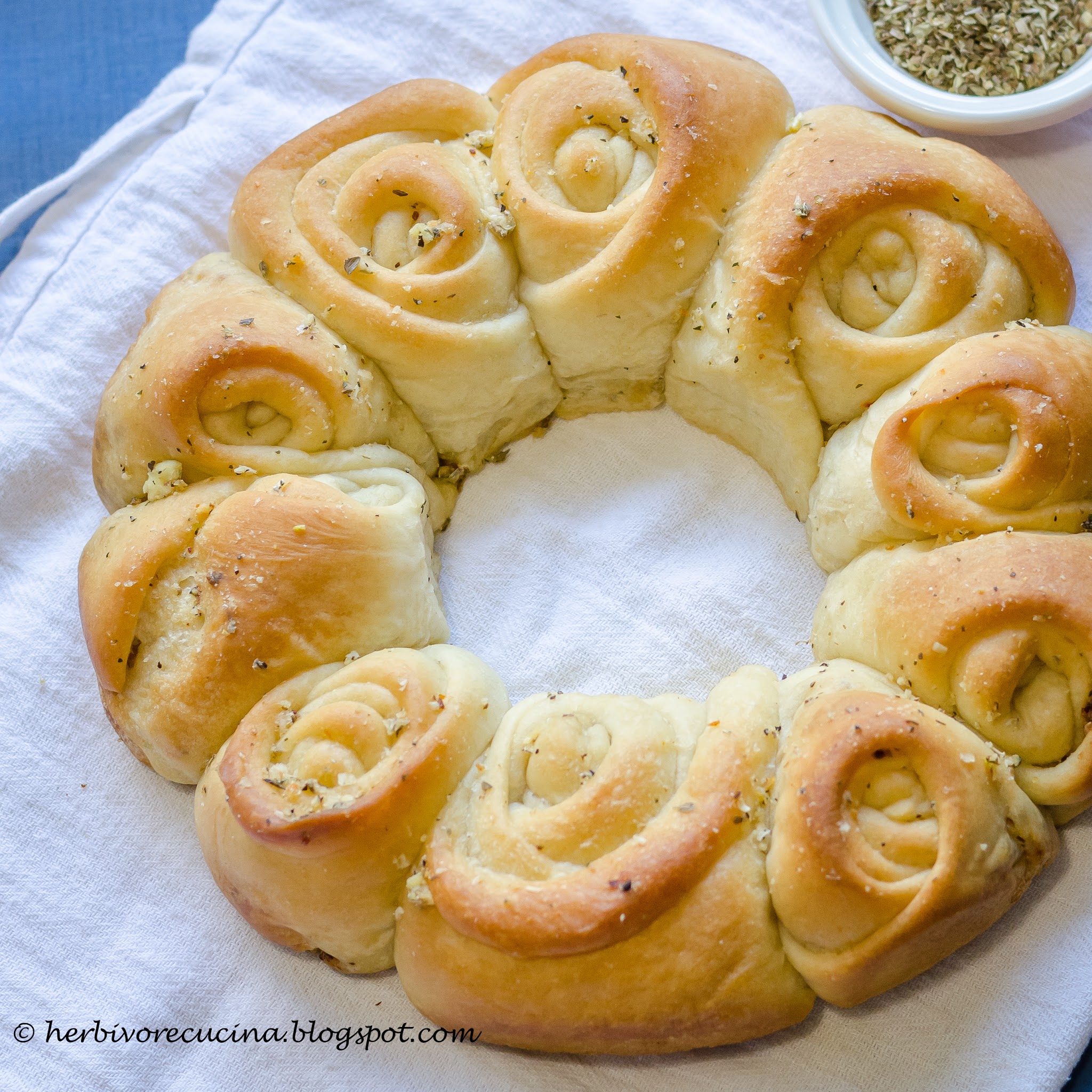 Method
In a cup of warm water (105-110 F) add 1 teaspoon salt and 1 teaspoon sugar. Mix well and add yeast. Mix well and rest in a warm place for 10 minutes. Once the yeast bloom, start with the dough.
In a mixing bowl add the flour, 1 teaspoon salt, unsalted butter and bloomed yeast. Bring everything together and make a soft dough. Knead the dough for 10-12 minutes. Lightly brush with oil/butter and place the dough in the bowl to rise. Keep the dough in a warm place ( about 90 F) for an hour till the it doubles in size.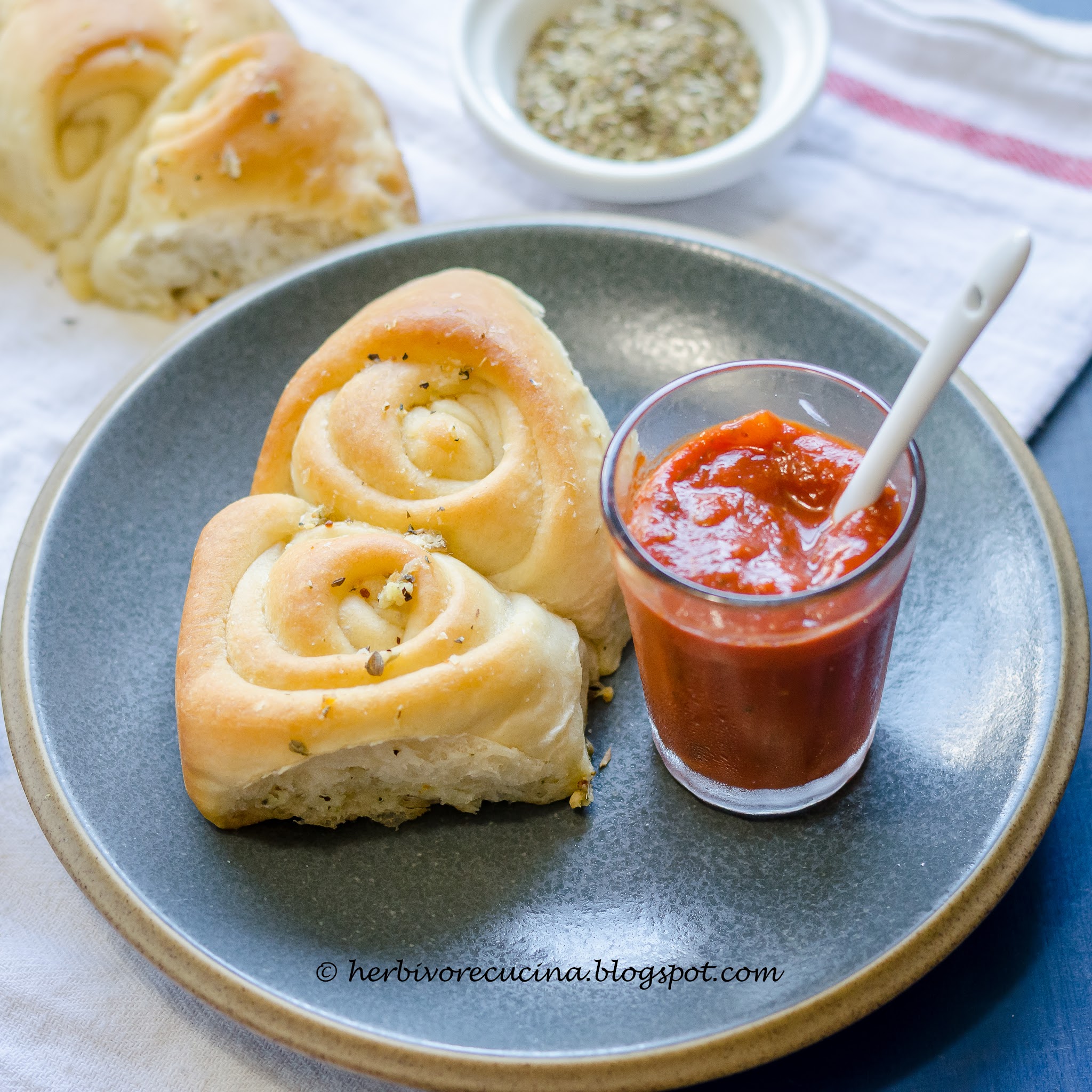 Once the dough has doubled, punch down and knead for a couple of minutes. Divide the dough into five parts. Mix all the ingredients of the garlic herb butter and set aside.

From every part, make five balls of increasing size. Using the smallest part make a log and from the remaining, roll out rounds of even thickness. Lay the largest round on a lined tray, brush herb butter. Layer all the rounds, brushing the butter between layers. Finally place the log and roll it up as shown below. Cut the roll into two, making two roses.
Line a 9 inch round baking tray with parchment paper. Place the roses side by side, leaving some space between them. Repeat for all the dough balls and adjust the spacing to get the roses in an even ring. Place a small can or glass bowl in the centre to make sure the roses remain in a ring. Brush some more of the herb butter on them. Cover and let the bread rise for an hour.
At the end of the rising time, preheat oven to 400 F/ 200 C. Brush the risen buns with oil or milk. Bake the bread for 15-18 minutes, till the crust is golden brown. Remove and cool. Then transfer to a cooling rack and cool completely.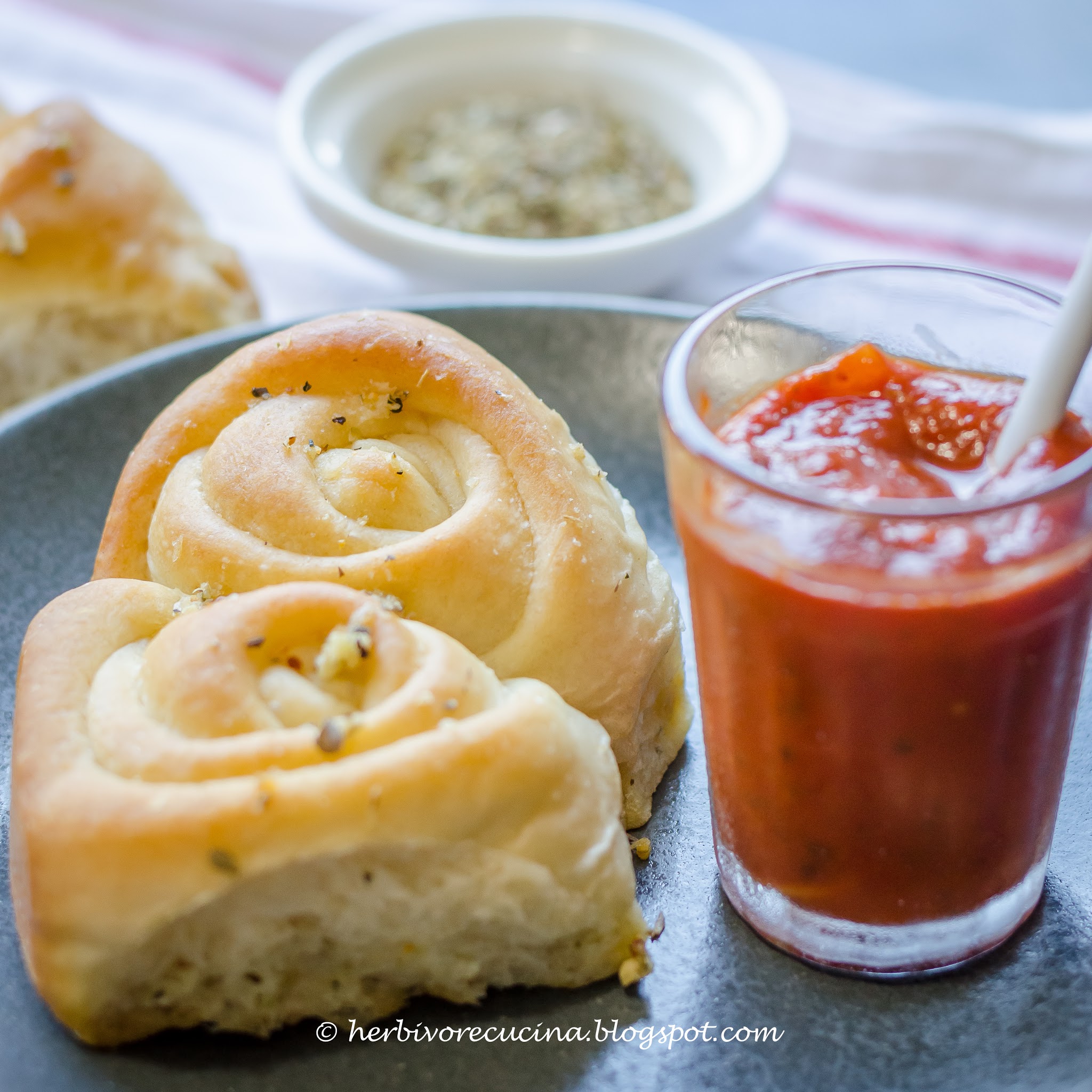 #BreadBakers is a group of bread loving bakers who get together once a month to bake bread with a common ingredient or theme. You can see all our of lovely bread by following our Pinterest board right here. Links are also updated after each event on the #BreadBakers home page.
We take turns hosting each month and choosing the theme/ingredient. If you are a food blogger and would like to join us, just send Stacy an email with your blog URL to foodlustpeoplelove@gmail.com.
For this month of Root Vegetables, check out what our fellow bakers have come up with: