This is a sponsored post on behalf of Nutrimill and I have been compensated with a free product. All opinions are 100% my own.
A quintessential spice mix of Indian cuisine; Garam Masala is amazing when made at home. Easy to follow recipe, this masala goes a long way to flavor your curries!

Some of the links below are affiliate links, meaning, at no extra cost to you, I will earn a commission if you click through and make a purchase.
Home-made spice mixes are super amazing. They are fresh, easy to make, made from ingredients you have added and save a LOT of money compared to store bought mixes.
Garam Masala is an Indian spice that is used in several recipes from curries to parathas and from dals to certain flat breads. It can be bought at any Indian store and the ingredients vary slightly based on the brand. However, some ingredients are ESSENTIAL and found in every mix.
I tried making this at home some time back. I tried adding an ingredient, change the proportion of the other and removing a couple of ingredients. Finally, I arrived at a proportion I would call AMAZING!
Video Recipe
What makes a GREAT masala?


The basic ingredients for Garam Masala includes cinnamon, cloves, coriander seeds, pepper, bay leaves and star anise. The spice from cloves and peppers is unmatched by any other ingredient. The star anise and fragrant coriander seeds add a lot of flavor to the mix.
The optional ingredients that I have included in the recipe are dried ginger powder, nutmeg and cumin. These do add a lot of flavor to the mix but if you add cumin seeds/powder and fresh ginger to your curries, you can leave these out. Nutmeg is super flavorful and can be added if you like the taste.
The other ingredients some recipes include are stone flower (dagad phool) and mace (javithri). They can be added if you have them else can be skipped. I generally do not add these in my mix.
How to make the masala using Nutrimill?


Once you have the ingredients ready, the next couple of steps are super easy and quick. All you need to do is dry roast the spices and powder to a fine consistency.
To make a fine powder, a spice mill or coffee grinder works the best! I have this one from Nutrimill that I TOTALLY love. It takes only about 30 seconds to get me the perfect texture.
This mill comes in a package with the Grain Mill that I have shared earlier. Together, these two complete my kitchen in terms of making flours, spice mixes and home ground coffee!
Check this post to read more about home milled flours: Whole Wheat Bread using Freshly Milled Flour.
If you need one package that does it all, consider this one: Nutrimill Harvest Everyday Package.
How to use the Garam Masala?


A perfect flavoring mix for all things Indian; Garam Masala literally translates to Hot Spices. This hot seasoning is the Indian version of Chinese 5 spice or Taco seasoning. It finds applications in MANY recipes.
The important thing to note is that that the blend is generally added at the end of the cooking process. Cooking it for too long can give it a bitter taste. Add a small pinch and remember the amount you make using the recipe below goes a LONG way!
The masala can be stored in an airtight container for 6 months. Hope you enjoy this home-made blend and use it for all your Indian recipes!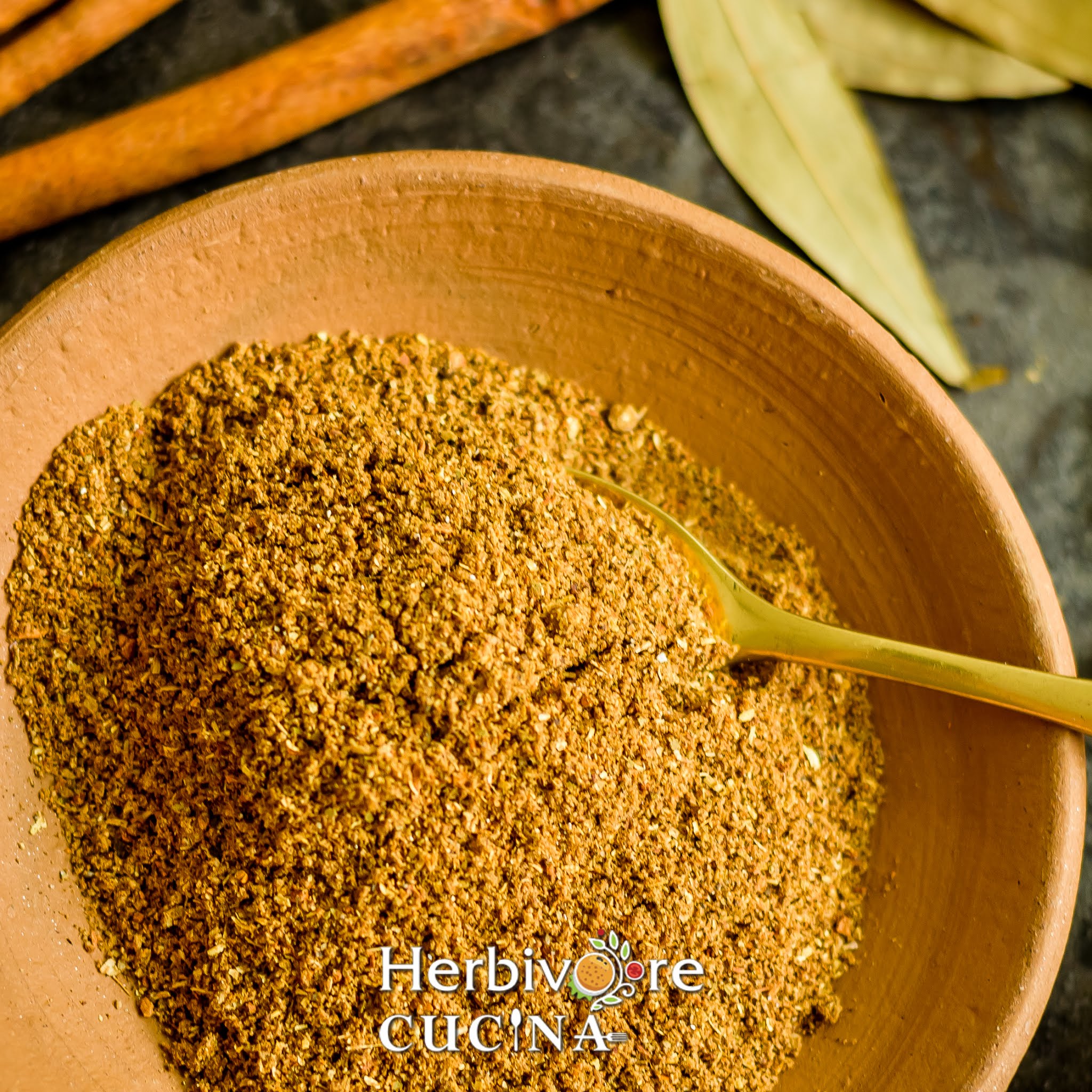 Ingredients
Cinnamon Sticks 3, 3 inches long
Cloves 1 tsp
Cardamom Seeds 1 tsp
Coriander Seeds 2 tbsp
Cumin Seeds 1 tbsp
Black peppercorns 1 tsp
Bay leaves 3-4
Nutmeg Powder ½ tsp
Dried Ginger Powder 1 tsp
Method
In a pan add all the ingredients except nutmeg and ginger powder.
Place on medium heat and dry roast till fragrant. Ensure it does not burn.
Cool the mixture for 10-15 minutes and then add ginger powder and nutmeg powder. Mix well.
Transfer everything to the Nutrimill Spice Grinder.
Grind for 10 seconds and check how coarse it is. Repeat till the desired coarseness is achieved (around 30 seconds).
Transfer to an airtight container and use in your favorite curries. The masala is great for 6 months; when stored in a dry and cool place.
DISCLOSURE: WE ARE A PARTICIPANT IN THE AMAZON SERVICES LLC ASSOCIATES PROGRAM, AN AFFILIATE ADVERTISING PROGRAM DESIGNED TO PROVIDE A MEANS FOR US TO EARN FEES BY LINKING TO AMAZON.COM AND AFFILIATED SITES.