Blogging Marathon #68 Week 5 Day 1
Theme: Desserts
Dish: Indian style Fruit Custard


Today is the beginning of the last week of this month's Cooking Carnival. My theme for the week is desserts and I am starting off with this Fruit Custard. The recipe is really easy and needs just a few ingredients like milk, sugar and custard powder. A lot of recipes online have various forms of using custard powder. While there are recipes for ice creams to cookies and halwa to fruits custards using it, this one is my favorite.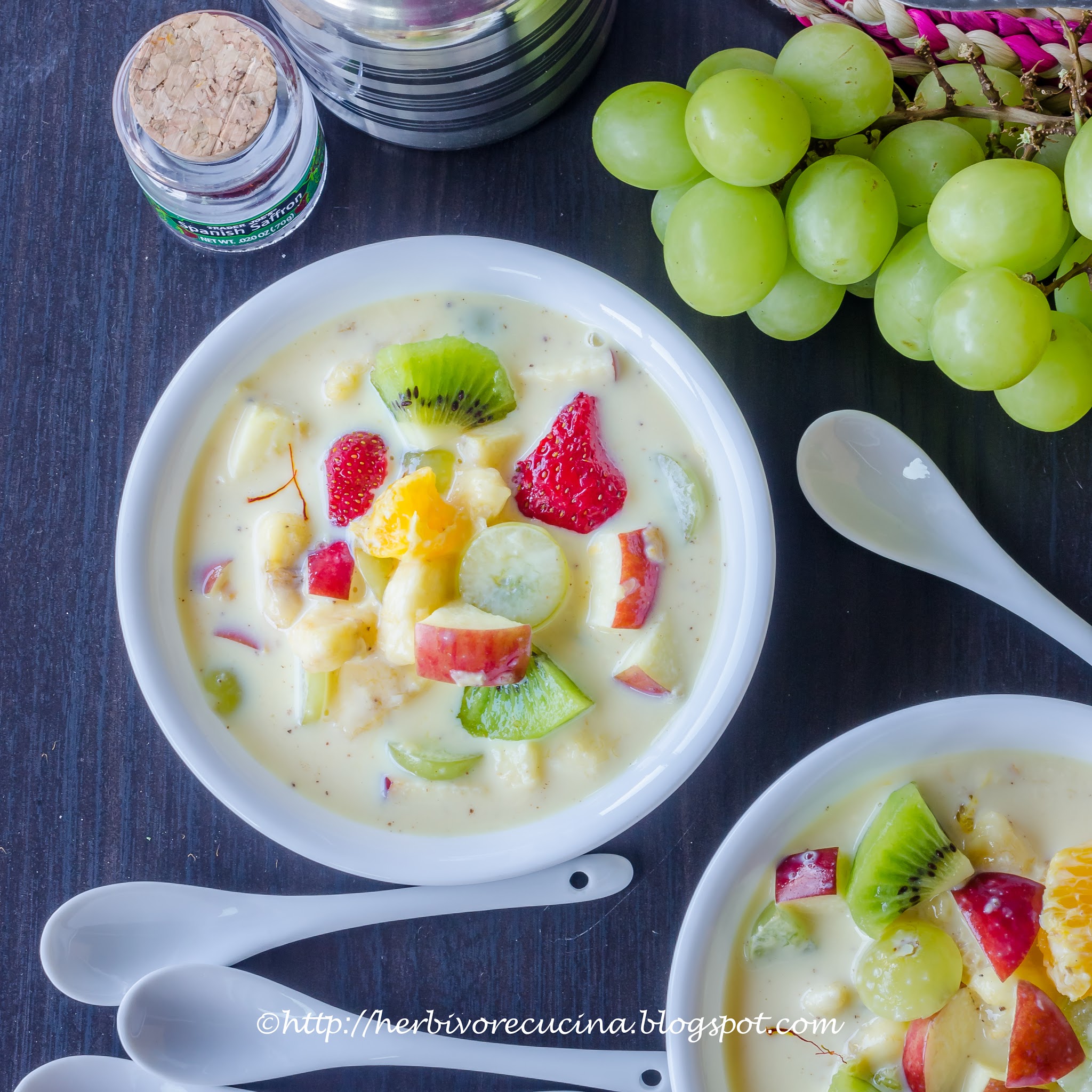 Whenever we plan a friend's dinner at home, my husband generally wants me to make this for dessert. He totally loves the dish. Along with him, his best friend is a fan too! Whenever they get together, they can gobble down a pot full of fruit salad. Before getting married, I used to make a very simple fruit custard with just the basic ingredients. Then my mother in law taught me to add saffron, cardamom and nutmeg to infuse Indian flavors in the dessert and boy, I stuck with the recipe! Adding a few spoons of additional ingredients can impart such a lovely flavor to the entire dish!
I generally make the custard earlier in the day for an evening party. It does help to enhance the flavors as the custard becomes more flavorful and thick after refrigeration. Just before the party, I add all the fruits except orange, kiwi and strawberry. Adding banana, apple, grapes and pomegranate is really common in this combination. Just before serving, add the remaining fruits, to avoid them from curdling the milk when kept for a long time. Enjoy this as a sweet dish for dinner or as a dessert. The leftovers taste even better the next day!!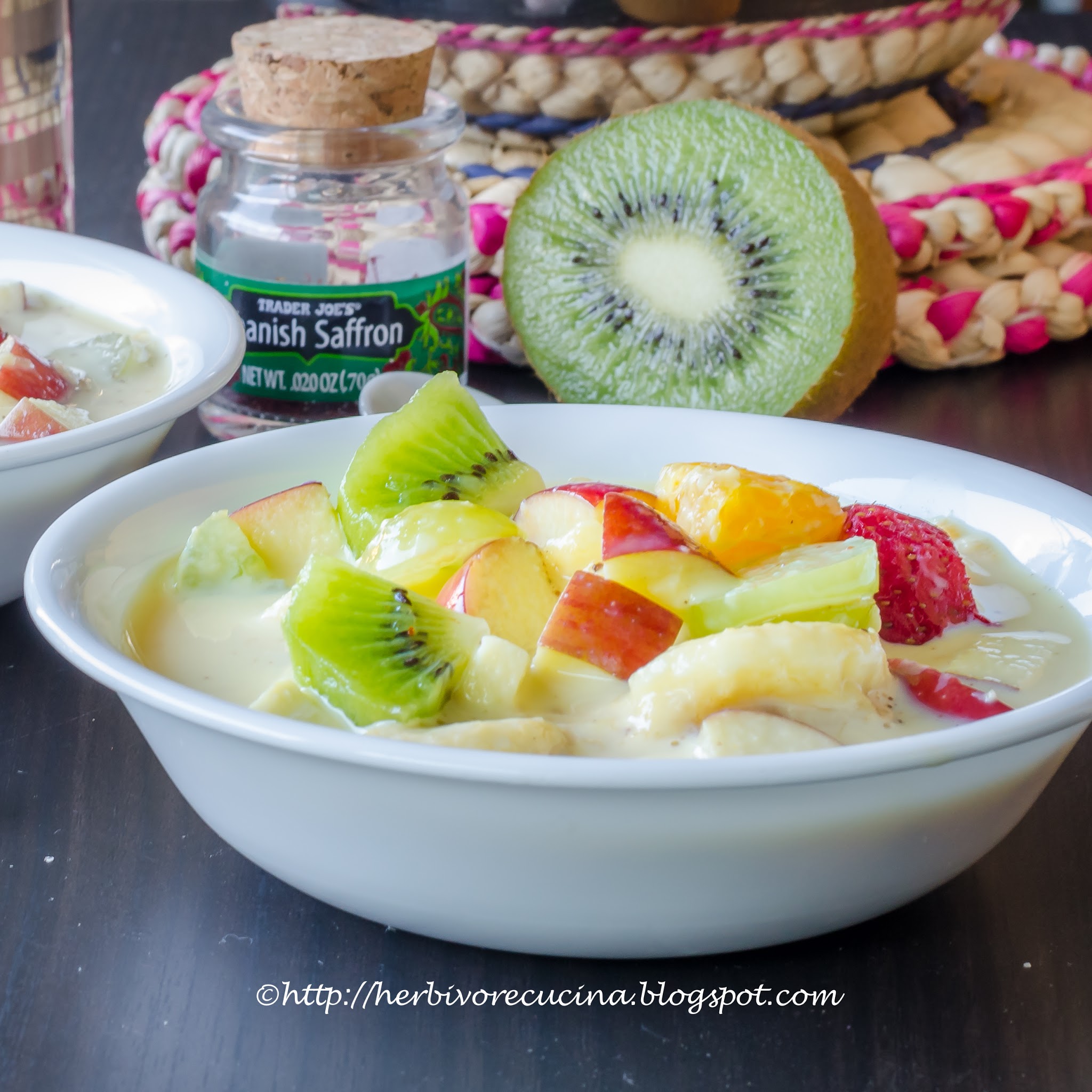 Ingredients


Mixed Fruits 2 cups chopped
Milk 4 cups (I used whole milk)
Custard Powder 4 tablespoon ( I used Vanilla Flavor)
Sugar ½ cup
Cardamom Powder ½ tsp
Nutmeg Powder a pinch
Saffron a few strands


Method


In a pan add 3 ½ cups milk and boil on medium flame for about half hour. The milk should start thickening up. Add the sugar and mix well. Keep a close eye and keep stirring to ensure that the milk does not stick to the bottom.

In the remaining half cup cold milk, add the custard powder and make a smooth mixture. Pour the mixture into the boiling milk, mix quickly and boil for another 5-6 minutes till the milk is thickened with custard powder. Once the desired consistency is reached, turn down the heat. Add the saffron, nutmeg and cardamom powders and mix well. Let the custard cool completely. Then refrigerate for atleast 2-3 hours.

To serve, divide the diced fruits in three or four bowls. I used apple, banana, grapes, orange, strawberries and kiwi. Pour the custard mixture on the fruits, add some additional cardamom powder if you like. Mix and serve cold.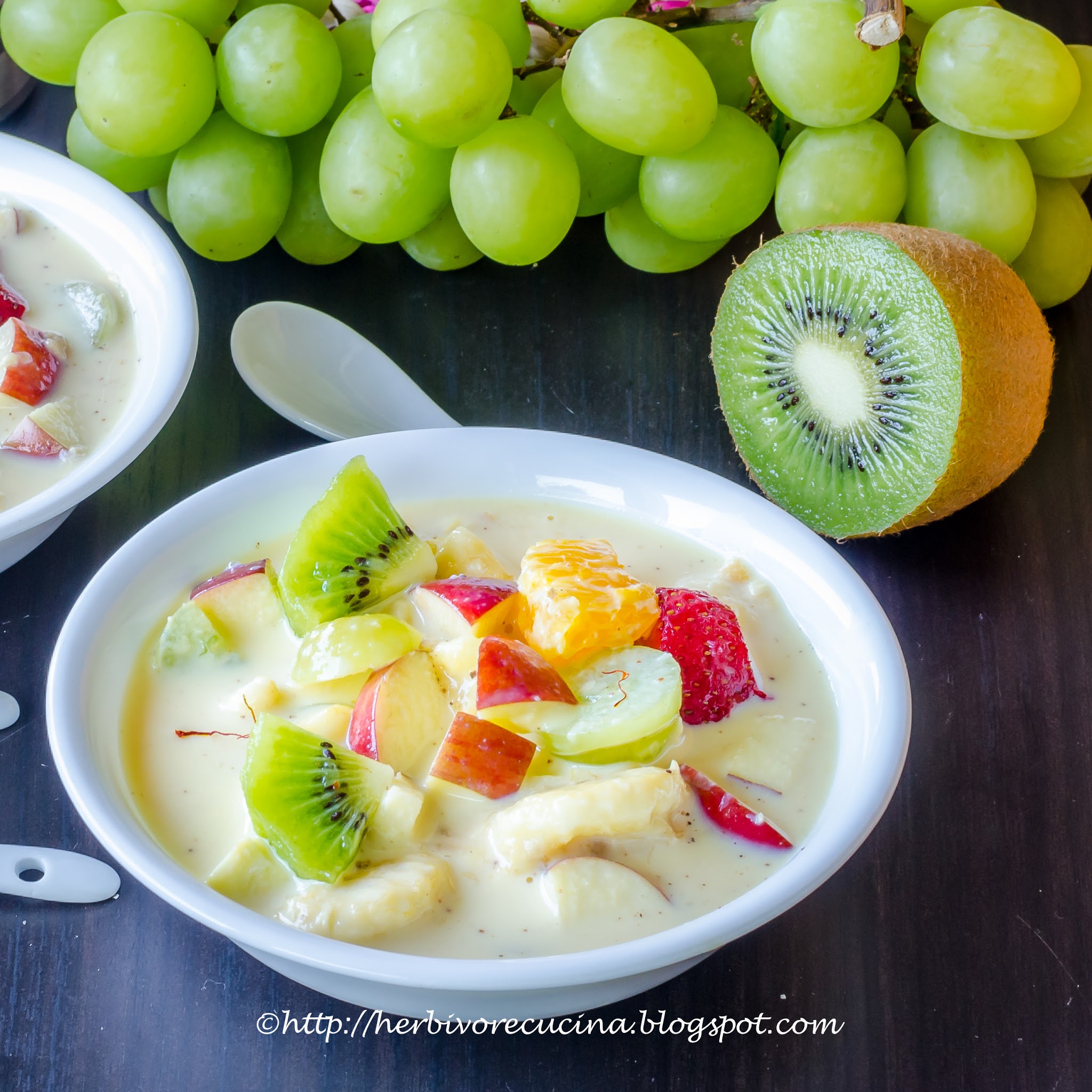 Check out the Blogging Marathon page to see what the other Blogging Marathoners are doing for BM# 68