It is August and schools are just about to begin in US. This time takes me back to my school days. Back in the day the snack box was a thing! I always wanted something different, something tasty and colorful. My mother used to make a ton of different snacks just for me! A lot of effort goes into planning the snacks I guess. It has to be healthy, quick to make, child friendly and something that tastes great even when it is cold.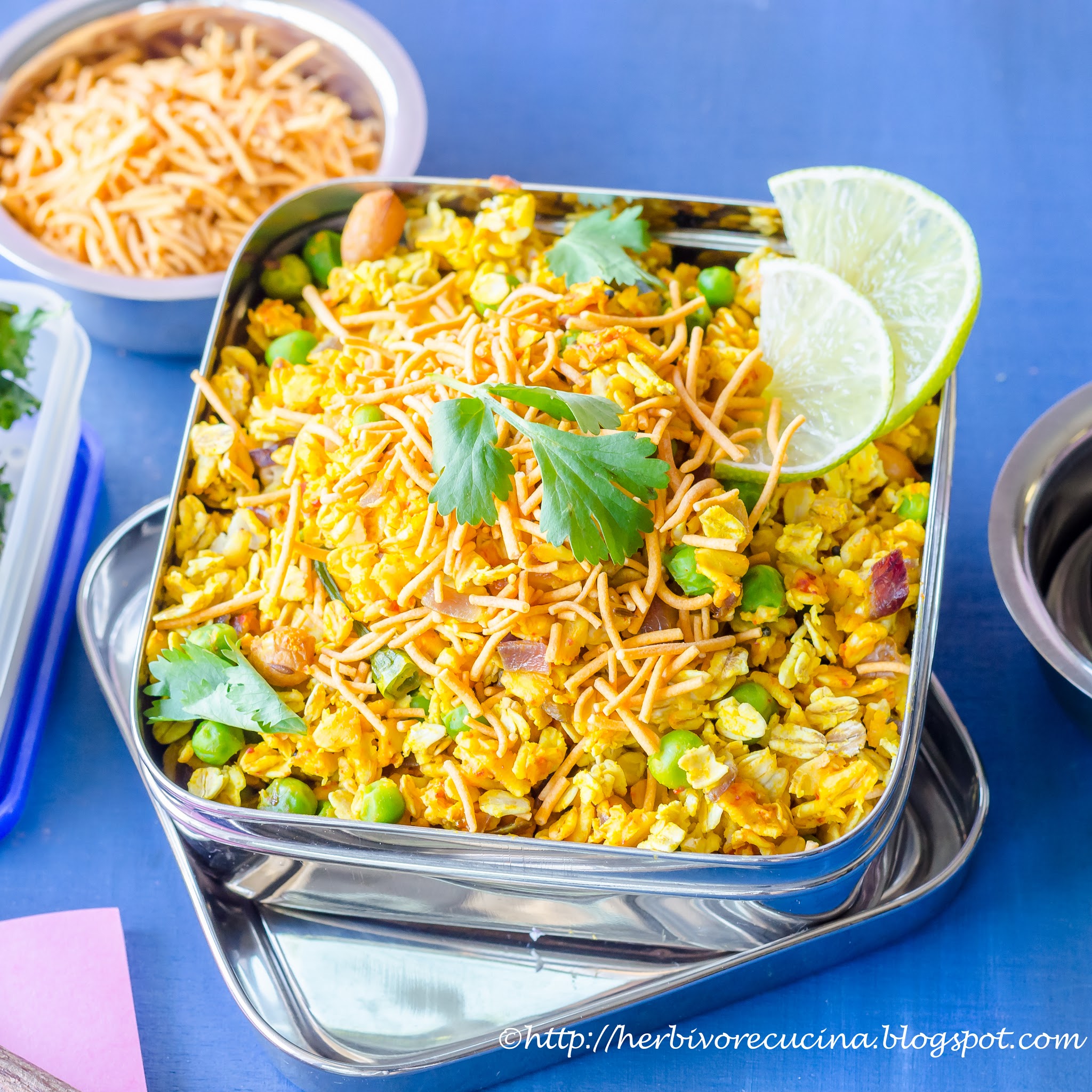 A couple of days back I was looking at Richa's blog Vegan Richa and saw this recipe of a really cool dish made from old fashioned oats. The dish was essentially a savory snack or breakfast made just like poha. Simply put, it could be termed as Oats Poha, switching the regular poha for old fashioned oats.
The first time I tried this recipe, I messed it up and ended soaking the oats till they were mushy. Though the taste was great, the texture was definitely not what I wanted. The second time I sprinkled water on the oats and the result was perfect! Amazing taste and definitely good enough to picture! So after a couple of tries, this recipe has finally made it to the blog.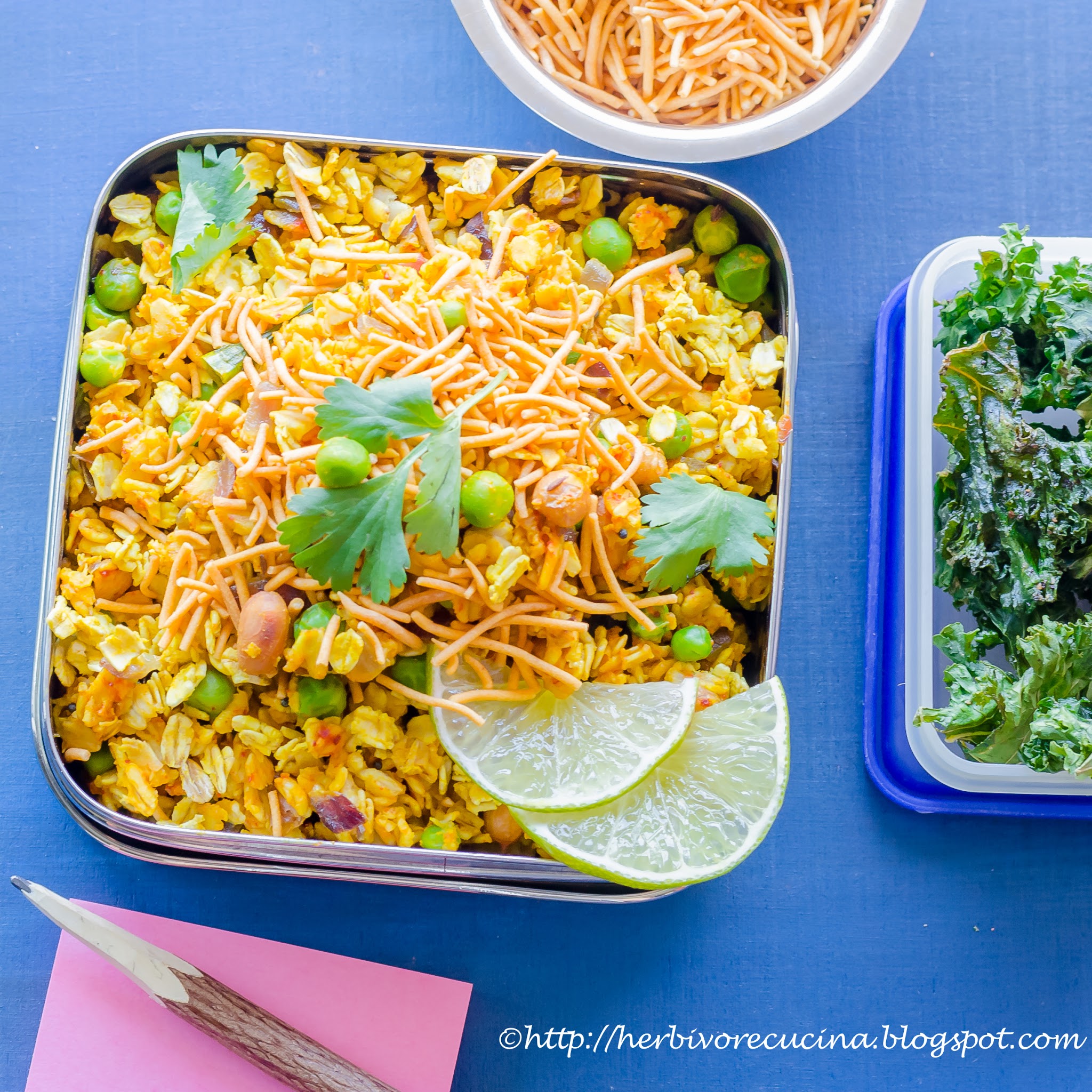 The advantage of this dish is that once cooked, it tasted great even when it was cold. The oats will not clump together and stay separate. I added onion and peas to the hash. You can add more vegetables like potatoes, carrots, corn or peppers. Also, adjust the amount of chilli based on how spicy your family prefers. A lot of schools in US are nut free. If yours is one of those, skip the peanuts and the rest of the recipe is perfect! We enjoyed the poha with spicy sev and kale chips. The combination was perfect and we had a healthy breakfast!
Barely adapted from: Vegan Richa
Ingredients
Old Fashioned Oats 1 cup
Pink Onion ½ medium
Green Peas ½ cup
Roasted Peanuts ¼ cup
Mustard Seeds 1 tsp
Asafoetida a pinch
Turmeric Powder ½ tsp
Red Chilli Powder 1 tsp
Green Chilli 1-2
Curry Leaves 2-3
Oil 2 tbsp
Salt, Sugar, Lime Juice
Cilantro and sev to top
Method
Sprinkle a few tablespoon water on the oats and lay it in a sieve. The oats will become mushy if there is too much water. Dice the onions and mince the green chilli. Wash and drain the green peas.
Heat oil in a pan. Add mustard seeds and let them pop. Then add asafoetida and cumin seeds. Once they pop, add curry leaves and green chilli. Then add diced onions and saute till translucent.
Once the onions are cooked, add roasted peanuts and peas. Saute for a couple of minutes and add the drained oats. Add the turmeric powder and chilli powder. Mix well. Season with a teaspoon of salt, ½ teaspoon sugar and juice of half a lime. Mix it all well, cook covered for a couple of minutes.
Do not overcook and do not keep mixing it else the oats will become mushy. Remove in a plate or lunch box and top with cilantro and sev. Serve or pack away for school!