A yeast free bread perfect for St. Patrick's Day. Studded with raisins, this loaf gets its crusty coat from buttermilk and tastes AWESOME with roasted strawberries and butter.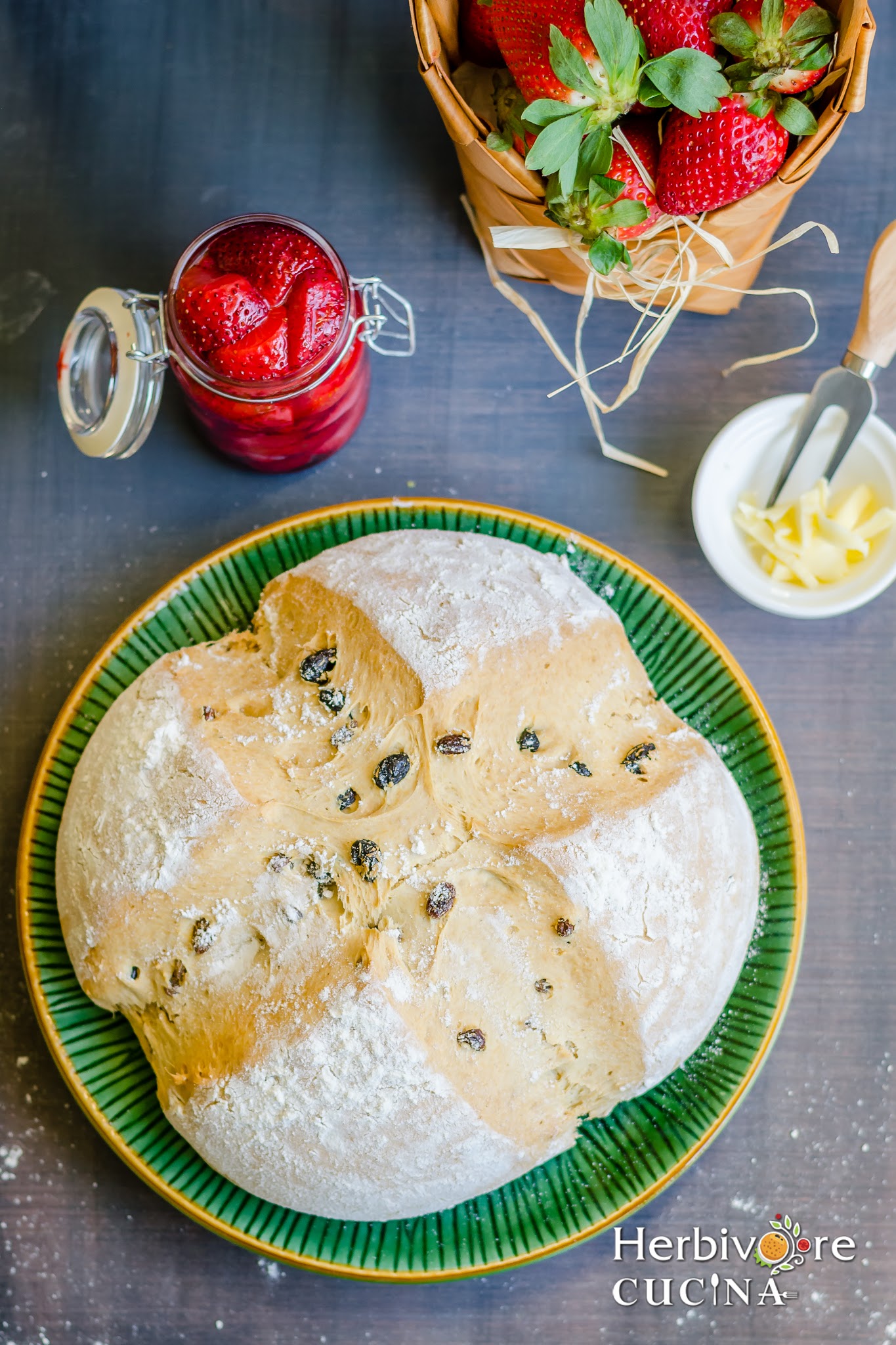 March is almost halfway through and At. Patrick's Day is almost here. It is time for everything Irish; from Shamrock shake to Irish Creme and from Irish breads to Beer.
In the spirit of everything Irish, we as a group of BreadBakers are making breads based on the same theme. Our host this month is Wendy Klik whose blog is A Day in the Life on the Farm. I loved the theme she picked for us. Thanks to the theme I finally have a Soda Bread on the blog!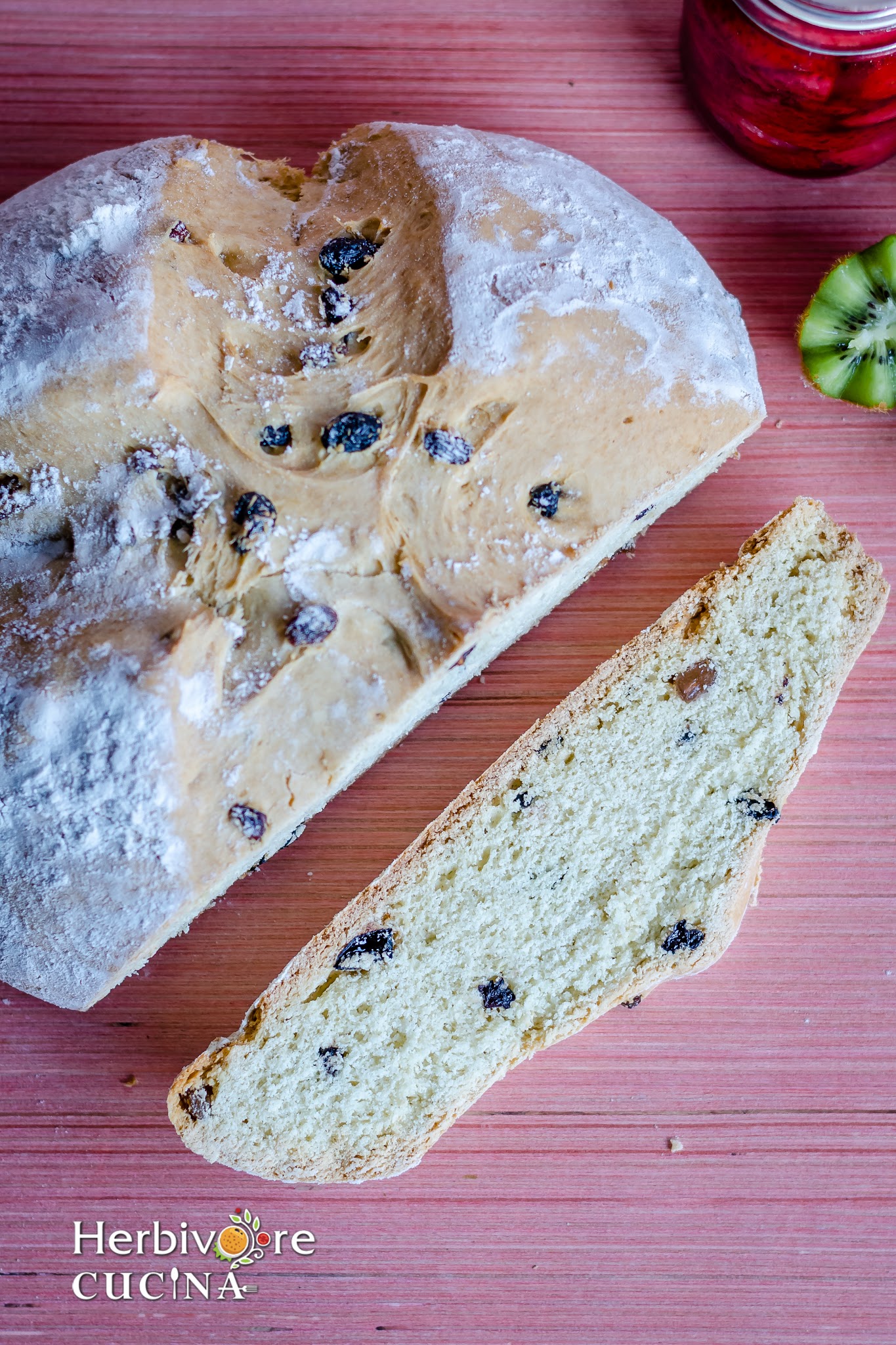 I have heard about this bread since a long time but never made it myself. Being a yeast free bread, I was never sure how it would turn out. But the result was SUPER and we gobbled the loaf in just a couple of days! We slathered the bread slices with butter and some roasted strawberries and enjoyed it totally!
This is the first yeast free bread I baked and found it works on the basis of a simple reaction we learned years ago in Chemistry. The bread has the basic ingredients flour, buttermilk, soda and salt. Within the dough, the lactic acid from buttermilk reacts with the soda and forms tiny bubbles of carbon dioxide. That is the only leavening agent in the bread and gives a bread that has a unique structure and density.
This one is a quick bread, needing no time to rise or the yeast to proof. The bread can be made really fast, requiring only three steps; mix, bake and ENJOY!
The bread is soft and crumbly inside and it has a nice crust on top. The top gets its lovely crust from the buttermilk. This version may not be the most authentic version, it is a slight Americanised version with the sugar and currants added into it. I wanted to make a breakfast bread that is slightly sweet and so added the sugar.

Variations

In this bread the only required ingredients are flour, baking soda, buttermilk and butter. The rest can be changed based on how you like the bread. If you like raisins in the loaf, add them. If you like some nuts, you can go ahead and add them too. The top of the bread can be glossed with some egg white and adding egg in the bread is common too. I made an eggless one but I have seen a lot of recipes with egg too. The amount of sugar can be varied based on whether you are making a sweet bread or a savory one.
Ingredients
Allpurpose Flour 3 ½ cups
Baking Soda ½ tsp
Baking Powder 1 ½ tsp
Sugar ¼ cup
Butter 3 tbsp, room temperature
Buttermilk 2 cups
Raisins 1 cup ( I used black and golden)
Salt 1 tsp
Method
Preheat oven to 375 F/ 190 C. In a bowl or the bowl of the stand mixer sift flour, baking powder, baking soda, sugar and salt.
Mix well and add butter and buttermilk. Beat on medium speed till the dough comes together. Add some flour if it becomes too sticky. Add in raisins and mix one last time.
Add some dry flour on a baking tray and place the dough on it. Shape the loaf into a round and sprinkle dry flour on it. Using a sharp knife make an X on the loaf.
Brush if buttermilk if required. Place the loaf in the oven and bake for 45-50 minutes, or till the bottom feels hollow.
Cool and slice the bread. Enjoy!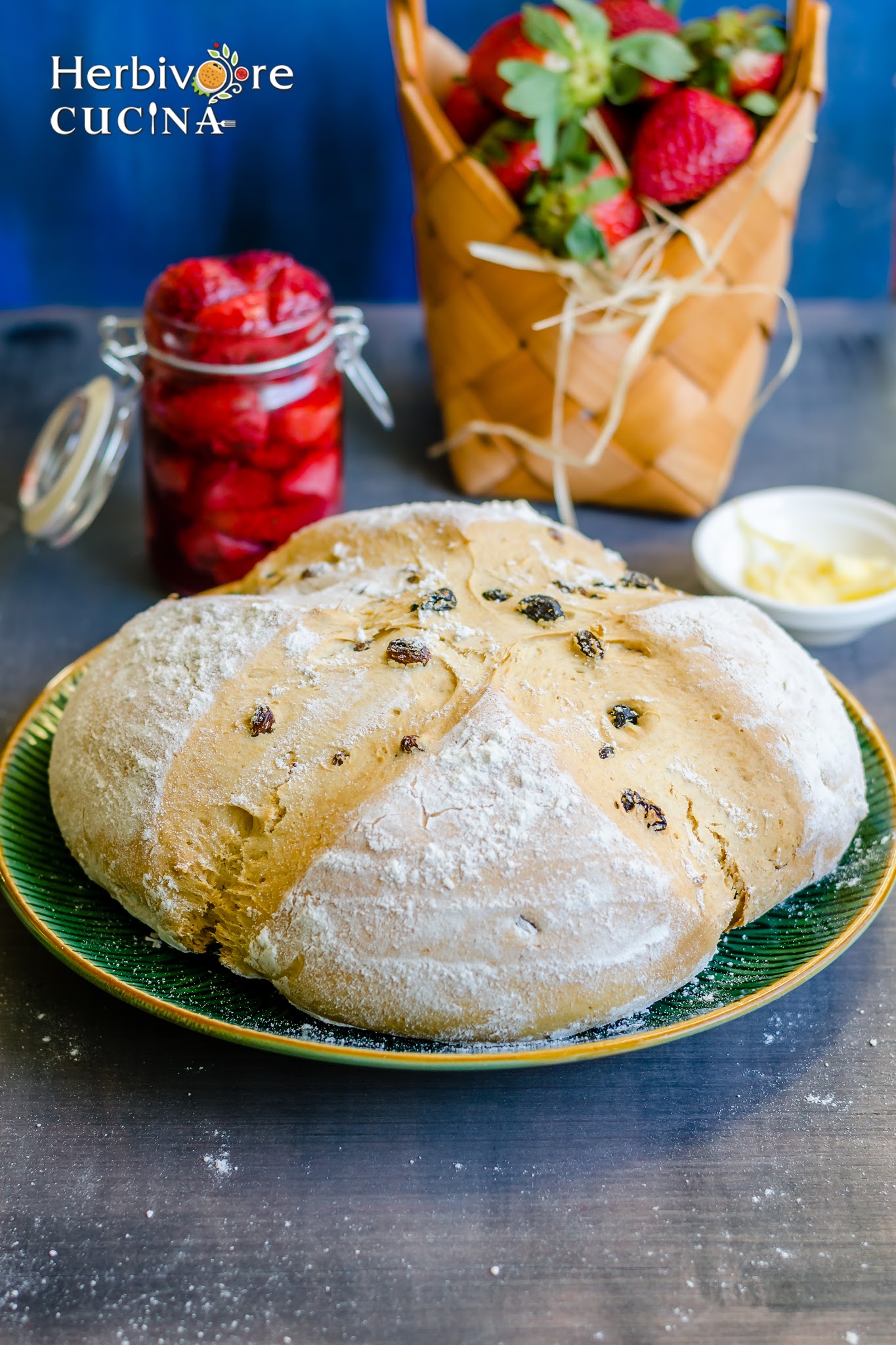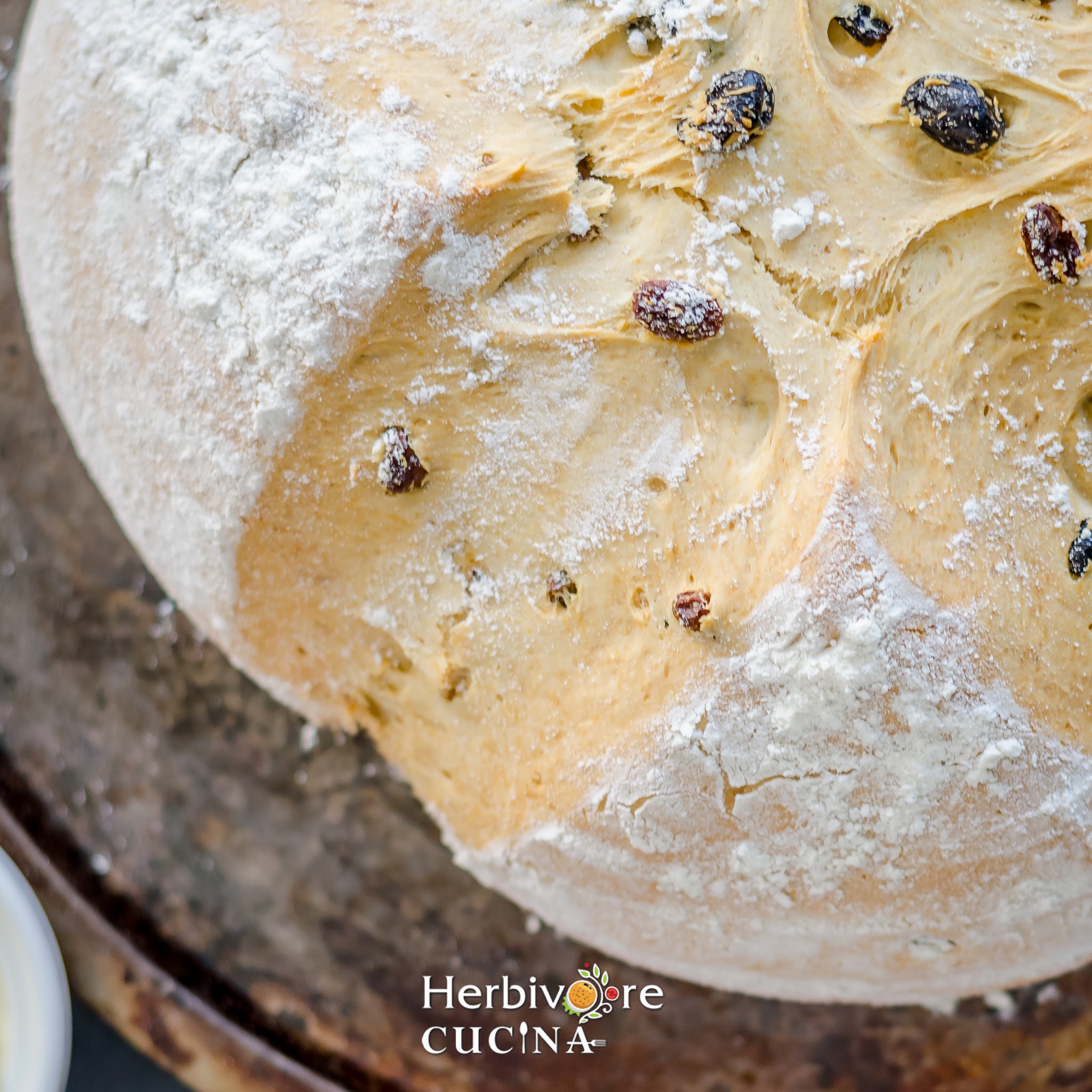 #BreadBakers is a group of bread loving bakers who get together once a month to bake bread with a common ingredient or theme. You can see all our of lovely bread by following our Pinterest board right here. Links are also updated after each event on the #BreadBakers home page.
We take turns hosting each month and choosing the theme/ingredient. If you are a food blogger and would like to join us, just send Stacy an email with your blog URL to foodlustpeoplelove@gmail.com.
Pin for later:
Check out the Irish Breads that our fellow #BreadBakers have baked this month: