A FIVE ingredient recipe to make Mango Kulfi; an Indian style Mango Ice-cream from reduced milk and flavored with saffron!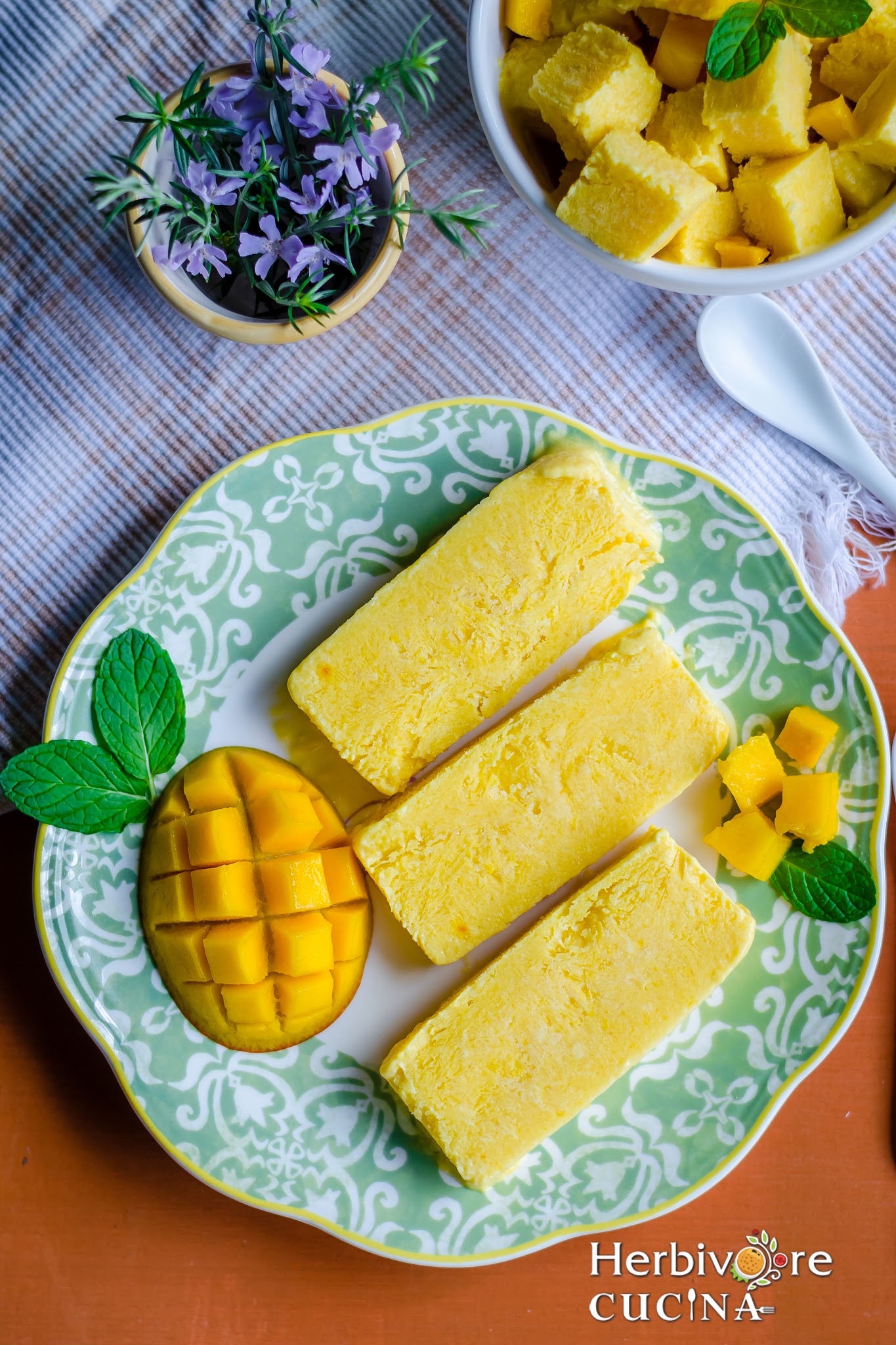 The days are getting warmer and longer. I am totally LOVING this!! There is sunlight well past 6-7 pm and it seems so bright and lively. The best thing I like about the longer days is that I can click pictures for the blog all day. And it keeps me in a lively mood too.
Whenever I think back of Summers in India, the thing that I miss the most is MANGOES. The king of fruits makes an appearance for the summer months and it is enjoyed for every meal! Alphonso, an Indian specialty is my favorite. It has a great taste and texture, which is unmatched by any other mango breed!
Mangoes are used in everything like aam shrikhand, milkshake, mastani, ice cream and kulfi. Or it is enjoyed cut into cubes or as aamras. Those three months are meant only for mangoes, and all other fruits take a back seat in the house.
Here in the US we get different kinds of mangoes but none of them taste like the Alphonsos. However, I like to get them and make all the delicacies; not to miss out on the wonderful fruit.
This year too, I started getting the mangoes and we are already enjoying bowls full of aamras! I was craving for Indian style Mango Kulfi, an ice cream made from thickened milk and mango puree.
So I braved the task of standing in front of the stove to thicken milk for almost an hour! It was a tough task, waiting for the milk to thicken for so long, and then for the kulfi to set. I tasted and tested the mixture so many times; I was not sure if I will actually have enough mixture at the end! Luckily I did have enough and the kulfi came out amazing.
Variations


I used fresh mango pureed with no water at all. However, canned puree works really well too. If using puree with sugar added, adjust the amount of condensed milk used.
Plus, adding evaporated milk is optional. It is nothing but a can of thickened milk. If opting not to use that, use about 4-5 cups of milk a nd reduce to half. That way you will have a decent amount of milk left at the end of the boiling process.
While adding sugar instead of condensed milk also works, I prefer to use condensed milk. Substitute for 1 cup sugar if you like. And lastly, the kulfi can be set into popsicle molds instead of a container. That way you will have individual pops to enjoy!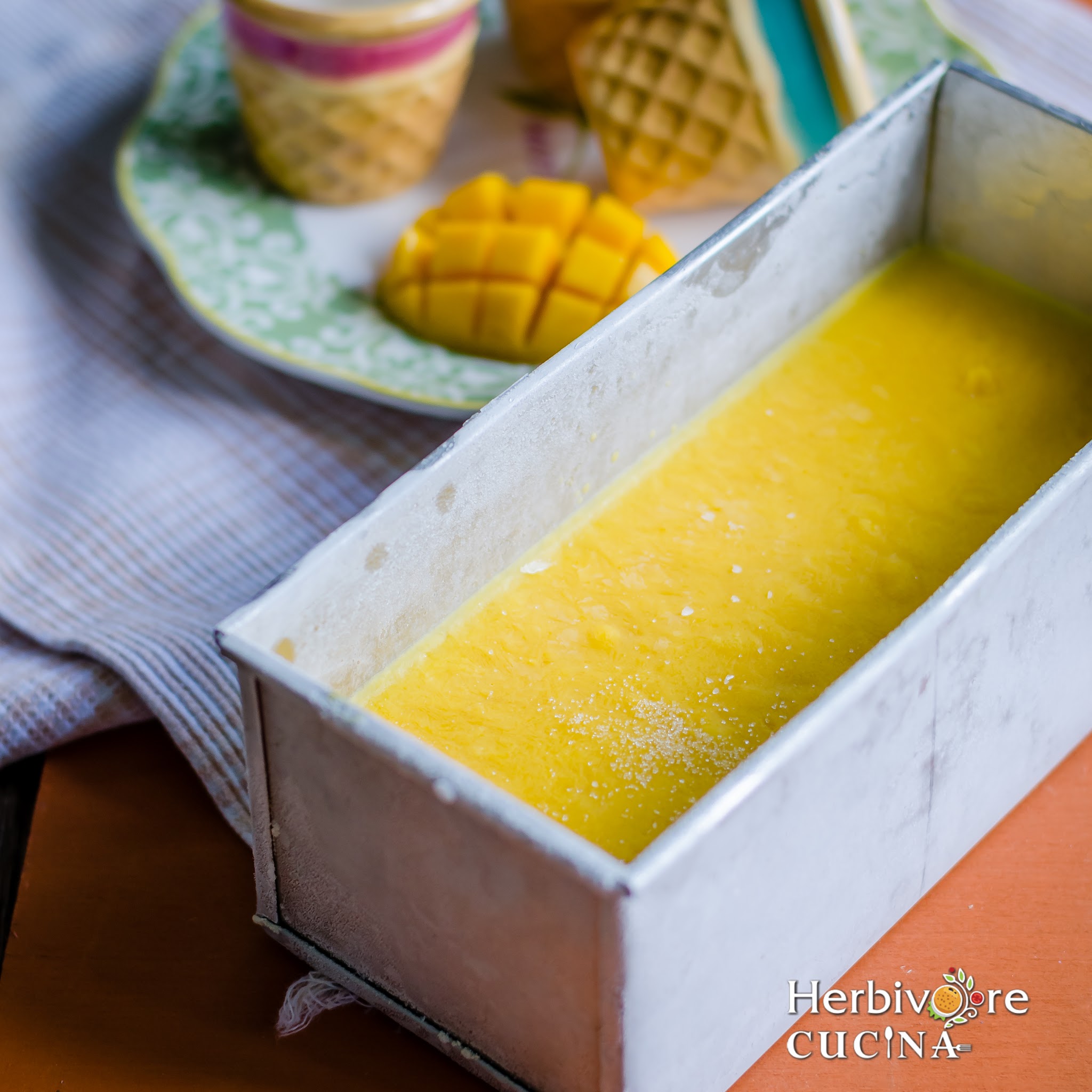 Ingredients
Mango Puree 1 cup (fresh or frozen)
Whole Milk 3 ½ cups
Evaporated Milk 1 can 5 oz
Sweetened Condensed Milk 1 cup
Saffron a pinch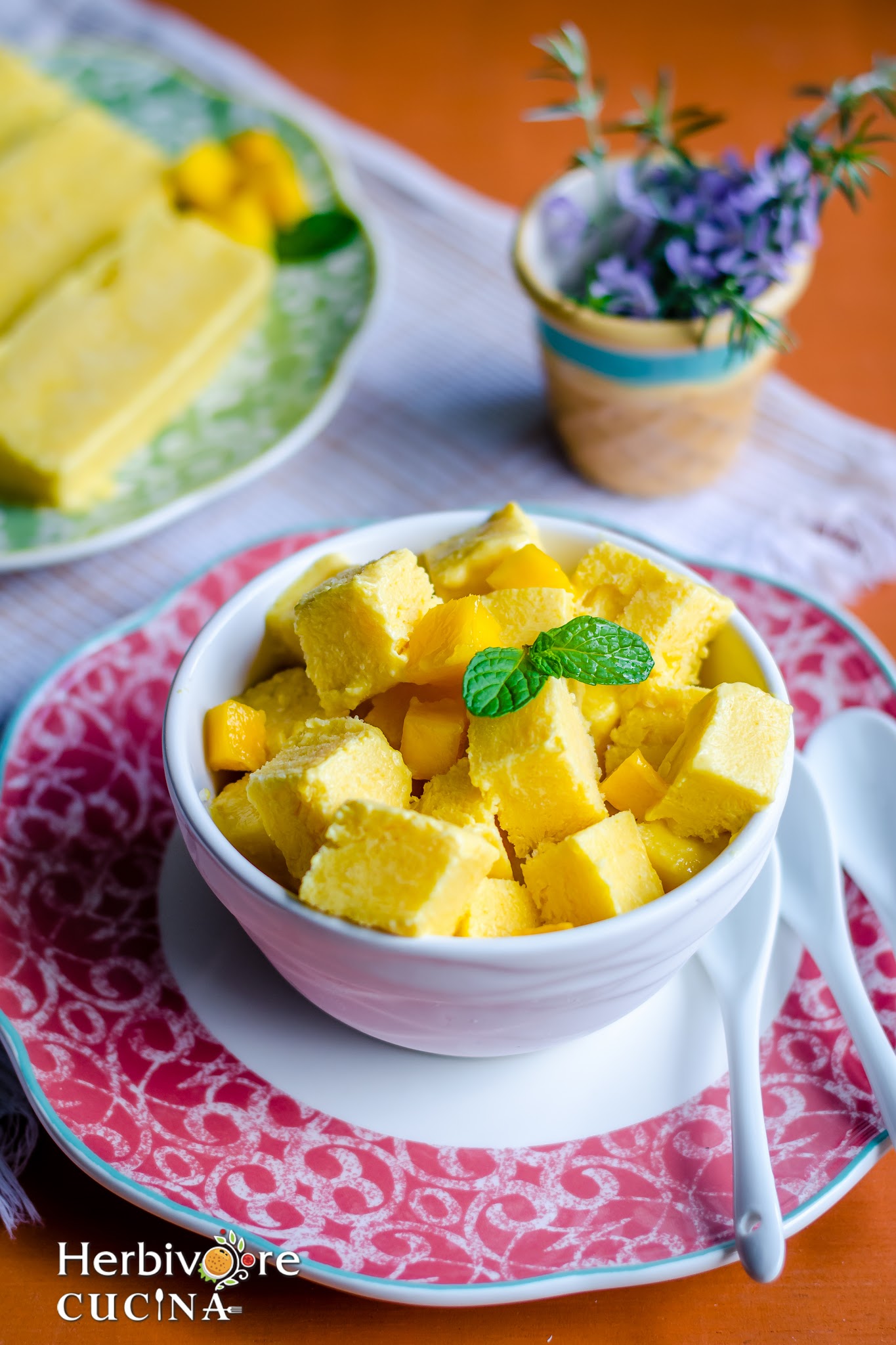 Method
In a pan heat the milk on medium flame. Keep stirring intermittently till the milk reduces to half the quantity.
Once the milk has thickened and reduced to half, remove one tablespoon of the milk and add saffron to it. Mix well till the milk becomes bright yellow. Pour the yellow milk back to the pan and mix well.
Now add evaporated milk to the pan and mix well. Turn off the flame and finally add in condensed milk and mango puree. Mix well and transfer to an aluminium pan.
Cool to room temperature and place the pan in the freezer, covered with cling wrap. Chill for 5-6 hours and remove it from the freezer.
Cut to cubes and serve with some mango bits.