Today is the second day of Blogging Marathon under the theme One pot meal or meal ideas. Yesterday I posted an Indian main course, Methi Matar Malai. Today it is time for an Italian inspired meal: Minestrone Soup, Garlic Breadsticks and the signature Italian salad.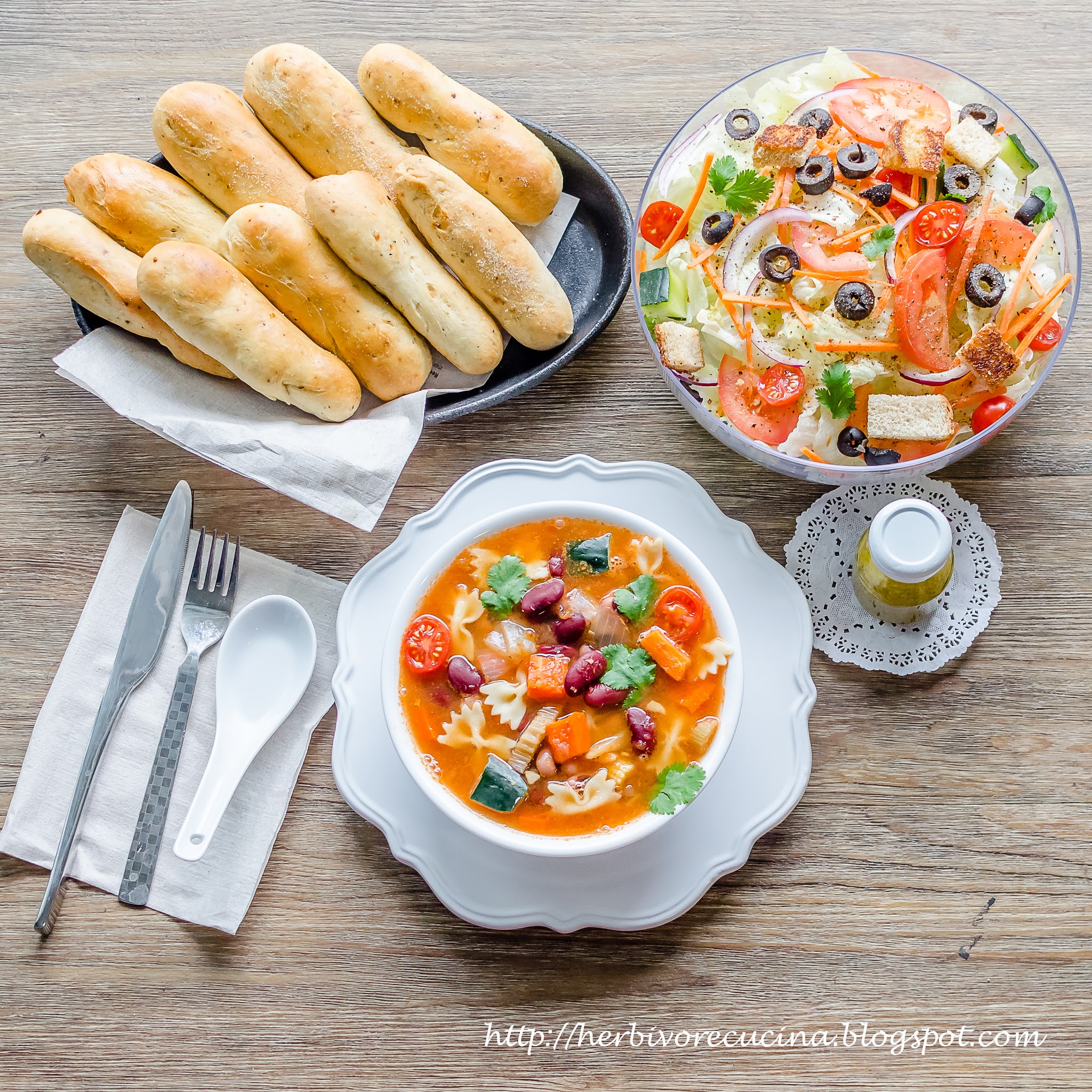 Soups are sometimes served as the primo, or first course in Italian cuisine. In some regions of Italy, such as Veneto, soup is eaten more than pasta. One of the famous Italian soups is the Minestrone Soup. It is essentially a thick soup made with vegetables, often with the addition of pasta or rice. Common ingredients include beans, onions, celery, carrots, stock, and tomatoes.
Because of its unique origins and the absence of a fixed recipe, minestrone varies widely across Italy depending on traditional cooking times, ingredients, and season. Minestrone ranges from a thick and dense texture with very boiled-down vegetables, to a more brothy soup with large quantities of diced and lightly cooked vegetables; it may also include meats. In modern Italian there are three words corresponding to the English word soup: zuppa, which is used in the sense of tomato soup, or fish soup; minestra, which is used in the sense of a more substantial soup such as a vegetable soup, and also for dry soups, namely pasta dishes; and minestrone, which means a very substantial or large soup or stew, though the meaning has now come to be associated with this particular dish.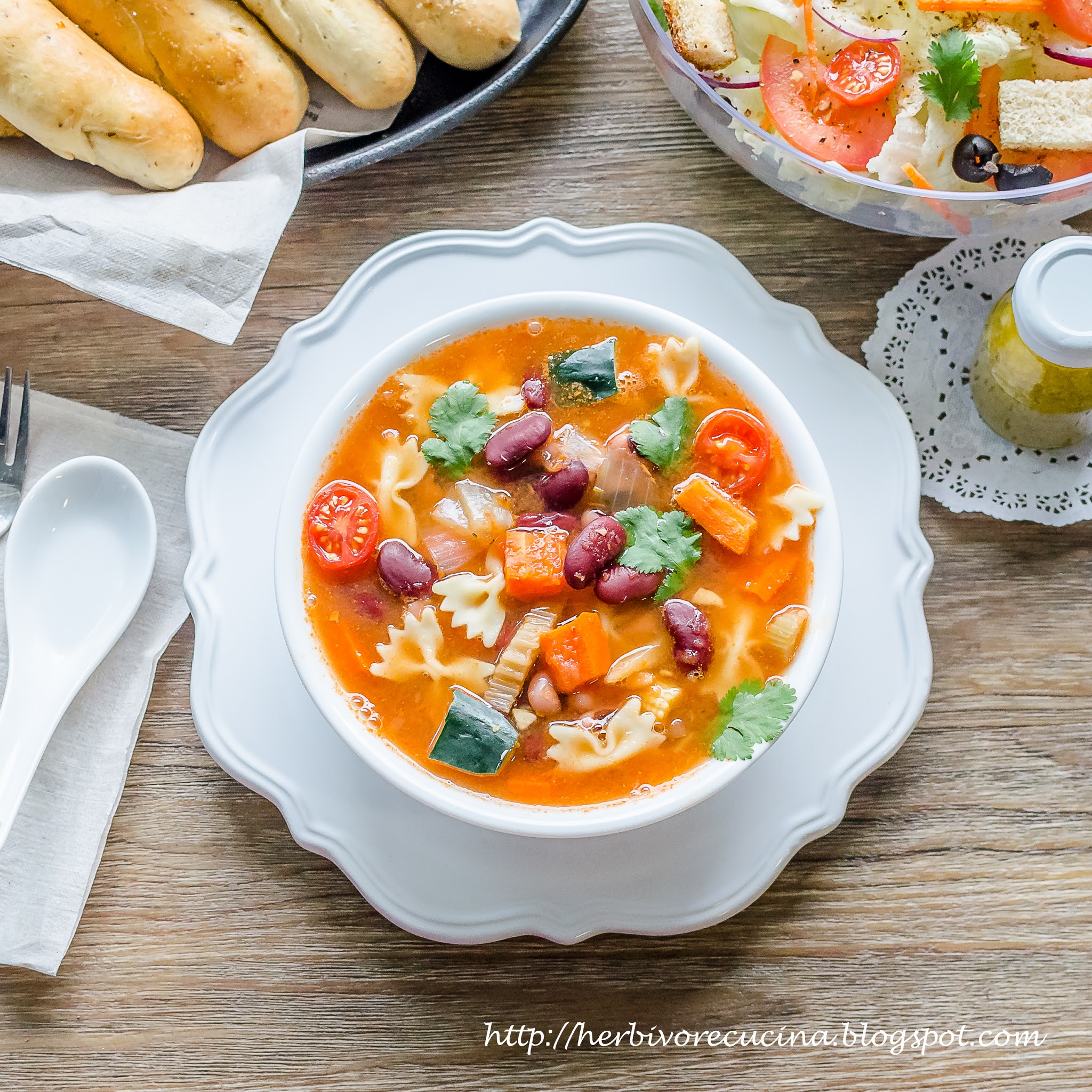 There is a very famous restaurant chain in the US that serves Italian food; Olive Garden. The restaurant works on a simple model, order your pastas and we shall serve unlimited soup or salad along with the yummy garlic bread sticks. I love going to the place to enjoy baskets full of garlic sticks. This Minestrone soup is their signature dish and that is what we enjoy pretty often at home for dinner. The soup recipe is what I am sharing today, and the garlic breadsticks and salad are not far behind. I shall be uploading them soon too!
Ingredients
Vegetables ( Carrots, Spinach, Cherry Tomatoes, French Beans, Green and Yellow Zucchini) 1 ½ cup
Onion ¼ cup
Tomato Puree ½ cup
Kidney beans, Pinto Beans and black eyed peas ¼ cup
Pasta of choice ½ cup dry
Garlic, 1-2 cloves minced
Celery 1 stalk diced
Black Pepper, Salt, Oregano
Olive oil 1 tbsp
Vegetable stock/ water 2 cup
Cilantro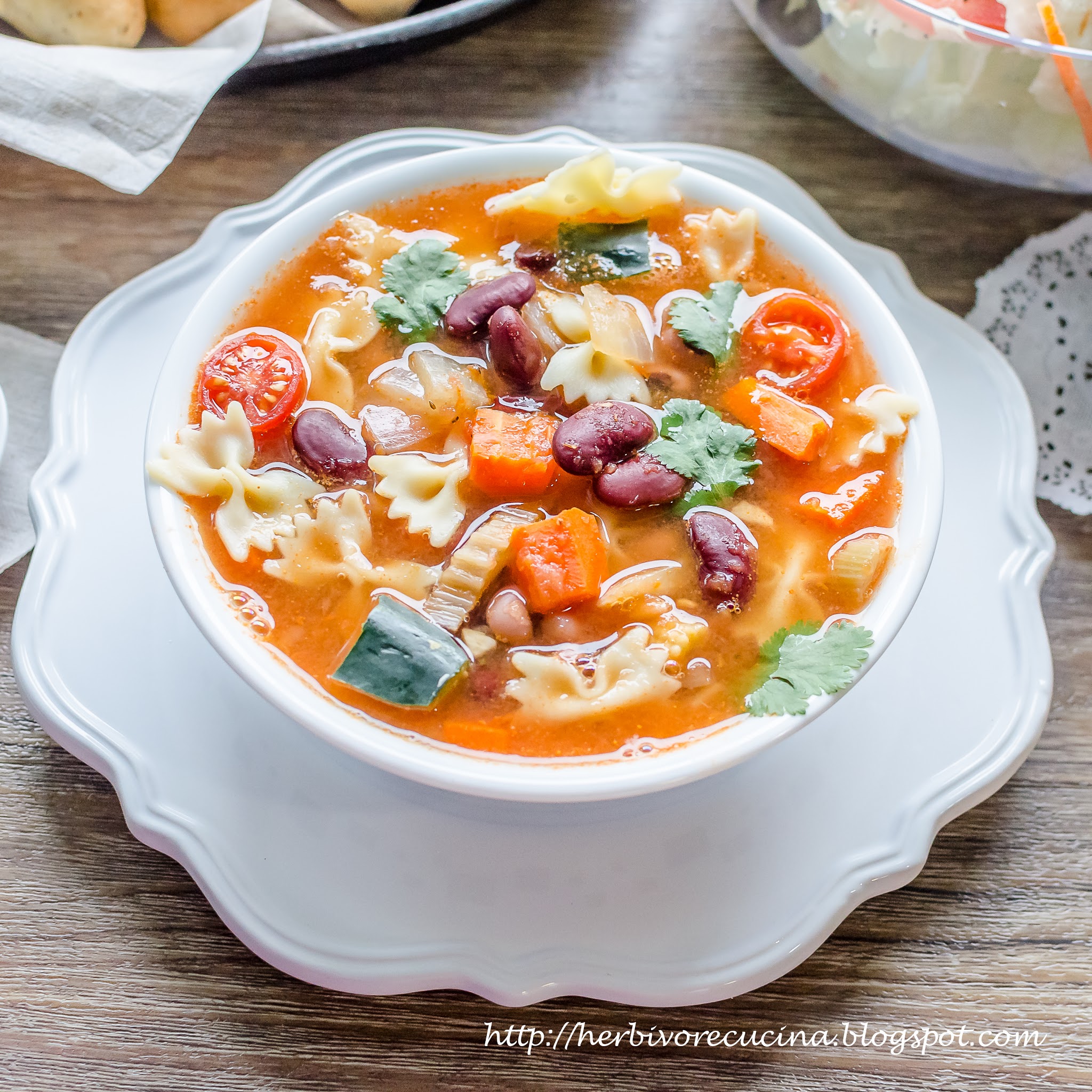 Method
Combine the three beans to make about ¼ cup together. Soak them overnight and then pressure cook them in ½ cup water and a pinch of salt. Set aside. Wash and dice all the vegetables separately. Cut the cherry tomatoes into half. Roughly chop the spinach leaves. In a heavy bottom saucepan sauté garlic in ½ teaspoon olive oil. Add the garlic and celery. Let them flavor the oil and then add the diced onion and sauté. Season with salt and black pepper. Cover and cook for 2-3 minutes. Once the onion is soft, add the vegetables in the following order: French beans, Carrots and Zucchini. Leave about a minute between adding the next vegetable. Now let the vegetables cook for a couple of minutes.
Add the beans, mix well and then add the tomato puree. I just pureed 1 tomato to yield ½ a cup of puree. You could use canned puree too. Add ½ cup of vegetable stock/ water and the dry pasta and let them cook for 7-8 minutes till the pasta is soft. Then add the spinach and cherry tomatoes. Let the soup simmer for a few minutes and then check for salt, oregano and pepper and adjust as per taste. Garnish with cilantro and serve with garlic breadsticks and salad.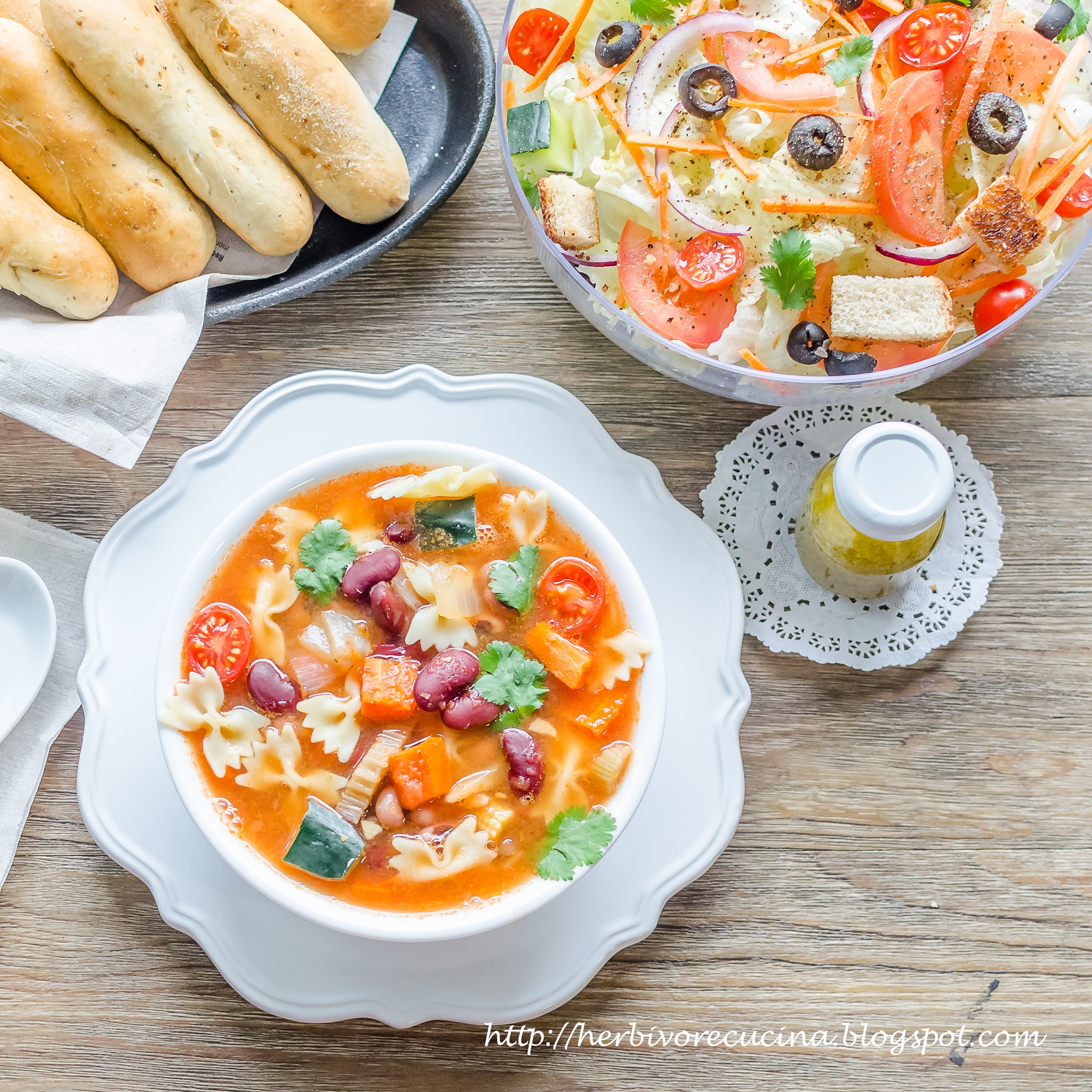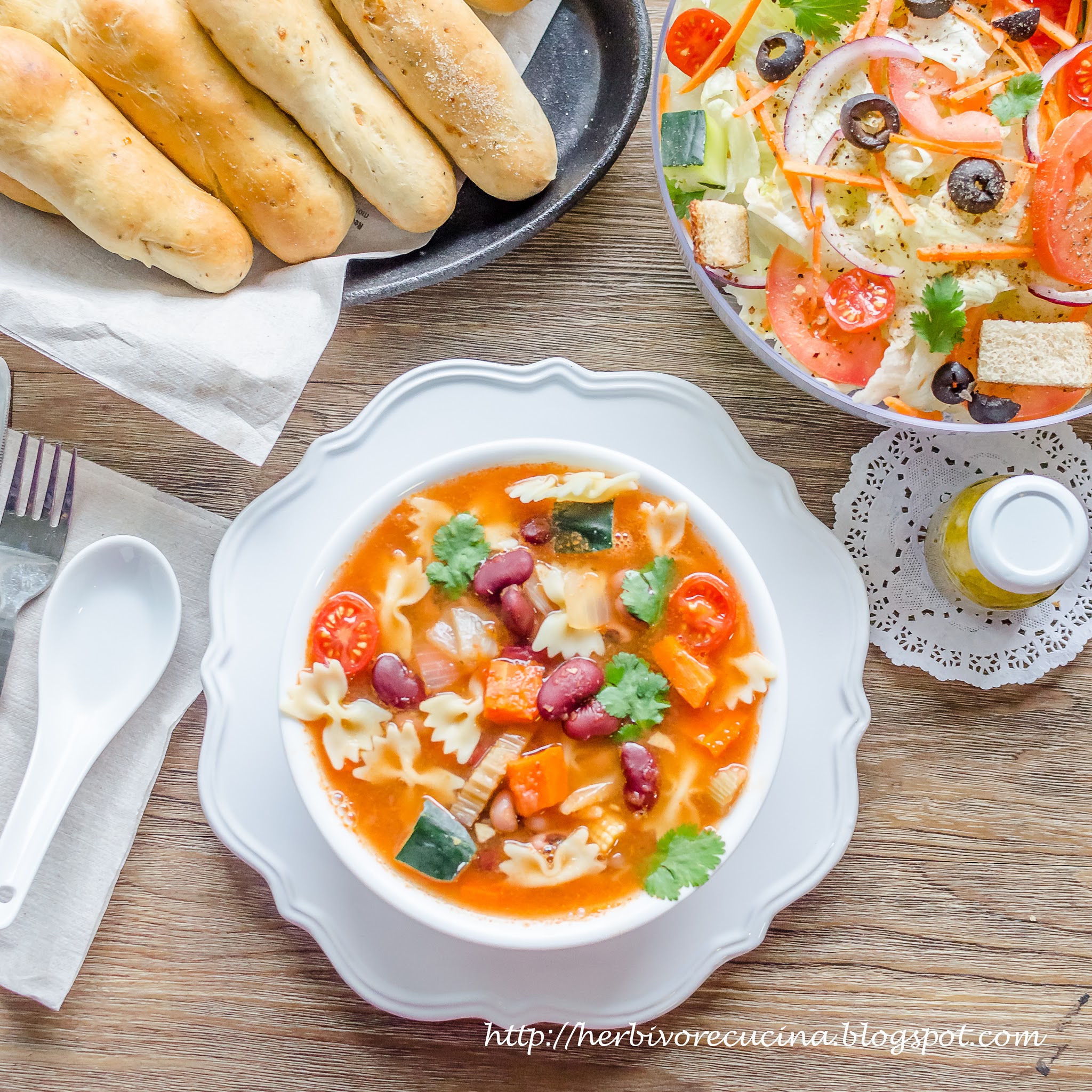 Check out the Blogging Marathon page for more recipes from other blogging marathoners doing this BM#61.