Fresh Basil Pesto swirled with Multigrain bread dough to make a 'Healthier' Swirl Bread that is perfect with butter or basil infused olive oil!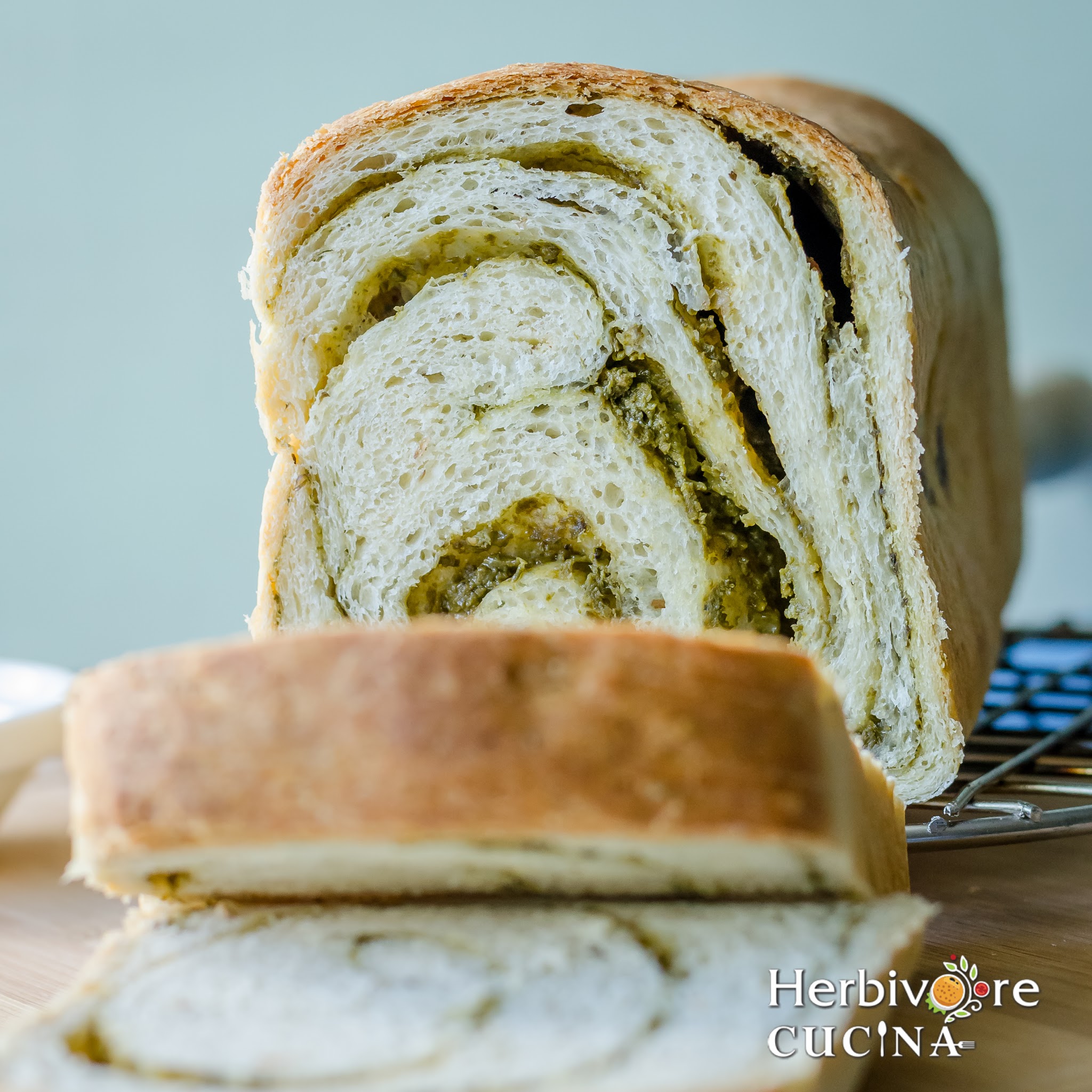 It is January and it is time for another edition of Bread Bakers event. This month we have a wonderful host Pavani who blogs at Cook's Hideout. She came up with an awesome theme-Healthy Breads. The theme made all of think beyond the ordinary ingredients to come up with creative breads.
I have always baked most of my breads with all purpose flour and unsalted butter. To bloom the yeast, I always used white sugar. Now that we had to come up with healthy breads, I did away with all these ingredients and started with 'healthier' ingredients: multi-grain flour, olive oil and honey.
The result was a great bread that was soft and yummy. To make the bread more flavorful, I added pesto in the centre and rolled the dough to get a swirl bread. The pesto I made was from scratch and made fresh so that the bread is flavorful and delicious.
The method to make the bread is simple and straightforward. Just bloom the yeast, mix the ingredients on the bread and make a dough. Roll out the dough into a large rectangle and spread pesto on it. Roll it and place in a baking tin. Bake the swirl bread and slice the bread. Serve with butter and it will definitely be a great snack.
Apart from the slice bread with butter, I also served it with pasta. The pesto within the bread slice adds a zing to the taste and works really well with a mild flavored pasta. Another option to serve the bread is to slice it, toast it and serve with basil infused Olive Oil. Served as an appetizer, the bread is perfectly flavored.
Do check out this yummy bread and yes, there are a lot of healthy breads linked at the bottom of the post. Don't forget to check those out as well!!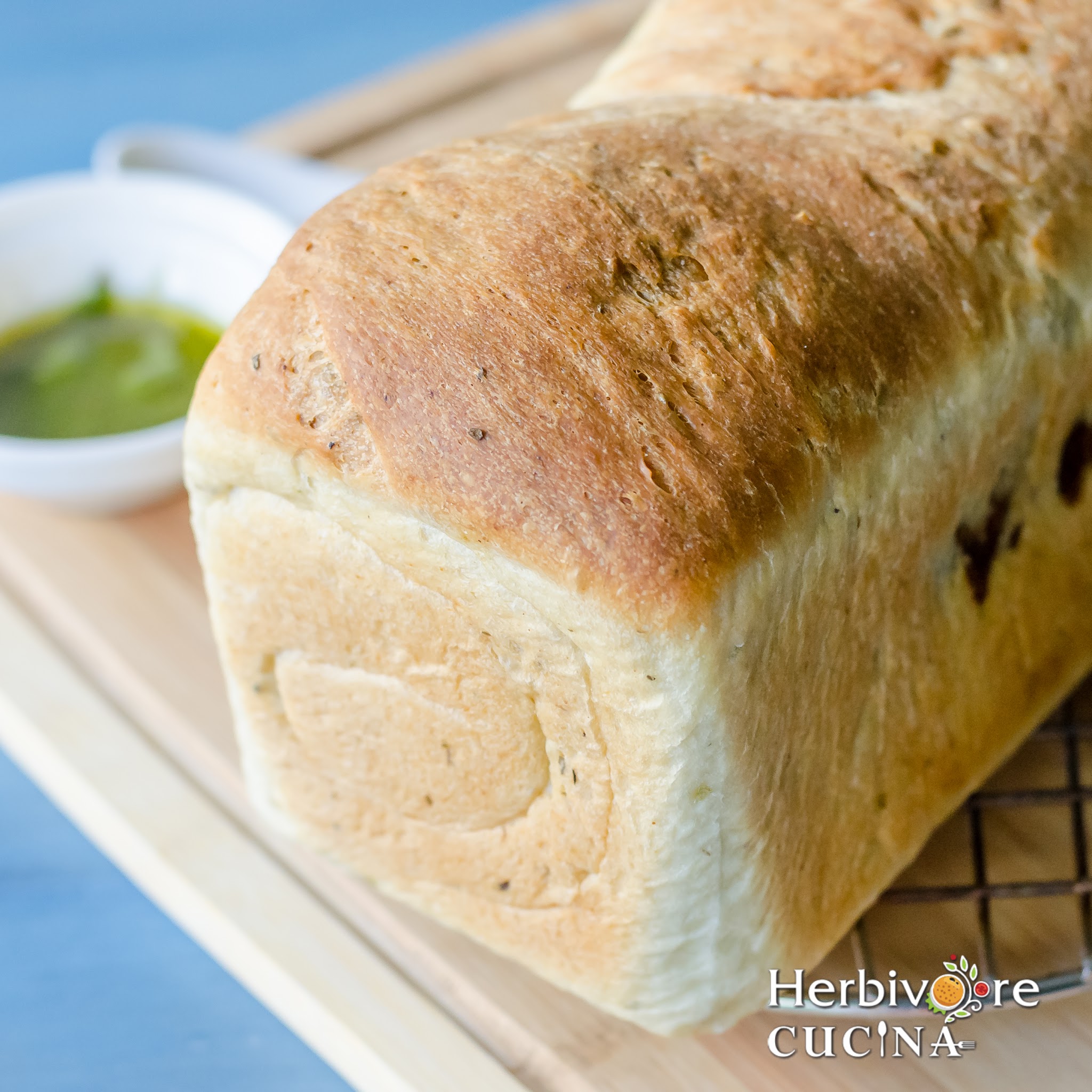 Ingredients
Multigrain Flour 3 cups
Essential Wheat Gluten 3 tbsp
Olive Oil 3 tbsp
Honey/Maple Syrup 1 tsp
Dry Active yeast 1 sachet (2 ¼ tsp)
Salt 2 tsp
Dried Oregano 1 tsp
Basil Pesto ¼ cup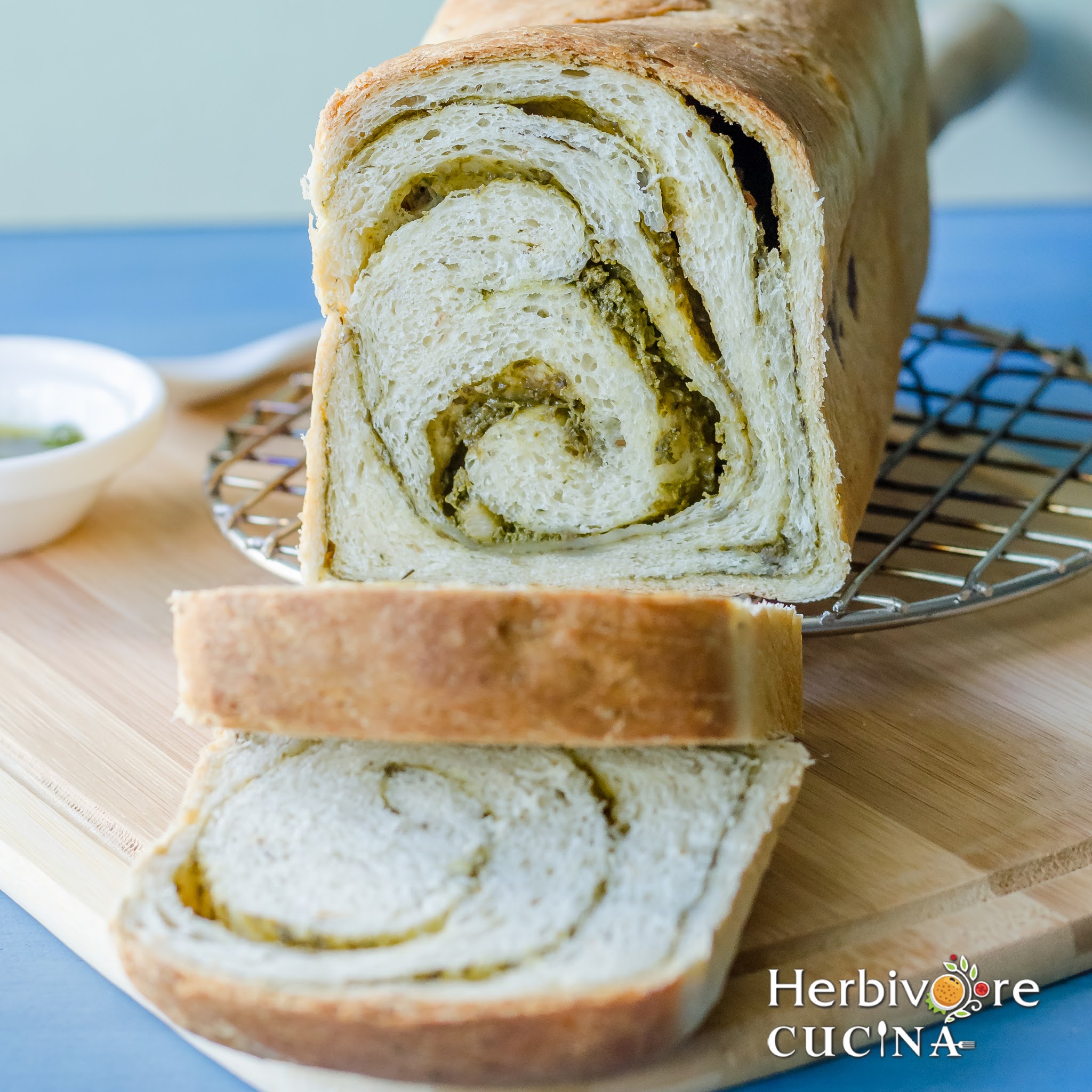 Method


In a bowl heat 1 cup water. When just warm, add the honey, 1 teaspoon salt and the yeast. Let the yeast bloom for 10 minutes.
In a large bowl, add the flour, essential wheat gluten, remaining salt, dried oregano and olive oil. Mix everything together and mix in the yeast mixture. Knead for 8-10 minutes till the dough comes together and is soft.
Coat the dough with some oil and place it in a bowl. Cover it and rest in a warm area for an hour till it doubles in size. Line a bread pan with parchment paper or with non stick spray. Set aside.
After the dough doubles, punch it down and knead for a minute or two. Roll out the dough into a rectangle of ¼ inch thickness.
Spread the pesto sauce evenly on the rectangle, leaving an inch on all sides. Start rolling the dough along the long side in a tight loaf. Place the loaf in the prepared tin and rest covered for an hour.
Preheat oven to 400 F/ 250 C. Place the risen bread and bake for 12-15 minutes, till it is no longer wobbly and the top is brown and crisp.
Remove and cool completely on a cooling rack. Slice the bread and enjoy with a side of butter or warm marinara sauce!




#BreadBakers is a group of bread loving bakers who get together once a month to bake bread with a common ingredient or theme. You can see all our of lovely bread by following our Pinterest board right here. Links are also updated after each event on the #BreadBakers home page.
We take turns hosting each month and choosing the theme/ingredient. If you are a food blogger and would like to join us, just send Stacy an email with your blog URL to foodlustpeoplelove@gmail.com.
Check out the Healthy Breads that our fellow #BreadBakers have baked this month: