Who does not like PIZZA? We are a pizza loving family and love our pizzas in all it's forms. After trying Veggie Pizza, Spinach Artichoke Pizza and Pav Bhaji Pizza, it was time to try something new with pizza. That gave birth to this idea of stuffed rolls with pizza ingredients stuffed.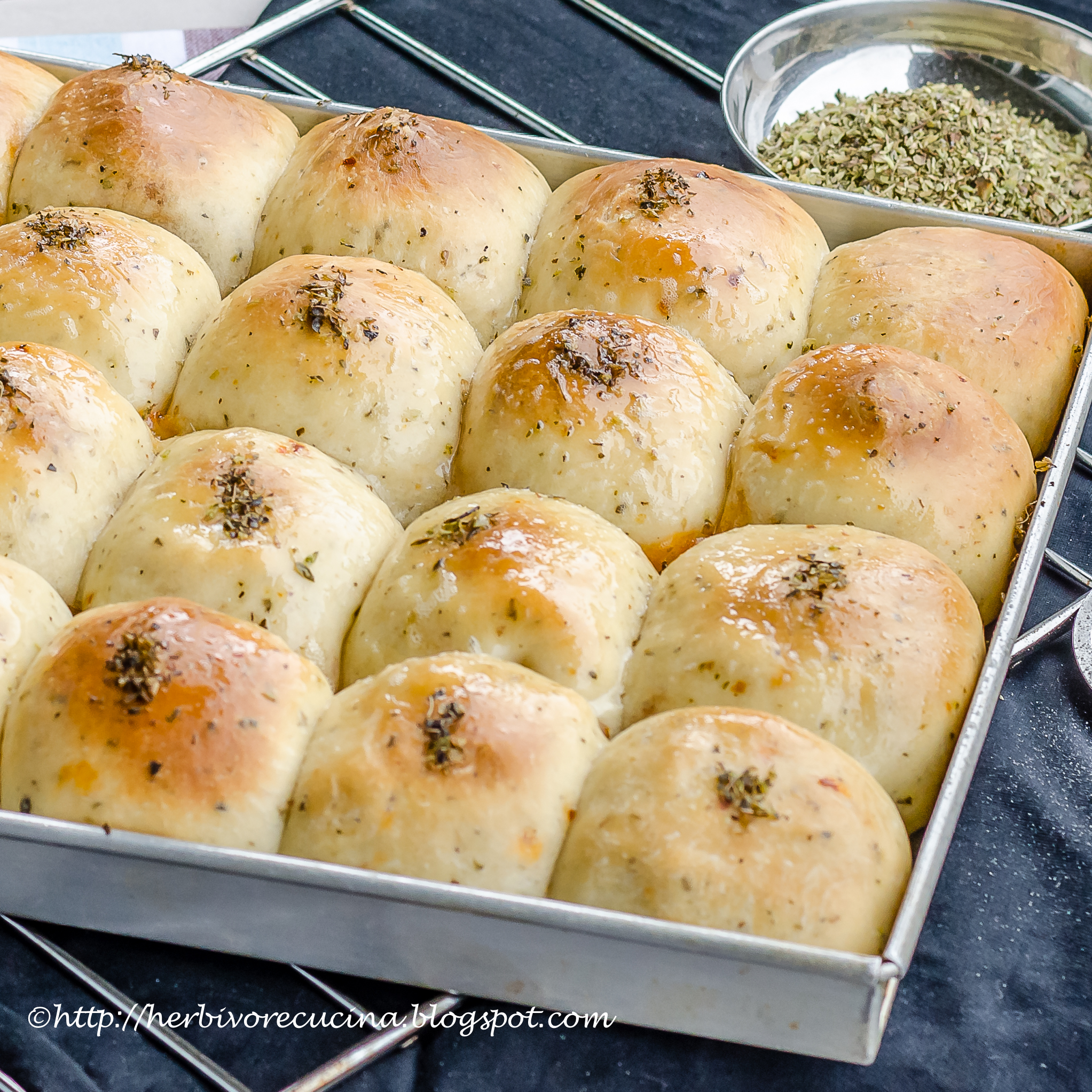 The tragedy with this recipe is that i have made it many times in the past few months, but never managed to photograph it. Sometimes I was too late to serve dinner, sometimes I was expecting guests and got too busy and sometimes I was plain bored to get behind the camera. Finally, I clicked it and it is up on the blog.
When I first made this recipe for a family lunch a few months ago, it got a lot of praise. This dish managed to be the star of the lunch then, and a few days later at another friend's lunch too! It was awesome to see the buns vanishing one after the other, and people trying to look for holes in the bread to see how the stuffing got in it! That is when they realized that the entire thing is made from scratch. Happy friends and family, happy me 🙂
The recipe has two parts, the crust and the filling. The crust is regular bread recipe with some oregano and garlic powder in it. The filling I made was pretty much from whatever I had in my refrigerator. I used pink onions, olives, sweetcorn, peppers, and jalapenos. Adding minced paneer, baby corn or pineapple would make it a great filling too. For the meat loving folks, adding the stuffing from your favorite pizza topping is a great idea.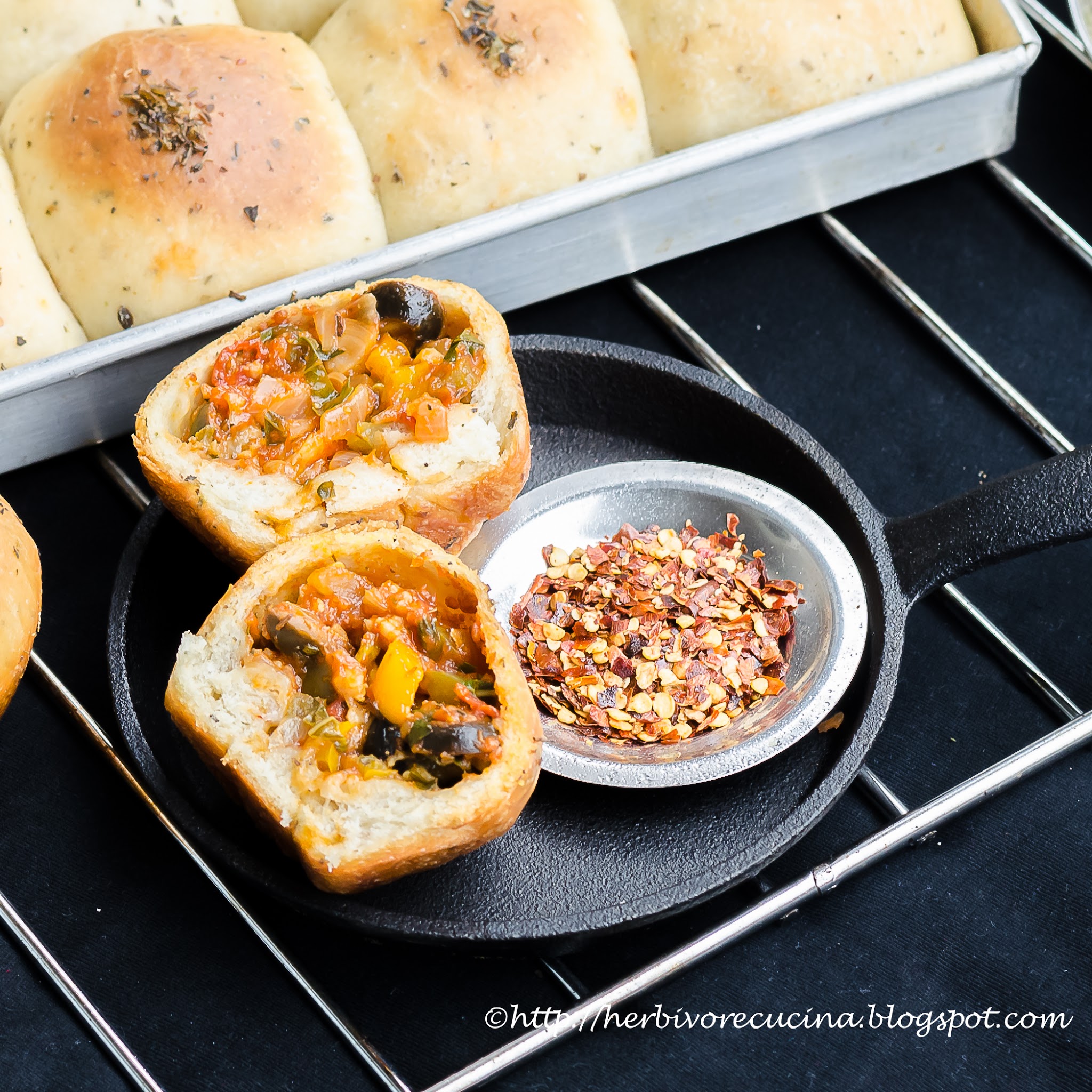 Make the stuffing, make the dough. Stuff the fillings along with marinara sauce and cheese in the dough balls, let them rise and bake them to perfection. Serve them with a side of marinara sauce. They make perfect appetizers for a party or even a great tea time snack for a friends gathering.
Ingredients


For the Crust
All purpose Flour/Maida 3 cups
Active Dry Yeast 1 sachet (2 ¼ tsp)
Unsalted Butter 4 tbsp
Oregano 1 ½ tbsp
Salt 1 ½ tsp
Sugar ½ tsp
Garlic Powder 1 tbsp
Warm Water 1 cup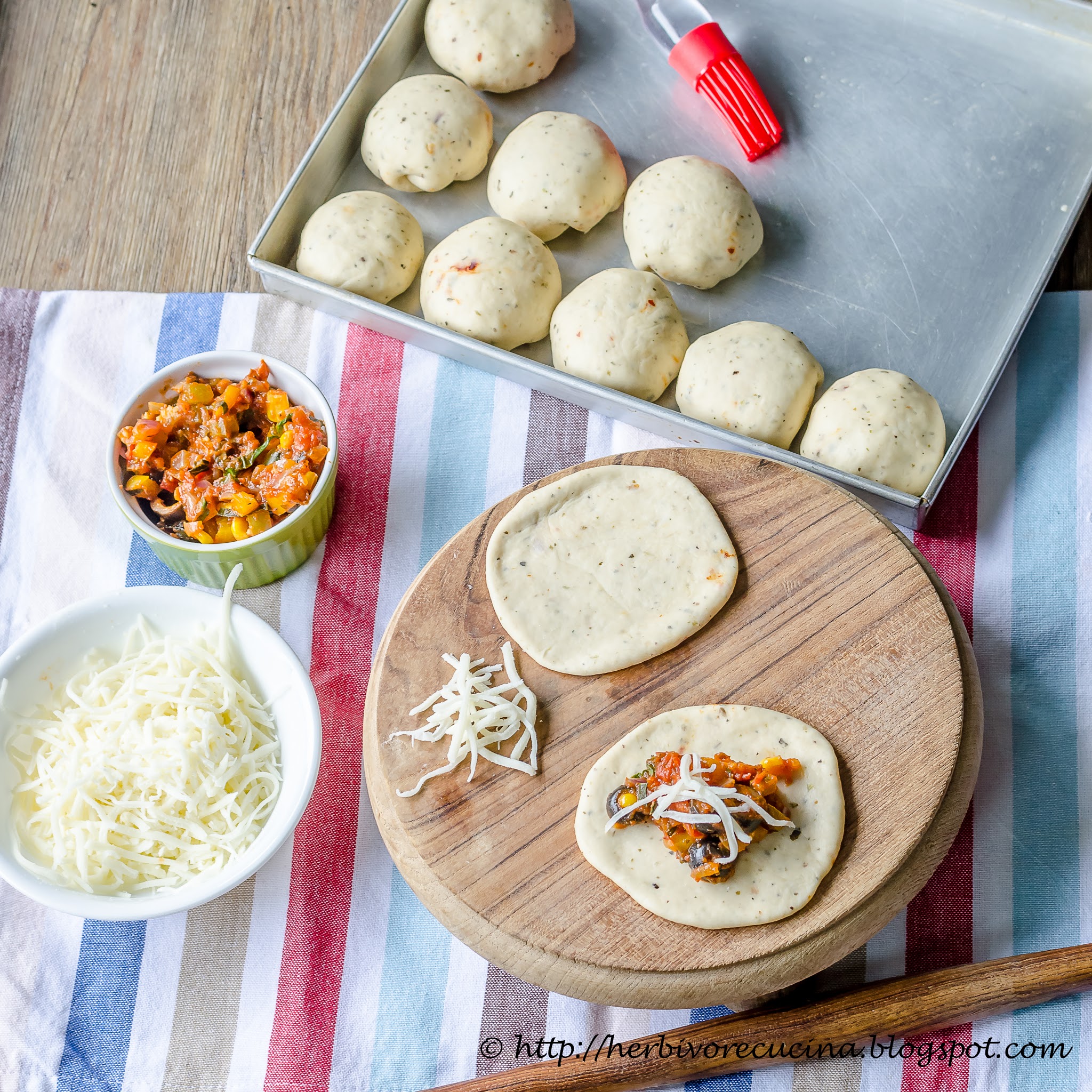 For the stuffing
Onions 2 medium
Colored Peppers 2 medium
Jalapeno 1
Sweet Corn ¼ cup
Cut Olives ¼ cup
Pizza Sauce/ Marinara Sauce 1 cup
Garlic 2-3 cloves
Basil leaves 10-12
Salt, Black pepper, Oregano
Butter 1 tbsp
Mozzarella Cheese 1 cup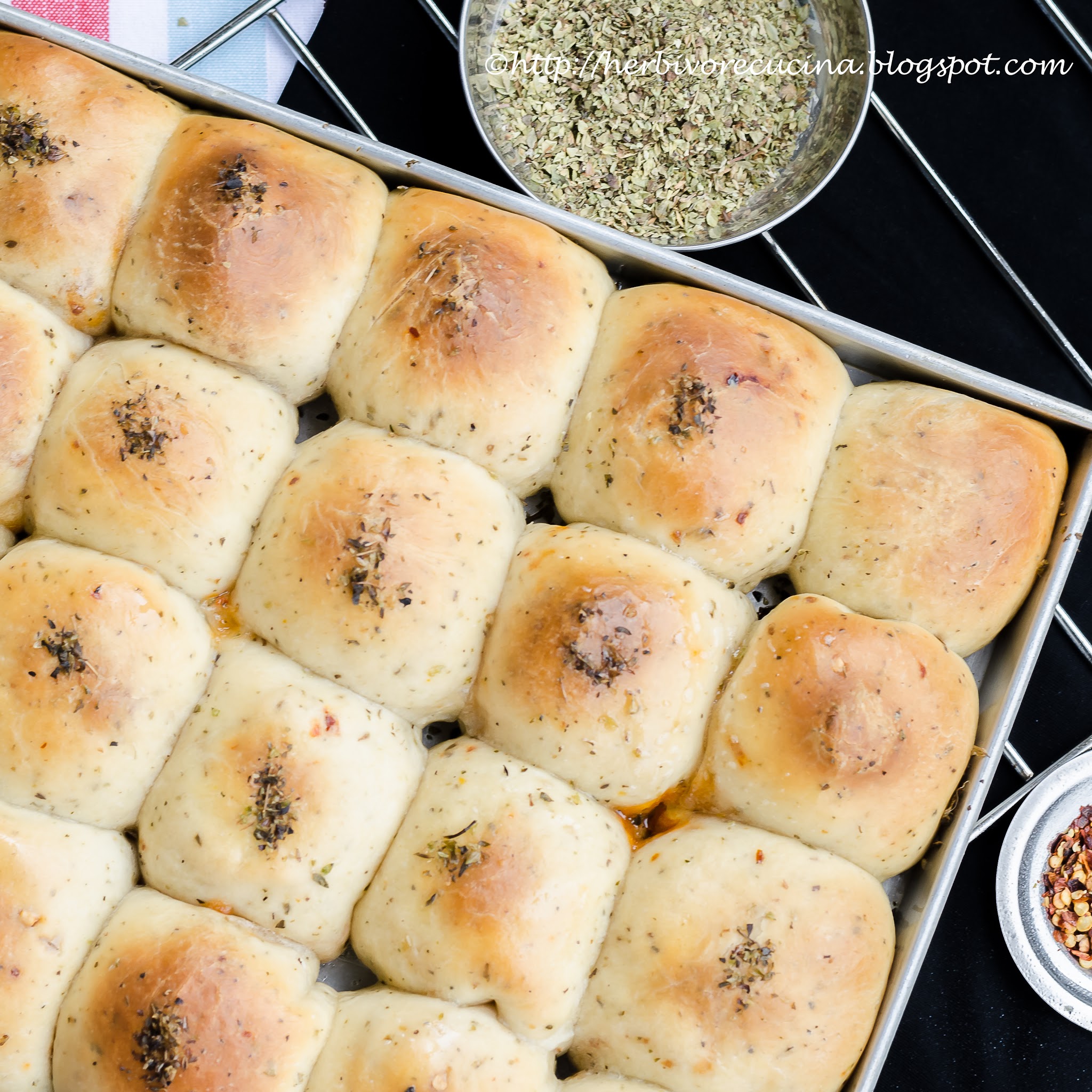 Method
In a cup add water, sugar and 1 teaspoon salt. Warm the water to 100-110 F, add yeast, mix and let the mixture stand for ten minutes till the yeast blooms. In a large mixing bowl, mix flour, 3 tablespoon unsalted butter, 1 tablespoon garlic powder and 1 tablespoon oregano.
Pour the frothy yeast mixture into this mixture and make a soft dough. Add little water if required and knead well. The mixture may be sticky at first, knead it well till it converts to a soft dough. Apply little oil over the dough and place it in a large bowl, cover it with a moist cloth and let stand for 45 minutes.
While the dough rests, prepare the stuffing. Mince garlic and jalapeno. Dice onions and peppers. Partially cook the sweet corn in water on the stove or in the microwave.
Heat butter in a pan. Add the butter and saute garlic. Once the raw flavor vanishes, add onions and peppers. Let them cook for a few minutes, then add corn and jalapenos. Add the marinara/ pizza sauce, cook on medium heat till the mixture becomes partially dry. Add the olives and basil leaves. Season with salt, pepper and oregano. Mix well and let it cool.
Once the dough is almost double it's size in 45 minutes, punch it down and knead it for 5 more minutes. Now line a cookie tray with nonstick spray or oil.
Divide the dough into equal sized parts. I made 22 out of my 3 cup dough. take one part, roll it out to a disc of 4-5 inches diameter. Add a tablespoon of the stuffing, a tablespoon of cheese and roll the dough to a smooth ball. Place it in the greased tray. Repeat for all the dough parts. Place all the buns in the tray, leaving some place between them. Brush them with little butter, and add oregano on top.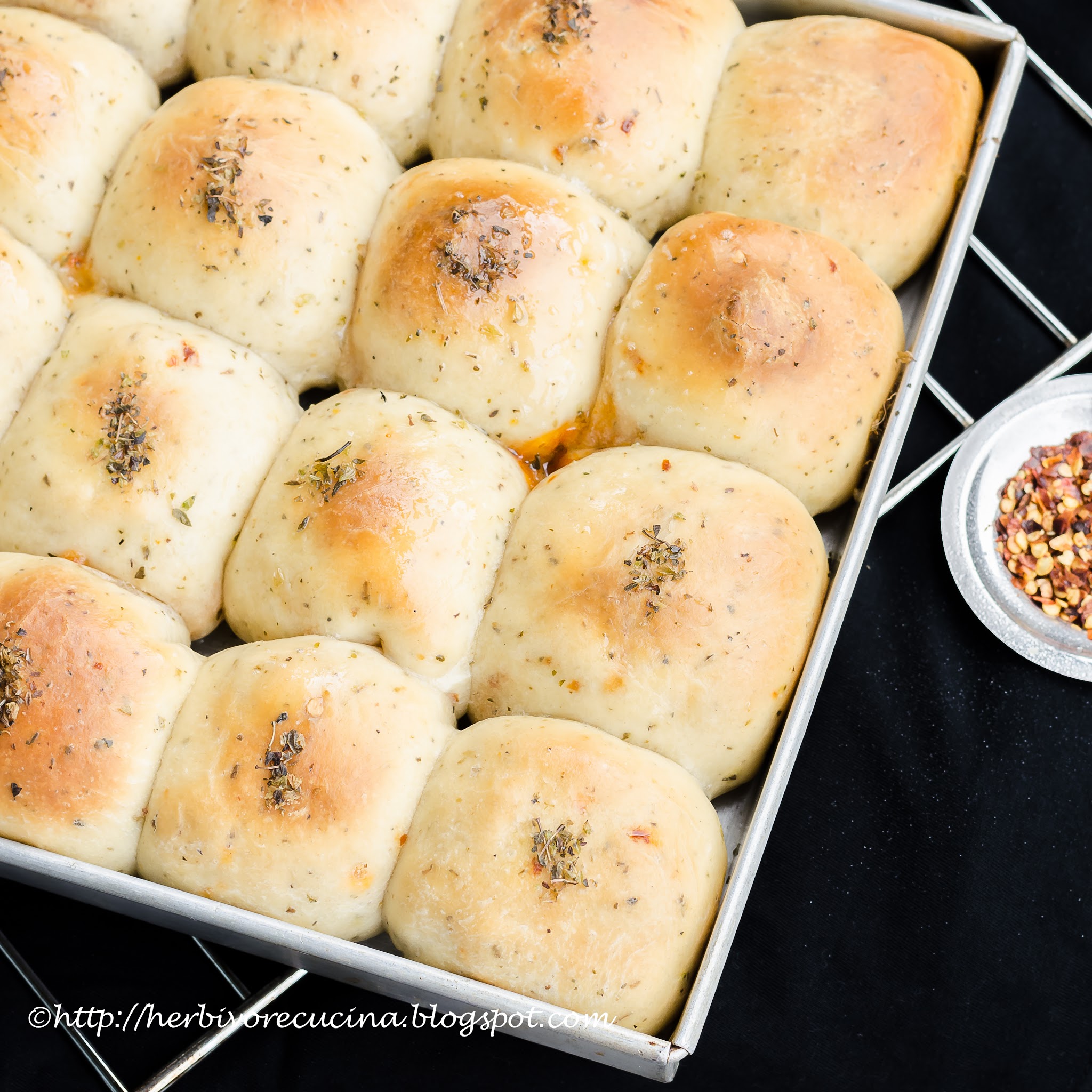 Let the buns rest for 20-25 minutes till they rise. Preheat oven to 400 F/ 200 C. Place the tray in the preheated oven. Bake for 8-10 minutes till the tops are a little brown.
Remove and serve warm with marinara sauce on the side.