Have you seen the red velvet trend pick up in a crazy way sometime back? A once classic red cake interleaved with cream cheese filling has spread its color and name to everything: cupcakes, cookies, protein powder, breads, waffles, lattes, teas and every dessert. What's more interesting is the red velvet air freshener and body wash and salt! Yes, we are officially living in a red world now.
Till recently, I used to think that the emulsion available in the stores is just flavor and color and so stayed away from the trend for the longest time. But when I went shopping for baking stuff just before Valentines', I was swept into the red velvet storm too! I bought a bottle myself, not sure when I would use it! Now that I had a bottle, I was looking for ideas to use it. I saw so many red breakfast and dessert ideas on FoodGawker, Instagram and Pinterest, that I was confused what to make.
Then came Valentines' day. It was on a weekend, better still; a long weekend and we had plans to spend time relaxing or a drive or likewise. I had no real plans to cook a special meal etc. But when I woke up that day, I saw my FB feed full of wives and girlfriends cooking up special things for their better halves. Being a FOOD blogger myself, it would be criminal to not make my husband something yummy and nice.
So, red velvet to my rescue. I had a big bag of pancake mix in my pantry. Eggs and milk is not rare to find in anyone's refrigerator. I got it all out and instead of making regular pancakes, I made Aebleskiver Pancakes. We had these Danish pancakes in Solvang recently, just that they were not red velvet. Read more about our trip on this post in my brand new blog: From Mumbai to the World! So before he was out of bed, I made a big lot of these cute red pancakes. Dusted them with powdered sugar, and we had an amazing start to the day!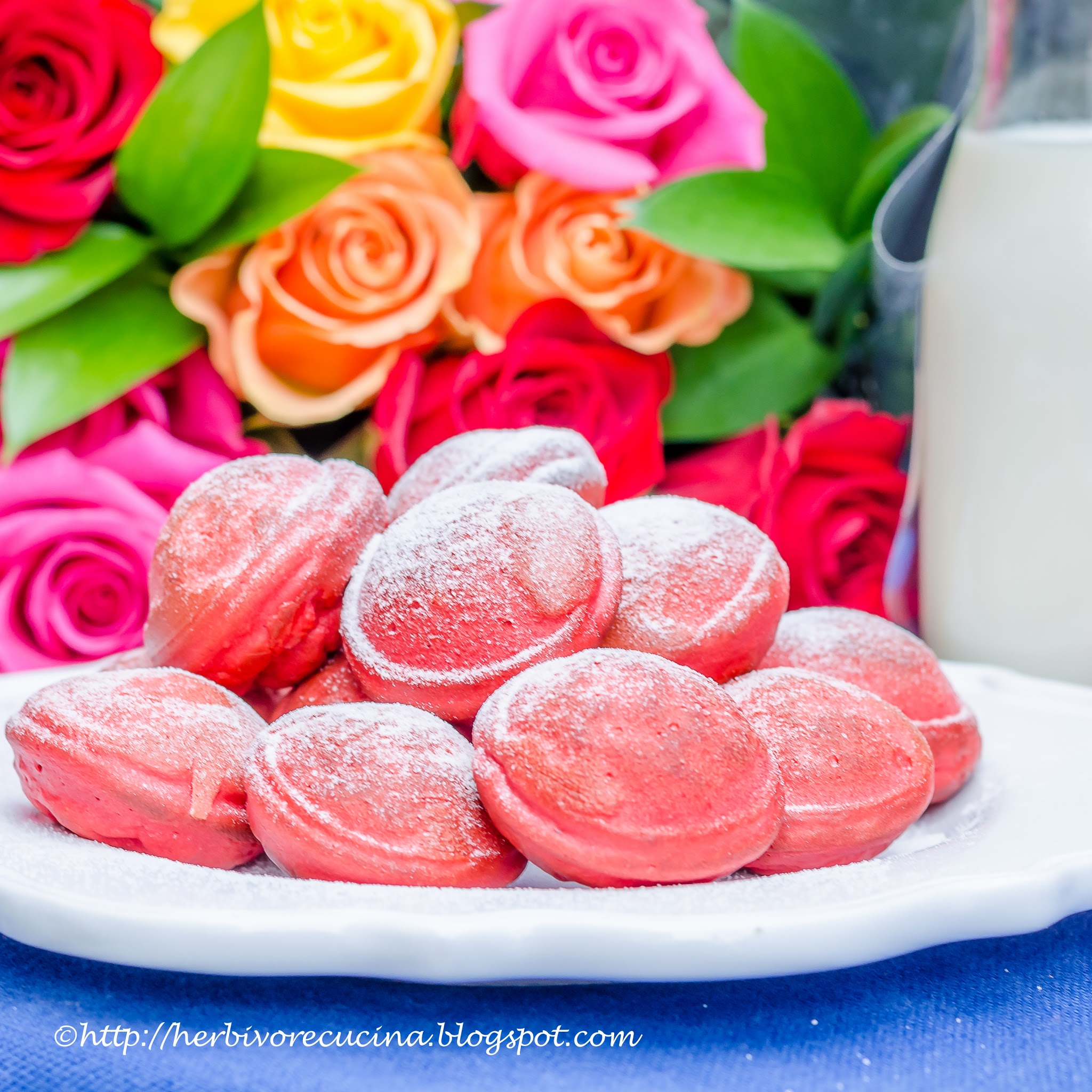 The flowers in the pictures are the ones he got for me 🙂 I always want to preserve them, but obviously they die! So I have them in my food pictures and they remain on the blog forever! I had the pics etc ready since Valentines, but commitment after another kept me from typing out this recipe. Finally its up and hope you all enjoy it!
Ingredients
Pancake mix like Bisquick 1 cup
Egg 1
Milk ¾ cup
Red Velvet bakery emulsion 1 tsp
Butter/ Non stick spray (to grease)
Powdered Sugar
Jam and peanut butter (to serve)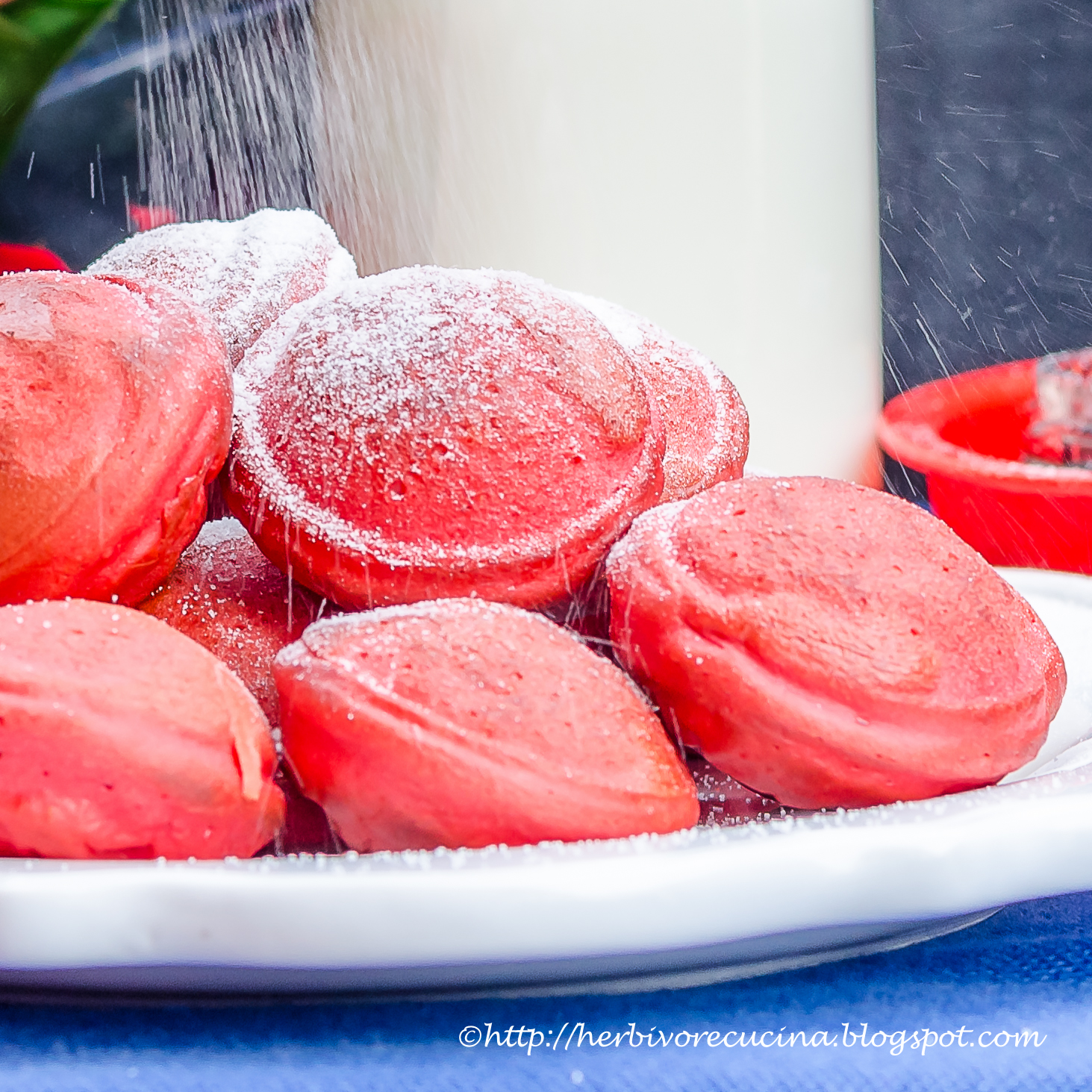 Method
Beat the egg. Add milk and red velvet bakery emulsion to it. Mix well. Add all the wet ingredients into the pancake mix. Beat everything together till you get a evenly colored pancake consistency mix. Do not overmix.
Heat a Aebleskiver pan. Add a dollop butter or spray the nonstick spray in all the cavities. Fill the indents with the dough till it reaches ⅔. Cook for 3-4 minutes, turn the pancakes over using two skewers, teaspoons or paring knives, and cook for another 3-4 minutes.
Remove from pan. Dust sugar on top and serve with jam, preserves and peanut butter on the side.