A sweet and flavorful wreath bread filled with rose jam (gulkand), dried rose petals and crushed pistachios. An Indian inspired bread that is perfect for Christmas!



We have stepped into Christmas week and it is time to bake something yummy and perfect for the week. The festival is made up of wreaths, gingerbread men, cranberry delights and all kinds of cookies.
For this Holiday, I decided to bake a wreath bread that is FULL of Indian flavors. The bread dough is just like other breads. However, the filling is a super festive combination of Rose Jam (Gulkand), dried rose petals and crushed pistachios. Together, these ingredients are perfect to make a sweet bread that works well for Christmas and beyond.


I have seen a lot of Xmas breads that were generally filled with Cranberry Jam, dried fruits, nuts and cherries. However, I wanted to make something different that was Indian inspired. So instead of the traditional jams, I used an Indian Rose Jam. Gulkand, as it is popularly known; is a combination of rose petals and sugar left to combine in a covered container under sunlight. Slowly the sugar melts and with the rose extract from the petals, it forms a yummy jam.
Along with this delicious jam I used crushed pistachios for crunch and tutti frutti to add a pop of color and flavor. The bread came out really well and we finished the whole thing in under two days!! Now that I am typing out this recipe, I am craving it all over again. I should make another batch of this super flavorful bread for Christmas Eve.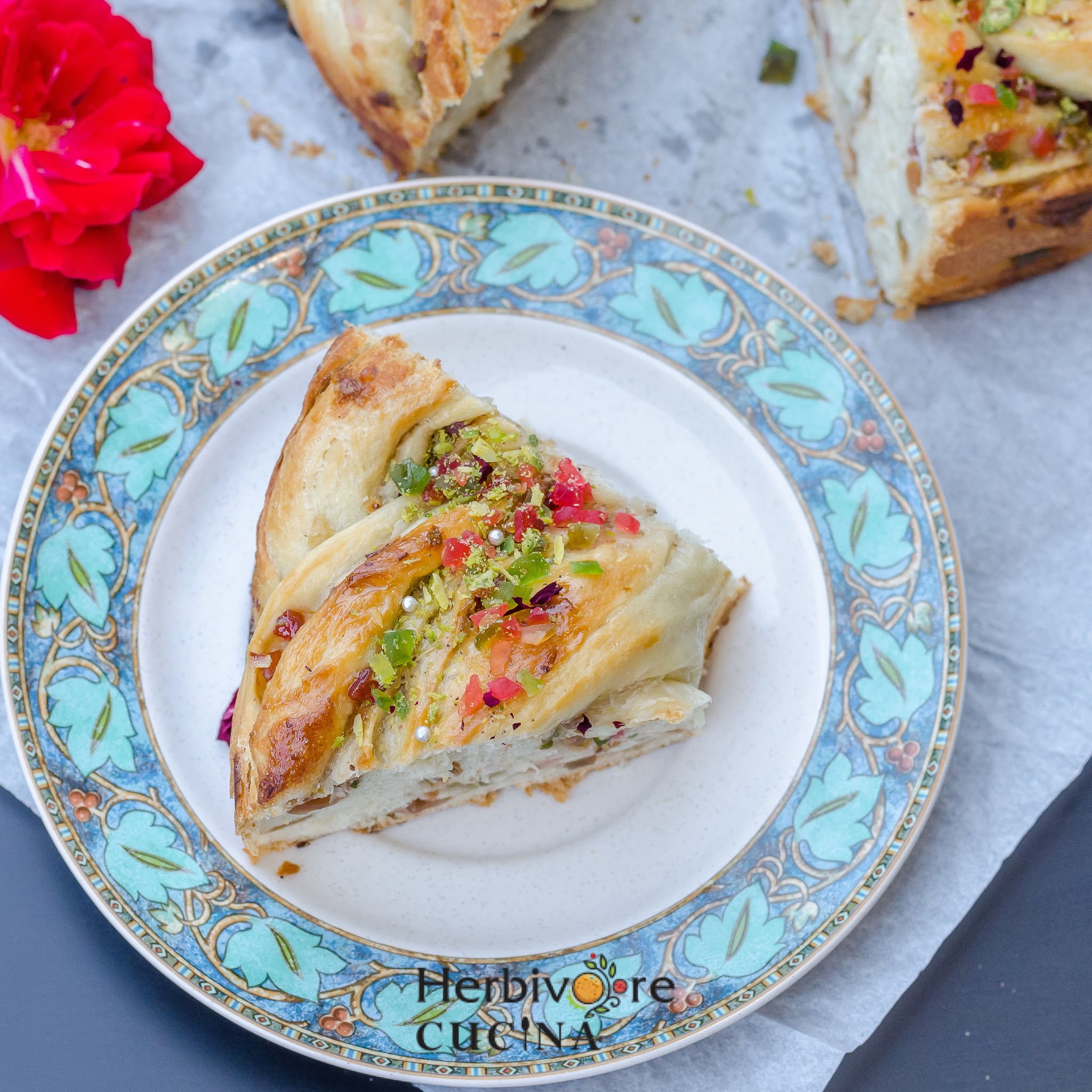 Most of the ingredients are available on Amazon. But if you cannot find any of the ingredients, either replace it with something similar or leave it out all together. If you cannot find the Gulkand, add some rose syrup mixed with dry rose petals. Adding some rose water also help to enhance the flavor of the bread. While it tastes really good a day or two after it is made, this bread is best enjoyed when fresh out of the oven. Hope you all have a great Holiday season!!




Ingredients


For the dough
All purpose Flour 3 cups
Instant Yeast 1 sachet (2 ¼ tsp)
Unsalted Butter 3 tbsp
Salt 1 tsp
Sugar 1 tsp
For the filling

Gulkand (Rose jam) ¼ cup
Tutti Frutti (Candied Papaya) 3 tbsp
Crushed pistachios 2 tbsp
Dried rose petals a few
Milk 1 tbsp


Method
In a cup of warm water (105-110 F) add 1 teaspoon salt and 1 teaspoon sugar. Mix well and add yeast. Stir and rest in a warm place for 10 minutes. Once the yeast blooms, start with the dough.
In a mixing bowl add the flour, unsalted butter and bloomed yeast. Bring it all together and make a soft dough. Knead the dough for 10-12 minutes. Lightly brush with oil/butter and place the dough in the bowl to rise. Keep the dough in a warm place ( about 90 F) for an hour till the it doubles in size.

Once the dough has doubled, punch down and knead for a couple of minutes. Roll out the dough to a rectangle of ¼ inch thickness. Brush with milk and spread the gulkand leaving an inch on all sides. Sprinkle tutti frutti, pistachios and rose petals on it.



Roll the rectangle into a tight roll along the longer side. Using a sharp knife, slice the roll along its length completely to get two equal sizes halves. Lightly braid the pieces to expose the filling in parts.
Line a 9 inch round baking tray with parchment paper. Place the braid in the pan and seal the ends of the braid. Let it rise for an hour.
At the end of the rising time, preheat oven to 400 F/ 200 C. Brush the risen buns with oil or milk. Bake the bread for 15-18 minutes, till the crust is golden brown. Remove and cool. Then transfer to a cooling rack and cool completely.

Serve topped with remaining pistachios, dried rose petals, tutti frutti and some silver toppers.