Today is Janmashtami, the festival celebrated in India to welcome Lord Krishna. Like most other festivals, this day is celebrated in different ways in different parts of the country. Every state has it's own traditions and the best celebration is probably in Mathura, the birthplace of Lord Krishna. The events for the day include a lot of holy recitals, bhajan, kirtan and culminates with the birth of the God at midnight. The next day of Janmashtami is celebrated as Gokulashtami. The events include tying matkis or clay pots filled with white butter and other goodies. Boys and men form human pyramids and break the pot to get the goodies out of it. The whole atmosphere is filled with joy and color.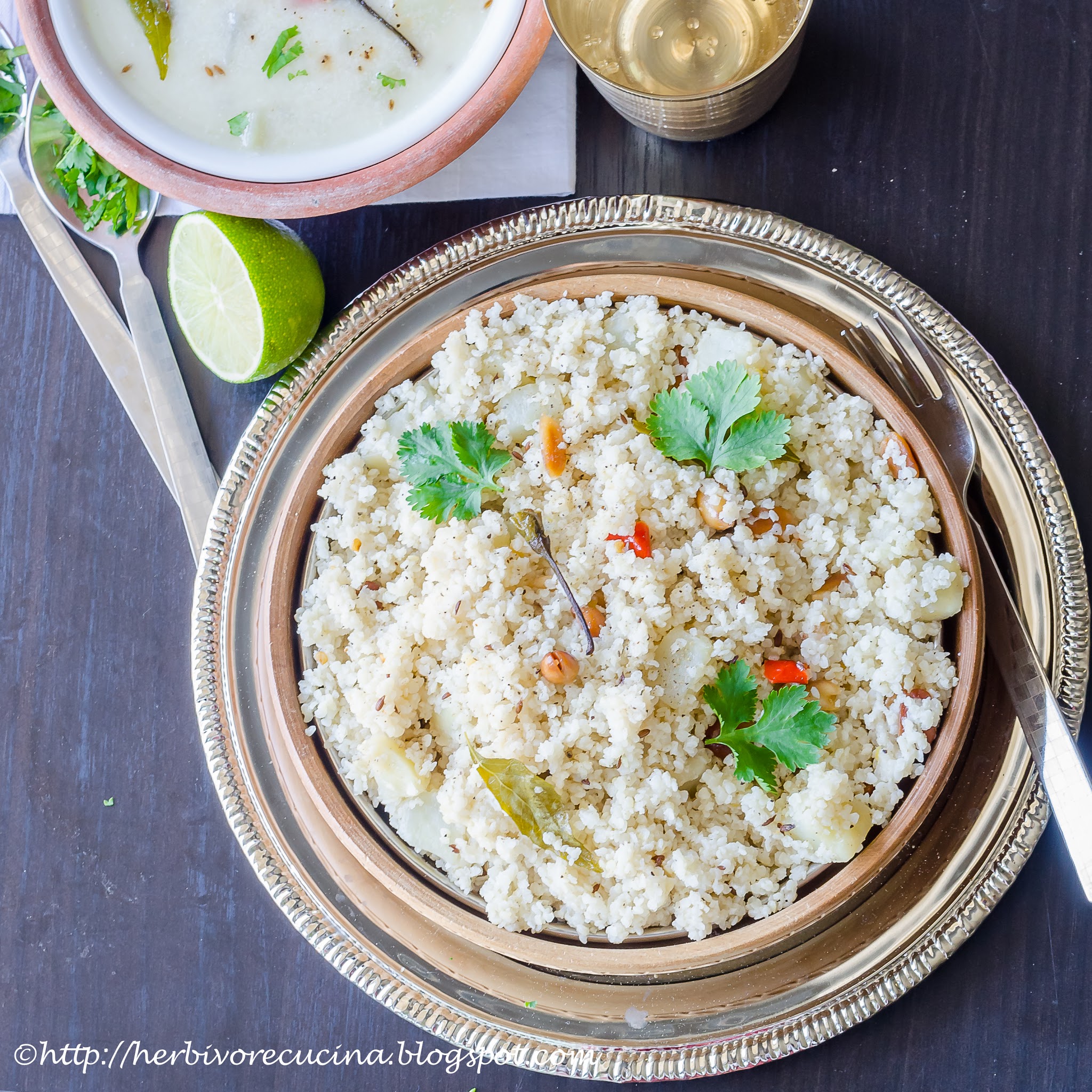 Another part of the Janmashtami celebration is fasting. While a lot of people fast without having a drop of water all day and break it with the birth of the Lord, many other families fast with Sabudana (tapioca), Potato and other ingredients that are allowed. Barnyard is one such millet. There are a ton of recipes made a combination of this millet and potatoes, yam and peanuts. One such dish is this khichdi.
This recipe of Barnyard Millet is a very easy one. While other fasting items require elaborate preparations like soaking the tapioca pearls, cooking the potatoes or making batters for dosa and idlis and fermenting them; this is a no-fuss recipe. All you need is the ingredients and a pressure cooker. The millet is cooked in the cooker and needs no soaking etc, and the potatoes are added raw too. If you wake up one morning and realize it is a fasting day, this one can be a quick lunch.
For this khichdi, the basic ingredient is samai seeds. These seeds are called by different names: Samai, Samo seeds, Vrat ke Chawal, Jhangora, Morio, Mario, Moraiaya seeds, Bhagar or KuthiraiVaali in the regional languages. The other ingredient I used is potato. However, this can be substituted by sweet potato, yam or even bottle gourd if desired. Adjust the spice level as per your preference and substitute regular salt for Sendha Namak if that is what you prefer. Make this khichdi and serve it with Farali Kadhi, yogurt or buttermilk. It is a great way to make lunch in under 30 minutes!
Ingredients


Samo/ Barnyard Millet/ Samai 1 cup
Potato 1 medium
Peanut Powder ¼ cup
Whole Peanuts a handful
Yogurt ½ cup
Ginger Chilli Paste 1 tbsp
Green/ Red Chilli 1
Curry leaves 2-3
Cumin seeds 1 tsp
Lemon Juice ½
Black pepper Powder ½ tsp
Salt 1 tsp
Sugar ½ tsp
Ghee/Oil 1 tbsp
Method


Wash the barnyard millet and set aside. Dice potatoes and keep ready. Whisk the yogurt and add a cup of water. Keep the buttermilk ready to pour. Heat the ghee or oil in a pressure cooker, add the peanuts and fry. Once the peanuts are brown, add cumin seeds and let them pop. Then, add diced chilli, curry leaves and ginger chilli paste. Fry for a minute, add diced potato and mix well.
Cook the potatoes for a couple of minutes and add the barnyard millet. Mix in peanut powder, salt, sugar and pepper powder. Then add the buttermilk and mix well. Cover with the whistle on, and pressure cook for 2-3 whistles on medium flame.
Let the pressure cooker cool, open and add lemon juice. Mix well and serve garnished with cilantro. Serve with Farali Kadhi or with yogurt. The khichdi tastes great with buttermilk as well.