This shop has been compensated by Collective Bias, Inc. and its advertiser. All opinions are mine alone. #TailgateWithATwist #CollectiveBias
All you need to know to make a Vegetable and Patty Sizzler at home or on a grill. This platter of sizzling ingredients is delicious and easy to make!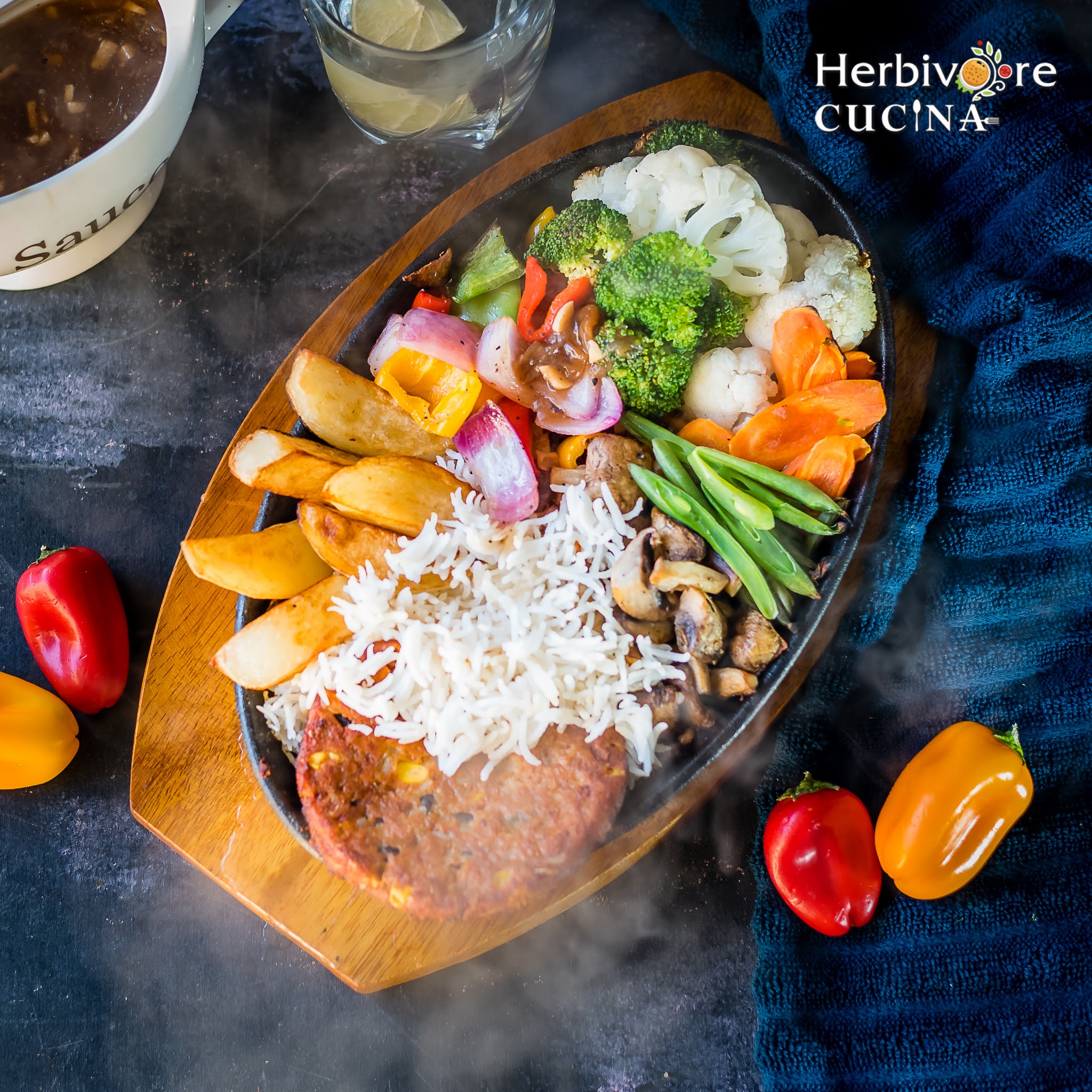 Can you imagine it is Labor Day weekend already? Two thirds of the year is over and we are almost into Fall and waiting for halloween and Thanksgiving! Before we change gears completely to Fall, here is something amazing for your Labor Day weekend; a yummy yet fairly easy to make SIZZZZLER!!
Yes, you can make sizzlers at home, get all the sizzle and surprise family and friends very easily! While most people are overwhelmed by the idea, this post will guide you on how you can put together a sizzler very easily.
My sizzler has four main components; MorningStar Farms® Spicy Black Bean Burger Value Pack, steamed and sautéed vegetables, rice and baked fries. While the latter three ingredients are made from scratch, I LOVED how I could get the patty from the freezer and get going in no time.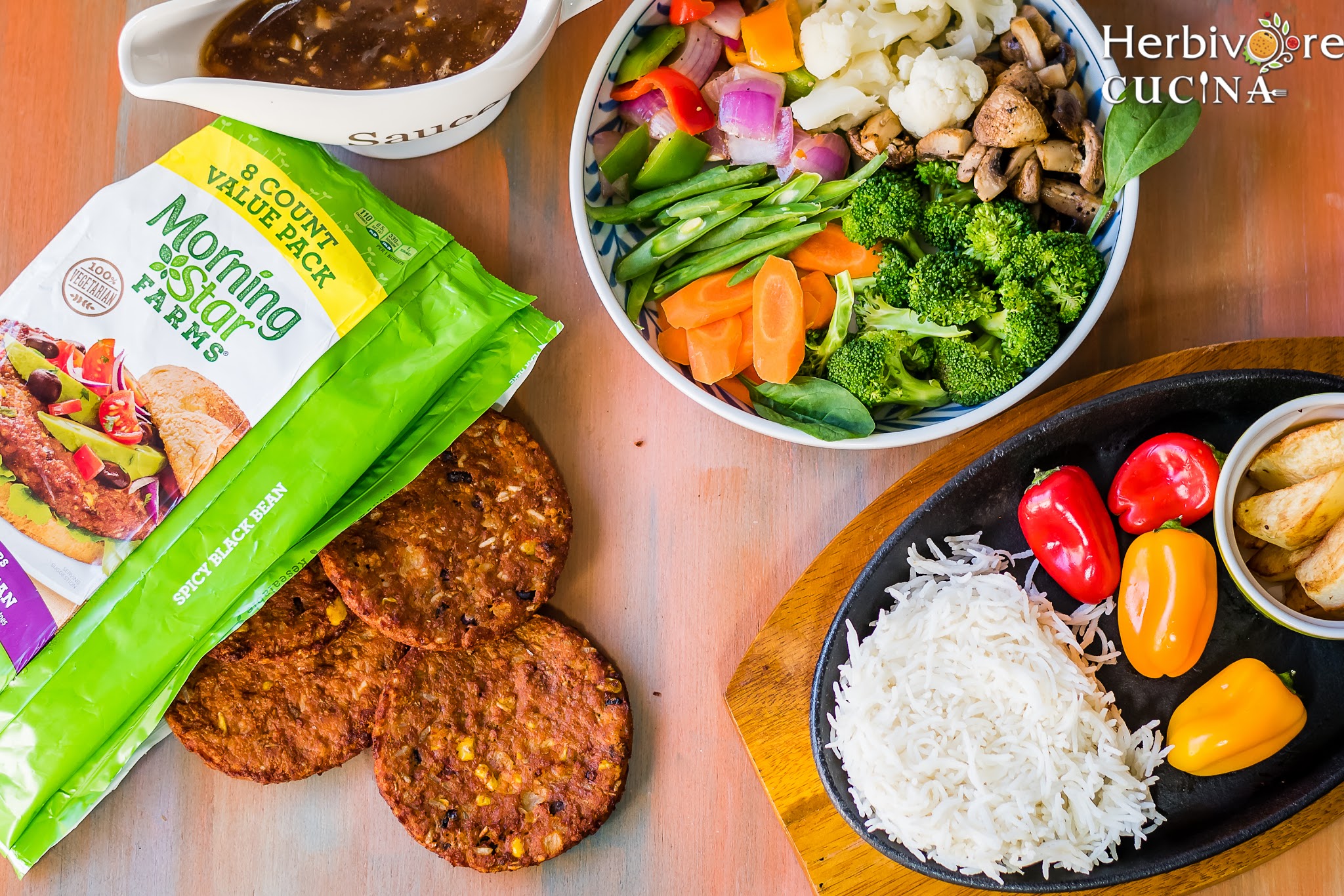 I bought MorningStar Farms® Spicy Black Bean Burger Value Pack and MorningStar Farms® Garden Veggie Burger on my last trip to Walmart and now I am so glad I have it stocked in my freezer. They are perfect to make meals that are quick, easy, and still help me (and my family) on our healthier lifestyle journey. Now you can get $3 off with purchase of 3 MorningStar Farms® products using Ibotta.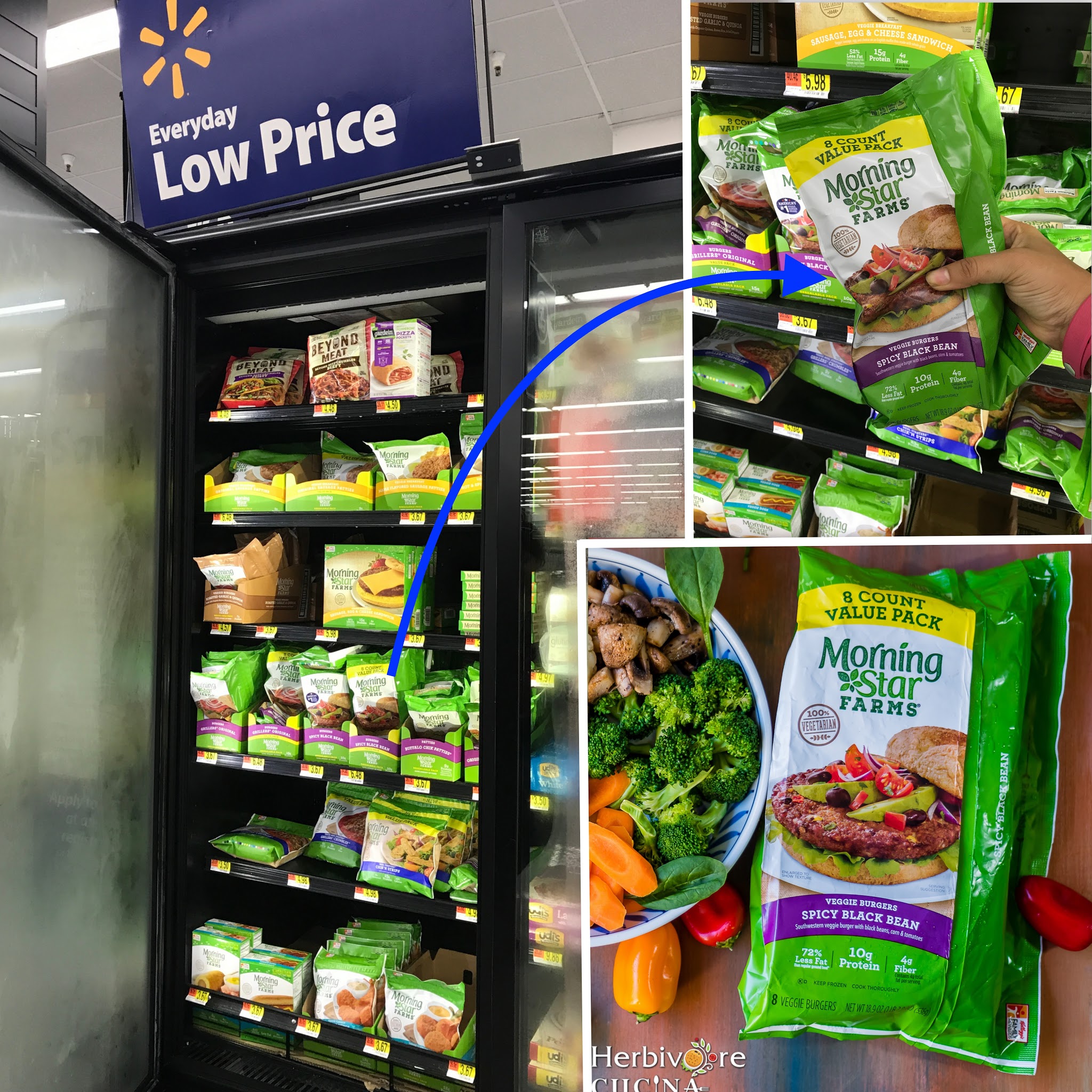 How to get everything together
Coming back to the recipe, this sizzler is pretty versatile. While I decided to use a Garlic based sauce along with a LOT of vegetables to keep the sizzler healthy, adding tofu, paneer or onion rings is a great idea too.
Once you have decided what all goes on the sizzler, you can prep ALL of it ahead of time. The vegetables can be steamed, fajita and mushrooms prepared, rice cooked and fries baked. I would recommend grilling the patty just before serving, to ensure it is warm and crisp. That makes this recipe PERFECT for get togethers and family weekends like Labor Day. And yes, each person can pick and choose what they want on their sizzler!
My favorite way to make sizzler is to steam the vegetables, bake the fries, cook the rice and make the sauce at home. Then head straight to the grill and do the remaining there! Fire up your grill, heat the platter and while it heats, make the fajita, grill the mushrooms and grill the patty. It will be done by the time the platter is hot, so you can make the sizzler right away!
SIZZLE...The most IMPORTANT part
Once the sizzler is assembled, it only takes THREE simple ingredients to make the platter sizzle. You will find tons of ideas online, but this is my favorite. Butter (salted or unsalted), cold water and vinegar. When they come in contact with a hot platter, they sizzle! And if you heated the platter on a grill while grilling the patty, the sizzle will be a lot. Keep off for the first couple of minutes, to ensure no burns!
Why MorningStar Farms®?
On my last trip to Walmart, I was looking for some yummy burger patty that I could stock up in the freezer for a quick meal. That is when I saw these attractive packages with a lot of options. These products are not just for vegetarians, also for regular, every-day people. They are perfect as-is meal solution for days that you need a quick fix.
Rated America's #1 Veggie Burger, I had to try the Spicy Black Bean Burger, and trust me, I was thrilled! Try it to believe it! They work great in this sizzler and they are PERFECT for Labor Day grilling. Make a burger or just enjoy grilled patty with some ketchup and mustard...YUM! Looking for more inspiration? Follow MorningStar Farms® on Facebook, Twitter, Instagram or Pinterest!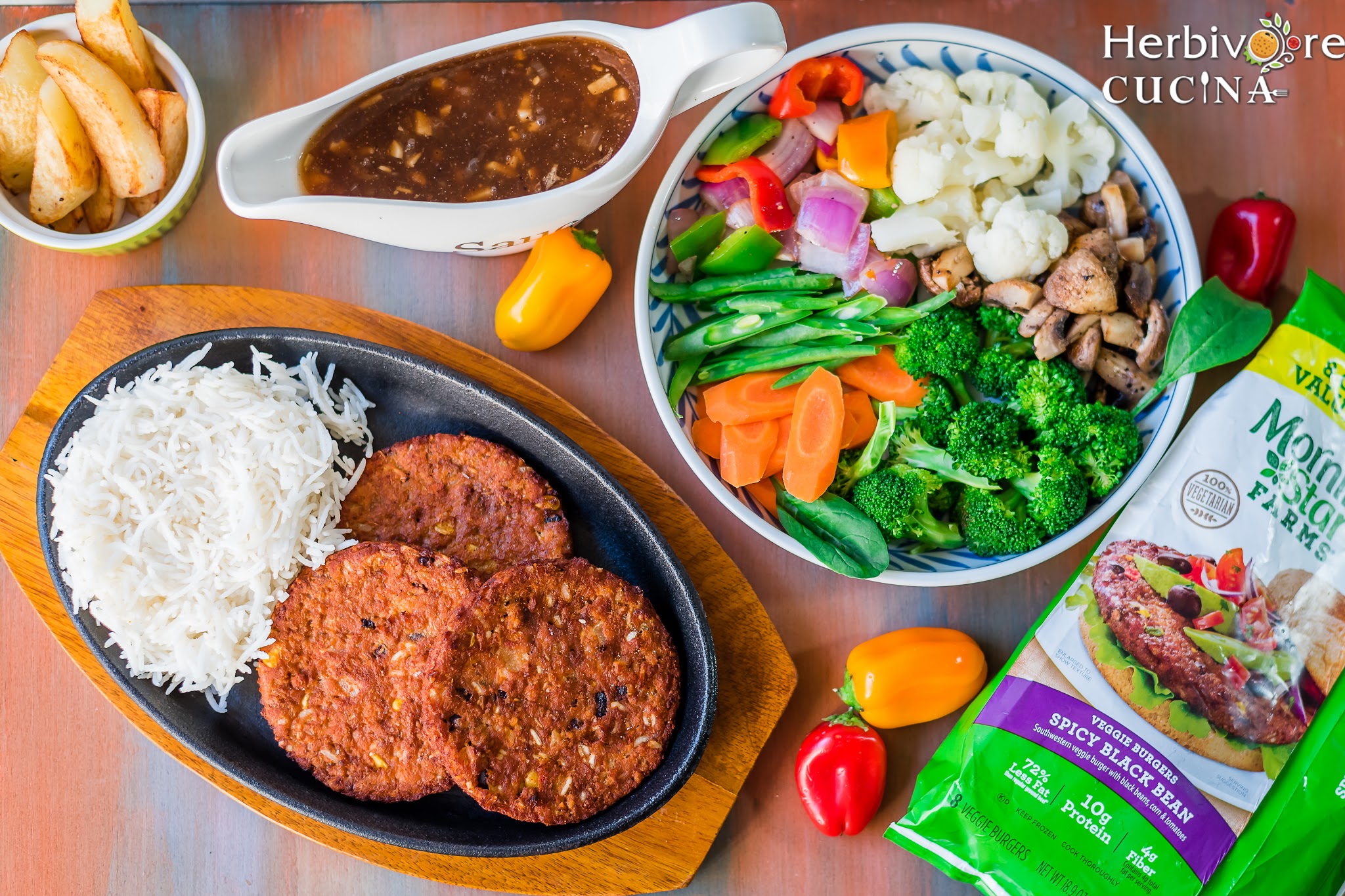 Variations
As I mentioned above, you can pick and choose the ingredients you like. Use white or brown rice, steam vegetables of your choice or add meat if you like. Sautéed spinach, grilled vegetables, paneer tikka or grilled tofu is great too.
The fajita can be quickly made on a grill and the mushrooms as well. Grill the patty on a grill for best results!
I made a garlic sauce, but a tomato based curry or alfredo sauce is amazing on sizzler too. Especially if you are making a spaghetti and cheese sizzler! So without any further delay, let's head straight to the recipe!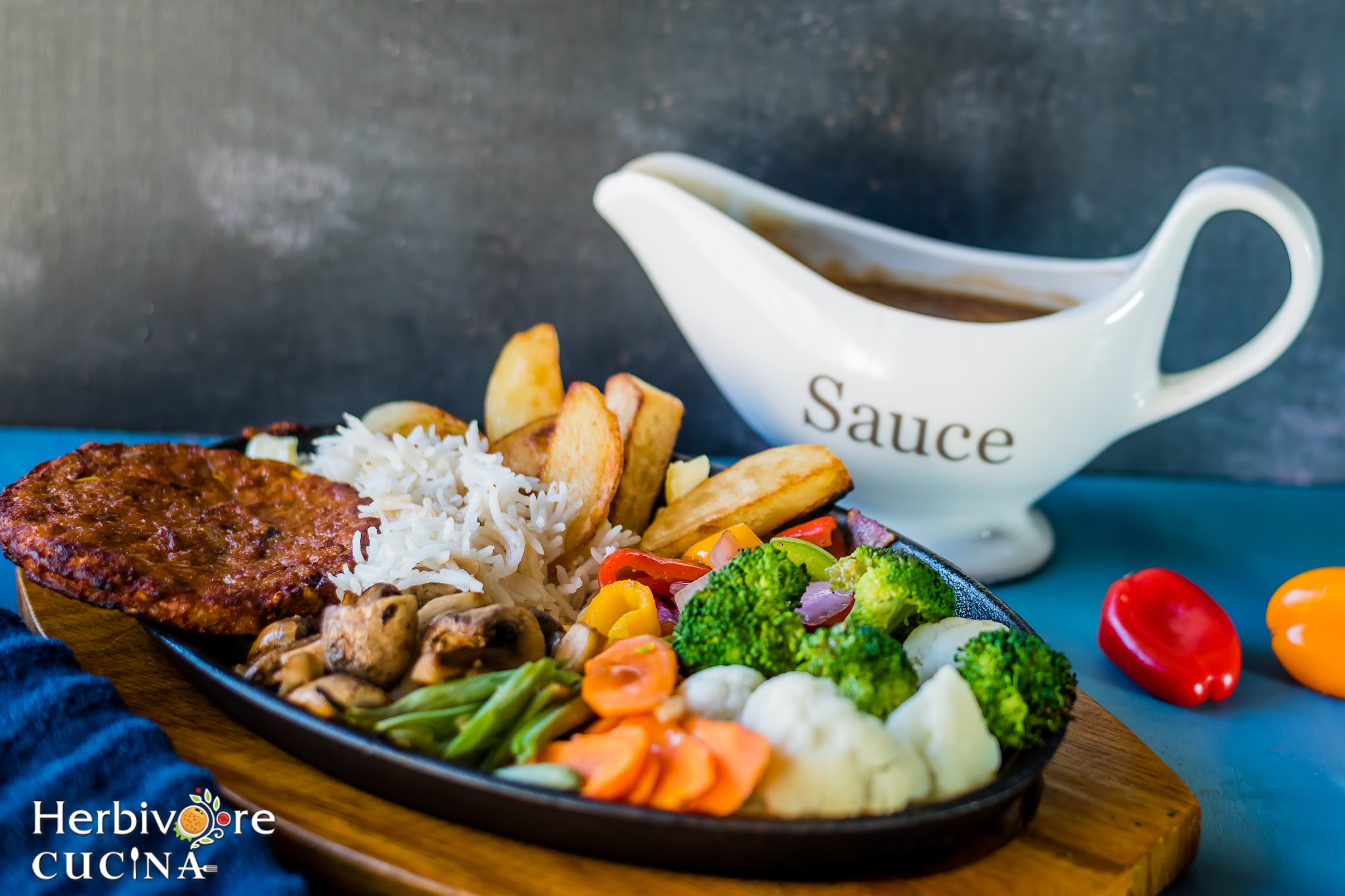 Ingredients
For the Vegetables
French beans ½ cup, sliced
Carrots ½ cup, sliced
Cauliflower ½ cup, florets removed
Broccoli ½ cup, florets removed
Onion ¼ cup, diced
Peppers ½ cup, diced
Oil 2 tsp
Salt 1 tsp
Oregano ½ tsp
For the Garlic Sauce
Cornstarch 2 tsp
Garlic 4-5 cloves, diced
Onion ¼ cup, diced finely
Salt 1 tsp, Pepper Powder 1 tsp
Soy Sauce 1 tbsp, Vinegar ½ tsp
Oil 1 tsp
Water as required
Other Ingredients
White Rice 1 cup
Mushrooms 1 cup, sliced
Potato 1 medium
Oil 2 tbsp
MorningStar Farms® Spicy Black Bean Burger Patty
Cabbage Leaves a few
Butter 1 tsp
Vinegar ¼ tsp
Method
For the Steamed Vegetables
Wash and slice all the vegetables. In a deep pot add 1 cup water and place a steamer. Arrange the vegetables (French beans, Carrots, Cauliflower and Broccoli). Cover and steam for 7-10 minutes. Once a fork pierces in the cauliflower, they should all be done. Remove and set aside.
For the Mushrooms and Fajita
In a pan heat 1 teaspoon oil. Once hot, add washed and diced mushrooms. Season with salt and oregano. Sauté for a couple of minutes and remove.
In the same pan heat the remaining oil. Add onions and peppers. Sauté for 4-5 minutes and add salt and oregano. Remove.
Alternatively, make these two on the grill. To do so, just fire the grill, place a non stick mat and arrange the fajita vegetables and mushrooms. Sprinkle salt, oregano and mix well. Grill till cooked.
For the sauce
In the same pan as above add 1 teaspoon oil. Sauté garlic and onion till fragrant. In a small bowl mix together corn starch, water, salt, pepper, vinegar and soy sauce. Pour that into the pan and mix well. Cook on medium flame till thick. Set aside.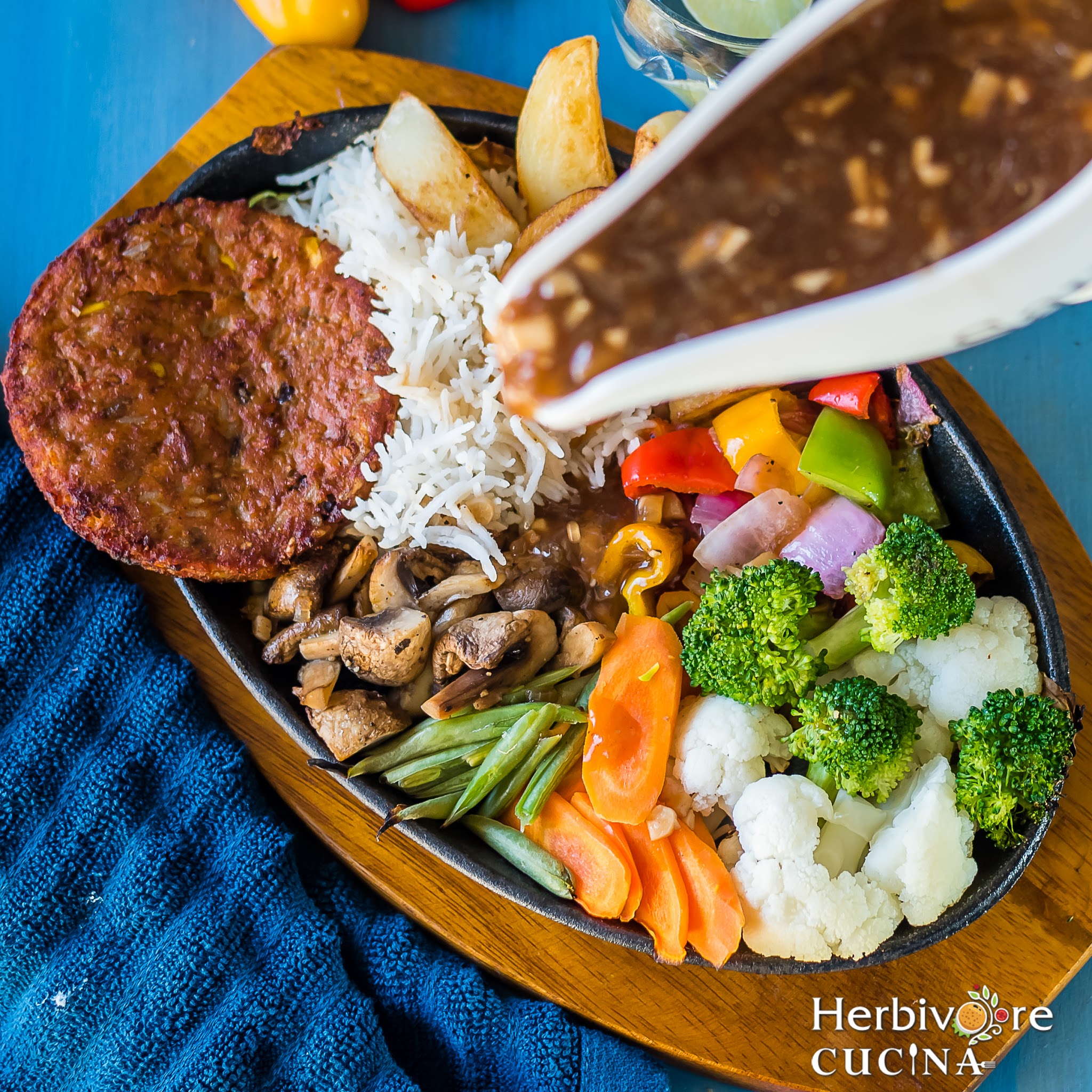 For the baked Fries
Peel and cut the potato into logs. In a bowl add 1 tablespoon oil, 1 teaspoon salt and some pepper powder. Add the potato logs and toss well. Transfer to a baking tray and bake at 350 F/ 180 C for 20 minutes, rotating them every 5 minutes. Once they become crisp all over, remove.
To assemble
Grill the MorningStar Farms® Spicy Black Bean Burger Patty for 8-10 minutes. Alternatively, use a pan to cook and crisp the patty. Wash and boil the rice in 2 cups water till cooked and the water is completely absorbed.
Heat the sizzler/fajita platter for 10-12 minutes on high heat. Once hot, place cabbage leaves on the surface. Arrange the rice, fries, steamed vegetables, sautéed mushrooms and fajita. Place a MorningStar Farms® Spicy Black Bean Burger Patty on the rice.
To sizzle
Mix together 2 tablespoon water, vinegar and butter. Pour that on the wooden base of the platter. Place the hot sizzler plate and watch it SIZZLE! Pour sauce on top and enjoy!
Pin for later