Indian style yogurt and chickpea flour curry; Gujarati Kadhi is a perfect accompaniment with steamed rice. Use the Instant Pot to make kadhi and rice together effortlessly!

The New Year is here already! First I would like to wish you all a very Happy New Year. Hope this year is amazing for you all. I am starting off this year's posts with this super easy and addictive Kadhi.

Kadhi or yogurt soup is a recipe that is popular throughout India. Served with rice, pulao, millet breads or khichdi; this varies slightly based on the origin its origin. Some folks add dumplings in theirs, some add chana and some make it super thin and sour.
This Kadhi is a version of the soup from the state of Gujarat. Gujaratis love their recipes with a pinch of sugar and this recipe is no different. With some added sugar or jaggery; this yogurt based soup is sweet and sour at once.
While the recipe is pretty simple; the MOST important step in the recipe is to keep stirring the kadhi so it does not curdle or boil over. This might be super boring and need a lot of attention. So I started making the recipe in the Instant Pot and YES; it is really easy and no fail.
If you are an Instant Pot fan like me; here are a few recipe to try from my blog. These recipes are easy and delicious!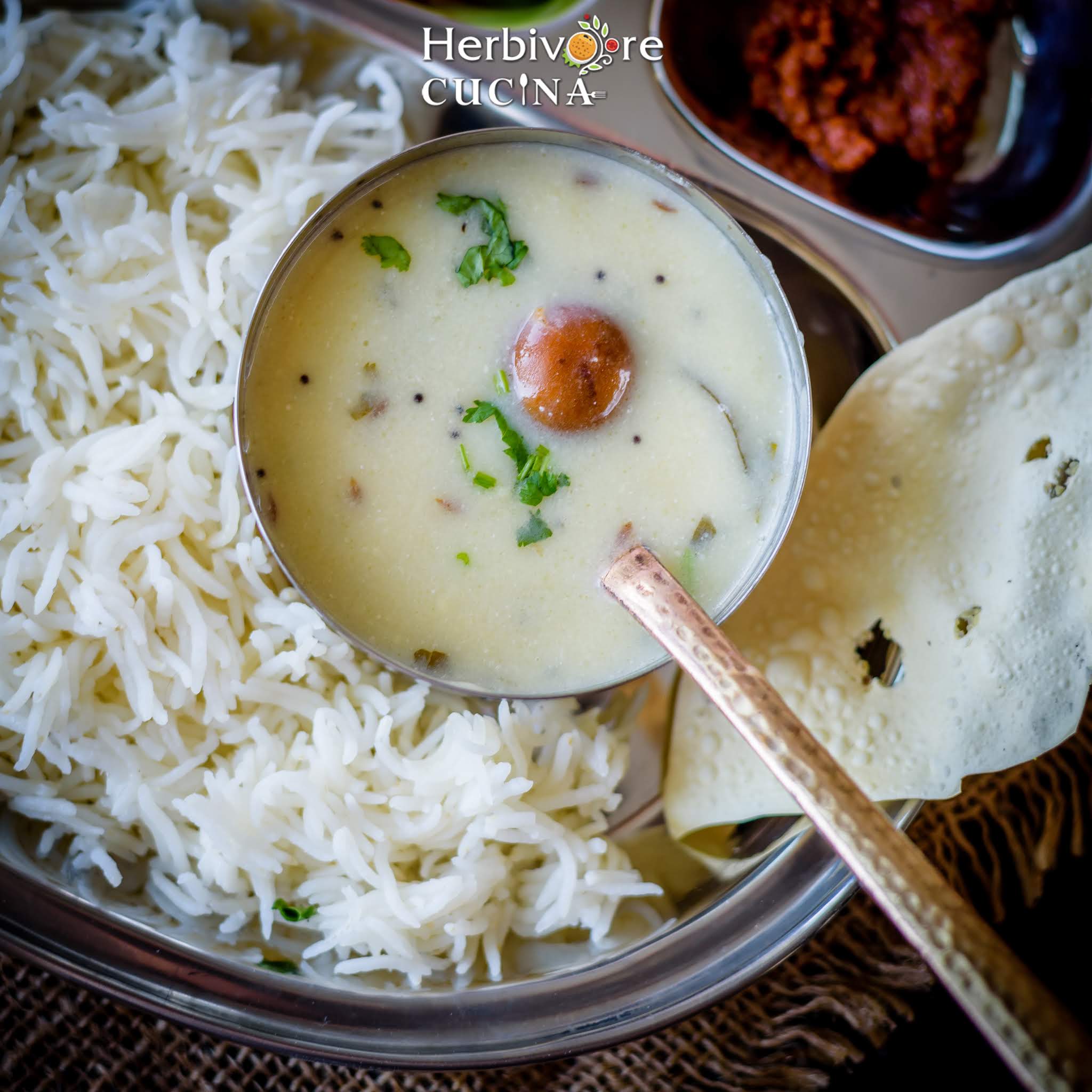 Why use the Instant Pot to make Kadhi?
Coming to the recipe; this kadhi is made in the Instant Pot. The advantage of making it in that there is NO stirring involved. The most tedious task while preparing Kadhi is the stirring. If the kadhi is left unattended for a while; it might curdle or boil over.
Use the Instant Pot with the Soup mode and there is no more stirring. This boiling mode on the Instant Pot ensures the kadhi does not separate into water and yogurt. It is simply amazing to see the final result.
The other advantage of this recipe is that it can make steamed rice along with the kadhi. So with a cooking time of just 6 minutes; you get the entire meal ready for dinner! The rice used is white; given it has a similar cooking time as the kadhi.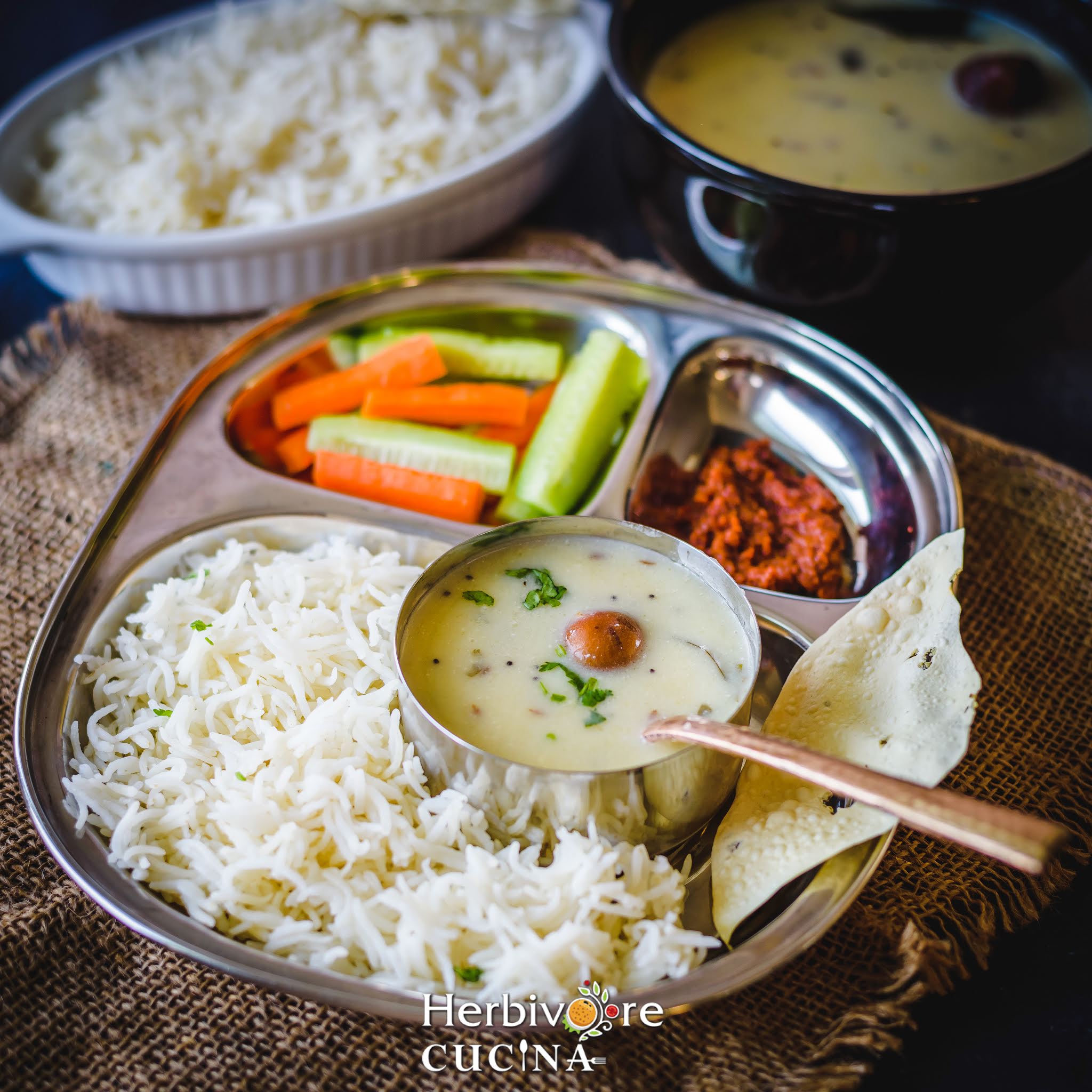 Variations
The recipe I have is pretty simple. I have posted a lot of kadhi recipes in the past. Here are some of my favorites:
Coming to the variations of this recipe; there are a few things that can be modified. Generally it is made in ghee, but vegetable oil can work too. The yogurt used is generally slightly sour. If the one you have is not, add some lime juice to make it sour.
Adding spices like cloves and cinnamon is optional. Bay Leaves are commonly added to the recipe. If you cannot find the dried red chili, skip that. And last, adding methi seeds is pretty common. Add them after the ginger if you like.
Sugar plays an important role to bring the element of sweetness to the kadhi. Substitute with jaggery if you like. If you do not like the sweetness, skip that. It will change the taste so I would highly recommend adding it.

I made basmati rice along with the kadhi. You can make khichdi separately and serve it with kadhi. And serving rice or khichdi with kadhi is generally accompanied with papad and achar. It makes a perfect comfort dinner!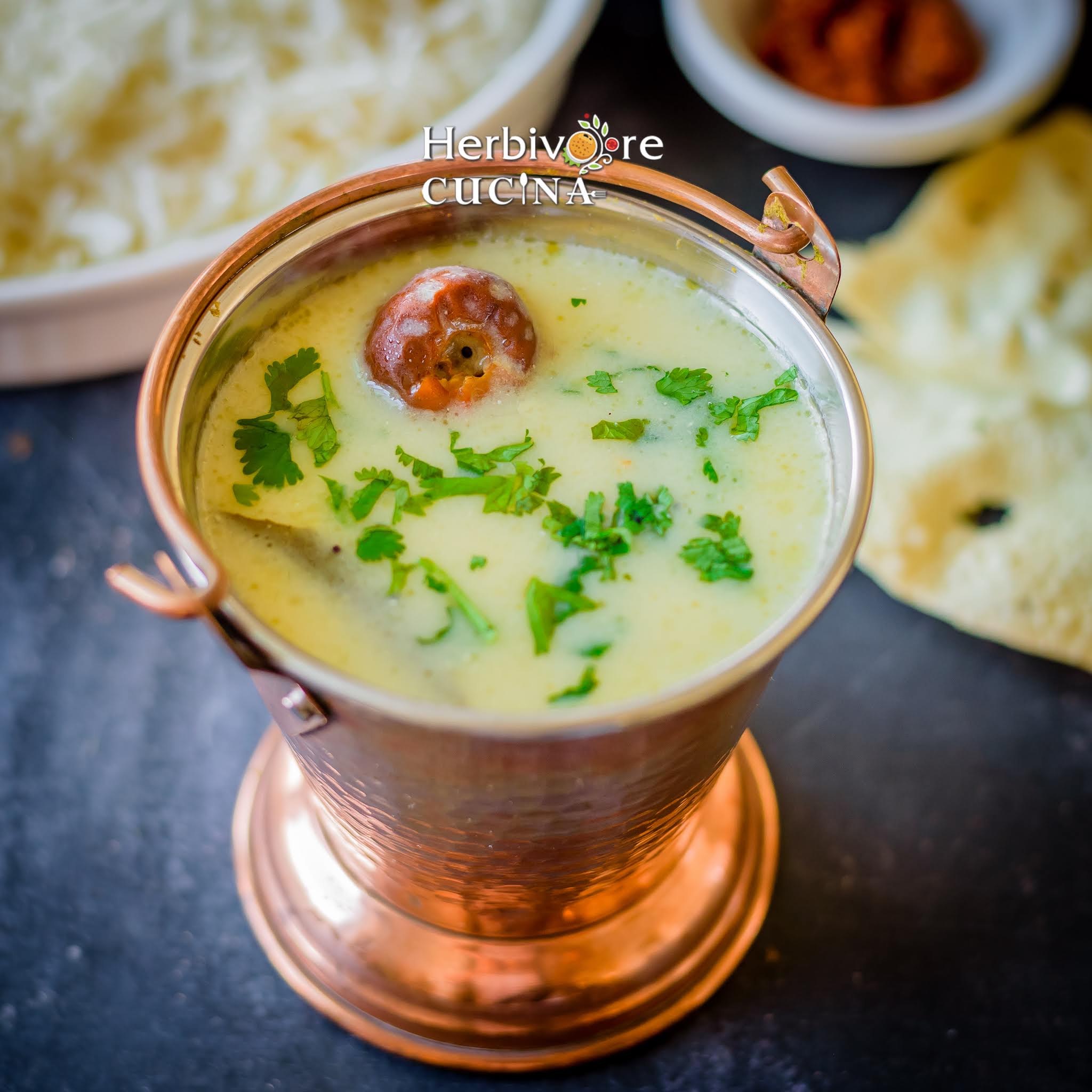 Ingredients
For the Kadhi
Yogurt 1 cup
Besan/Chickpea flour ¼ cup
Ghee 1 tablespoon Make your own here
Mustard Seeds ¼ tsp
Cumin Seeds/ Jeera ¼ tsp
Asafetida a pinch
Curry Leaves 6-7
Green Chili 1 chopped
Cloves 4-5
Cinnamon Stick 2-3
Ginger 1 teaspoon minced
Salt 1 tsp
Sugar ½ tsp
For the Rice
Basmati Rice 1 cup
Water 1 ¼ cup
Salt a pinch
Ghee ½ tsp
Method
In a bowl mix together yogurt and chickpea flour. Using a hand blender or whisk, blend to a smooth consistency.
Set the Instant Pot to 'Sauté' and 'Normal'. Add ghee and wait till the display reads 'Hot'. Add mustard seeds, cumin seeds, asafetida, curry leaves, red and green chili, cinnamon and cloves.
Once the mustard seeds pop, add in the ginger. Mix well and let the ginger cook for a minute.
Next add in the yogurt chickpea flour mixture and mix well. Also add 2 cups water. Mix and add sugar and salt.
Wash the rice and add them to a steel bowl. Add water, salt and ghee. Place a trivet in the middle of the kadhi. Place the rice on it.
Press 'Cancel' on the Instant Pot and then press 'Soup'. Set mode to 'Normal' and time to 6 minutes. Close the lid and set the valve to sealing.
Let the rice and kadhi cook. Once the timer goes off, let the pressure release naturally for 10 minutes. Then release the remaining pressure and open the Instant Pot.
Using tongs remove the bowl with rice. Sprinkle cilantro on the kadhi and serve it with rice, achar and papad. Enjoy warm.