Today is the second day of the Marathon this month and the theme is still rice. After posting an African Rice yesterday, I am back to India today. This is a simple recipe of a white colored pulao that is served at all Gujarati weddings with kadhi and papad.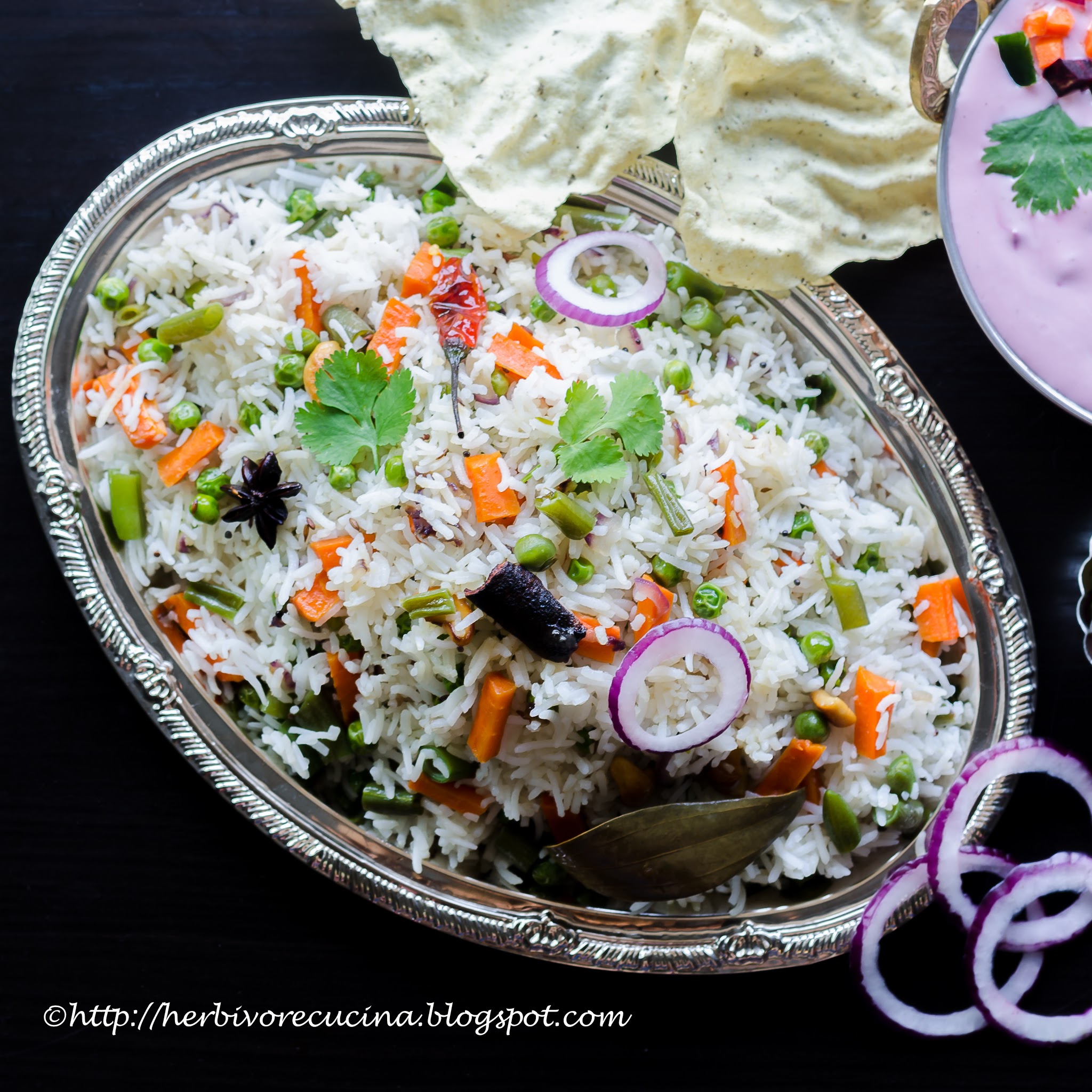 If you have ever been to a Gujarati wedding, you would easily relate to this dish. White grains of rice topped with colorful vegetables like carrots, peas and french beans and spiced by whole spices and chillies, this pulao is rather light and easy to make.
While this rice is easy to prepare, one has to be careful with the spices. While adding more rice will help reduce the heat of the rice, if the spice is not right, the only option is to add more chillies in ghee or oil and add it to the rice! That will make the rice super greasy. So make sure you take the correct number of green/ red chillies. So here is the recipe that we generally relish at the weddings, now made easily at home 🙂
Ingredients


Long grain rice 1 cup
Onion ½ medium
Carrot 1 medium
French Beans ¼ cup
Peas ½ cup frozen or fresh
Cashew nuts a handful
Star Anise 2-3, Cloves 2-3
Bay Leaves 1-2, Cinnamon 1 inch piece
Green/ Red Chilli 2-3
Cumin seeds 1 tsp
Salt 2 tsp
Ghee 1 tbsp
Method


Wash and soak the rice for about 30 minutes. Meanwhile, dice onions and set aside. Chop french bean and carrots to ½ inch pieces. Heat water and partly boil the beans, carrots and peas. Drain and set aside.
Cook the rice with a pinch of salt either in a pressure cooker or open in 1 ½ cup water. Let it cool and separate the grains.
Heat ghee in a pan. Add all the spices, cashews and cumin seeds. Once they pop, add onions and chilli. Let the onions turn pink and then add the vegetables. Cover and cook for 2-3 minutes.
Next, add the rice and mix well. Season with salt, slowly mix it in taking care that the grains do not break. Turn down the heat and serve warm with salad, raita or kadhi and papad.