Gatte or flour dumplings form an essential part of Rajasthani Cuisine. It is always made as a main dish and served with roti or rice. The traditional recipe calls for dumplings made from gram flour dunked in a yogurt based gravy. However, we generally like to include potato and onions in the dish too, just to add a different texture to the vegetable. The sabji is also sometimes called 'Gathiya batata nu shaak' in Gujarati, where gathiya is the dumplings and batata means potato. Also, we do not like the yogurt based curry a lot, and so we skip it.
I remember my grandmother prepare this sabji for us when we were children and did not like too many vegetables. The recipe was passed on to my mother, who used to make this dish on mornings that she is pressed for time. When my mom visited me last month, I learnt it from her. The dish brought back a lot of memories, not only from India but also from the days I spent with my grandmother as a kid. It was such a treat to have this family dish so far away from home. I do not claim this recipe to be authentic Rajasthani, but it is a recipe that is based on Rajasthani cuisine and prepared in a way my family likes best.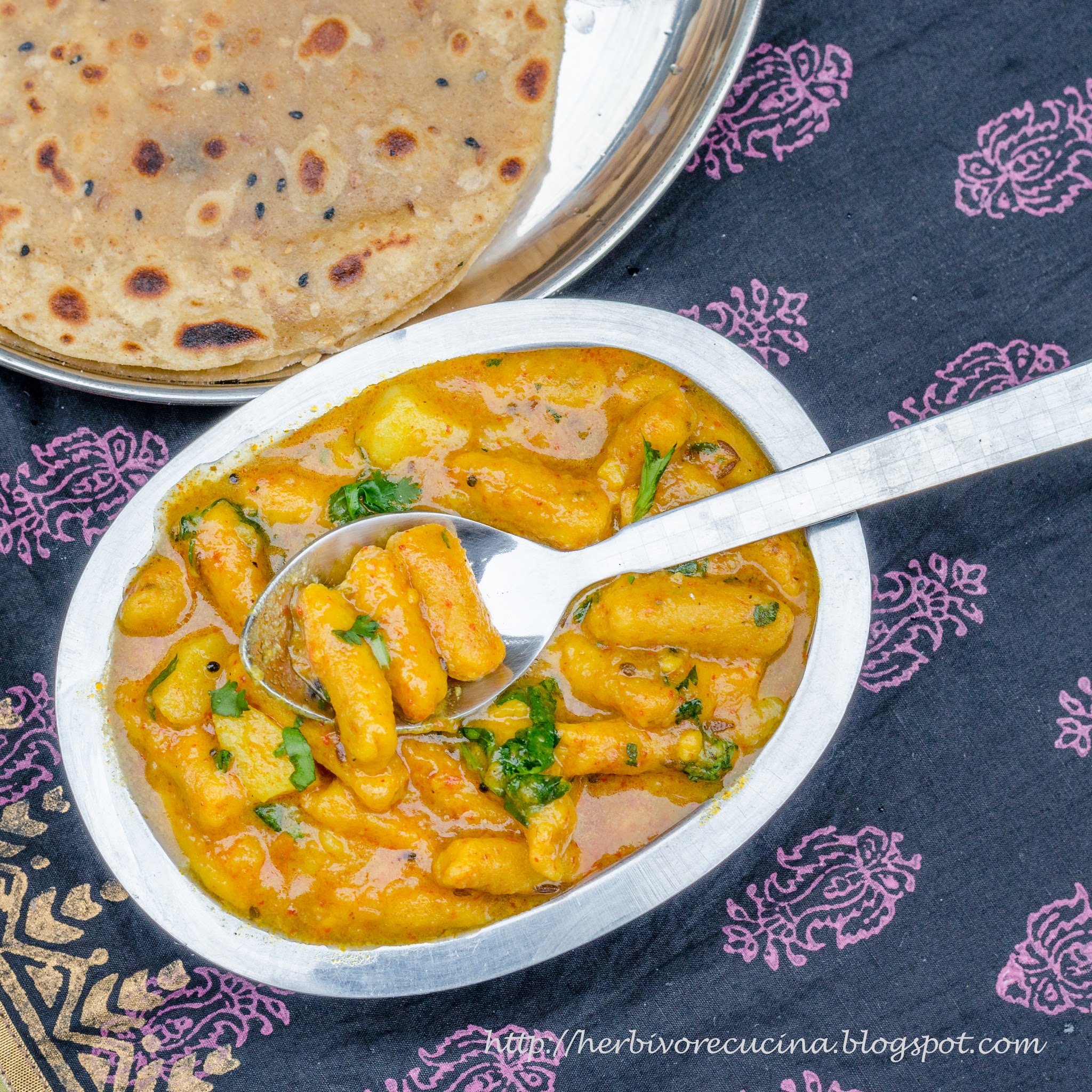 This vegetable can be made when you wake up to an empty refrigerator or serves as a quick fix on days when you get up late and have little time to chop vegetables or wait for it to cook in a saucepan. You just need to cut some potatoes and onion, which again is optional! And the dish is made in a pressure cooker, and so takes little time. Try this recipe at home, where adding potato is optional and depends on how your family likes it!
Ingredients
Gram Flour 1 cup
Onion 1 medium, diced
Potato 1 medium, diced
Indian spices (Asafoetida, Turmeric Powder, Red Chili Powder, Dhania Jeera Powder, Mustard seeds, Cumin seeds, Carom seeds)
Oil 4 tbsp
Garlic 1-2 cloves, minced
Curry leaves
Green Chili
Salt, Lime Juice
Baking Soda/ Kharo ¼ tsp
Cilantro
Method
In a mixing bowl, add gram flour, asafoetida, turmeric powder, red chili powder, carom seeds and a pinch of baking soda. Mix everything well. Now add 2-3 tablespoon of oil and mix it into the flour. Using as little water as possible, make a dough that is harder than the roti dough. Ensure that the water used is minimum, and bind the dough well. Knead the dough well and keep it covered in a warm place for 15-20 minutes.
After the dough has rested for sometime, knead it well again. Now make small balls out of the dough and roll the balls into long rolls of ¼ inch thickness. Using your hand or a pizza cutter, cut the dough into pieces of 1 to 1.5 inches long rolls. Smoothen the edges and place them in a plate.
Heat oil in a pressure cooker and add mustard seeds, followed by asafoetida and cumin seeds. Once they splutter, add the curry leaves and green chili. Next, add garlic and sauté till the raw flavor disappears. Next add the onions and cook till they are pink in color. Next add the potato dice and mix everything well. Add turmeric powder, Dhania Jeera Powder and some red chili powder. Add 1 cup of water and let it boil.
Once boiled, add the gatta or dumplings. Add some salt and mix everything well. Depending on how much water the dumplings are absorbing, add some more if required. Close the pressure cook and cook for 2-3 whistles. Let the cooker cool a little and then open it. Mix it and taste. Add salt if required. Add lime juice and sprinkle cilantro on it. Serve hot with roti, paratha or rice.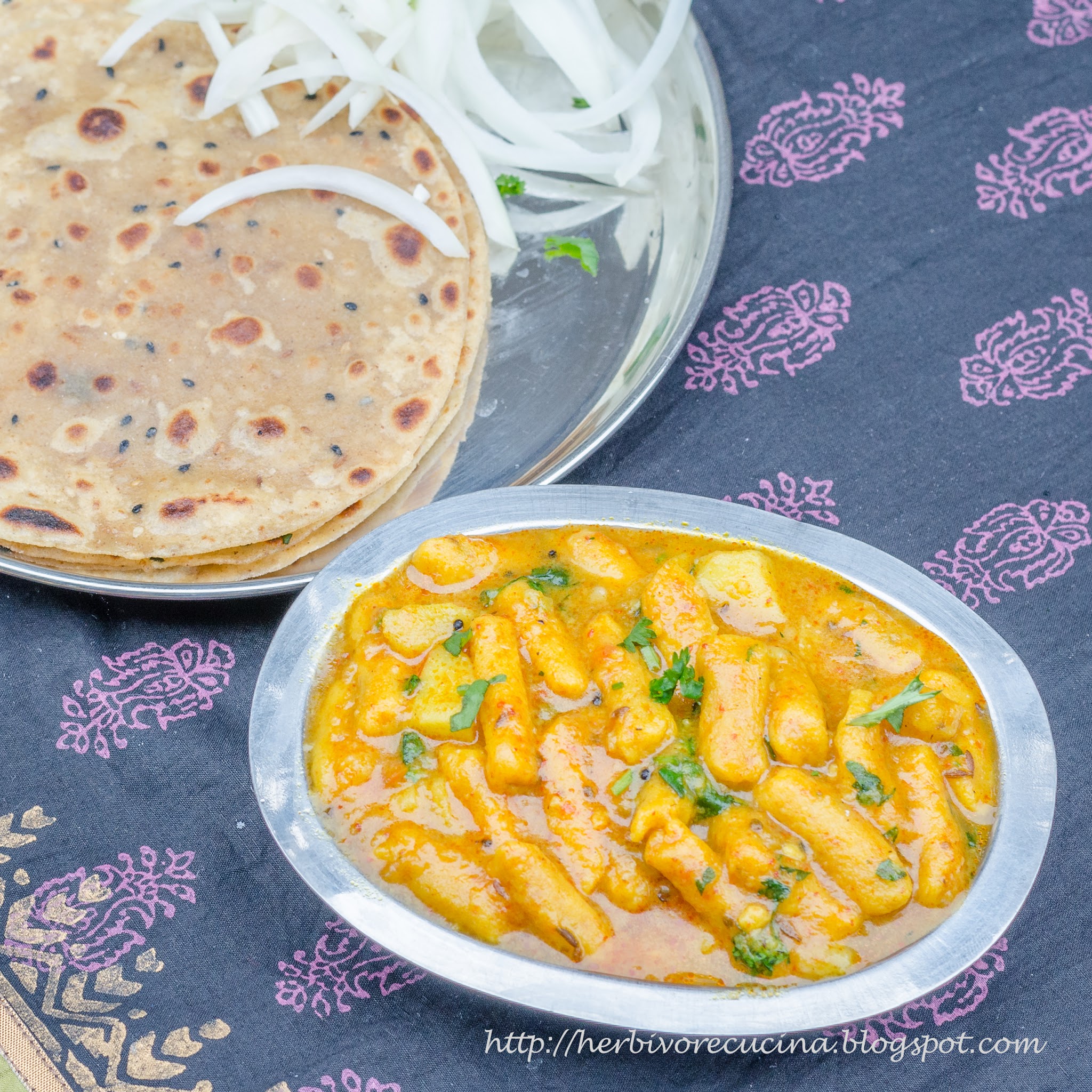 Looking for more Indian Entrees?? Try these.