Summers are incomplete without this tangy sweet raw mango cooler. Such an easy to make drink!

Aam panna (Chhichha in Punjabi) is an Indian summer drink renowned for its heat-resistant properties. It is made from green mangoes and is consumed as a tasty and healthy beverage to fight against the intense Indian summer heat. Green mango is a rich source of pectin, which gradually diminishes after the formation of the stone. Unripe mango is sour in taste because of the presence of oxalic, citric and malic acids.
Aam panna, which is prepared using raw mangoes, sugar and an assortment of spices, quenches thirst and prevents the excessive loss of sodium chloride and iron during summer due to excessive sweating. The drink is mainly consumed in North India where it is hotter and drier than on the coast.
This drink takes me back to my childhood. My brother and me used to enjoy lot all summers with mangoes, both ripe and raw. We had a couple of mango trees near our house. On summer afternoons, we would get raw mangoes from the tree and take them home. Then our grandmother would make fresh aam panna from the mangoes to enjoy during the hot afternoons. The freshness in the panna was very different from the one that you get in store bought mangoes.
After those childhood days, this drink was probably lost somewhere while growing up. This summer I saw a ton of raw mangoes at the Indian store and the farmers' market and wanted to make the drink again. I bought two huge mangoes thinking I would make panna and green chutney. But I was so greedy, that I made panna out of both the mangoes. I am so glad I did, because we loved the flavor and any less quantity would mean I would have to make it again.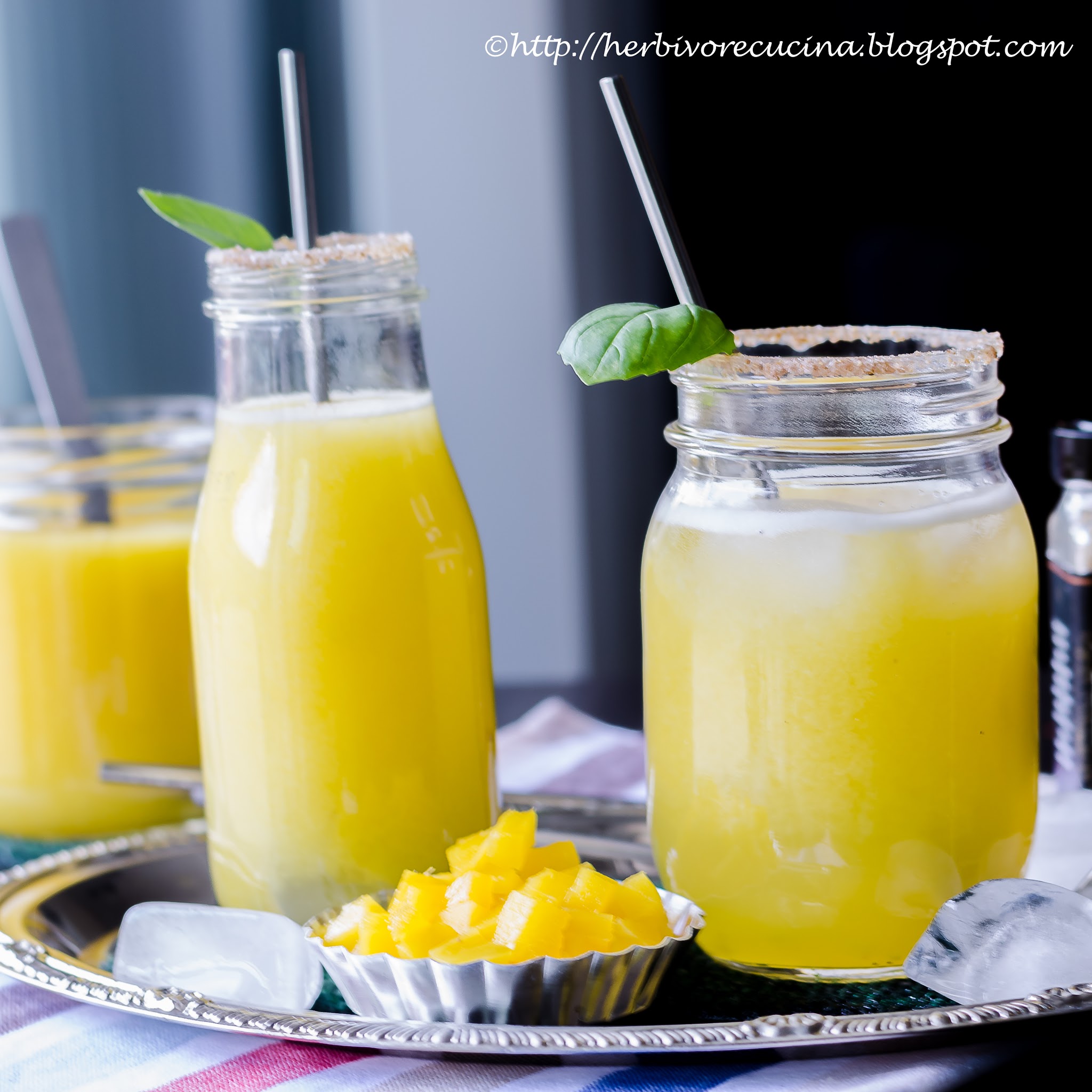 Such a simple drink but tastes amazing and is healthy too. To serve, I froze the mason jars for about ten minutes before pouring out the drink in it. Also, I lined the jars with lime juice and a sweet salty mixture of sugar, salt and powdered cumin. These are just frills and the drink tastes pretty much the same even without all this! I have seen variations like using jaggery instead of sugar and roasting the mangoes before using them. I shall try those soon, until then, here is the basic aam panna, full of flavor and good health!
Ingredients
Raw Mangoes 2-3
Sugar 1 ½ cup
Green Cardamom 4-5 pods
Saffron few strands (optional)
To Serve
Rock Salt, Salt, Sugar and Cumin Powder
Mint/Basil leaves
Some lemon juice
Method
Wash and pressure cook the mangoes for 3-4 whistles or 12-15 minutes. Cool and remove the mangoes. The skin would easily peel now. If not, pressure cook for some more time.
Peel the mangoes and add to a blender. Also add the sugar (adjust quantity based on how sour the mangoes are). Also add the cardamom seeds and saffron (if using). Blend to a smooth puree. Store in an airtight jar.
To prepare, add the puree along with rock salt, salt and freshly ground cumin powder to a pitcher. Mix well, add water and ice cubes. Blend well using an immersion blender or ladle.
To serve, line the bottle or glass with lemon juice first, then with a mixture of Rock Salt, Salt, Sugar and Cumin Powder. Pour the prepared aam panna and add a couple of mint/ basil leaves. Serve chilled.