Blogging Marathon #66 Week 2 Day 3
Theme: Sandwiches without bread
Dish: Asian Noodle 'Bun' Sandwich
Today is the last day of this week's Blogging Marathon and for the theme Sandwiches without bread. For today, I had multiple options; making a rice sandwich or a lettuce leaves sandwich or the simplest of all; Smores! I was super enthusiastic to try one of the complex ones and almost gave up by the time the week came around. But there was something in me that wanted to try a Noodle Sandwich since I saw it viral on various pages all over facebook!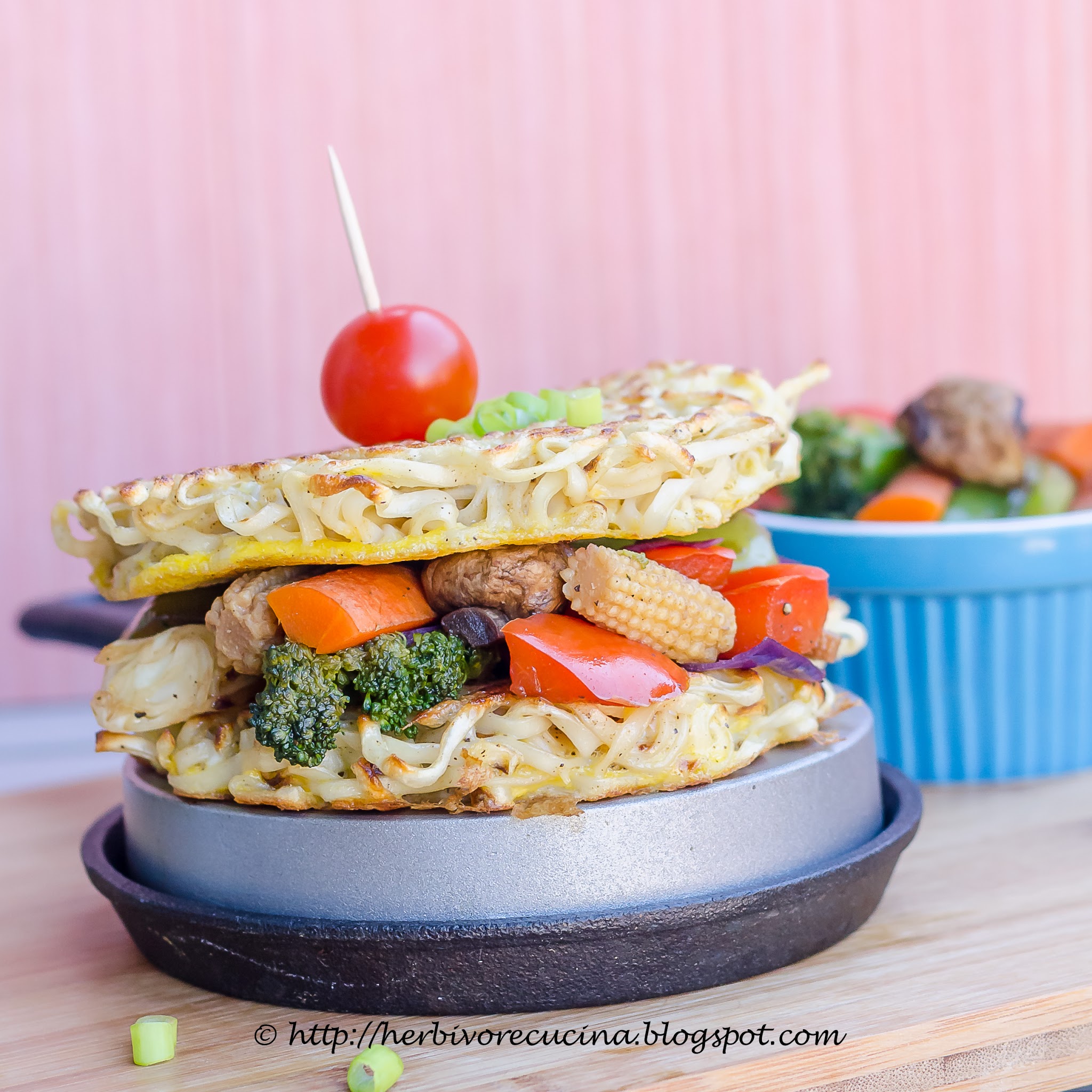 So after a lot of deliberation, I finally made this sandwich today and I was super happy with the outcome! While I saw a lot of images of the Burger using Ramen buns and the filling was a patty, cheese and vegetables like onion and lettuce; I was not very convinced with that fusion. So I swapped the filling for an Asian Stir Fry. The result was super delicious and in my opinion more Asian than the patty and all!
For the noodle 'bun' I followed this video. The filling however, is my mother's recipe. She makes this stir fry all so often as a side dish for Asian meals. Combining the noodles, egg and the filling made a perfect Asian Burger, and when served with a side of boiled vegetables or soup, it would make a complete meal.
At first, the dish looked pretty intimidating. But it was not as difficult! The noodles need to be cooked and cooled first. Then add beaten egg and seasoning. I used a burger press to shape the buns to equal rounds. Ramekins however will also do the task as well. Once the buns are ready, the filling can be made as per your choice. Either stir fried vegetables or a tofu patty or fried egg; all these taste amazing with the egg based noodle bun. Or if you like, add the conventional burger fillings like cheese, lettuce, patty and onions. Try this recipe and bring home a meal straight from the viral videos!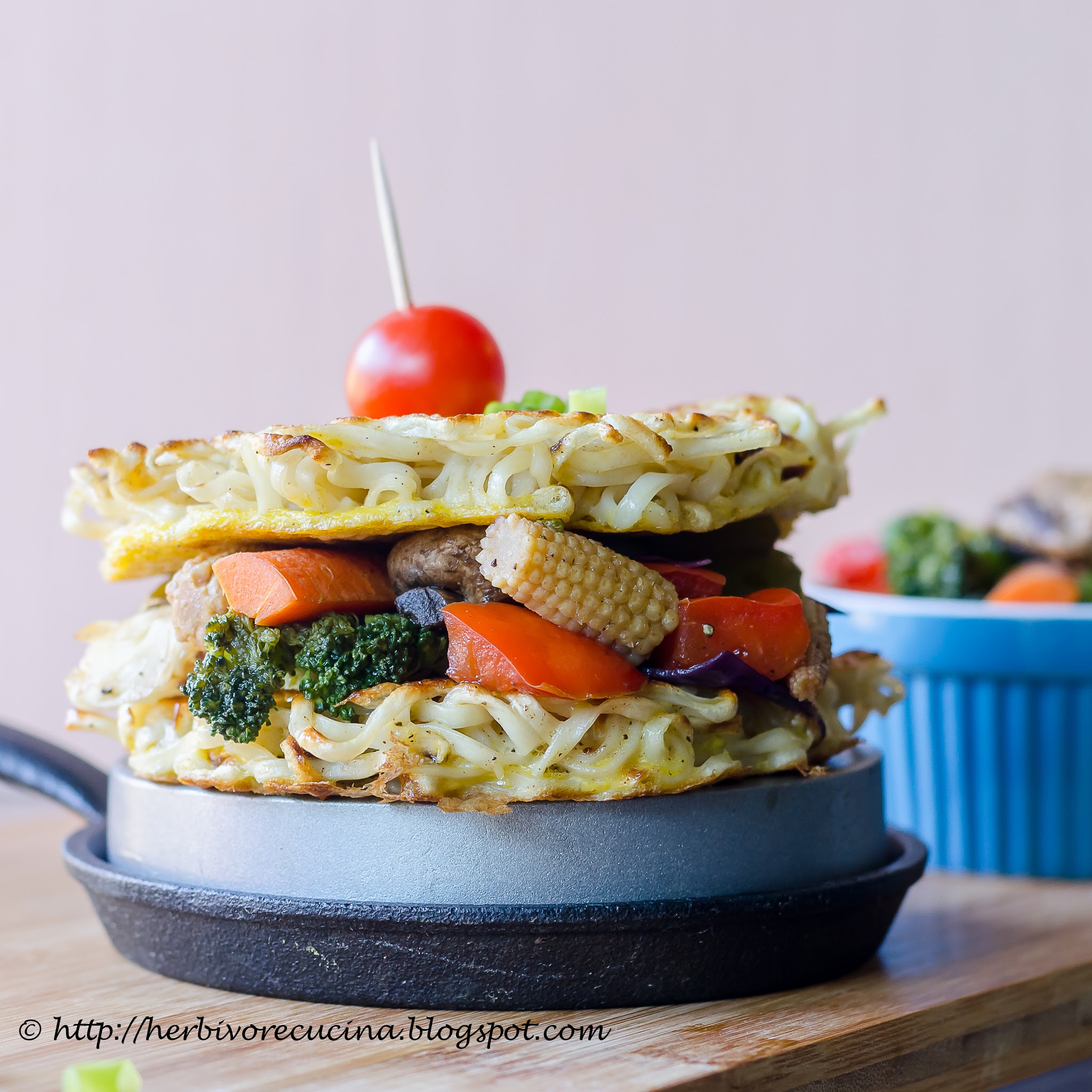 Ingredients
For the 'buns'
Noodles of your choice 2 cakes
Egg 1
Salt, pepper
Oil as required
For the filling
Assorted Vegetables ( I used broccoli, peppers, edamame, carrots, french beans, spring onion, mushrooms, baby corn, pink and green cabbage) 1 ½ cup
Vinegar 1 tsp
Soy Sauce 1 tsp
Chilli Sauce 1 tsp
Garlic 2-3 pods
Sesame Oil 1 tbsp
Salt, Pepper
Method
To make the bun, first cook the noodles as per the package instructions. Drain and cool. Beat one egg and add the noodles. Mix well with 1 teaspoon salt and a pinch of pepper powder. Divide the mixture equally in two parts. Use two same sized ramekins or patty maker to make the buns. Line them with oil and press the noodles and egg mixture.
Refrigerate the buns for an hour. If pressed for time, freeze for 10-12 minutes until hard. Remove and transfer to a non stick pan. Add oil as required to completely cook the buns. Keep flipping them over to avoid burning. Once they are crisp, remove and set aside.
To make the filling, chop the vegetables into pieces of 1 inch. Heat sesame oil in a wide pan. Add minced garlic and saute till the raw flavor vanishes. Add baby corn first as they take a long time to cook. Then, add peppers and cook for a couple of minutes. Next, edamame seeds and mushrooms. After another couple of minutes add carrots, french beans and broccoli. Finally add the cabbage, mix well and season with salt and pepper. Mix in the sauces and finally add the spring onions. Turn down the heat and set aside.
To assemble, place one noodle bun, spread some sriracha or chilli sauce of your choice, then the filling and finally the other noodle bun. Enjoy the Noodle Sandwich!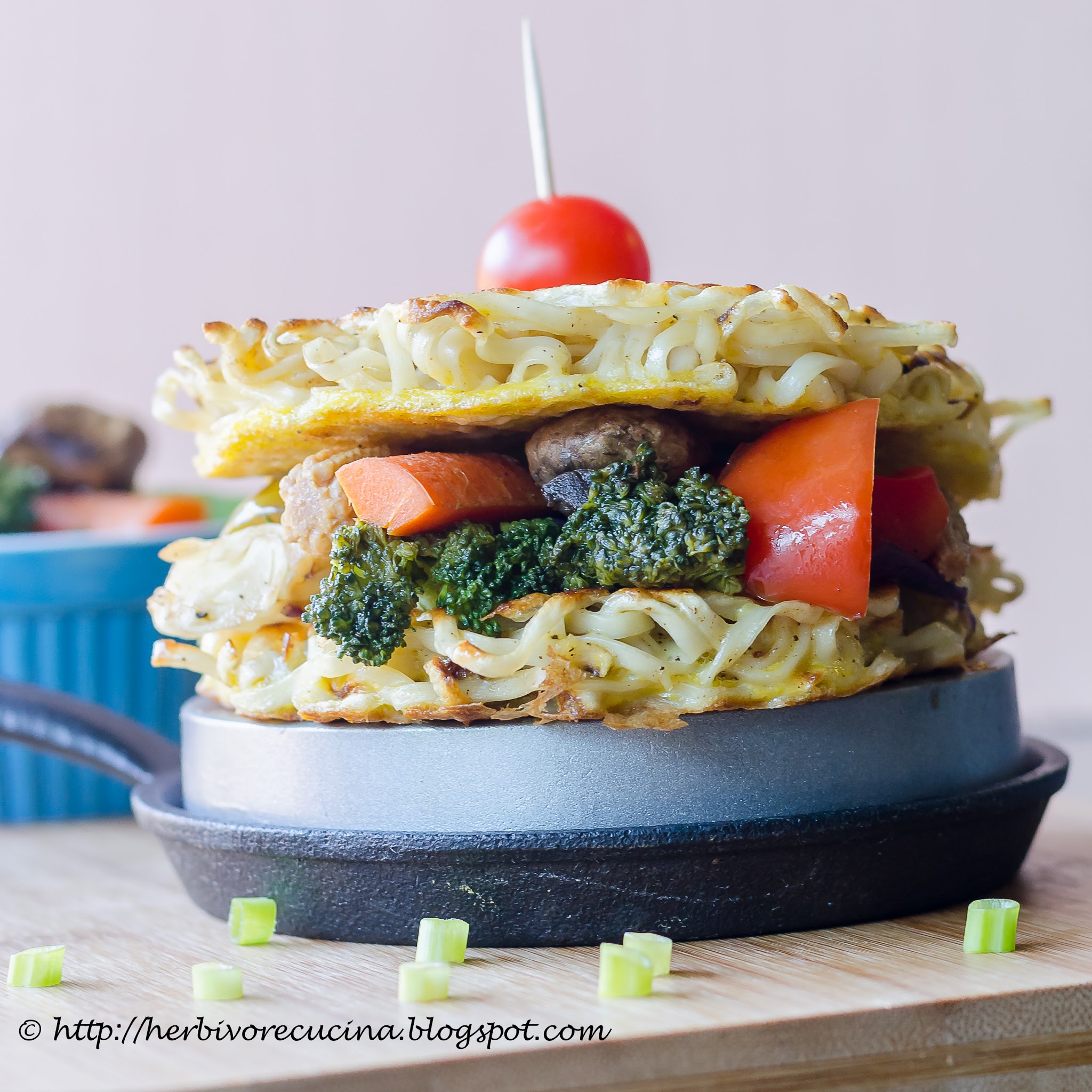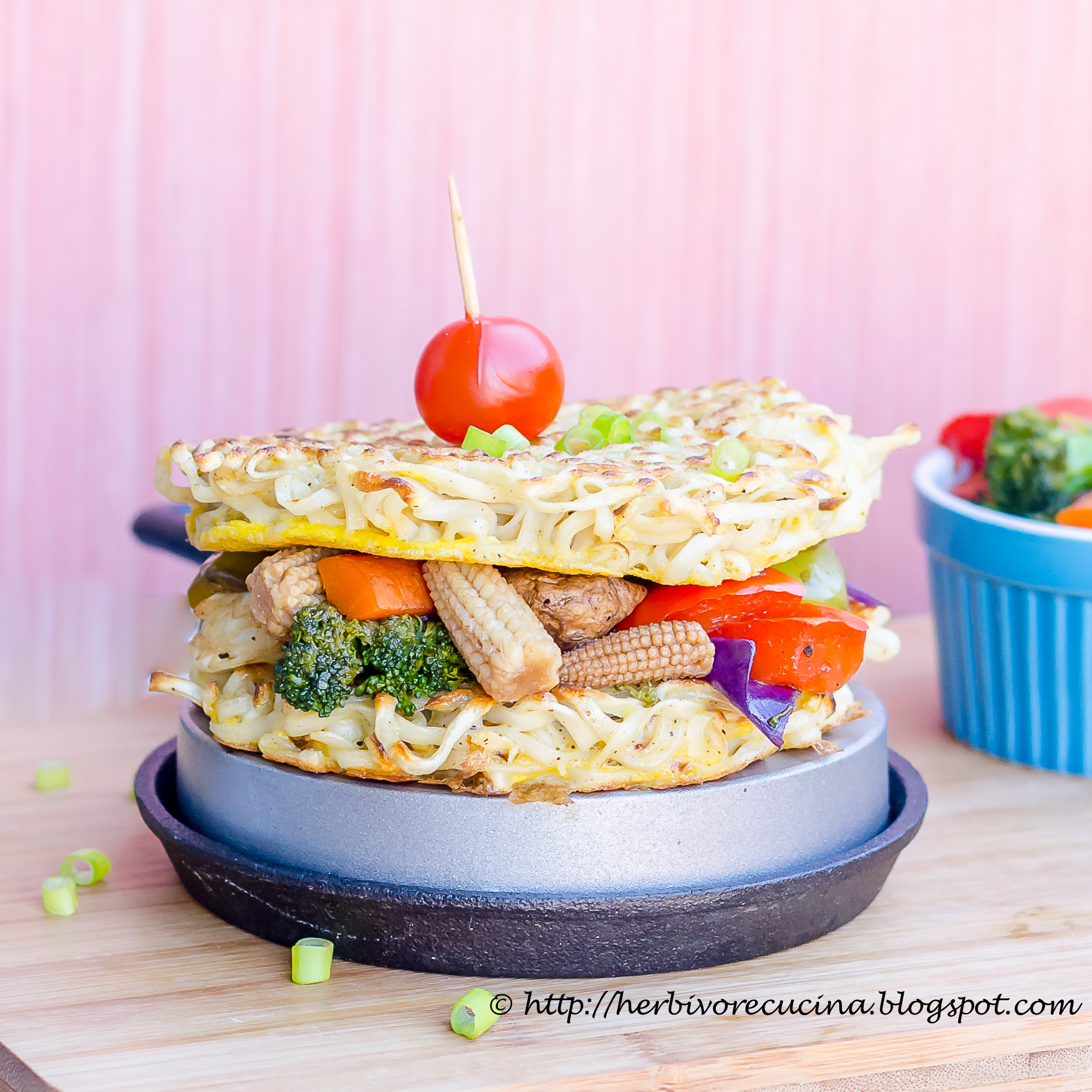 Check out the Blogging Marathon page for the other Blogging Marathoners doing this BM#66