Can salads be interesting? Can salads be a meal by itself? Can there be a restaurant that serves a SALAD BUFFET? The answer to all the above questions was a NO for me, until I came to the US. I could never get myself to believe that salad can be a meal. For me, the definition of salad was finely diced/shredded/sliced cucumber, onion, tomato and carrot. Ok, maybe some beets and iceberg lettuce too. But never had I imagined going to a restaurant that serves salads as buffet, and better still, loving it! But yes, that did happen when I came here and went to the chain Sweet Tomatoes, a restaurant that serves salad as their main course.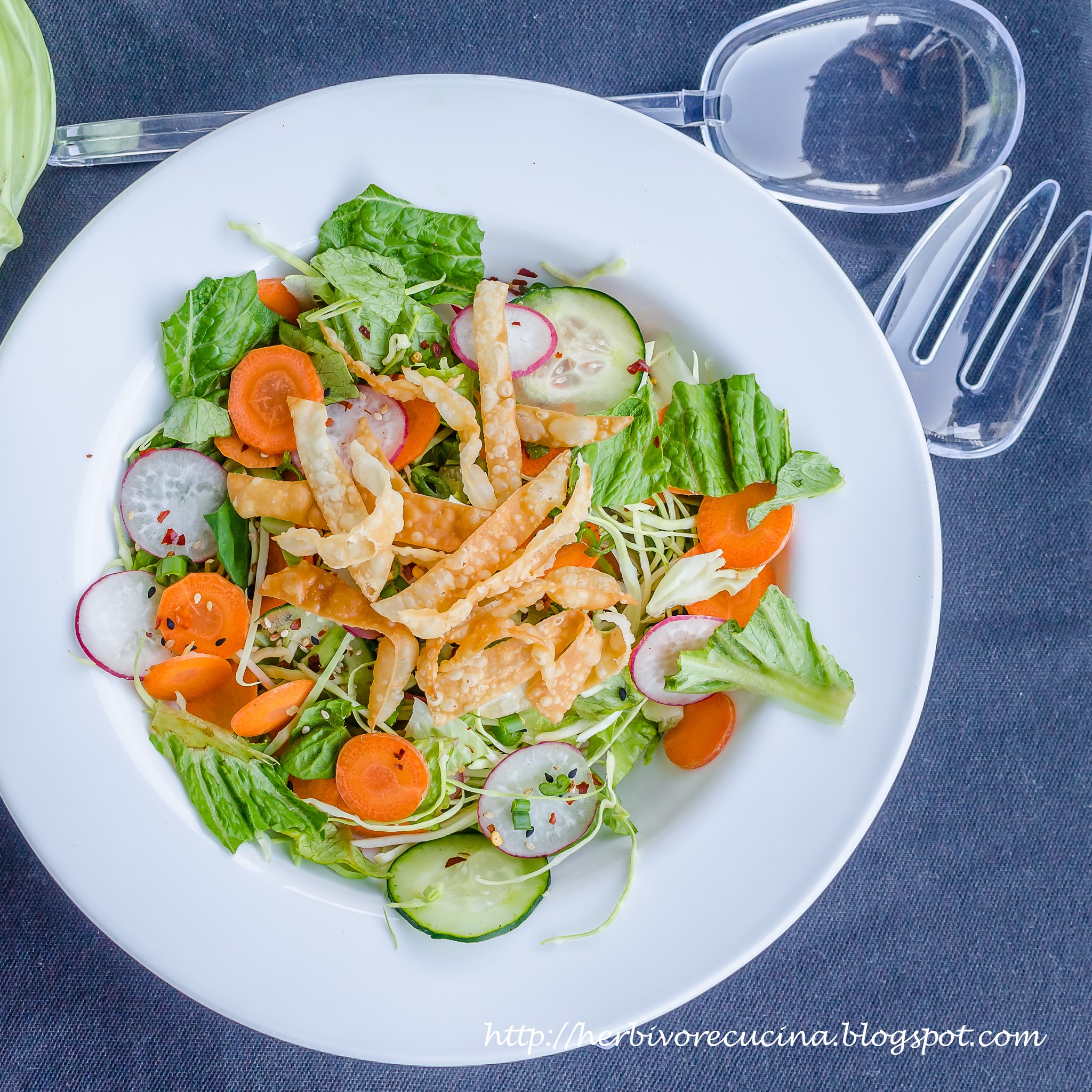 When I first entered that place, all I saw was tons of greens, lot of other vegetables, boiled pasta, some premixed salads, sauces, vinegar, olive oil, bread croutons, wonton strips and everything healthy. I took a few things on my plate, mixed it all and I actually enjoyed the meal! That is when a whole new world of salads opened up for me. I started looking online for a lot of recipes, tried ordering different salads at restaurants and collecting all the ingredients and tools I needed to make salads at home. Finally, my dinner table sees a lot of salads and the salad section on my blog is growing too. I have the next salad coming on the blog, the copycat Olive Garden salad 🙂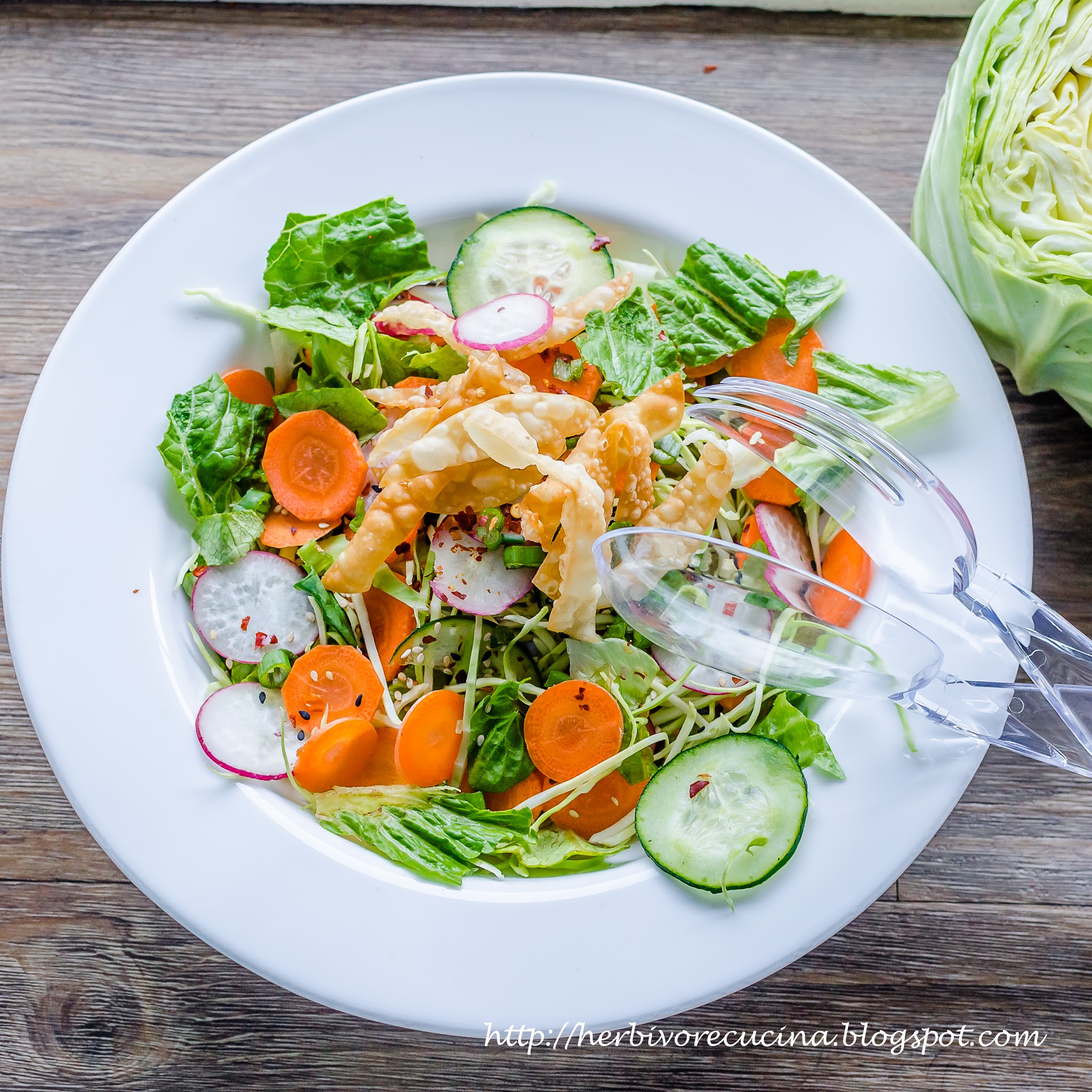 So amongst ingredients like balsamic vinegar, seasoning mixes, lots of greens and different toppings, I was lucky that Kuisiware sent me an amazing salad spinner to review. The salad spinner is huge, big enough to wash the greens for a family of four. The plastic is nice and thick and I do not think it will chip soon. The clear outer container is great and comes with a non slip rim to ensure the spinner will not move around when spun on a glossy surface. The strainer has holes that are the right size to remove dirt and excess water, but not pieces of shredded lettuce or cabbage. The top is sturdy and has a handle that is mechanical and works perfectly each time you press it. I love the fact that the handle can be folded to allow easy storage. However, the locking mechanism used is not the best, and it can take a couple of tries to lock it. There is a button to stop the movement and it works well. I used it for a big bunch of spinach and then for romaine lettuce for this salad. The product worked great for both, washing and drying the leaves well. If you would like to add a cool accessory to your kitchen collection, here is the link to order it on Amazon.
Getting back to the recipe, this asian salad is a pretty simple and forgiving. Depending on which vegetables you like, you can add or subtract them. For the dressing, i used the most basic ingredients like vinegar, olive oil, sesame and ginger. Again, give or take of one or more ingredients is okay, to suit your taste. Also, to add a crunch to the salad, I fried a few wonton strips and added them. You can easily replace them with fried noodle strips. However, you can choose to bake them or do away with them completely too. Add some peanuts if you like too. Or a few edamame beans would be great too. Overall, the salad is simple to make, and tastes great too. So make this yummy salad for your family tonight and enjoy!
Ingredients
Romaine Hearts 2-3
Carrot 1 medium
Pink Radish 3-4
Cabbage ¼ medium
Spinach leaves ½ cup
Cucumber ½ medium
Wonton strips (recipe below)
For the topping
Vinegar 1 tbsp
Sriracha Chili Sauce 2 tbsp
Olive Oil ¼ cup
Ginger ½ inch finely shredded
Garlic 1-2 cloves, minced
Black and white sesame seeds 1 tsp
Chili Flakes 1 tsp
Salt, Pepper
Method
To make the wonton strips take a bunch of wonton wrappers or spring roll wrappers. Cut thin strips and fry them in oil. You can bake them too. Set aside till you are ready to eat.
In a mixing bottle, add all the ingredients under dressing except sesame seeds and chili flakes. Refrigerate till it is time to use it. Wash the salad leaves and spinach. I used my salad spinner for it and it gave me a bunch of dry crisp leaves! Cut the leaves into bits, slice the radish, cucumber and carrot. Shred the cabbage. Mix all the vegetables, add the dressing and mix well. Top with wonton strips, chili flakes and sesame seeds. Serve with a side of soup or home-made bread.
**One or more products in this post were sent to me complimentary for review purposes. However, all the opinions are unbiased and completely my own.