Thai cuisine has lately become the cuisine of choice at our place. While I used to avoid authentic Thai food earlier because I do not like coconut too much. But then we went to a lot of restaurants in the Bay Area that use a subtle amount of coconut that I am okay with. And thus began the journey to explore Thai as a mainstream cuisine at home too.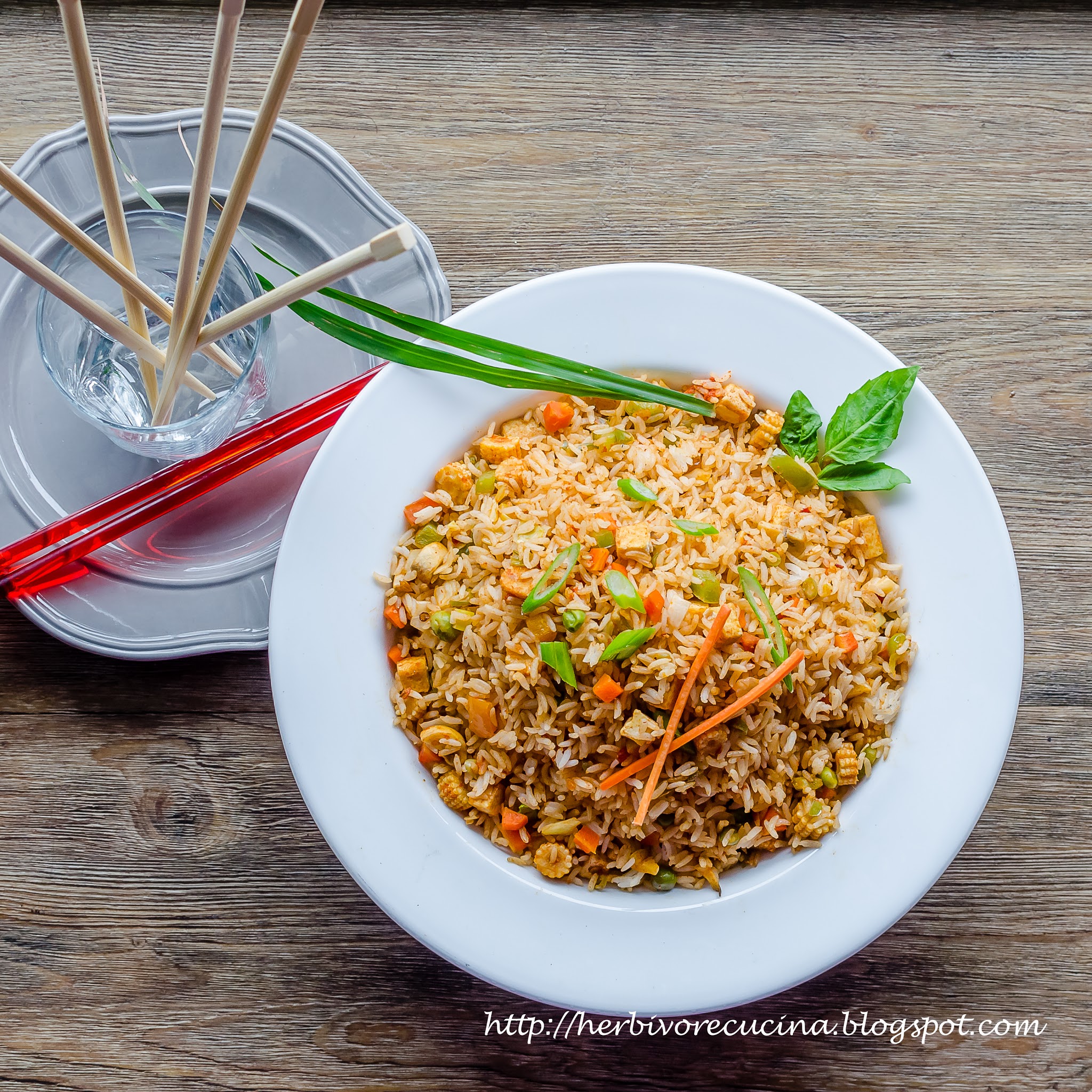 On reading, eating and exploring Thai, I realized it has a few main ingredients: Thai Curry, Basil and other fresh herbs, Coconut milk, Lemongrass and vegetables like baby corn, mushroom and loads of tofu. This led to a trip to the Asian store to get it all and start cooking at home. And now I have a lot of Thai ingredients, so Thai cuisine will appear on the blog more than ever!
To start with, here is a basic fried rice that has the flavors of red curry, lemongrass and loads of basil. I have used vegetarian red curry paste, without oyster sauce and fish sauce. However, if you are okay with these ingredients, you can pick a sauce that has it all. You can also make the red curry paste at home and use that. Lemongrass, an essential ingredient in Thai cooking is best flavored at the bottom of the stalk. So add the stalk with a thick base to get the best flavors. I used lemongrass fresh from my patio garden and the rice turned out to be super flavorful. Also, adding basil is essential as it gives a fresh flavor to the rice.
Though you can serve the rice with a side of red curry based tofu or vegetable dish, we love the rice even by itself. You can serve it with Vegetable Pad Thai and Lemongrass Soup to complete the Thai meal.

Ingredients
White rice 2 cups
Vegetables 1 cup finely diced
Firm Tofu ¼ cup diced
Garlic 2-3 cloves
Spring onion greens and white ¼ cup
Oil 2 tbsp
Chilli oil 1 tsp (optional)
Red Curry Paste 2 tablespoon (Homemade or store bought)
Soy Sauce 2 tbsp, Vinegar 1 tsp
Lemongrass 2-3 stalks
Basil 8-10 leaves
Salt, Pepper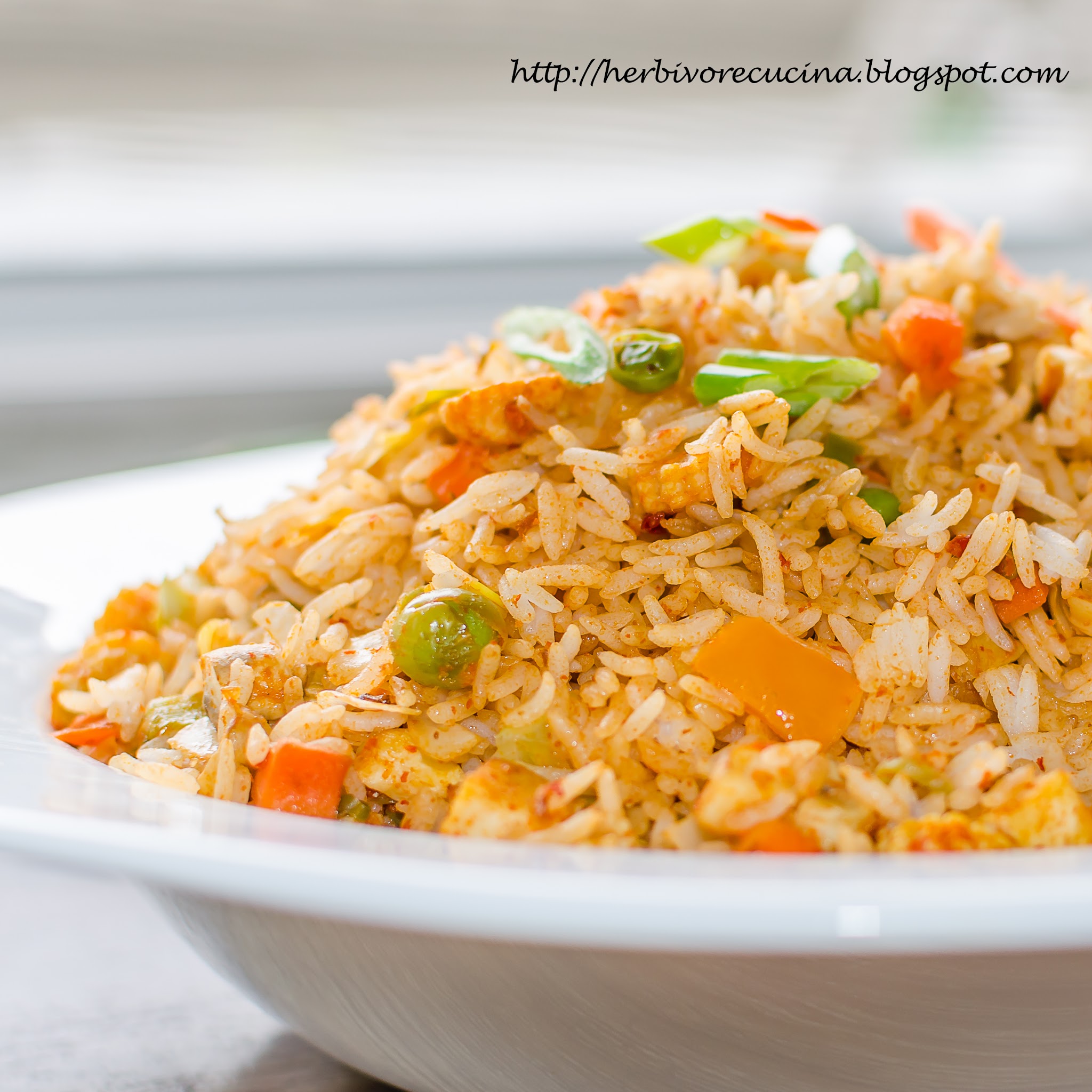 Method
Wash and cook two cups rice (can be substituted with brown rice) in 3 cups water and a pinch of salt. Let the rice rest while you prepare for the dish. If you cook the rice at least a couple of hours before making it, it would be great. Wash and dice the vegetables. I used carrots, french beans, colored peppers, baby corn, green peas and mushroom. Mince garlic and chop the spring onion greens and whites separately. Tie the lemongrass together and chop the basil into long strands.
In a wok/wide saucepan, heat oil and chilli oil, put the garlic. Sauté till the raw flavor vanishes. Add the spring onion whites and peppers; cook them on high flame for a minute or two. Then add the tofu and let it cook for 3-4 minutes. Add the salt, 1 teaspoon pepper and red curry paste. Also add the tied lemongrass to impart flavor. Give it a stir and let the flavor emerge.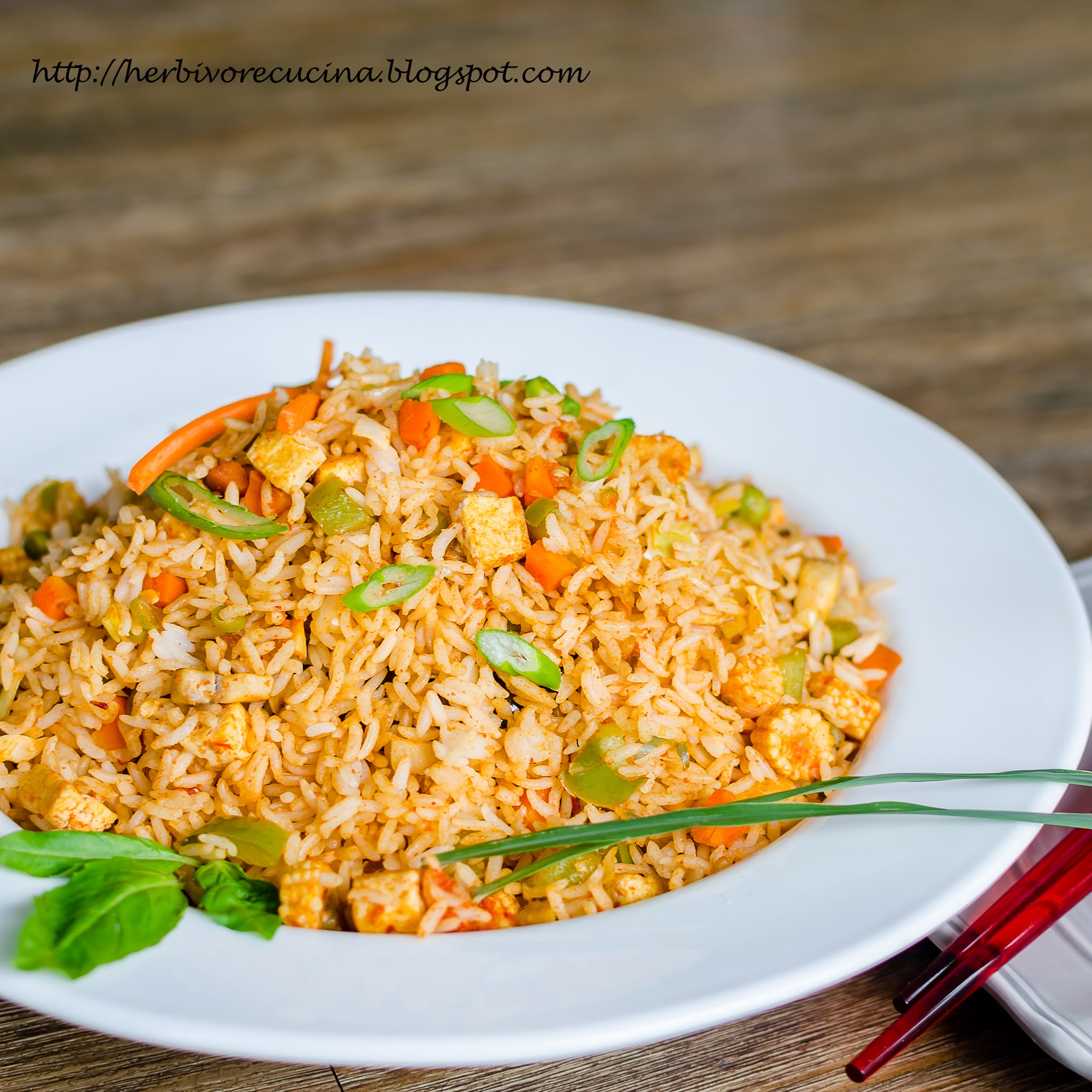 Now add the vegetables in this order: baby corn, french beans, mushroom, green peas, carrots. Sauté for a couple of minutes. Keep stirring and cooking on high flame till the vegetables are little soft and the water evaporates. Add the rice, mix well and add Soy Sauce and Vinegar. Add basil and adjust salt and pepper as required and sauté for a minute or two. Turn down the flame. Remove the lemongrass and discard. Garnish with spring onion greens and serve. Serve it with Vegetable Pad Thai and Lemongrass Soup to complete the Thai meal.