By far the best fragrance from the kitchen is the one we get while baking a cake or bread. In my opinion, the smell of a gingery and lemony broth simmering away does not fall far behind. The fresh smell of lemongrass combined with the sweet smell of basil and cilantro is indeed a great one. I love this fragrance to fill my kitchen pretty often.
Okay, moving on from the fragrances to the recipe. This recipe is not the authentic Thai lemongrass Soup, but has my variations to it. You may or may not get Galangal in the area you reside, so I have used Ginger instead. Do not find Kafir Lime leaves? No problem, just give them a miss! The taste is not greatly compromised. I have made a lemongrass and cilantro basil broth for this soup, which can be made ahead of time and refrigerated. Used common vegetables like carrots, broccoli, cabbage along with some firm tofu. You may add or subtract anything that you particularly like or dislike.
This soup is not only refreshing and healthy, but also hot and comforting, and you can easily make it spicy using chili oil if you please. Make it for a weeknight dinner and team it with something like Pad Thai Noodles or Pineapple Fried Rice and your simple Thai menu is ready.
Ingredients
For the Broth
Lemongrass stalk 2
Lemon zest 2 tsp
Cilantro stalks ½ a bunch
Basil few leaves
Garlic 2 cloves
Galangal/ Ginger 1 inch
Whole Black pepper
For the Soup
Firm Tofu ½ cup
Vegetables (Mushroom, Carrots, Zucchini, Bean Sprouts, Broccoli, Cabbage)
Garlic 2-3 cloves, diced
Ginger 1 inch
Oil 1 tbsp
Salt, Pepper powder, Lemon Juice
Cilantro, Basil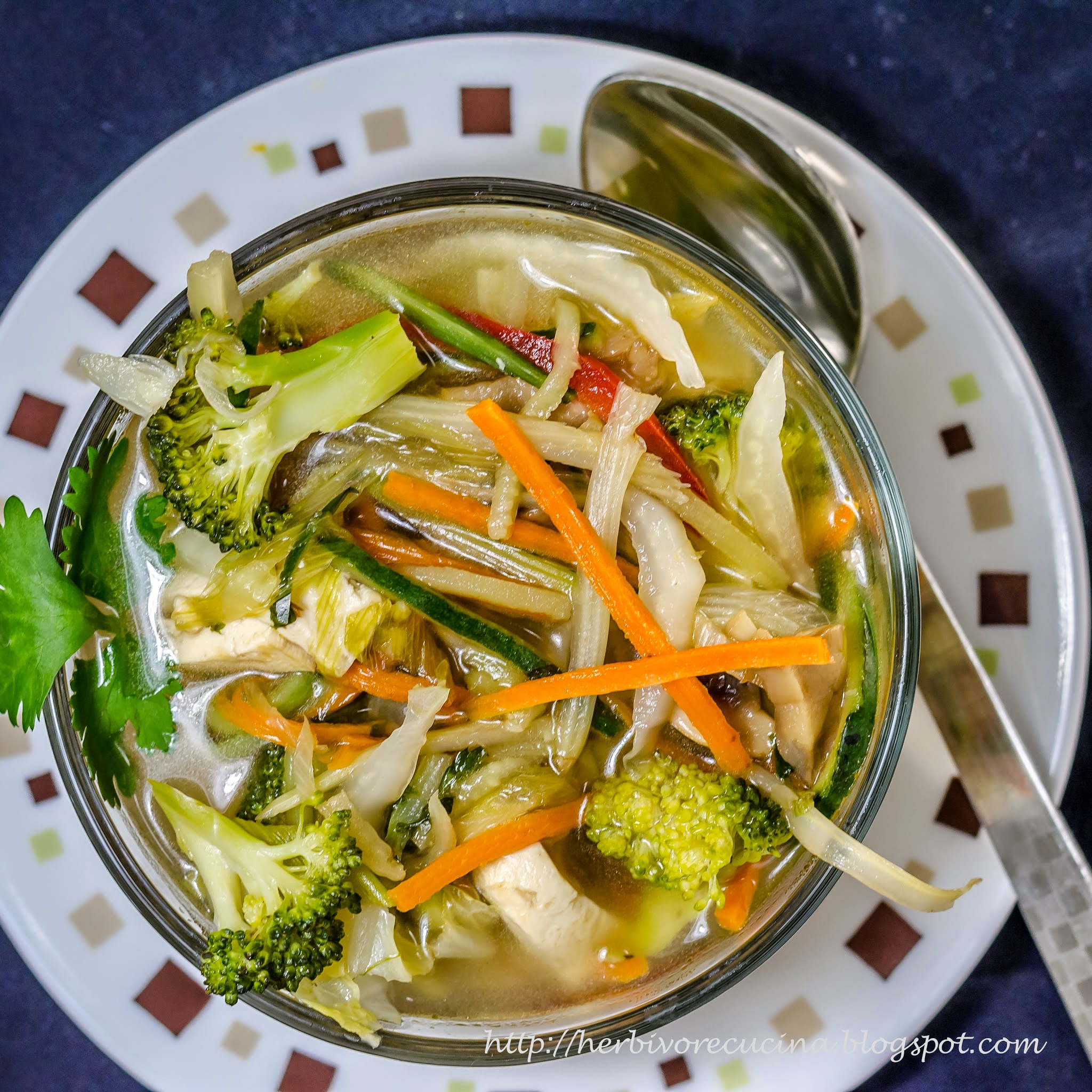 Method
For the Broth
Wash the lemongrass stalks, cilantro stalks, ginger and basil leaves. Roughly chop the lemongrass, cilantro stalks and cut peeled garlic and ginger into half. In a thick bottom pan boil 3-4 cups of water and add a pinch of salt and few whole black pepper seeds. Once the water boils, add ginger, garlic, lemongrass, cilantro and basil. Boil the broth on low-medium heat for at least 20-25 minutes. The flavor of the broth will enhance when it is boiled on low heat for a long time. The more you let it simmer, the tastier the broth will be. Once the water reduces to half, turn down the flame and add the lemon zest. Let the broth stand for sometime. Once cool, strain the broth and set aside.
For the Soup
In a pan, heat the oil and add garlic and ginger/galangal. Saute for a couple of minutes till the raw smell goes away. Next, add the vegetables and mix well. Season with little salt and let the vegetables cook. I like to use mushrooms, zucchini, bean sprouts, carrots, broccoli and cabbage, however you can use other vegetables like cauliflower, french beans etc too.
Depending on how crunchy or soft you like the vegetables, cook them over medium heat. Once they are a little soft, add the tofu and the broth. Season with pepper powder and adjust the salt. You might want to add some water to mild down the soup. Bring the soup to a boil and turn down the flame. Add lemon juice and finely chopped cilantro and basil. Serve warm.
Want to try another flavorful broth? Try this Asian Ginger Broth.
Love Thai food? Try this Pineapple Fried Rice and Pad Thai Noodles.