The winter is almost upon us and it is time to cuddle a bowl of hot and healthy soup for dinner. This Ginger broth is perfect for such cold days. For meals when you do not want to pile on cream and butter, this Asian delight come handy. Ready in a few minutes and totally healthy!
I first had this soup at Sweet Tomatoes as part of their Asian menu, and loved it so much that I wanted to replicate it at home. Seemed like any other broth to me, with an overpowering taste of ginger that gave the soup it's characteristic. A few veggies dropped into it, and topped with fried wanton strips. Here is a recipe that is close to the original with a few modifications to suit our taste.
Ingredients
Ginger 3 tbsp, minced
Garlic 2 tbsp, minced
Mixed vegetables 1 cup diced ( Mushroom, brocolli, cabbage, bean sprouts, onion, carrot)
Bean sprouts ¼ cup
Tofu ¼ cup
Vegetable stock/ water 3 cups
Corn starch 2 tbsp
Spring onion greens, Cilantro
Wanton strips to garnish
Oil
Vinegar, Soy Sauce
Salt, pepper
Method
In about 1 teaspoon oil, add ginger and garlic and saute for a minute. Once the raw flavor of garlic vanishes, add onions and mix. Add all vegetables except bean sprouts and cook for a few minutes. Then add half of the vegetable stock/ water and a tsp. of salt and let the broth cook for ten to fifteen minutes.
In another wok, stir fry the tofu and set aside. If you do not have ready-made wanton strips to garnish, make them fresh. I used the spring roll sheet to make the same. Cut the sheet into thin strips and fry them in hot oil and set aside.
Once the broth is boiling, add the bean sprouts and tofu pieces. In a bowl mix the cornstarch and 3 tablespoon water. Add the corn starch mixture to the broth and boil. Adjust the consistency with the remaining vegetable stock. Add vinegar and soy sauce as per taste. Add salt if required.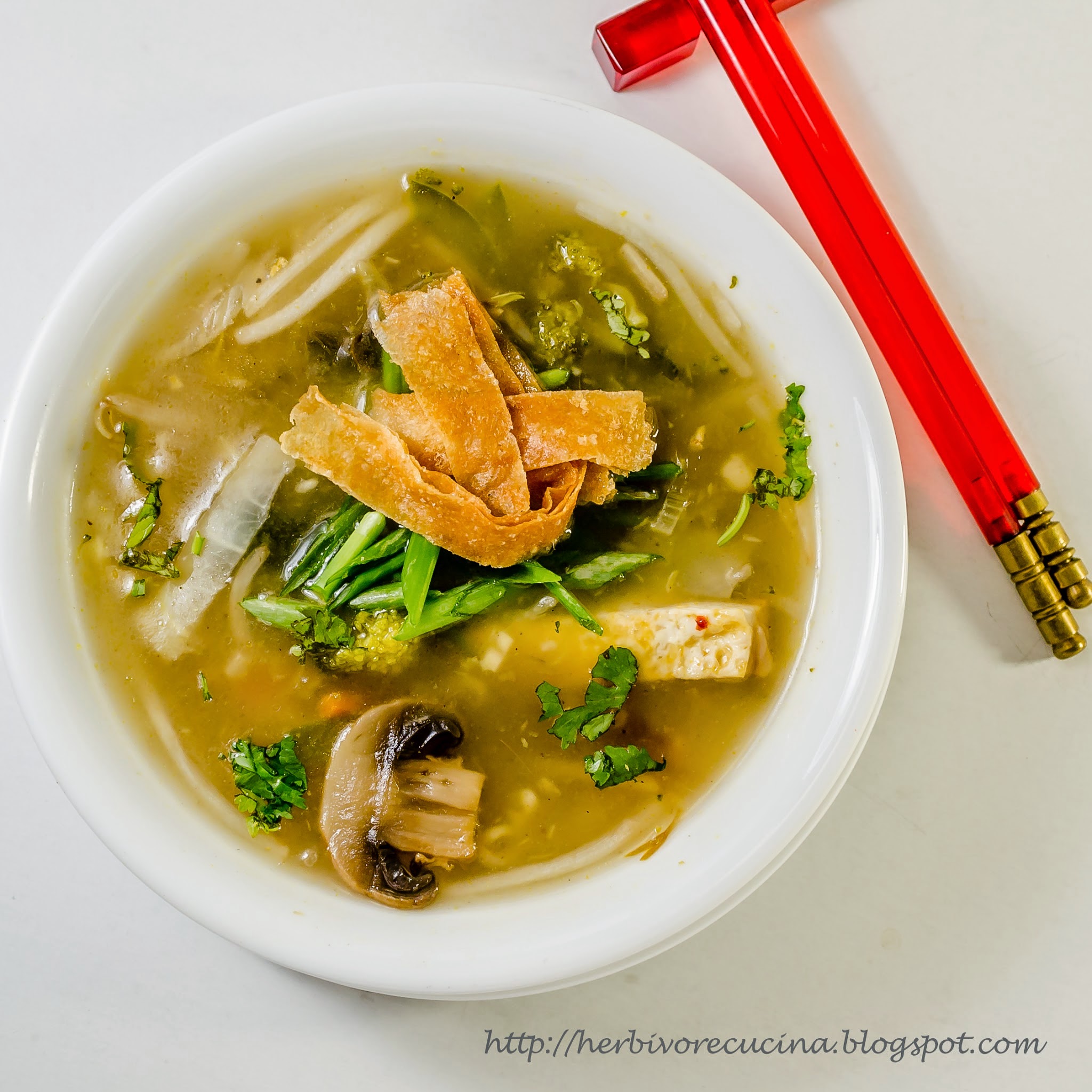 To serve, add spring onion greens, cilantro and pepper. Top with fried wanton strip and serve hot!
Serve this soup with other Asian delicacies like Tofu in Chilli Garlic Sauce, Vegetable Fried Rice and Spicy Garlic Noodles.