Tawa Pulao, another famous stall food from the streets of Mumbai is generally found especially on the carts selling Pav Bhajis. This is because this tasty pulao shares the same tawa/iron griddle in which the pav bhaji is prepared. Ingredients too are very similar to Pav Bhaji, added into rice. Reason enough to be sold by the same vendors!
This is my version of Tawa Pulao, a simple mix of rice, onion, pepper, tomato, veggies and lots of Pav Bhaji Masala; all cooked in generous amount of Amul Butter!! Make it on a tawa if you like or make it in a flat bottom skillet, it is the taste that matters and not the utensil.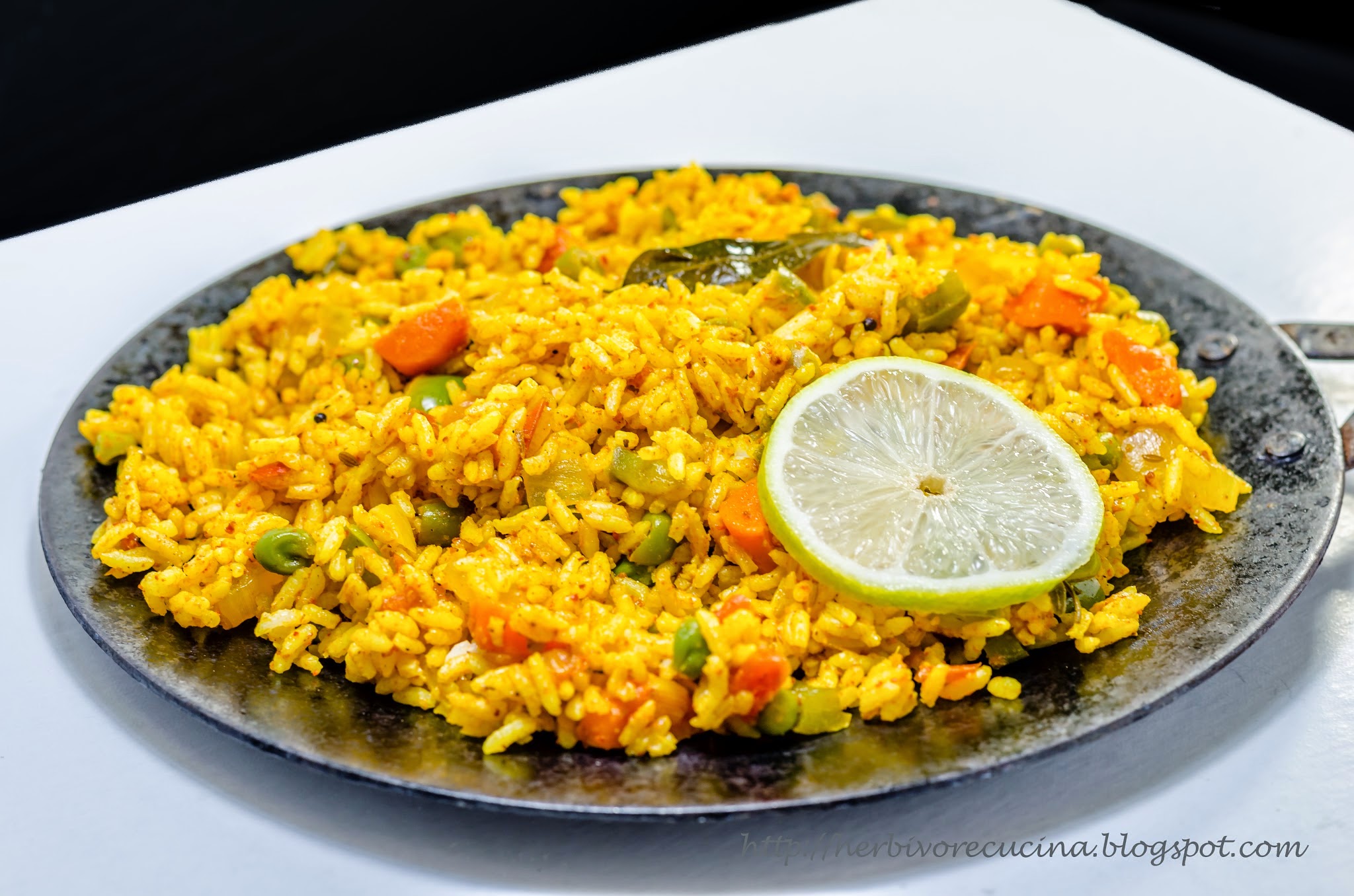 Ingredients
Long grain Rice 2 cups
Onion ½ cup diced
Pepper ½ cup diced
Tomato ¼ cup diced
Mixed veggies ½ cup ( Carrots, french beans, green peas)
Cumin seeds, Mustard seeds, turmeric powder
Curry leaves
Pav Bhaji Masala 2 tsp
Lemon
Butter 2 teaspoon Oil ½ tsp
Method
Wash and pressure cook rice with 3 ½ cups water. Make sure it is not mushy at all. Remove rice from the pressure cooker and separate the grains and let it cool.
In a bowl add the veggies and water with salt, and cook them for 3-4 minutes in the microwave. Remove excess water and set aside. Heat butter and oil in a tawa or broad skillet and add mustard seeds and cumin seeds. Once they pop, add curry leaves and Onion, Pepper. Once it is partly cooked, add Pav Bhaji Masala and some red chilli powder. Next add tomato and add the vegetables. Once the vegetables simmer, add turmeric powder and mix well.
Now add the cooked rice and mix everything well. Turn down the heat and add lemon juice and serve hot with Papad. The rice tastes absolutely amazing with this Garlic Raita or Greek yogurt based Mixed Vegetable Raita.
Also try other street food specialties like Pav Bhaji and Masala Pav straight from Juhu Beach!!