Mumbai- now there's a city that is always alive! At any point in time, millions of Mumbaites are out in the streets eating. Even at midnight (especially at midnight), hordes of people crowd at little restaurants and roadside stalls to tuck into spicy chaat and crispy dosas and creamy kulfis and above all, pav bhaji.
Pav bhaji is a tangy flavorful meal; toasted buns heaped with a sinful, buttery vegetable hash. This dish, originally from Mumbai, has now spread to every corner of the country, not to mention Overseas! Whether it is the Pav Bhaji at Sukh Sagar or Sardar or at Juhu Beach, it always gives immense satisfaction to the soul, and jitters to the arteries!
While the taste from any corner of Mumbai tingles your tastebuds, none of the joints here in Bay Area get any close! After a few unsuccessful attempts at finding Bombay style Pav Bhaji, we decided to make it at home. So here is a recipe that brings back the same taste from Mumbai streets to US homes. However, the hunt for a perfect Pav Bhaji continues..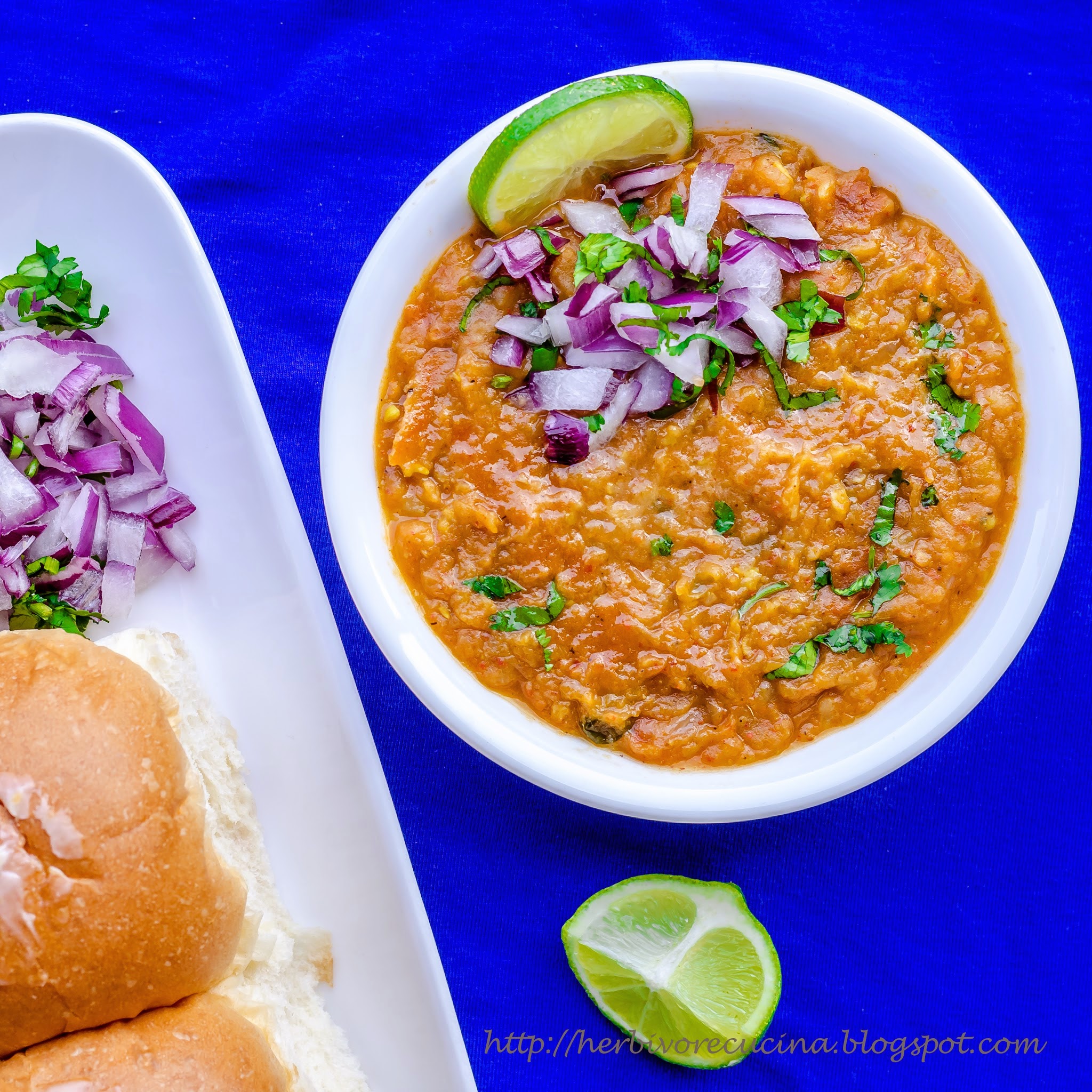 Ingredients
1 Cup Cauliflower, chopped
3 Cups Potato, peeled and diced
1 Cup Green Peas
3 Cups Onion, finely diced
2 Cups Green Pepper, diced
2 Cups Tomato Puree
½ Cup Chilli, Ginger, Garlic paste
Butter, Oil
Pav Bhaji Masala
Red Chilli Powder
Salt
Lime Juice
Cilantro
Store bought Pav or homemade buns
Method
Boil Potato, Cauliflower and Peas together in about 3 cups of water, a pinch of salt and 1 tsp. Pav Bhaji Masala. This step infuses the flavor and taste of the Masala to the vegetables and they do not taste like boiled food. Pressure cook for about 12-15 minutes, mash and keep aside.
In a Saucepan, heat 3 tbsp. of Oil. Add the Chilli Ginger Garlic paste and sauté. Add the onions and peppers and mix well. Let the onions cook till they are soft. Now add the tomato puree and cook till the mixture turns red and the oil separates, indicating that the tomatoes are cooked.
Add the mashed vegetables to the saucepan and homogenize the mixture. Add salt and let the Bhaji simmer. In a small pan, mix 1 tsp. of oil an 3 tbsp. of butter and heat. Add the red chilli powder and Pav Bhaji Masala and put this in the Bhaji. Add lime juice and mix well.
Garnish with cilantro, diced onions, lemon juice and a dollop of butter. Serve with butter toasted buns.
Variation: Another delicacy from the streets of Mumbai is the Masala Pav; the same ingredients, served in a constructed fashion. Find the recipe of Masala Pav here.
Try serving this Pav Bhaji with homemade buns.