This is not a sponsored post. I was sent a bunch of Red Star products by FeedFeed as part of a giveaway.
These Vegan Slider buns are super easy to make. Besides, they pair perfectly with a large number of dishes. No butter, no milk version!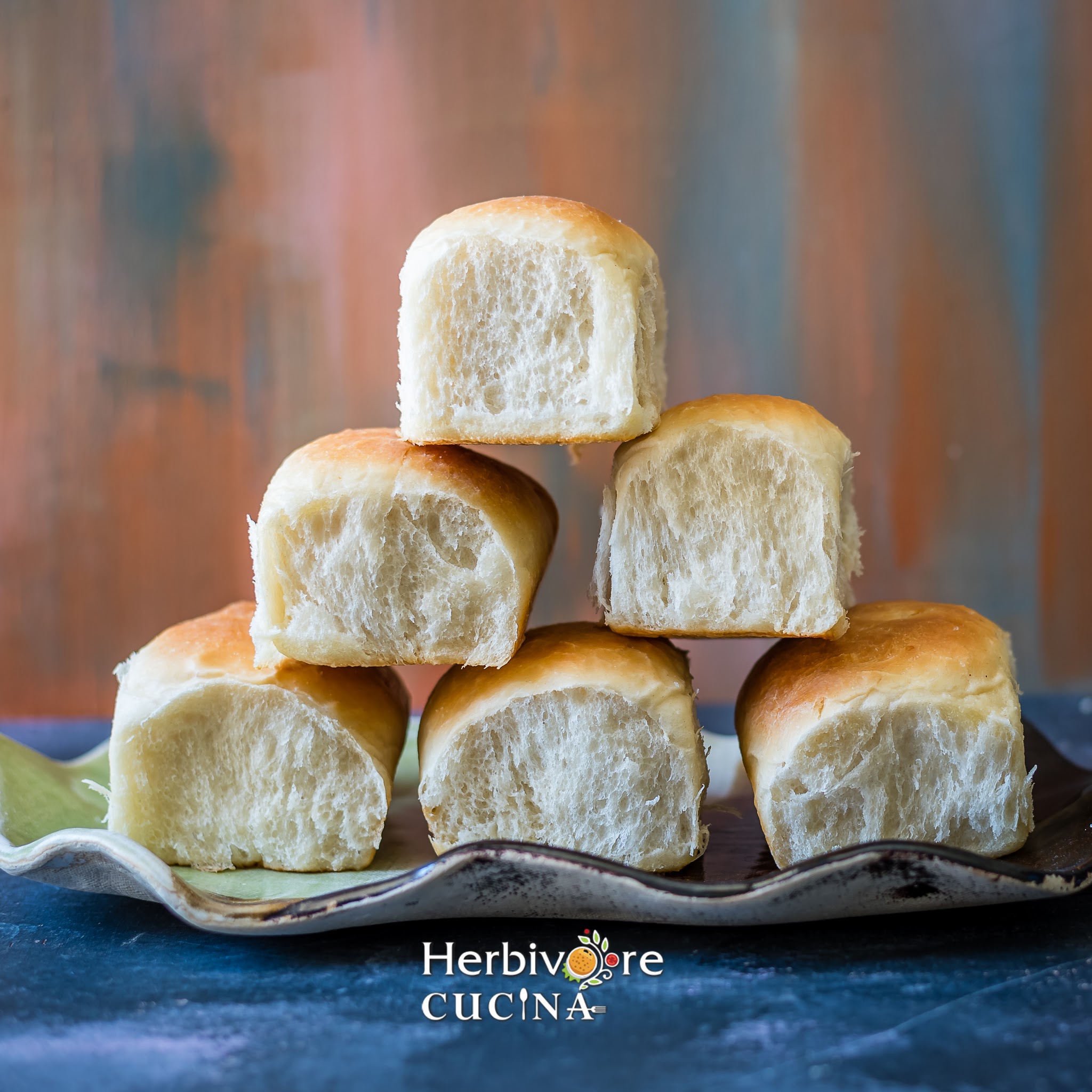 I suddenly realized it has been really long since I posted a bread recipe. Over the last few months I made a lot of breads but none of them were new. All the breads are already on the blog.
Last weekend I made a Vegan version of pav,i.e. without butter and milk. This recipe does have yeast. According to various research like this one, Yeast is considered Vegan.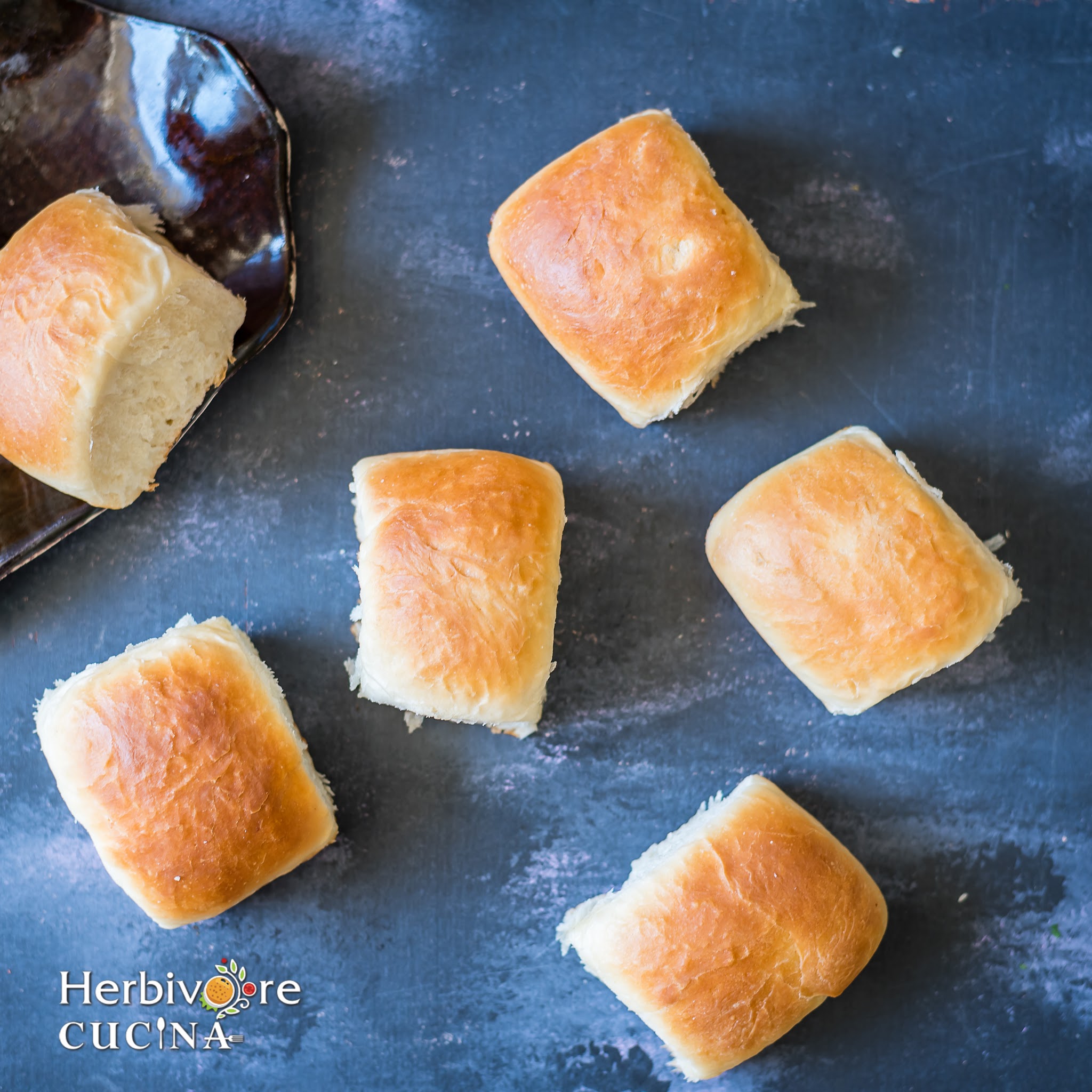 Plus, I had a bunch of baking essentials that FeedFeed sent me as part of a giveaway by Red Star Yeast. I LOVED the yeast and everything else that came with it. The dough scrapper, the measuring jar and the mat that came in the set are my favorite! Not to forget the lovely recipe book that came with it! Thanks Red Star and FeedFeed for these lovely things!
I made these breads as part of my Dabeli; an Indian version of Sloppy Joe. The slider buns turned out perfect, and I devoured one with just butter and jam even before I made Dabeli! It was perfectly soft and the combination was perfect.
After the time that I shot these buns, I made another lot of mini pav for Pav Bhaji the day after. Pressed for time, I did not get a chance to shoot that. They reminded me of the mini pav bhaji served in some restaurants in Mumbai. Bite sized buns served with a mixture of vegetables and spices, it made a perfect dinner for two!
Why VEGAN?
I have almost always made breads with unsalted butter and often brushed it with milk or butter. I have a few readers that wanted a Vegan version. So I tried it a couple of times and it came out perfect each time! I finally shot them and they are on the blog.
Not just for Vegans, these breads are amazing for those who want a butter-free version of bread.
I brushed these buns with coconut milk. The result was perfect, a brown crust that did not taste anything like coconut once baked! If you would like to stick to regular milk, you can do that too. Or just brush some oil on them. They will be perfectly brown and amazing!
Wondering why the breads are SO BIG? I was making Dabeli that day, and the bigger buns make it easy to stuff and grill. So I made just 8 breads. However, if you like smaller versions, divide the dough into more number of pieces. That works well too.
Now look no further and head straight to the recipe. Do make these and enjoy them with Dabeli, Misal Pav, Pav Bhaji or Masala Pav.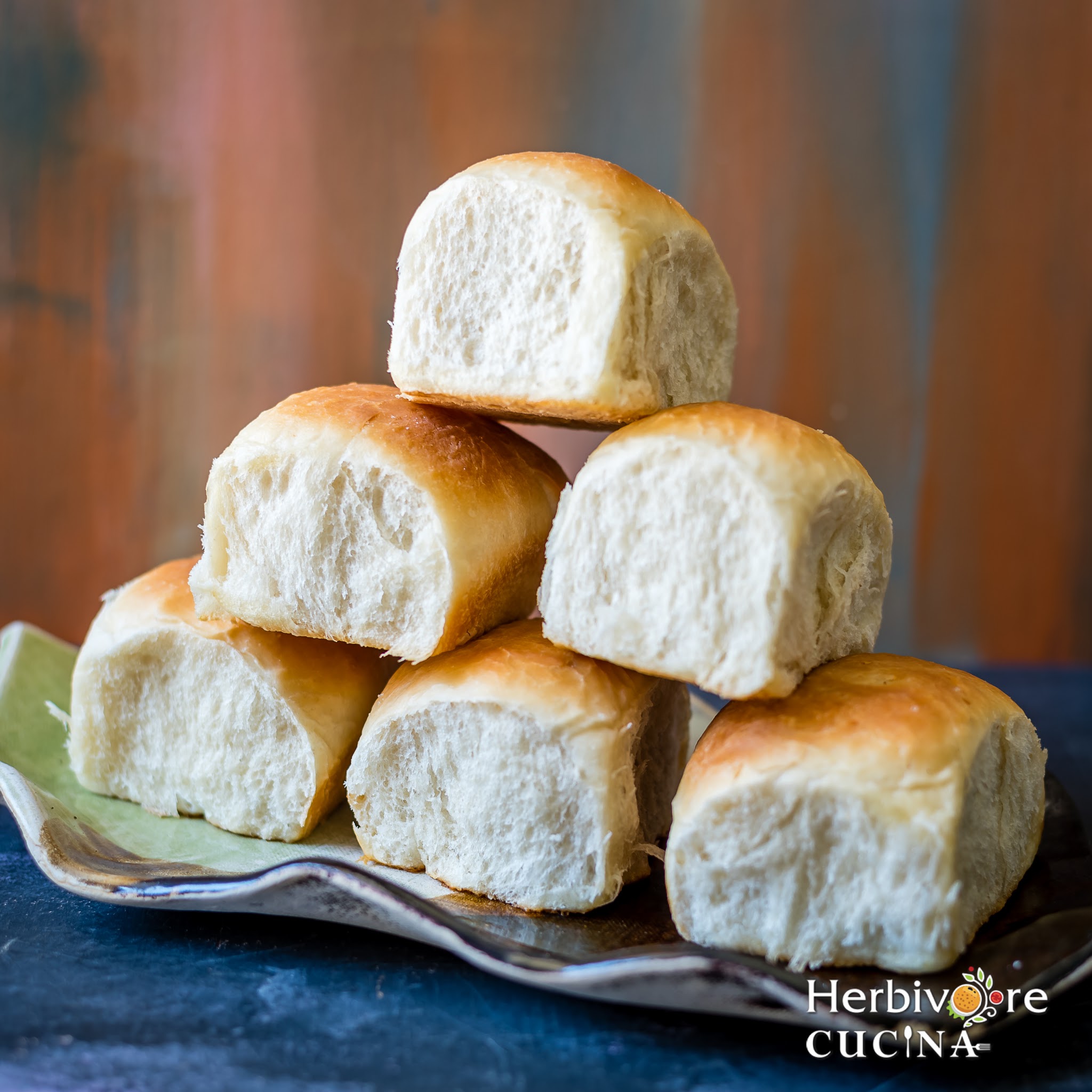 Ingredients
All purpose flour 3 cups
Active Dry Yeast 2 ¼ teaspoon (I used Red Star)
Olive Oil 4 tbsp
Salt 2 tsp
Sugar 1 tsp
Vegan butter/ Coconut Milk 2 tbsp
Method
Heat 1 cup water till just warm (105-110 F). Mix in 1 teaspoon salt, sugar and yeast. Set aside till the yeast blooms.
In the base of a stand mixer or a big bowl add flour, remaining salt and olive oil. Mix well and add the bloomed yeast.
Mix on medium speed till it all comes together. The dough should be soft to touch. Coat the dough ball with some oil or vegan butter and rest for an hour in a warm place till it doubles.
When the dough doubles, punch it down and divide into 8-10 equal size parts. Roll it into a smooth ball.
Line a baking tray with some oil and place the dough ball on it. Repeat for all the remaining dough balls and place them one inch apart.
Brush some oil on top and let the rolls rise for an hour. Meanwhile preheat oven to 400 F.
Once the breads double in size, brush oil or coconut milk on all of them. Place the tray in the oven and bake for 15-18 minutes, till the top is brown.
Remove and enjoy with either butter and jam or with any of these yummy dishes: