This is a sponsored post on behalf of Nutrimill and I have been compensated. All opinions are 100% my own. #sponsored #HarvestTheGood
What a satisfying experience it is to mill your own Whole Wheat flour and make a delicious bread loaf using it! Excited? Read on to learn more.

Bread, that loaf of goodness which makes a great option for breakfast sandwiches, a great accompaniment with curries or just a great snack with peanut butter and jelly. For the longest time I have been a fan of sliced bread and continue to be one!
I started my bread making journey a few years ago and then there as been no looking back! I started off with the easier breads using all purpose flour and bread flour and moved on wheat breads a while ago. Now, I think I have reached where I wanted to; making bread from freshly milled flour. And this is all thanks to the Nutrimill! From wheat to wheat bread in a day? Yes that is possible; right in the kitchen 🙂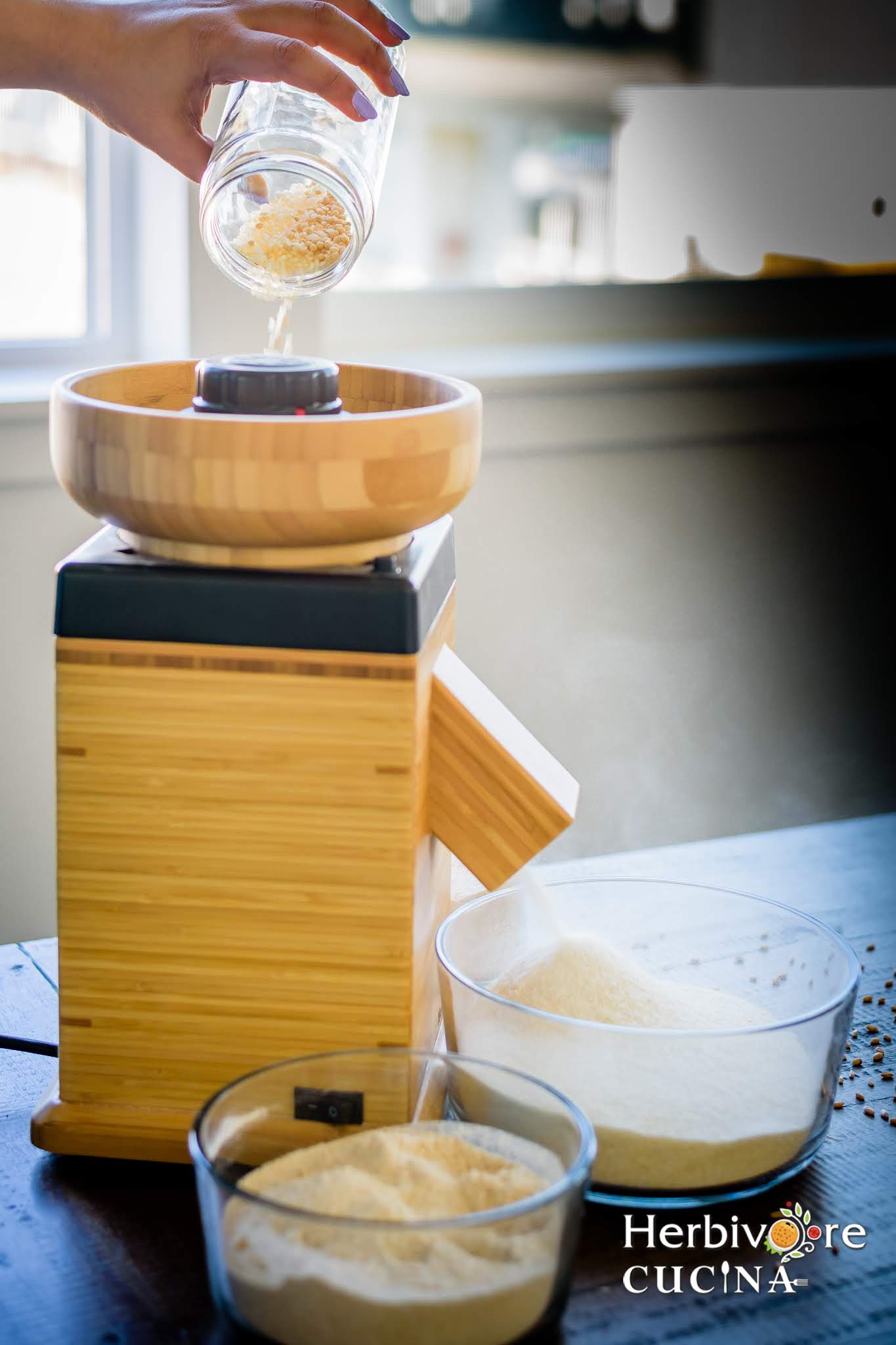 Having a flour mill at home is a common practice in India and lots of people mill their own flours and mixes. When I saw the mill by Bosch in the US, it worked perfectly like the ones from India; but looked much prettier. Available in different colors, this one is amazing and easy to use. And BEST of all; "The food I put on my table to share with family and friends, is an expression of my love - and my values. Choosing to eat whole grains instead of refined flour transforms everyday dishes into meals that taste good and feel good.
I tried a ton of flours in the mill before writing this post. And I must say, it works really well with all the grains like rice, lentils, quinoa, corn and of course wheat! No oily grains like tapioca can be processed in this and I did not try that! From super fine flour for breads to thicker flour for Indian delicacies like dhokla and handvo, the mill can do it all!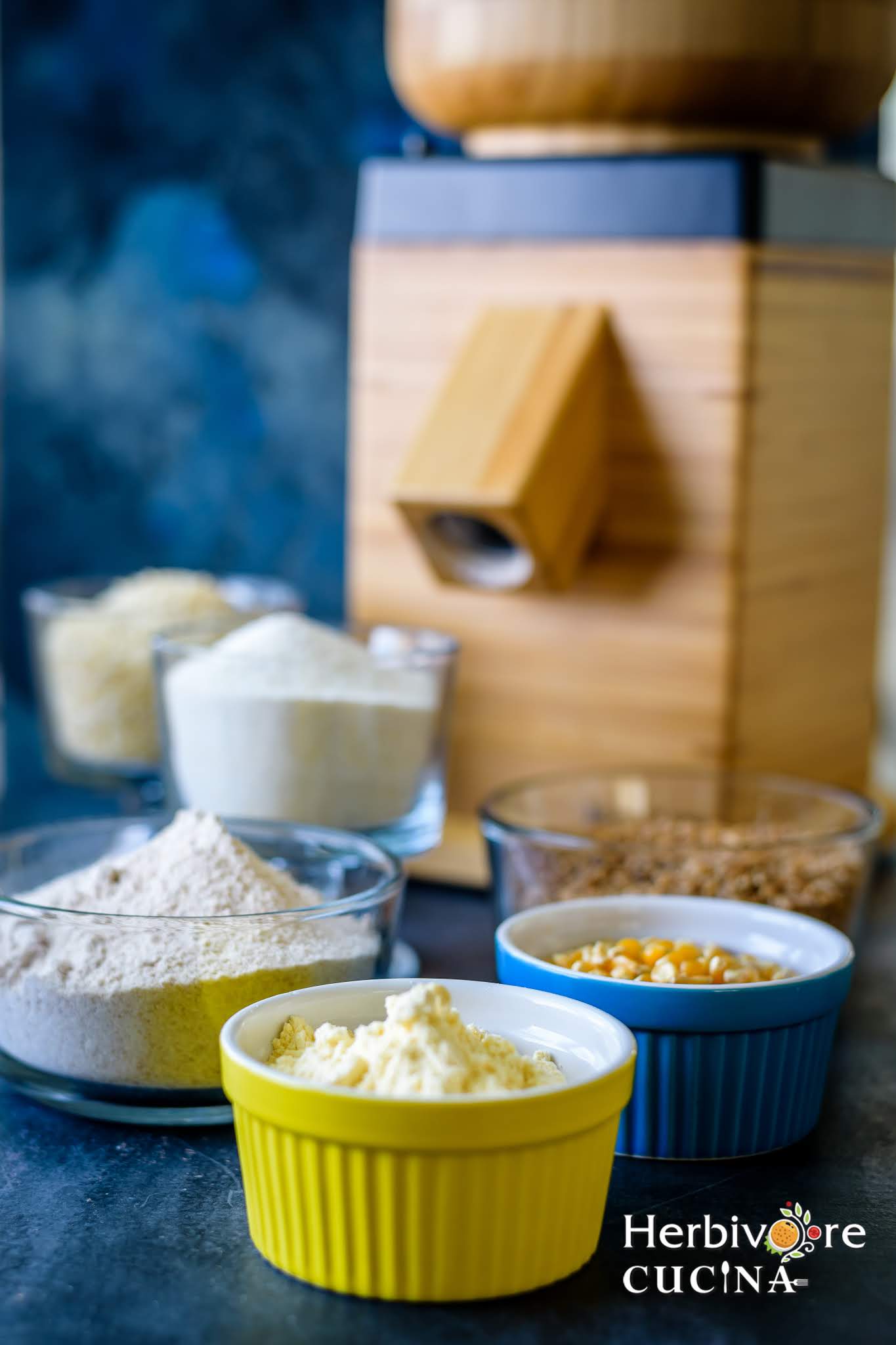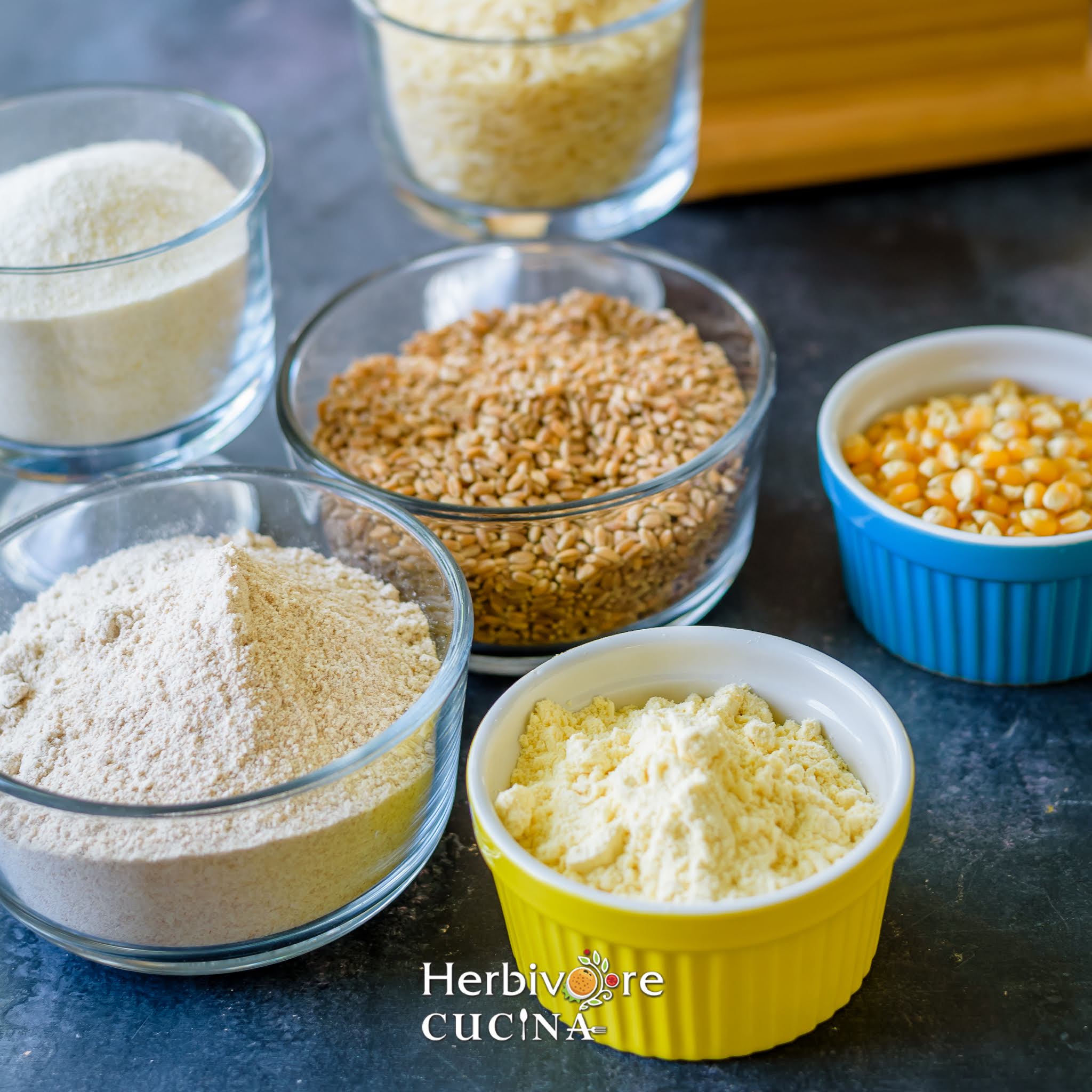 Coming to the recipe; I used freshly milled flour to make a whole wheat bread this weekend. I knew exactly where my flour was coming from so I was pretty excited. I did use some butter in this recipe; though I intend to make it with just oil in a few days.
Bread from whole wheat flour has been something I have loved. Though it is a common belief among many that whole wheat breads are not as tasty or the crumb is not great; my experience is that if you make it with the right ingredients, it can be far better than all purpose ones. And this recipe helps you achieve that.
I started off with whole wheat flour and mixed in everything that goes into a regular bread. Finally, I coated the bread in some oats and baked it till golden brown. The result was a loaf that had the perfect crumb and worked great for all kinds of sandwiches. I even made a few bread croutons to top my tomato soup with! And it all worked very well.
Now on I guess I am only making whole wheat breads for my family. They loved it too and enjoyed half the loaf as an accompaniment to curries for dinner! If you are a fan of wheat bread like me, you NEED to try this recipe. And yes, DO not forget to check out the Nutrimill by BOSCH. It is an amazing product and really well made!
Check this out from Nutrimill! Or buy yours here.

If you like, get yours from Amazon NOW and start milling your own flour today!!! Buy here: Nutrimill Harvest.


Ingredients
Whole Wheat Flour 3 cups
Essential Wheat Gluten 2 tbsp
Rolled Oats ¼ cup
Milk ½ cup
Water ¼ cup - ½ cup
Unsalted Butter 3 tablespoon (Room Temperature)
Olive oil/butter to grease
Active Dry Yeast 1 sachet (2 ¼ tsp)
Salt 2 tsp
Sugar 1 tsp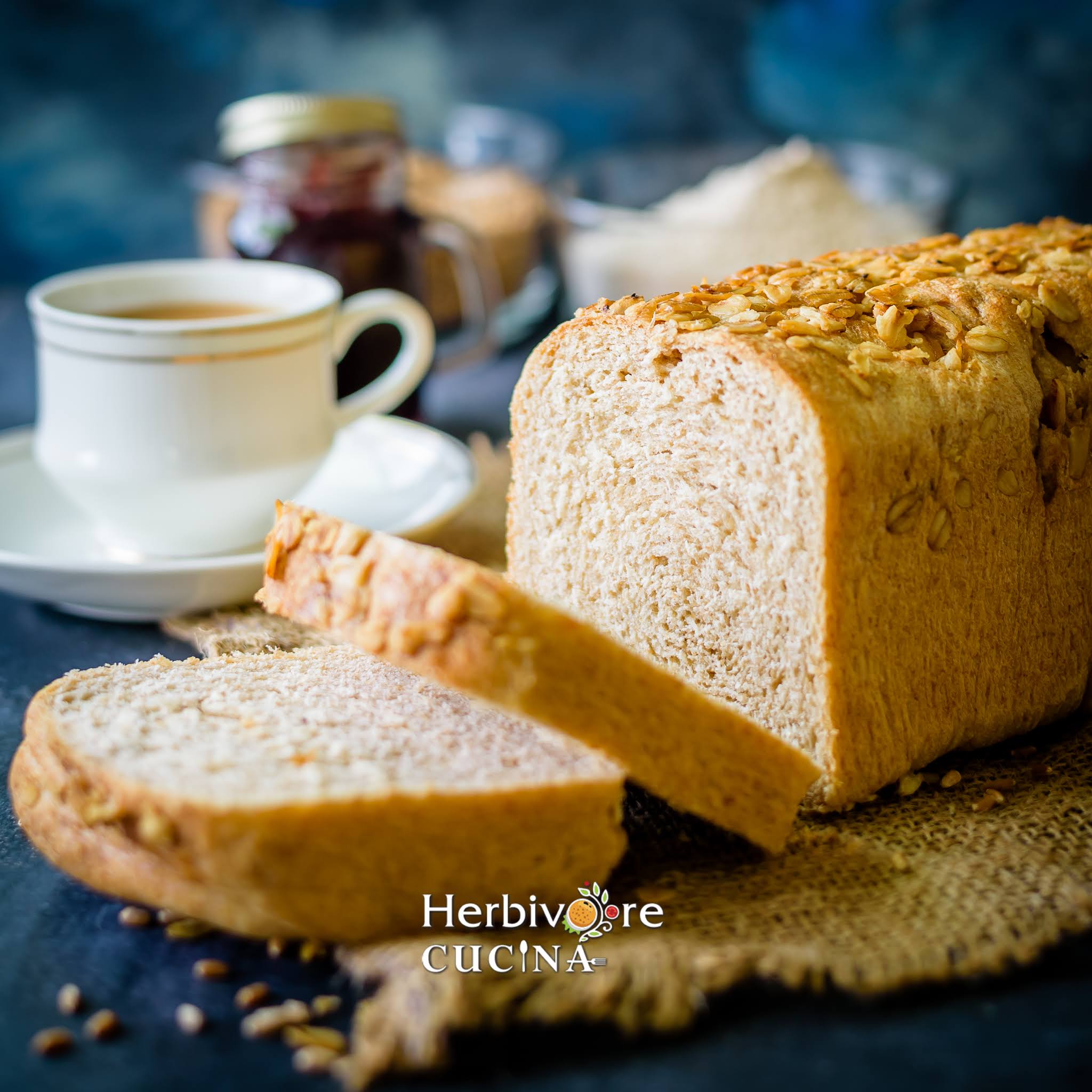 Method
In a bowl add milk and ¼ cup water. To that add the sugar and 1 teaspoon salt. Mix and heat to warm. When the water milk mixture is warm (110-115 F), add the yeast, mix and rest covered in a warm place. The yeast will bloom in about 10 minutes.
In a mixing bowl or the base of the stand mixer add the the flour, essential wheat gluten, unsalted butter, remaining salt and bloomed yeast mixture. Mix and make a dough adding warm water as required (I needed almost the entire ¼ cup). Knead it to a smooth dough and keep working on it till soft. Once done, coat with oil or butter and rest covered for an hour in a warm place.
Meanwhile, line a 9 inch bread loaf mold with parchment paper or butter/oil. Set aside. After an hour or once the dough has doubled in size, punch it down and knead again for 5-7 minutes. Roll the dough out to a square of 9 inches. Roll it into a tight loaf. Sprinkle the oats on a tray and roll the loaf in it. Place the loaf in the bread pan and cover it. Rest for an hour.
When the hour is almost up, preheat oven to 400 F/ 210 C. Once the loaf rises till the top of the pan, place it in the oven. Bake for 15-18 minutes, till the top is nice and golden. Once it is, remove and cool for 10 minutes. Then transfer to a cooling rack and cool completely. Use sliced for sandwiches, toasts or just enjoy it dunked in Masala Chai!