Fall is upon us and we are kicking off the season with these petite pumpkin rolls. No knead, whole wheat, super flavorful and SO much fun to make! 
Fall is here and it is time to make all things YUMMY and Fall perfect. Pumpkin breads is one of my favorite recipe to make and enjoy through the season. Whether it is a party or just a snack for kids and adults, these rolls work REALLY well. Just slather some Peanut Butter and enjoy or better still, dunk it in some Cranberry sauce and celebrate Fall! 
For this post I wanted to make something delicious, yet easy to make and slightly healthy. I started off with a bread recipe made from 100% WHEAT FLOUR, added in a truckload of pumpkin puree and shaped them like cute little  pumpkins. These sandwich rolls double as a great addition to the Thanksgiving table! 
Why make bread at home?
A lot of people dread making bread at home. And more so if it is whole wheat bread! But adding some wheat gluten and MILK helps make the bread super soft and better than store bought ones. Plus, you make it at home so it is easy to customize and made with ingredients you enjoy and are fully aware of. 
For those with kids, this recipe is SO much fun to make with them. Having them roll their own pumpkins is a great activity for weekends or parties. They can get their own rolls baked and enjoy it with their favorite cheese, peanut butter or jelly. 


If you follow the blog regularly, you would know my love for bread baking! With over 50 bread recipes on the blog, here are a few of my readers' favorites:
The flour I used in the recipe was milled at home using my brand new Nutrimill. Nothing beats freshly milled flour and this mill is my favorite! If you are looking to get one yourself, here is a great deal for you! Get the Nutrimill Harvest+Mini Seed Mill + 2 great cookbooks with this bundle. Plus, SAVE $50 when you use the code HERBIVORECUCINA-NH.
Pumpkin Shaped Rolls
Pumpkin breads are popular through Fall and LOTS of people make them. However, if you are making something unique for a party or just because you like to see Fall on you platter, make these breads. They are one extra step from regular breads; but SO WORTH IT! 
These bread rolls can easily become a great centre piece for any Fall party. They have a LOT of pumpkin puree in them, that gives them a natural orange yellow tinge. No artificial color and no flavoring added to achieve this colorful and flavorful result.
I made these using 100% pumpkin puree but it comes out great with puree made at home too.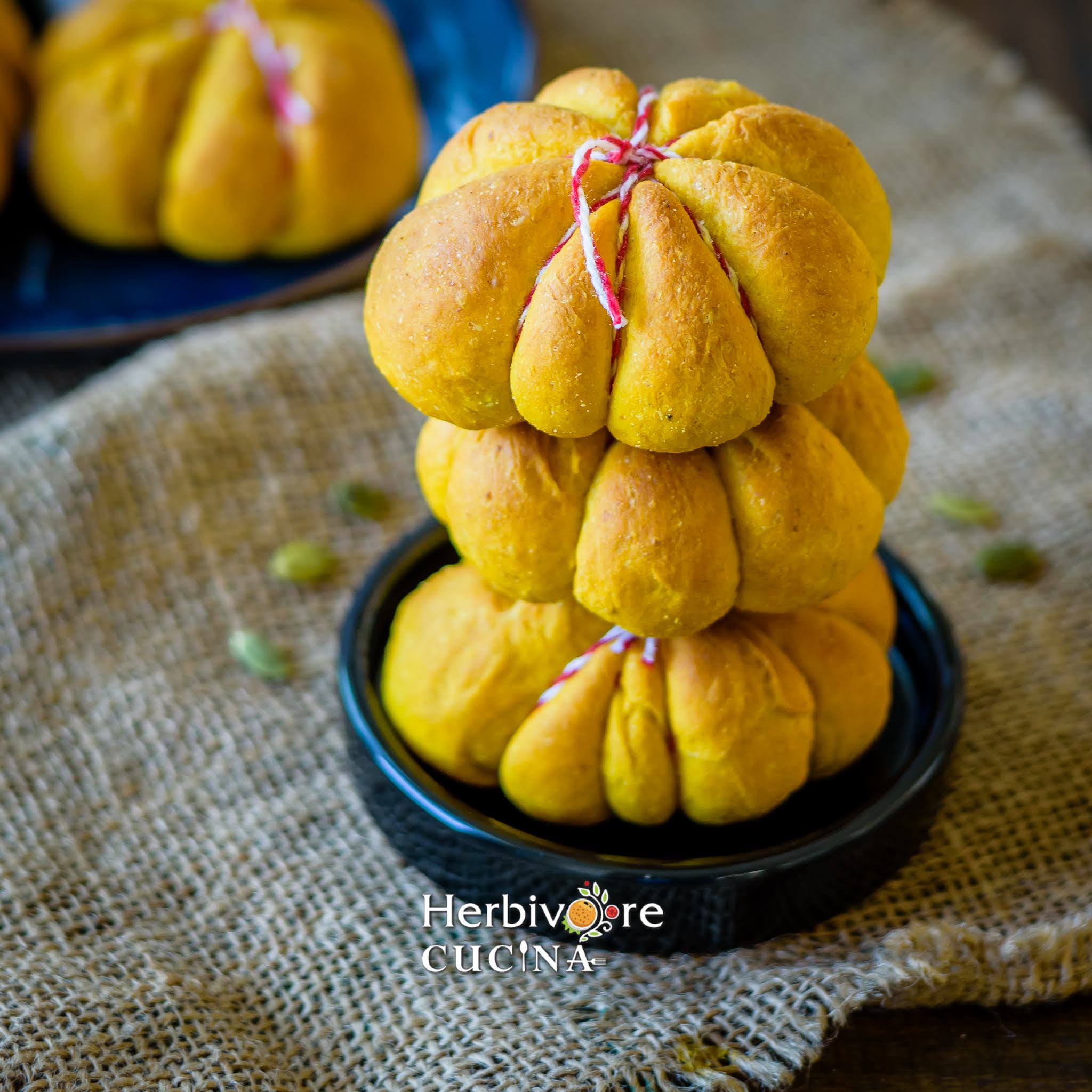 Looking for more Pumpkin inspiration? Check these recipes out:
Sparkling Pumpkin Pie Mocktail
Why use the Instant Pot
Fall means the days get cooler and it becomes a challenge to proof bread dough. But thank God for the Instant Pot. Set on the Yogurt mode, this incubates the dough really well and gives perfect results in an HOUR, irrespective of outside temperature.
Plus, you need just ONE pot, ONE baking tray and a spatula to make the bread. No extra bowls to heat water, bloom yeast and melt butter. It all happens in one pot and then the breads need to be baked. I loved this method to incubate the dough and now I am going to use this for all the cold months, and beyond!
With all the introduction to the bread, head on to the recipe and make some rolls yourself. Do not forget to brush some Unsalted butter after the breads are baked. They help achieve an awesome shine on the rolls!
If you are an Instant Pot addict like me, check these amazing recipes I made using it:




Ingredients
Whole Wheat Flour 3 cups
Essential Wheat Gluten 2 tbsp
Pumpkin Puree 2 tbsp
Milk ½ cup
Water ½ cup
Unsalted Butter 4 tablespoon (Room Temperature)
Active Dry Yeast 1 sachet (2 ¼ tsp)
Salt 1 tsp
Sugar 1 tsp




Method
Set the Instant Pot mode to Saute and 3 tablespoon unsalted butter. Just as the butter melts add milk, water, sugar and salt. The temperature should be just around 110-115 F, warm to touch with hand. Turn off the Instant Pot once that is achieved (around 2-3 minutes). 
Add yeast, mix and cover with a lid or plate. The yeast will bloom in about 10 minutes.
Next, add the the flour, essential wheat gluten and pumpkin puree. Mix with a spatula till the flour comes together. Transfer the dough on a parchment paper and place back in the Instant Pot. Coat with oil or butter and put the lid on.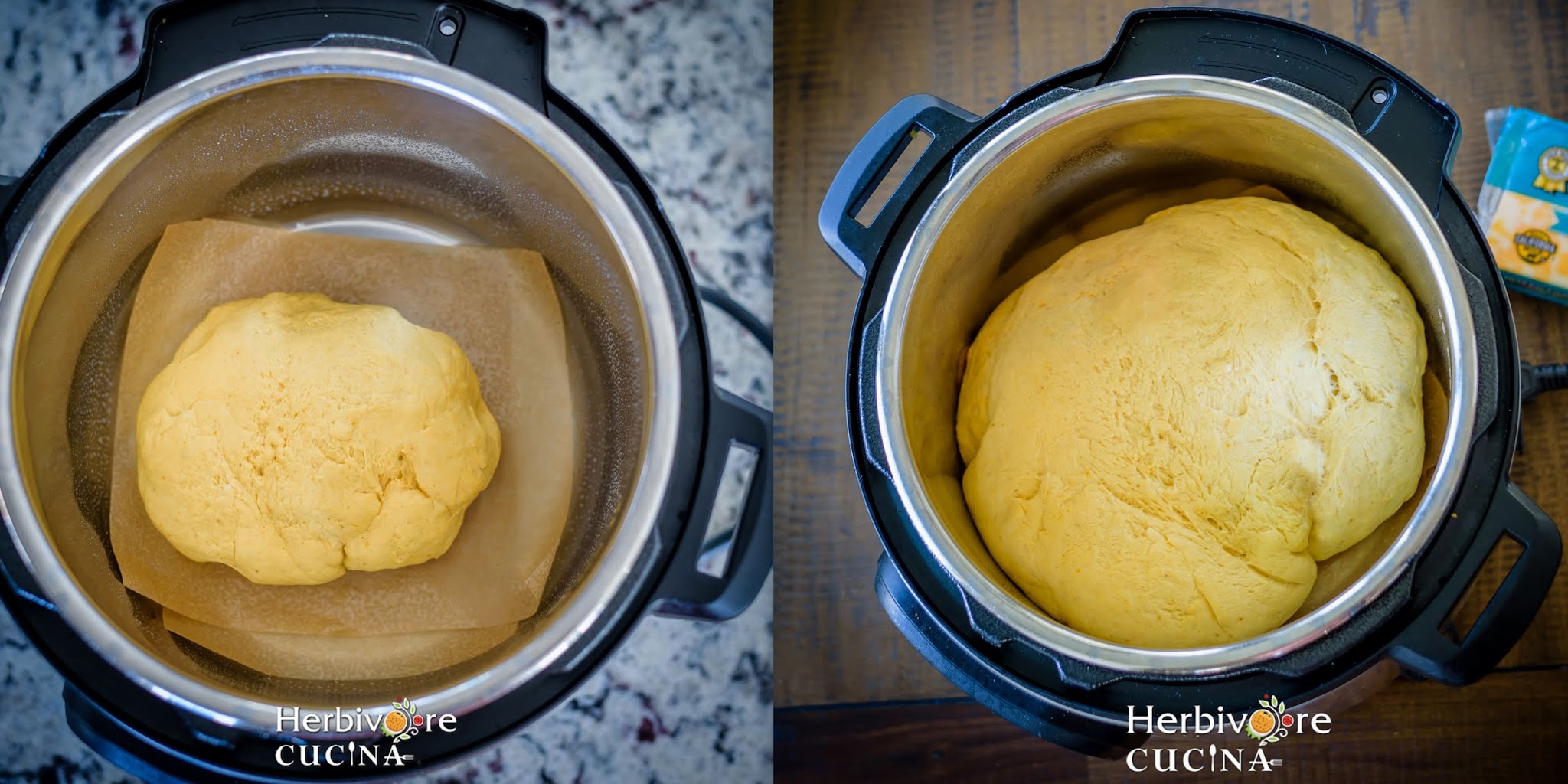 Set mode to Yogurt and time to 60 minutes. Let the dough rise for an hour. 
After an hour or once the dough has doubled in size, punch it down and divide into 12 equal size parts. 
Using each part of the dough, roll into a round and using a baking twine divide the ball into eight parts. Repeat for all the dough balls. Grease with some oil/butter and rest covered for an hour. 
When the hour is almost up, preheat oven to 400 F/ 210 C. Bake for 15-18 minutes, till the top is nice and golden. Remove and cool. Then remove the twine from the breads and slather some unsalted/salted butter on them. 
Enjoy with some cranberry dip or a dip of your choice. This makes a yummy bread for Fall sandwiches and is a great centre piece for the party too!