These Cheese Jalapeño Stuffed Pretzel Rolls are SO GOOD; you can have them for breakfast, as an appetizer or a perfect Game-Day snack!
I cannot believe we are only a few weeks away from Super Bowl and it is time for us to start planning recipes for the big game! I am still think of the nail biting finish that the New England Pats had last year and here I am with my first Game-Day recipe for this year.
Just in time for this post we have this amazing theme for Bread Bakers this month; Pretzels. Thanks to our wonderful hostess for this month,Stacy of Food Lust People Love for this theme. A few months ago I baked my first pretzel as part of another theme and have been in love since. After making different kinds of long, short, twisted and cheesy pretzels, I decided to make a stuffed pretzel recipe this time.

And when it is time for game-day, what's better than cheese and jalapenos? These pretzel buns have everything delicious packed into small parcels of yumminess! Starting with the basic pretzel dough and a stuffing from home-grown and pickled Jalapeños with pepper jack cheese; the combination was perfect for any kind of get together.

Can you guess what I liked best about these buns? The spicy cheesy filling that oozes out of the buns when they are enjoyed straight from the oven! Any kind of stingy cheese is awesome for these buns. And the signature pretzel crust that comes from the soda bath is yummy too. I did not bake them till very hard as we enjoy a golden brown crust. And yes, the sea salt on top completes the look of these beauties!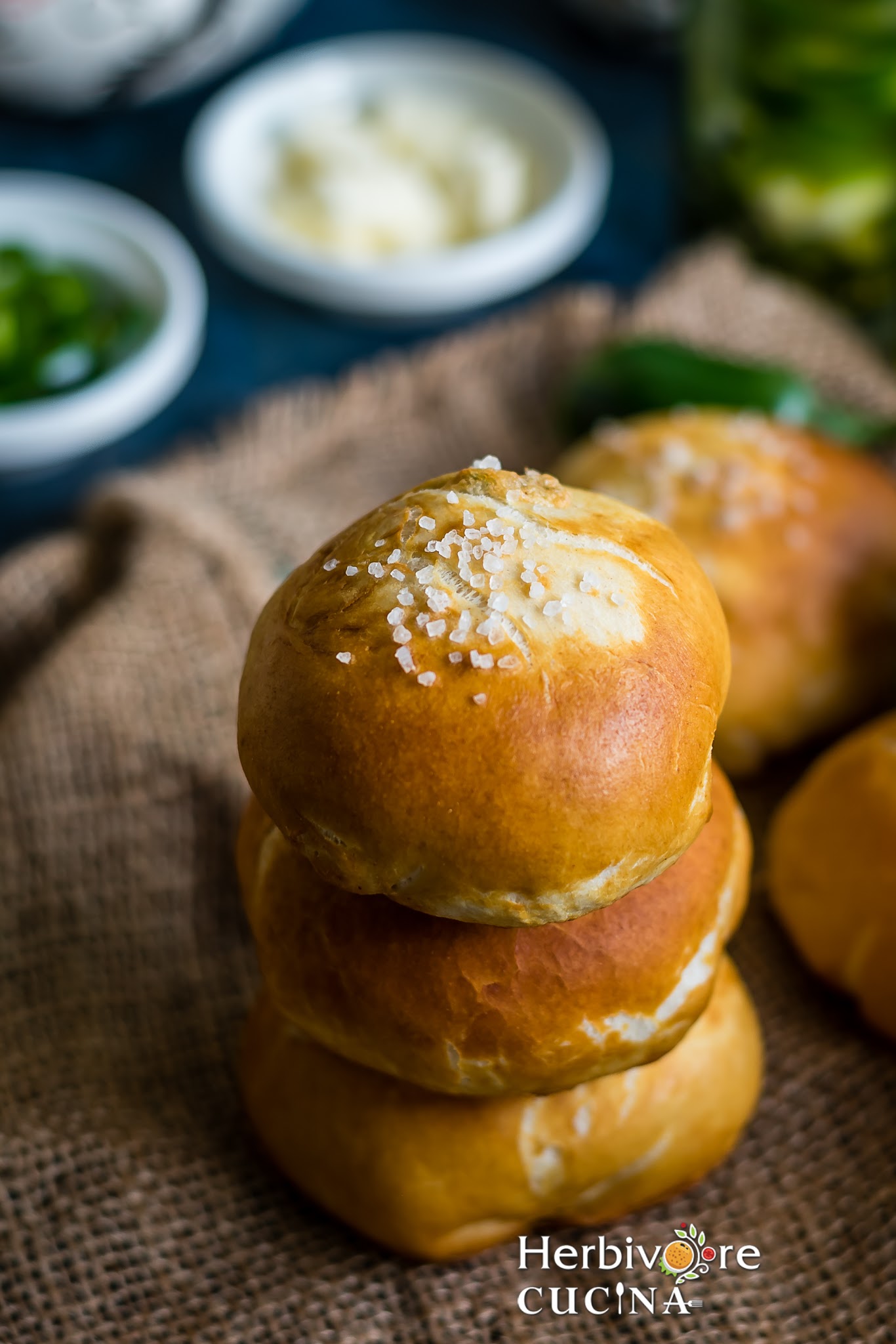 I made a BIG lot of these, yet we finished them off in no time. While the pretzels taste best the day they are made, we don't mind enjoying them the next day too. They get a little soft because of the salt getting absorbed in the dough, yet taste amazing. As the cheese tends to harden on cooling, I like to heat the pretzels for 3-4 minutes at 350 F before serving. That is enough to make the cheese melt and ooze out once again!

The day I made them we had crazy downpour in the Bay Area! These buns turned out to to the PERFECT evening snack. I had them with some Jasmine Tea by the side. It felt like a great rainy day at home!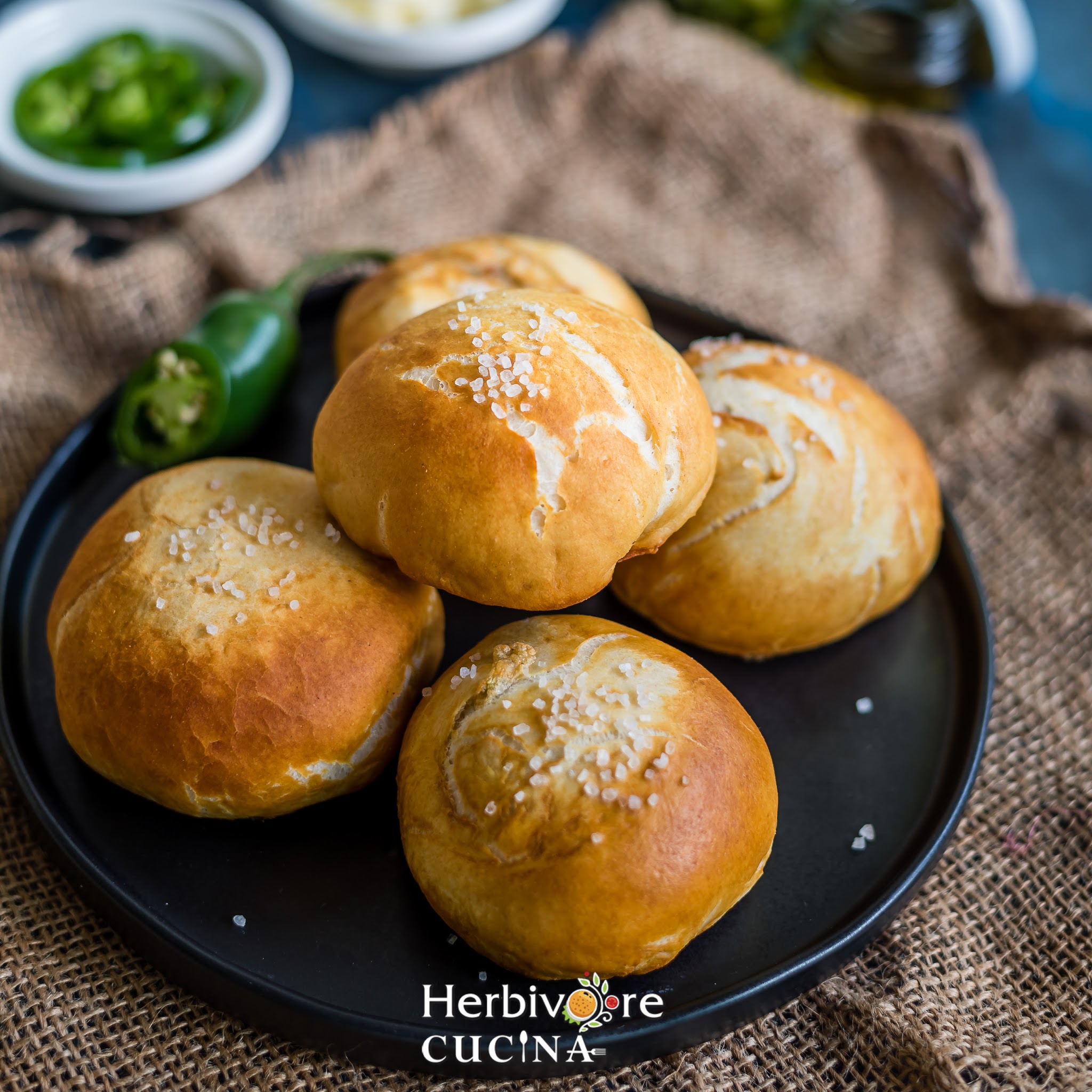 Variations


The soda bath used in the recipe is to get the signature pretzel crust. Make sure the buns are in the bath only for a few seconds, else it will develop a metallic taste. Also, do not add more soda than described below, to avoid the sharp metal taste.

I used enough jalapeño to make them medium spicy. Adjust the quantity based on the spice level you like. Also choose a cheese of your choice, any stringy cheese is perfect!

If serving at a party, make the buns smaller to make them into bite size appetizers. I made them slightly large and got 15 buns from the amount specified in the recipe.

Last, modify the stuffings based on what you like! Pizza stuffing, onions or just cheese would work really well!

Ingredients
For the Pretzel
All purpose Flour 3 ½-4 cup
Water 1 ½ cup
Instant or Active Dry Yeast 1 sachet (2 ¼ tsp)
Salt 1 tsp
Sugar 1 tsp
Unsalted Butter 1 tbsp
Coarse Sea salt to sprinkle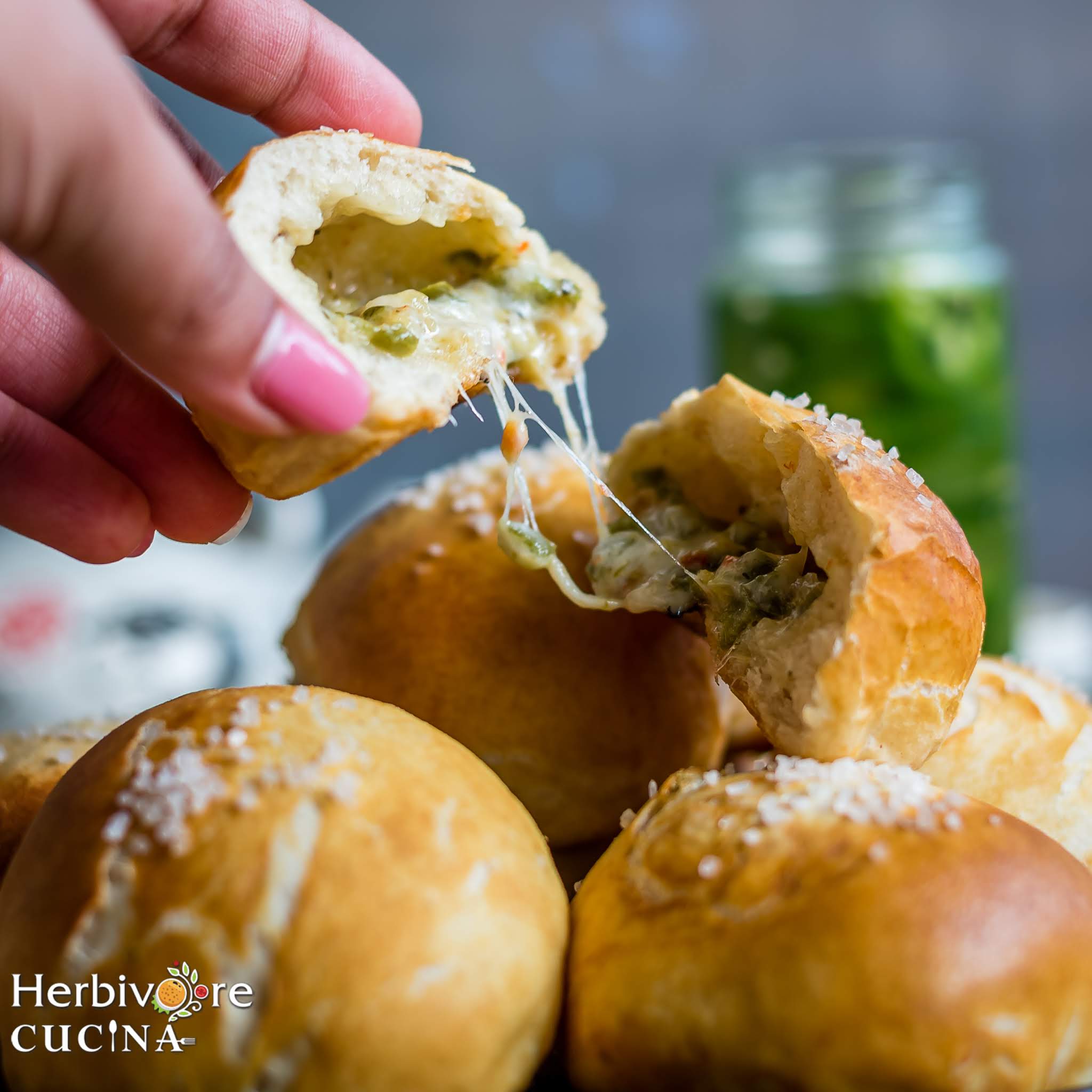 For the Filling

Jalapeño slices ¾ cup (Fresh or canned)
Garlic 3-4 pods, minced
Cheese of your choice 1 cup ( I used Pepper Jack)
Dried Oregano 1 tsp
For the soda bath
Baking Soda ½ cup
Water 10 cups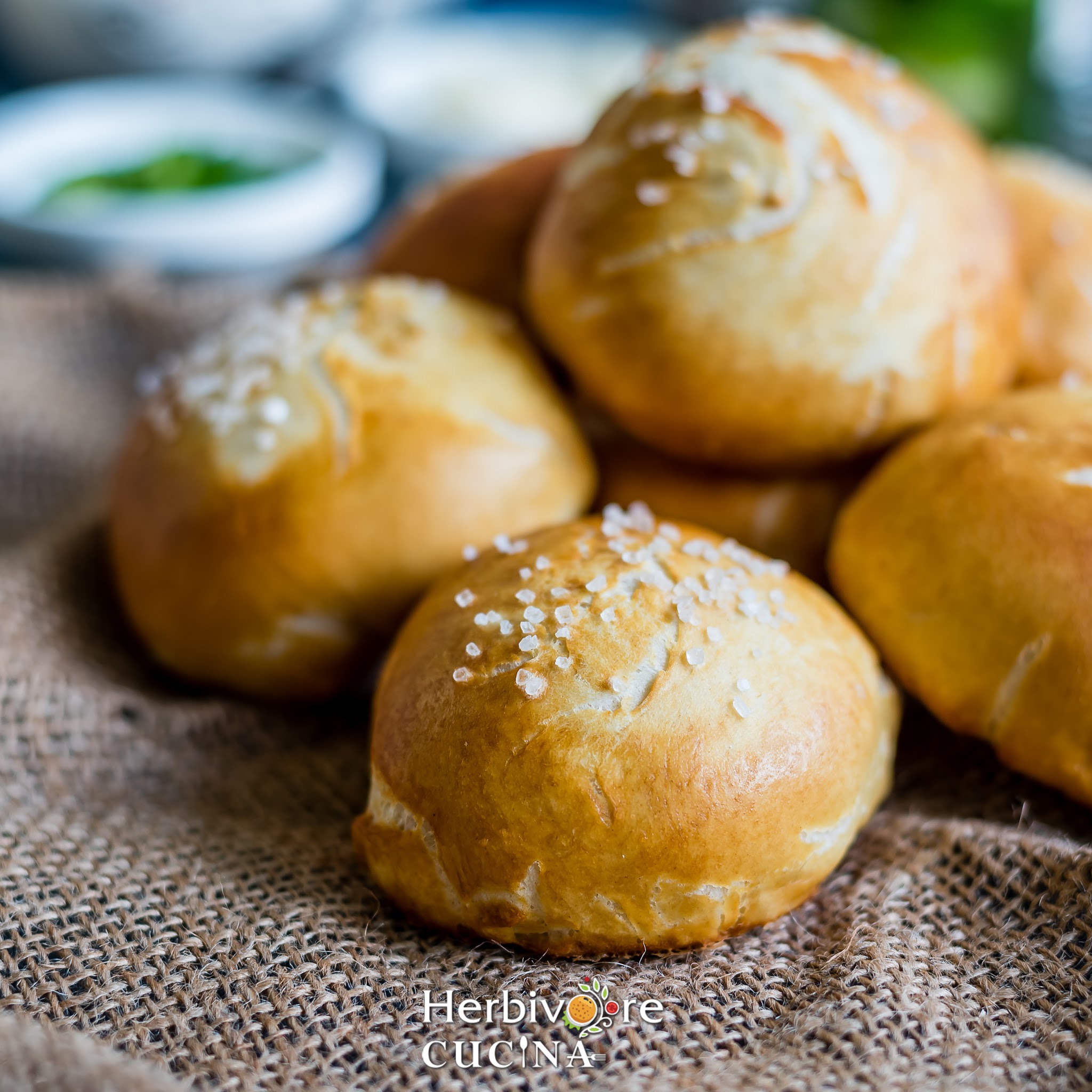 Pin for Later
Method
In a bowl heat 1 ½ cup water with salt and sugar. Mix well and add yeast. Let the yeast bloom for 8-10 minutes.
In the base of a stand mixer or a large bowl mix together 3 cups flour, bloomed yeast and water and unsalted butter.
Mix together till it comes together as a soft dough. If it is very sticky, add ½ cup flour. Use as much dough as required to form a smooth soft dough. Cover and let it rise for 10 -12 minutes.
Meanwhile, preheat oven to 450 F/ 320 C. Line a cookie tray with a baking sheet and set aside.

Prepare the filling. To do so mince the jalapeno and shred the cheese. Mix all the ingredients and keep ready.
Also, prepare the soda bath by boiling the soda and water mixture. Keep a slotted spoon ready.
Divide the dough into 15 equal parts. Using each part roll out a disc. Place a tablespoon of the filling and fold the edges to make a smooth ball. Repeat with the remaining dough and keep the breads covered with a moist cloth.
One by one drop the pretzel rolls into the boiling soda bath and let them be there for 10-15 seconds. Flip and remove from the bath using a slotted spoon in another 10-15 seconds. Leaving them any longer will give them a metallic taste.
Place them on the baking tray and sprinkle coarse sea salt on them. Bake for 15-18 minutes, till the crust is golden brown.
Remove and serve with olive oil, ranch or a marinara sauce.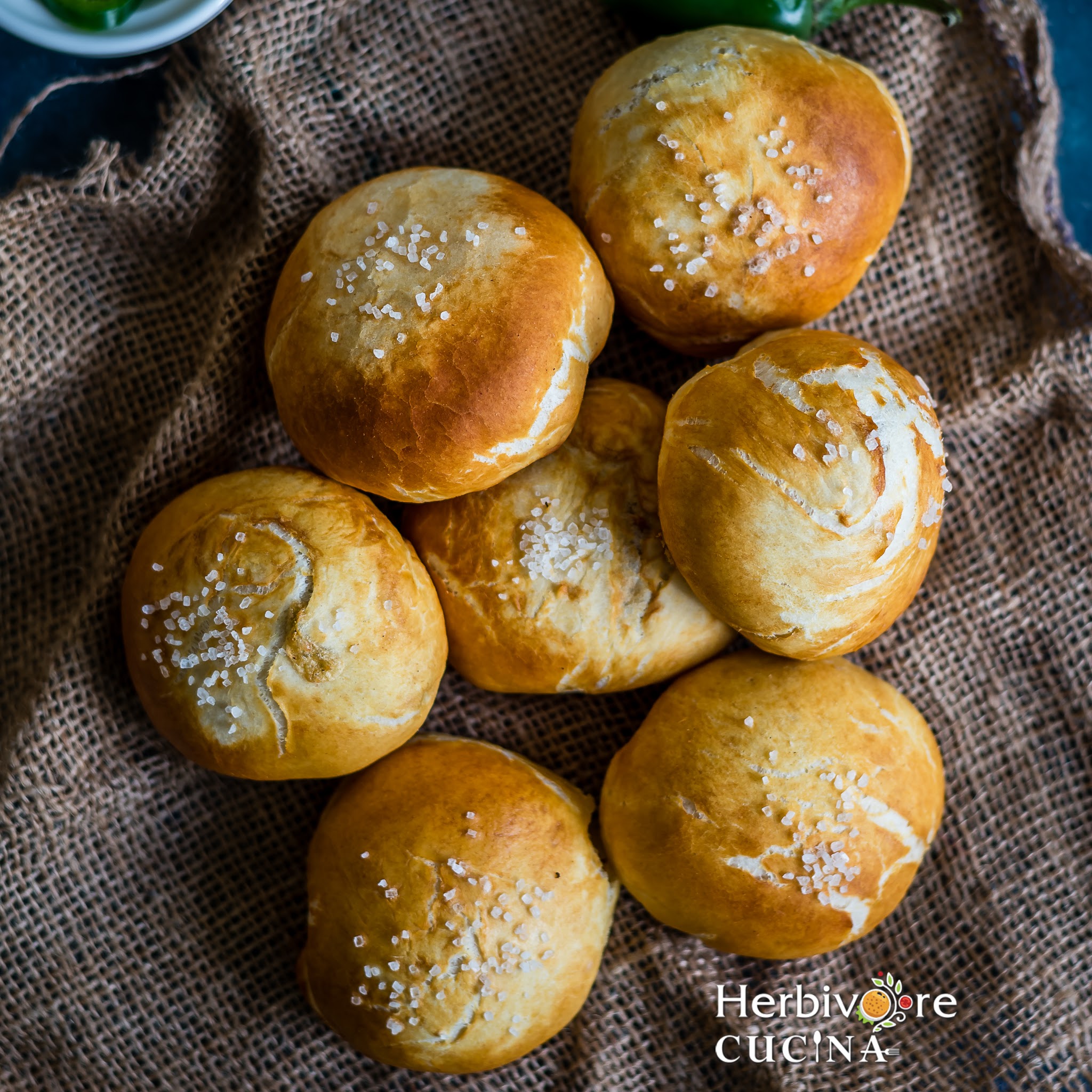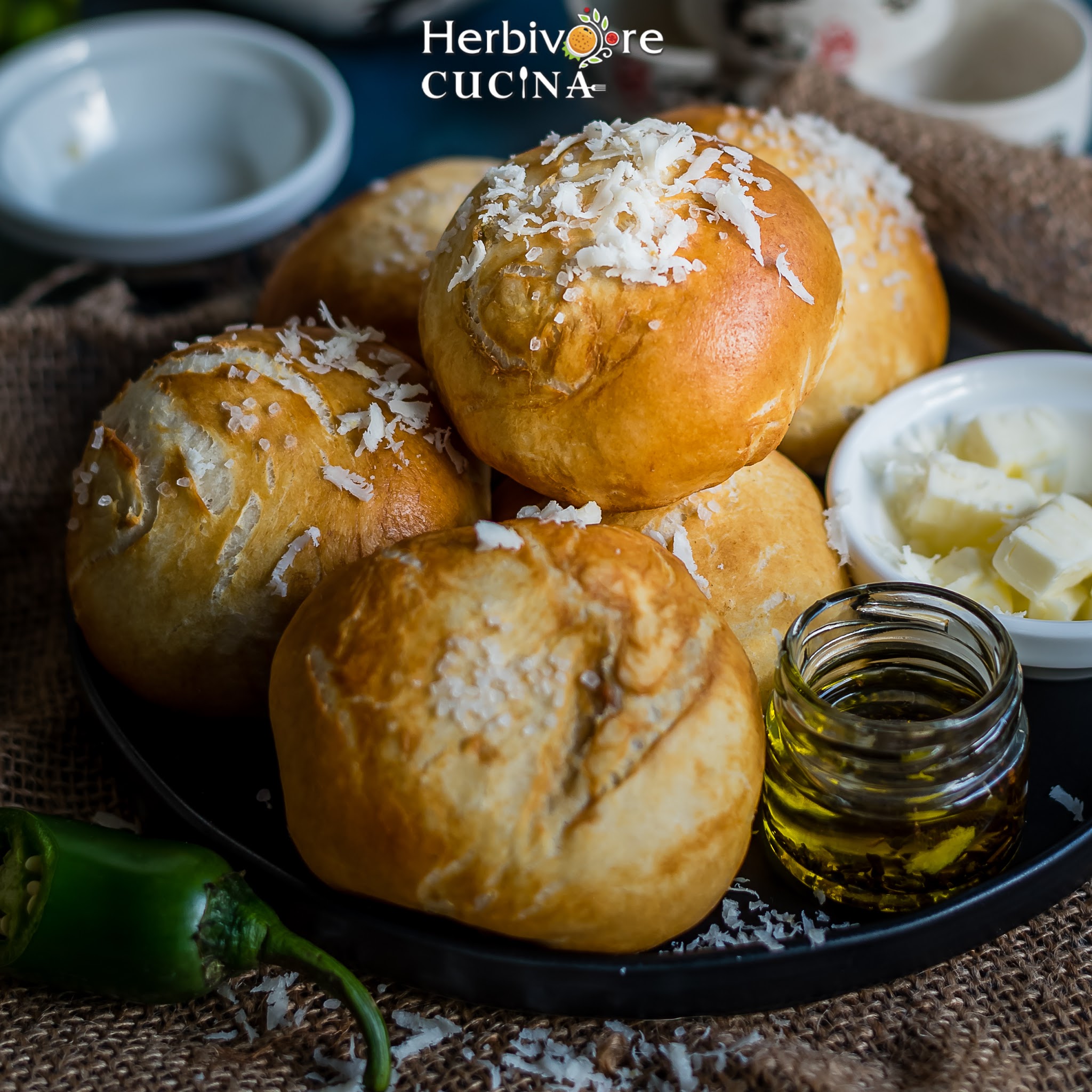 #BreadBakers is a group of bread loving bakers who get together once a month to bake bread with a common ingredient or theme. You can see all our of lovely bread by following our Pinterest board right here. Links are also updated after each event on the #BreadBakers home page.
We take turns hosting each month and choosing the theme/ingredient. If you are a food blogger and would like to join us, just send Stacy an email with your blog URL to foodlustpeoplelove@gmail.com.
Check out the Pretzel themed breads that our fellow #BreadBakers have baked this month: