Barnyard millet and potatoes combine to make these yummy fritters. Served as an appetizer or snack, these vadas are super easy to make!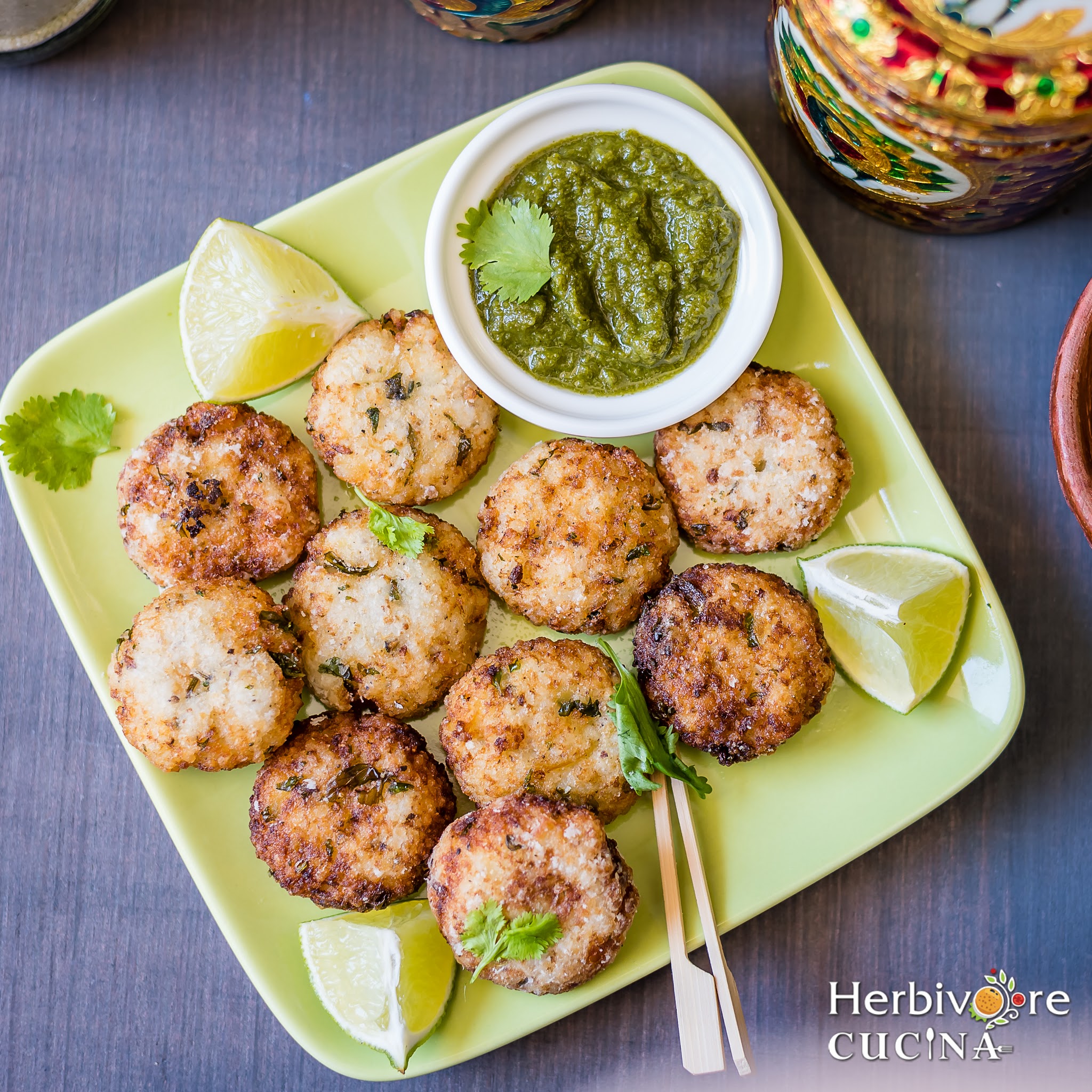 Have you tried Barnyard Millet? Those tiny white grains that are perfect substitute to rice or tapioca? Samo, Samay or Moraiya; call it what you want. These tiny grains taste amazing and are famous across India, Africa and other parts of Asia.
For those who know what I am talking about, here is a little more about samo pearls. These millets have a really short cultivation cycle; ripening in about 45 days from sowing, need fairly less water and grow even without a lot of fertilizers. Plus they do not attract pests making them really easy to grow in countries like India.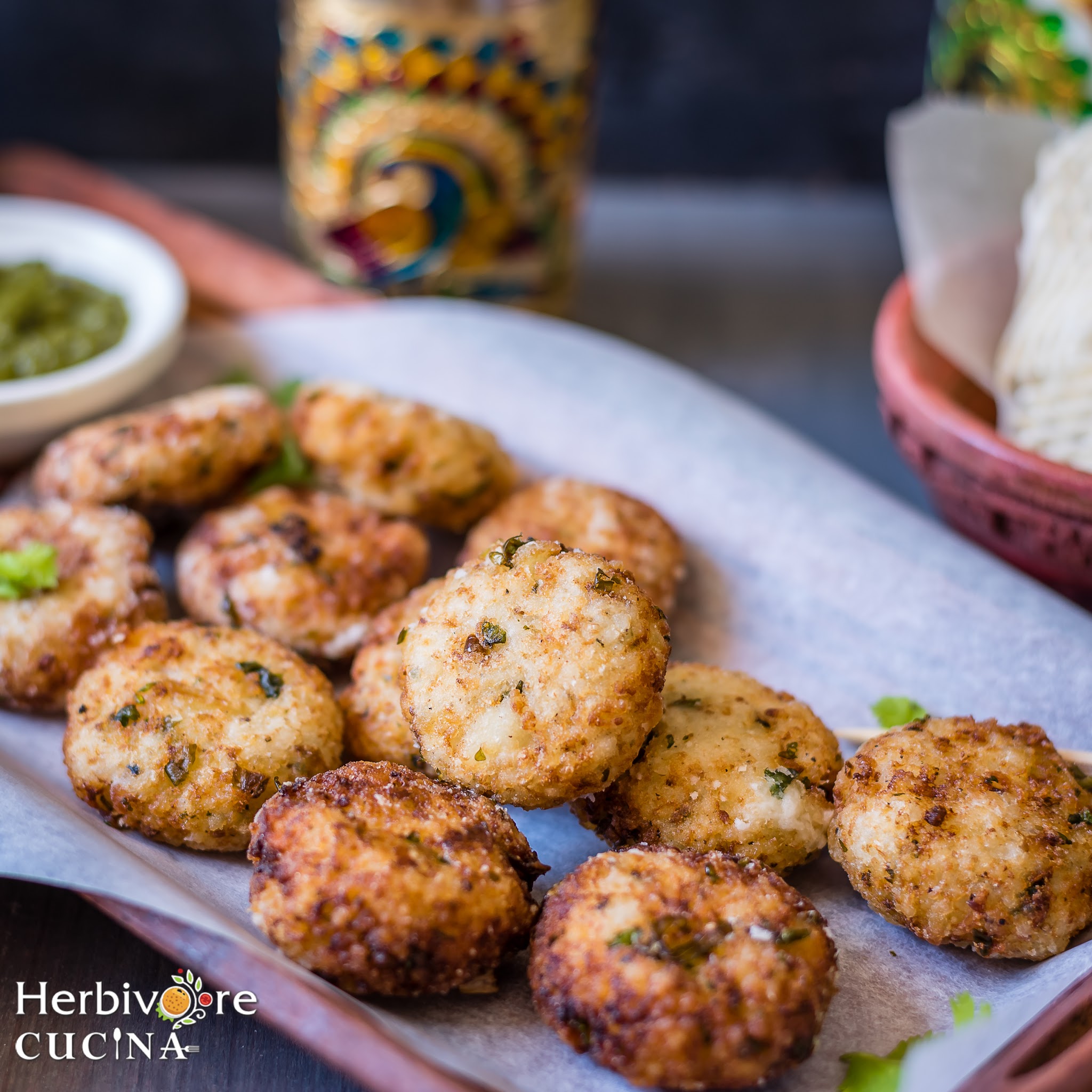 These millets are categorized as seeds and not grains; making them perfect for consumption for Indian fasts. Samo Khichdi is the most common recipe made using these millets. However it gets boring to have the same dishes on every fast.
To do away with the boredom, here are some fasting recipes that are on my list everytime: Amaranth (Rajgira) Paratha, Farali Pattice, Non-Fried Sabudana Vada, Quinoa Sabudana Khichdi, Dudhi Barfi, Rajgira Kadhi, Sabudana Khichdi.
Last week on Ekadashi I decided to make something different from Barnyard Millets. Plus, it was a day when it was pouring and I was craving something fried and crispy. So I decided to make these fritters and they turned out PERFECT. I enjoyed them with some mint cilantro chutney and it was a meal by itself.
Not just for fasts, these vadas are amazing to serve as appetizers too. I think they are similar to Arancini; just that the Arborio rice is substituted with barnyard millet. And then everything that has potatoes and is deep fried is ALWAYS yummy!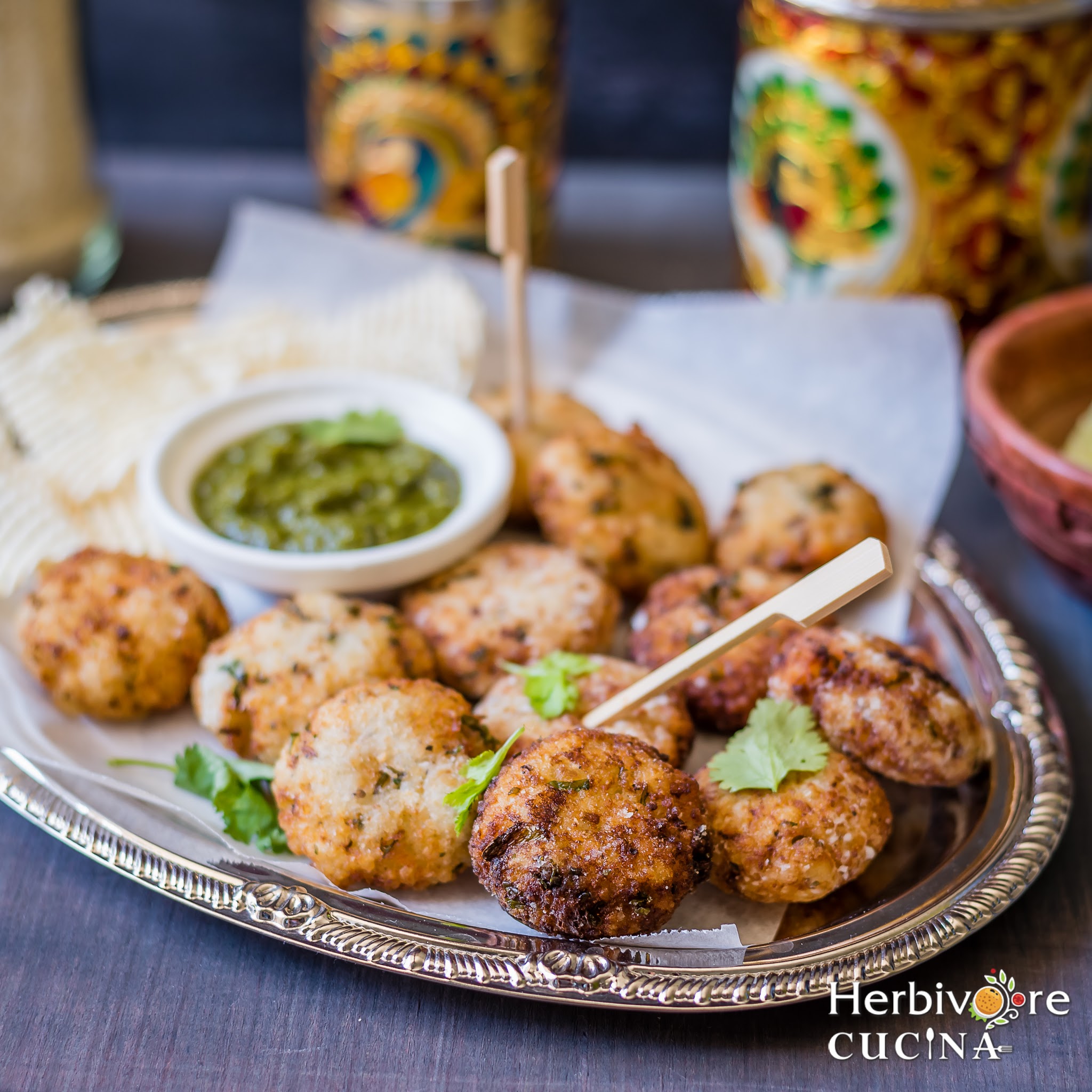 Variations
I made this recipe for fasting and so I added just ginger. If you are making this as an appetizer, adding garlic paste will be a great idea. It will make the fritters even more delicious.
These are among the fewer recipes on the blog that are fried. I am not a big fan of fried food but gave into frying on a rainy day. However, if you would prefer a non-fried version; either use an aebleskiver pan to make them or pan fry them in minimum oil. I would make them broader if I was using a tava to stir-fry them, making it easy and crispy.
Finally, use these tikkis to make some delicious Farali Dahi Vada. To do so just add some yogurt and chutney along with pomegranate seeds to make a delicious appetizer for fasting days!
Pin for Later

Ingredients
Samo chawal/Barnyard Millet 1 cup
Potato 1 medium, boiled
Peanuts ¼ cup, powdered
Ginger 1 inch piece, grated
Green Chilli 1-2, minced
Salt 1 ½ tsp
Black Pepper Powder ½ tsp
Cumin powder ½ tsp
Sugar 1 tsp
Lime Juice 1 tsp
Cilantro ¼ cup
Tapioca (sabudana) starch/ powder as required
Oil to fry/saute
Method
Wash and add samo chawal to a pressure cooker. Add a pinch of salt and ½ cup water. Mix and pressure cook for 2 whistles / 8 minutes. Cool and set aside.
In a bowl add all the ingredients except sabudana powder and oil. Add in samo chawal and mix everything well.
Heat oil in a pan for frying. Place 2 tablespoon sabudana powder in a plate. Divide the vada mixture into 1 inch parts. Shape them as you like and roll them in the tapioca starch.
Fry on medium flame till the vada is crisp, turning once in between. Remove and let a few paper napkins absorb the extra moisture.
Variation: If you would like to do away with frying, either make these with a tablespoon of oil in a paniyaram maker or pan fry them on a non-stick pan.
Serve with a side of Cilantro Chutney, yogurt and fried potato wafers.