Blogging Marathon# 63 -Journey through the cuisines: Day 2
State: Gujarat
Dish: Buff Vada


Today is the second day of the Mega Marathon and the letter for today is B. As I have chosen Gujarat, I had a plenty of options to make. The most famous gujarati ingredients from letter B are: Batata (potato), Biranj (Vermicelli), Bhinda (ladyfinger) and Bajri (millet). I already have a few gujarati recipes on my blog and I wanted to make something that is famous in the state of Gujarat and not just pertaining to Gujarati cuisine.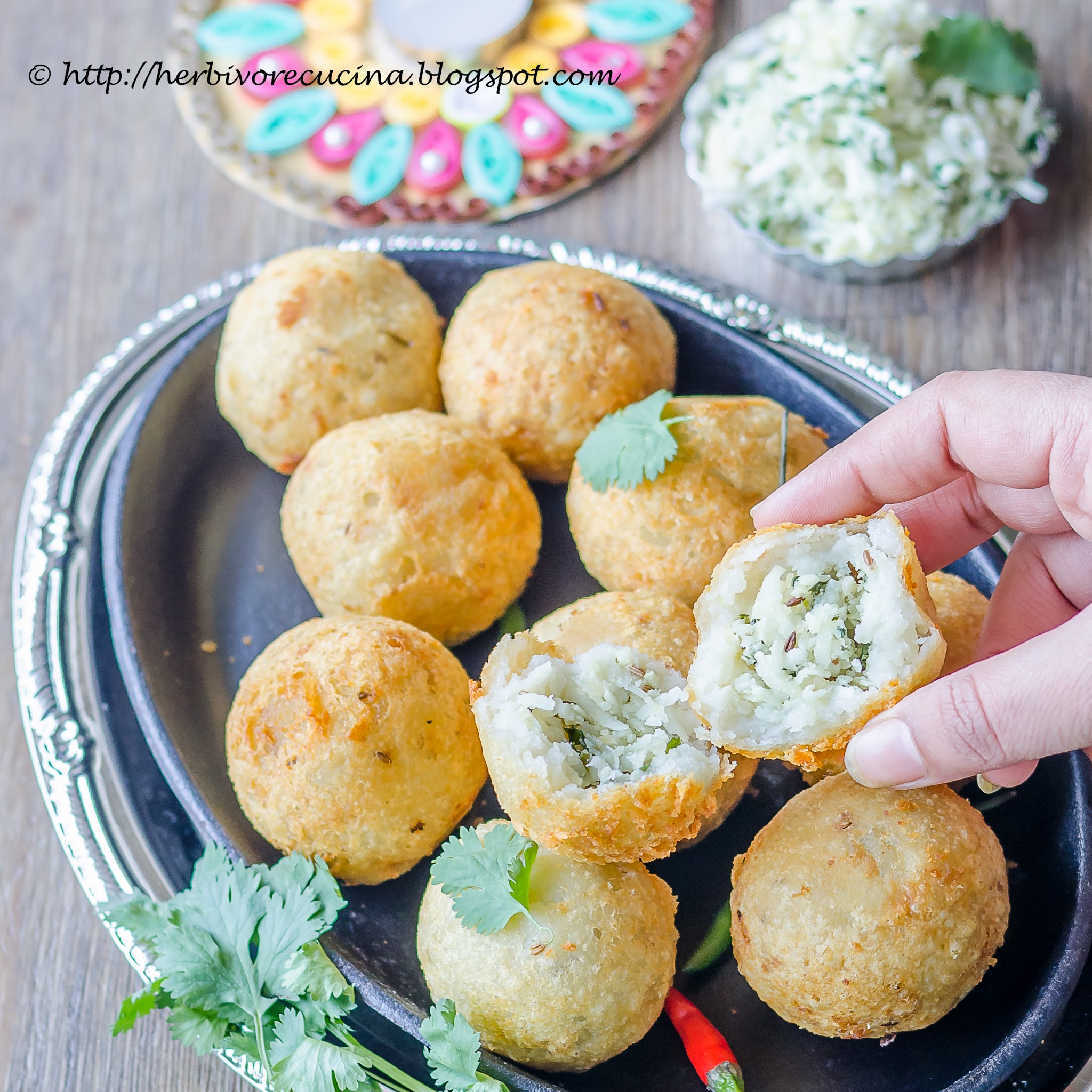 Buff Vada is the name for Farali Pattice in Gujarat. Deep fried balls of boiled potatoes stuffed with coconut filling are the favorite food we have while fasting. This dish is very famous among Gujaratis, but not as much outside the community. When in India, we used to enjoy bite size farali pattice from a store called Modern sweets in Mumbai. They served these pattice with green spicy and orange sweet chutneys. A lot of stores around tried to replicate the pattice, but none were close to the taste that Modern served for years.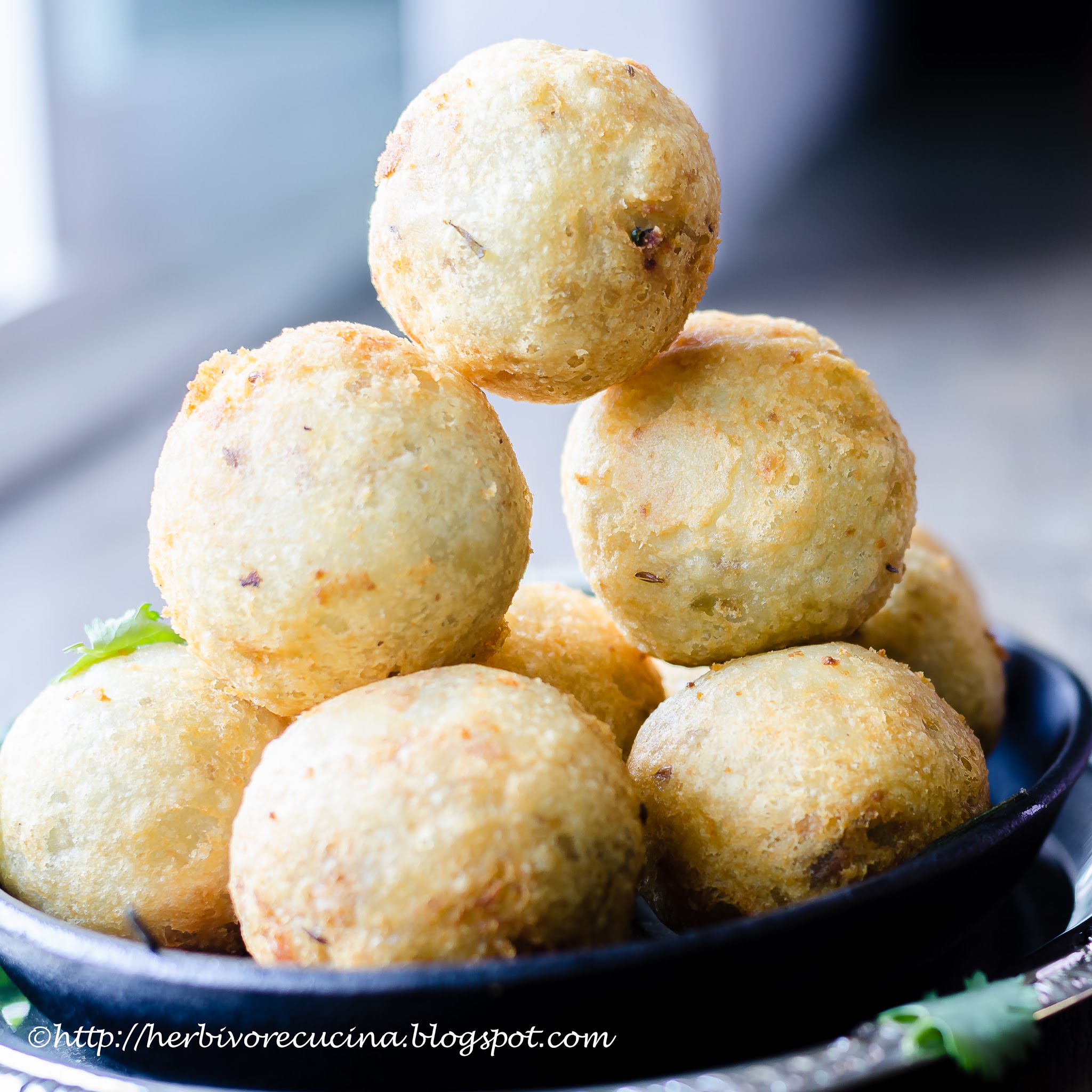 Now, in the US it is not very easy to find these pattice. So when this marathon came up and I was making a list of recipes I was going to make, I could not resist the craving to have this at home. So I made a small lot ( just 10) of these yummy vadas. While it can be served with spicy cilantro chutney, these buff vadas tasted great even without a dip. Some people serve it with sweetened yogurt too.
A couple of things to note in this recipe. If you are making this recipe for fasting like Ekadashi or Navratri, use arrowroot or tapioca starch in the crust. If you are making the vada for a snack for non-fasting days, use cornstarch to bind the potatoes. Depending on how spicy you like the filling, adjust the ginger chili quantity. I want to try making these vadas in the oven or in a paniyaram stand, that will be my next try on this recipe. So read on the recipe of Buff Vada and come back on Monday for the next recipe from the letter C.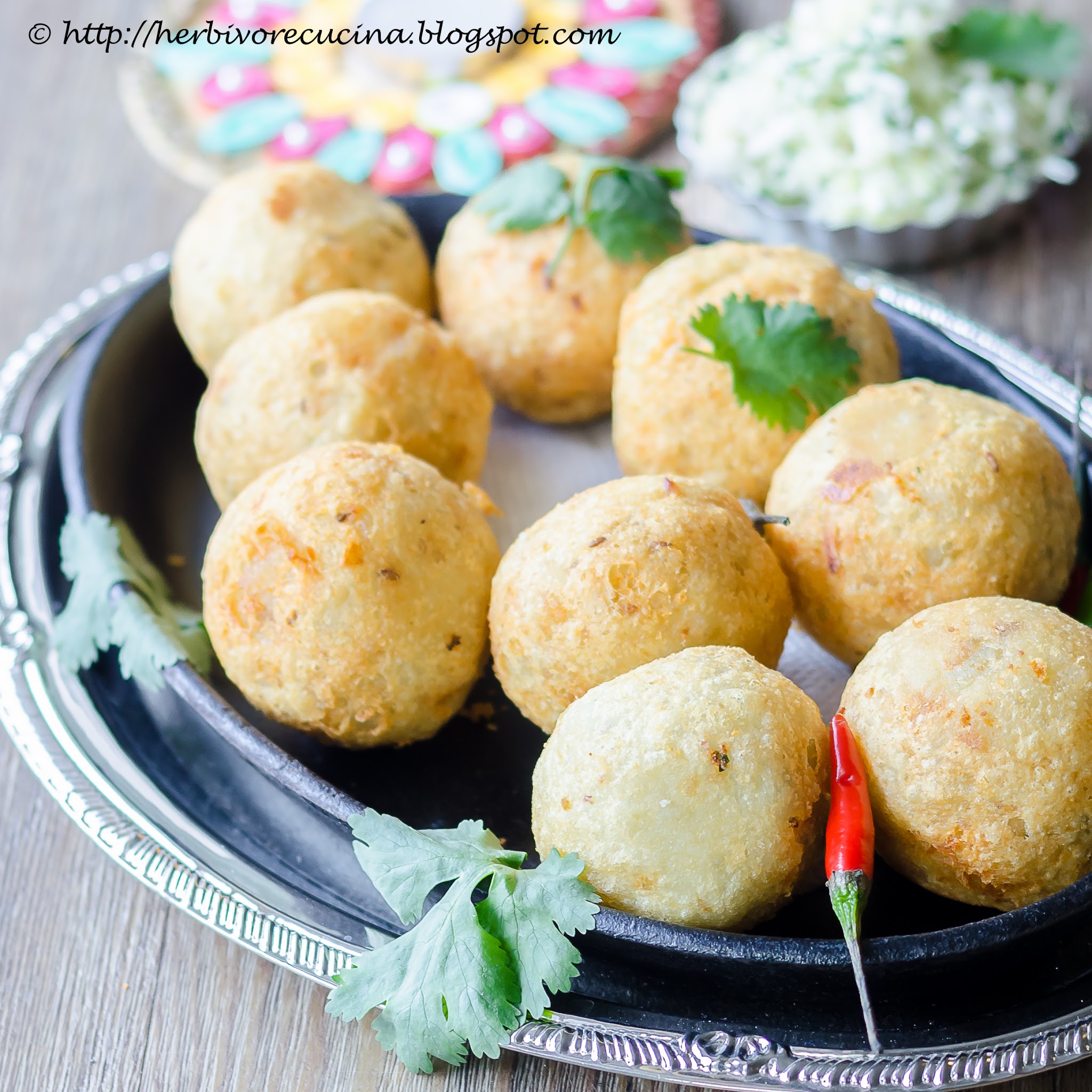 Ingredients
For the Potato Crust
Potatoes 3 medium
Arrowroot/ Tapioca starch or Cornstarch ¼ cup
Cumin seeds 1 tsp
Salt 1 tsp
For the Stuffing
Shredded coconut ½ cup
Cilantro ½ cup
Peanuts ¼ cup
Raisins a few
Green chili 1 minced
Ginger 1 inch piece
Cumin seeds ½ tsp
Salt, Sugar, Lemon Juice
Oil to fry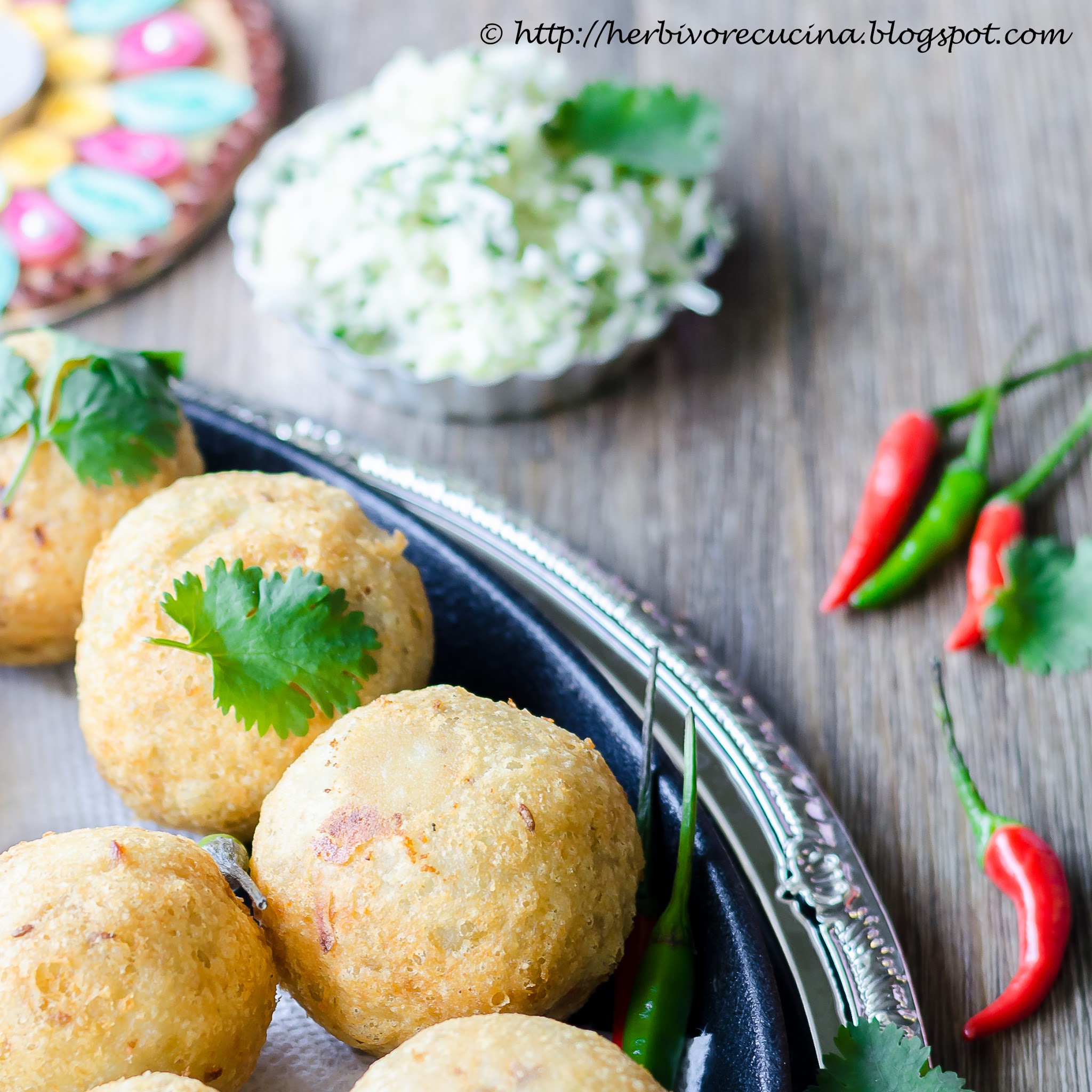 Method
Pressure cook the potatoes with a pinch of salt. Once done and cooled, peel and mash the potatoes. Add in the arrowroot or cornstarch, cumin seeds and salt. Mash the potatoes well so that there are no chunks.
Crush the peanuts and finely chop the cilantro. Mix all the ingredients of the stuffing to a mixture. Set aside.
Make small balls of the potato mixture. I could make ten. Using a little oil on the palms, make a flat disc of the mixture. Spoon the stuffing in and fold it over to make a smooth ball.
Heat oil and fry the vada on medium flame, till golden brown. Remove on a kitchen towel to absorb oil and serve warm with cilantro chutney or sweetened yogurt.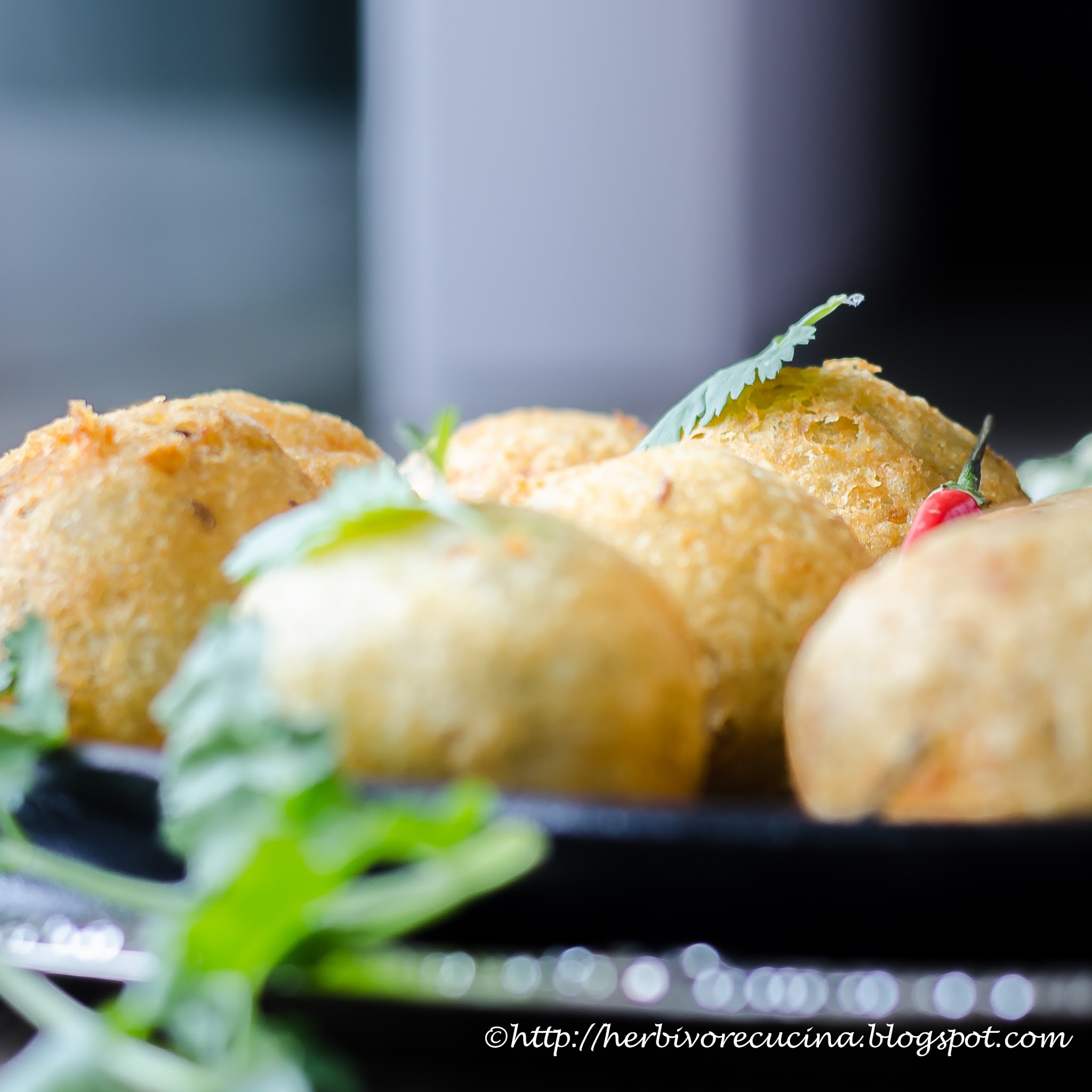 Check out the Blogging Marathon page for the other Blogging Marathoners doing BM# 63