Yesterday I posted Samo Khichdi and is tastes perfect with a Farali Kadhi. So today the recipe for the kadhi is up too! Growing up in a family where fasting food was not just for people who fast but for everyone to feast on, I have a liking for all kinds of fasting foods. Whether it is Sabudana Khichdi or Sabudana Vada or Rajgira Thepla, I love it all!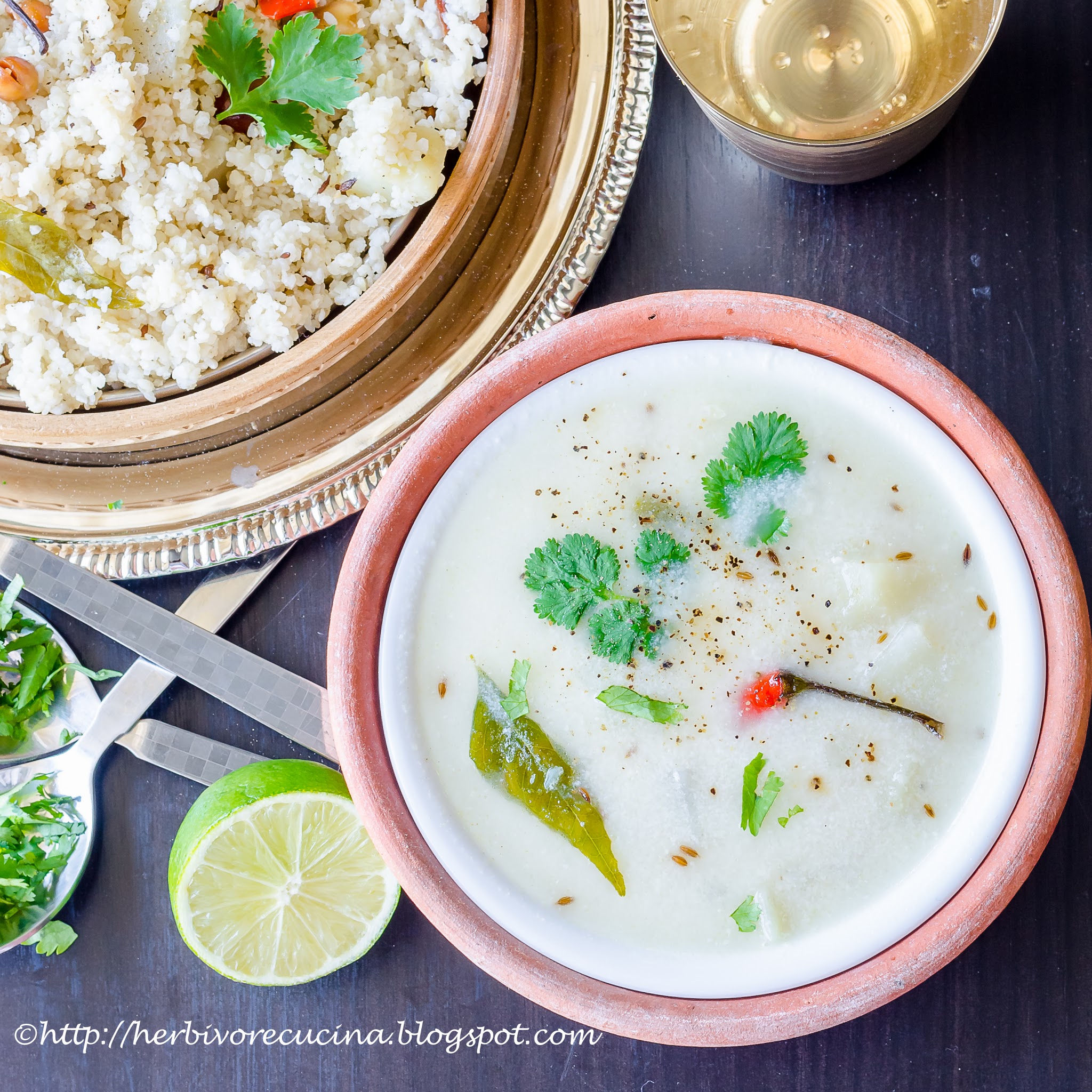 My grandmother was the best cook in the house and the fasting foods she made is unmatched over the next two generations! A typical ekadashi lunch menu would be an elaborate one: Rajgira thepla/puri, dry potato fry, Farali kadhi, samo khichdi and shrikhand. Dinners on fasting days would be something tasty as well, ranging from samo dhokla to farali pattice or sabudana khichdi or vada. Over the past few months I have posted a few of these recipes like Rajgira Thepla, Sabudana Khichdi, Buff Vada/Farali Pattice, Samo Khichdi, Sabudana Vada and this Kadhi today.
Just typing out the dishes I am tempted to make all of them! Today I finally have enough recipes to make a separate category in the blog index for fasting recipes!! Do check it out here. Coming back to the recipe, this kadhi is so simple to make. Just a few ingredients from the pantry (most Gujaratis will have all these ingredients in their pantry!), about 10 minutes and the kadhi is ready to serve.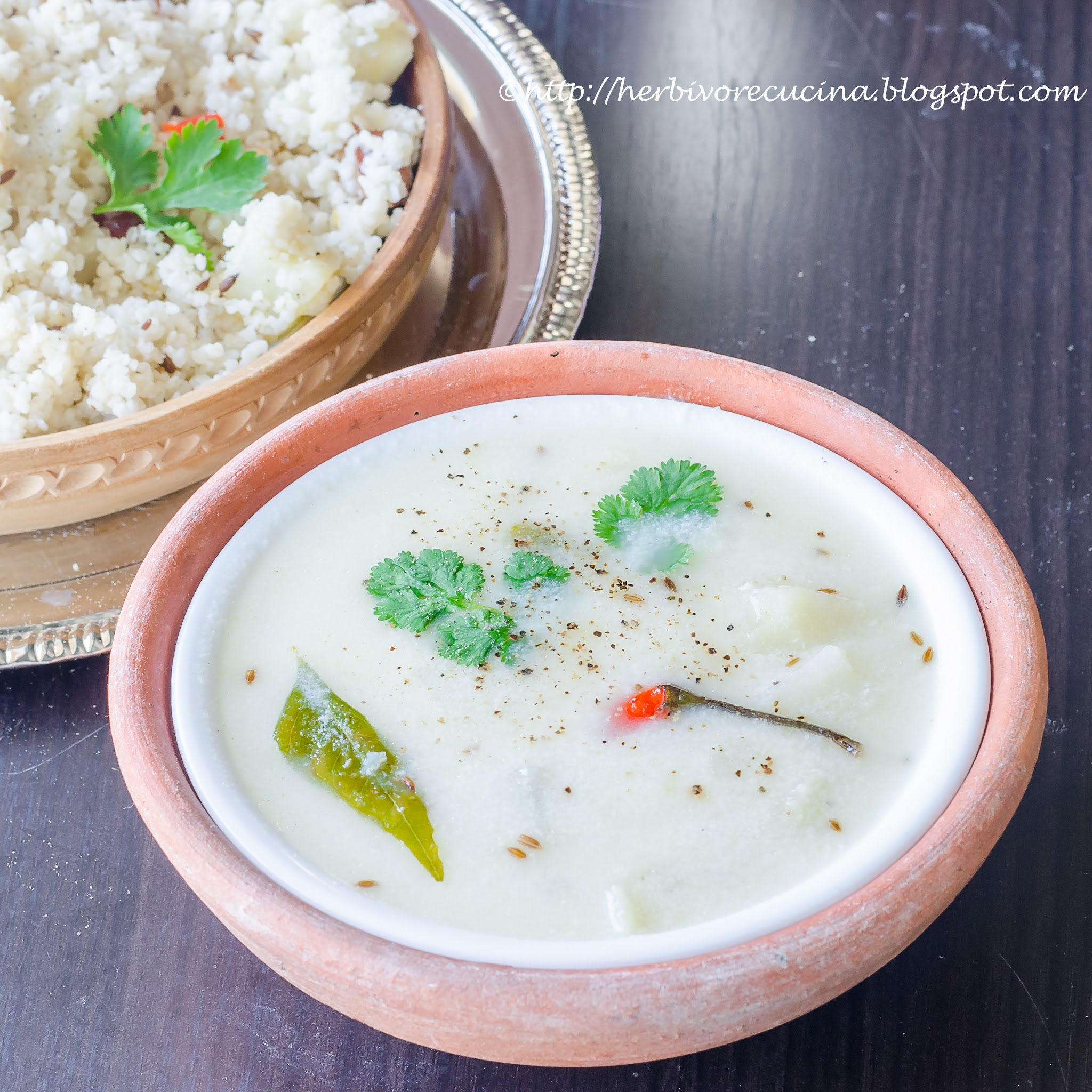 For this recipe I used boiled potato. However, you can use bottle gourd or sweet potato or any kind of yam. Also, if you do not have amaranth flour or are not fasting, feel free to use all purpose flour or chickpea flour to thicken the kadhi. Peanuts are used to thicken and impart a flavor in the kadhi. Omit it and increase the amaranth flour in case of allergies. Serve this kadhi with Samo Khichdi or Rajgira Thepla.
Ingredients
Yogurt ½ cup
Rajgira/Amaranth Flour 2 tbsp
Boiled Potato ½ medium
Peanuts crushed ¼ cup
Cumin Seeds 1 tsp
Curry leaves 2-3
Ginger Chilli Paste 1 tsp
Chilli 1-2
Ghee 1 tsp
Black Pepper Powder ¼ tsp
Salt 1 tsp
Sugar ½ tsp
Method
Whisk yogurt with ½ cup water. Add it to a pan and mix in crushed peanuts and diced potato. Also mix the ginger chilli paste, sugar, salt and black pepper powder.
Heat ghee in a pan. Add cumin seeds and once they pop, add curry leaves and chilli. In a minute transfer the tempering in the yogurt mixture. Mix and bring the kadhi to a boil. Once it is boiling, reduce flame to medium and cover. Simmer the kadhi for about 5-6 minutes, adjust salt, sugar and spice and turn down the heat. Serve hot topped with cilantro and black pepper powder. The kadhi tastes best with Sabudana Khichdi or Samo khichdi.