Blogging Marathon #69 Week 3 Day 2
Theme: Indian or American Sweets
Dish: Dudhi (Lauki) Barfi
Lauki barfi, a delicious Indian sweet made with just a few ingredients. Who knew fudge from bottle gourd and milk solids would be so good?
Yesterday I posted a traditional Gujarati sweet, Sweet Saatha. Today, for the second day of this week's Blogging Marathon I am adding a new recipe. Made from Bottle gourd, this barfi is really easy to make and tastes amazing! The more traditional dessert is lauki ka halwa, this one takes it one step further and makes cubes of the halwa to facilitate serving and add some portion control!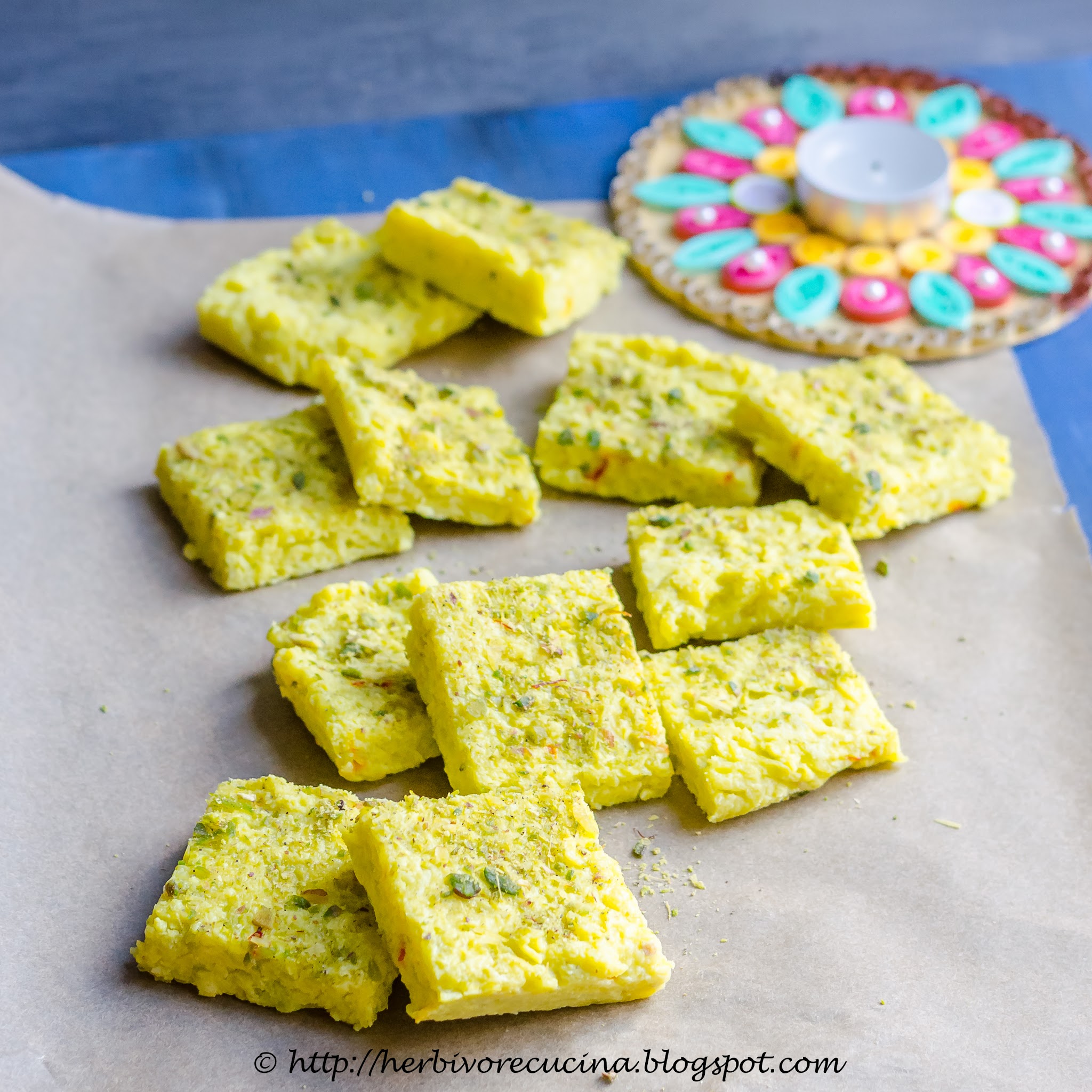 Whenever my grandmother made dudhi halwa back home, I would devour it one bowl after another. While I never had the gourd in any of its form, it was hard to resist this dish. Now that I am making the sweets myself, I eat quite a bit while making it itself. So I do need some portion control now more than ever! My mother suggested I make the barfi out of halwa. You can easily just eat one piece and stop. Though that is equally difficult, I try my best to do so.
While most famous forms of barfis and halwas are very popular across the country, somehow lauki halwa never caught up! It is really not the most popular Indian sweet, but it is really delicious. When I first made the halwa in the US, most of my guests were pretty surprised to see we could make a sweet dish from bottle gourd! But the advantage of this one is that it is perfect for all occasions, including fasting. It has essentially lauki, milk, mawa and cardamom. All these ingredients are perfect for fasting and this sweet was popularly made on ekadashi in our household.
For this year Navratri I got a block of mawa from the Indian store. I used most of it in other sweets. I had just about ⅓rd left. That is when I decided to make this barfi, just before Diwali. Adding Mawa to the halwa helps to get a consistency that will set well. The barfi is not as hard as peanut or coconut barfi, it melts in the mouth almost immediately. Generally the recipes for barfi would require whole milk. I had only 2% on hand so I used it. It took some extra time to make the mixture all dry, but the barfi came out pretty well.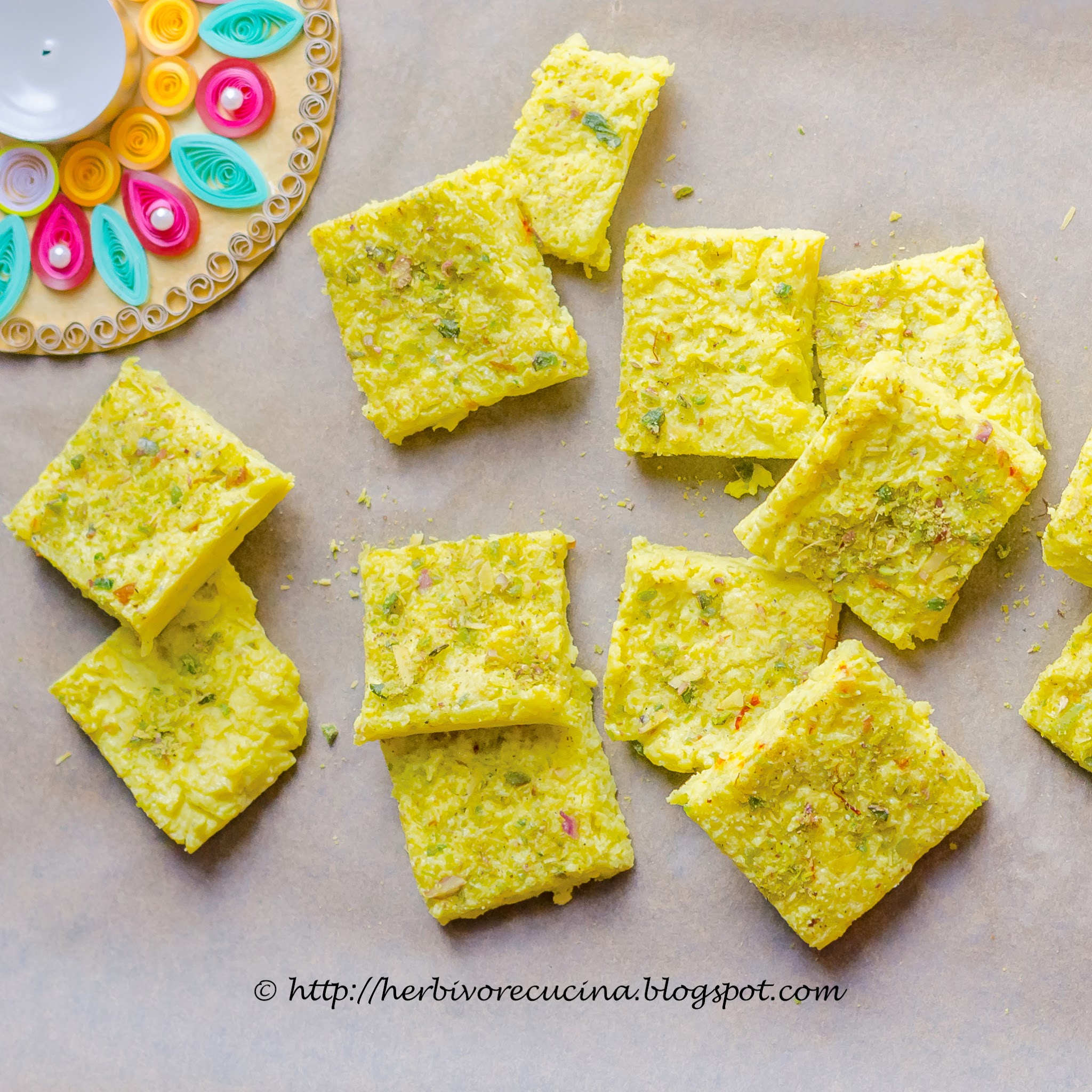 Ingredients
Dudhi/ Bottle Gourd peeled, seeded and grated 2 cups
Milk 1 ¼ cup ( I used 2%)
Mawa/ Milk Solids 100 grams
Sugar ½ cup
Cardamom Nutmeg Powder 1 tsp
Almonds and pistachios 2 tbsp, slivered
Saffron a few strands
Ghee 1 teaspoon + to line a tray
Method
Line a tray with ghee. Alternatively, line it with parchment paper and keep ready.
In a thick bottom pan, add the grated lauki and milk. Bring to a boil and keep stirring intermittently till the milk thickens the mixture. It will take anywhere between 10-12 minutes.
Once the mixture is thick, add mava, sugar and saffron. Mix well and keep cooking till it comes together as a lump. Make sure you stir it well, else it will stick to the bottom. Once the mixture is almost dough like, add a teaspoon of ghee and cardamom nutmeg powder. Mix well and transfer to the tray. Spread out using a ladle and make an even layer in the tray.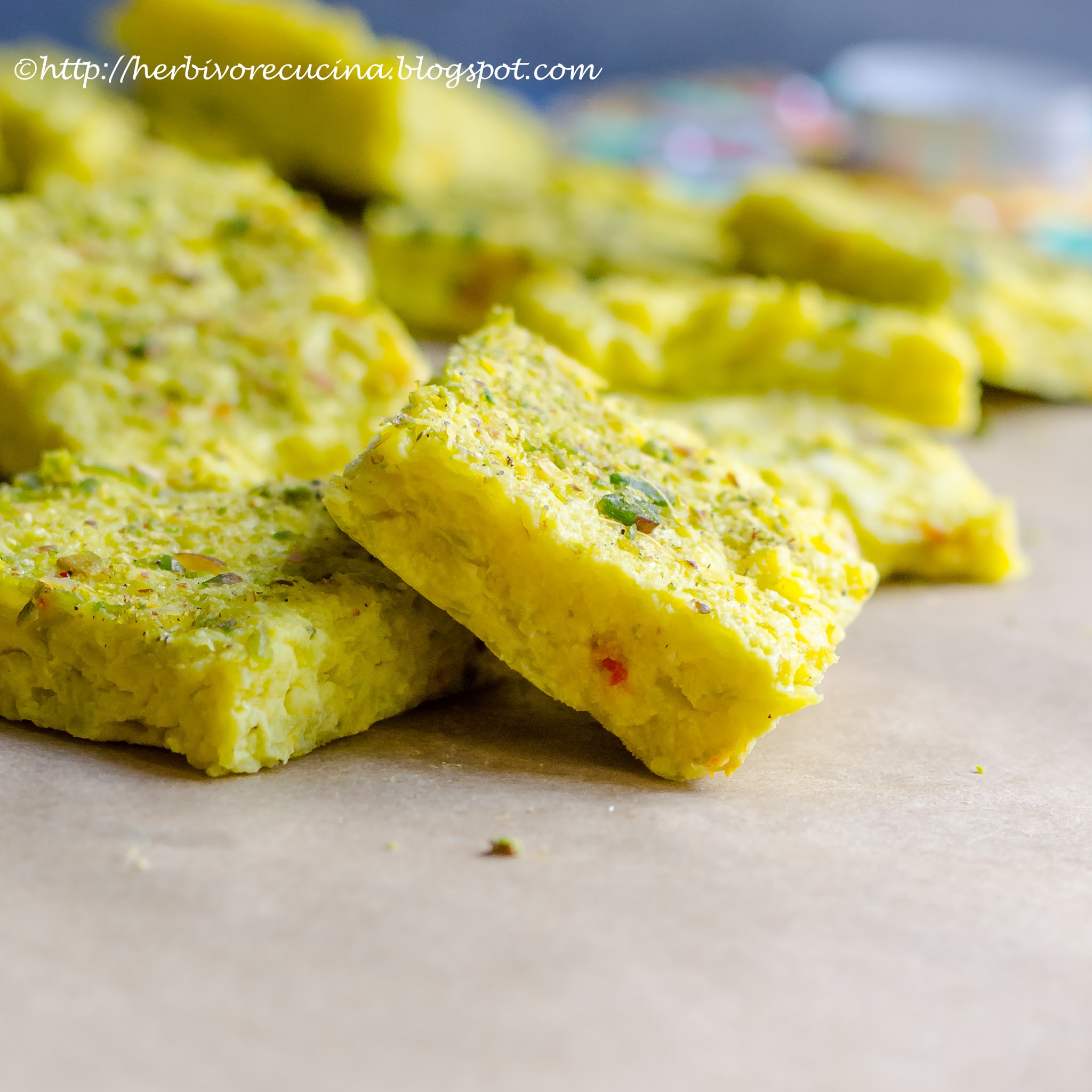 Sprinkle some saffron, pistachios and almonds. Press it down and let the barfi cool. Once it is room temperature, make cuts using a sharp knife. Transfer the tray to the refrigerator and let it cool for a couple of hours.
Remove, separate the pieces and store in an airtight container for upto a week.
Check out the Blogging Marathon page to see what the other Blogging Marathoners are doing this BM#66