Blogging Marathon #69 Week 3 Day 1
Theme: Indian or American Sweets
Dish: Sweet Saatha


Diwali is around the corner and I am already excited about the Festival of Lights! Celebrated over five days in the month of October/ November, this is the favorite festival of most Indians! I love it too. We celebrate the festival by decorating the house with rangoli, a design made on the floor using powdered color; putting lights in the patio; lighting lamps and of course devouring a truck load of sweets!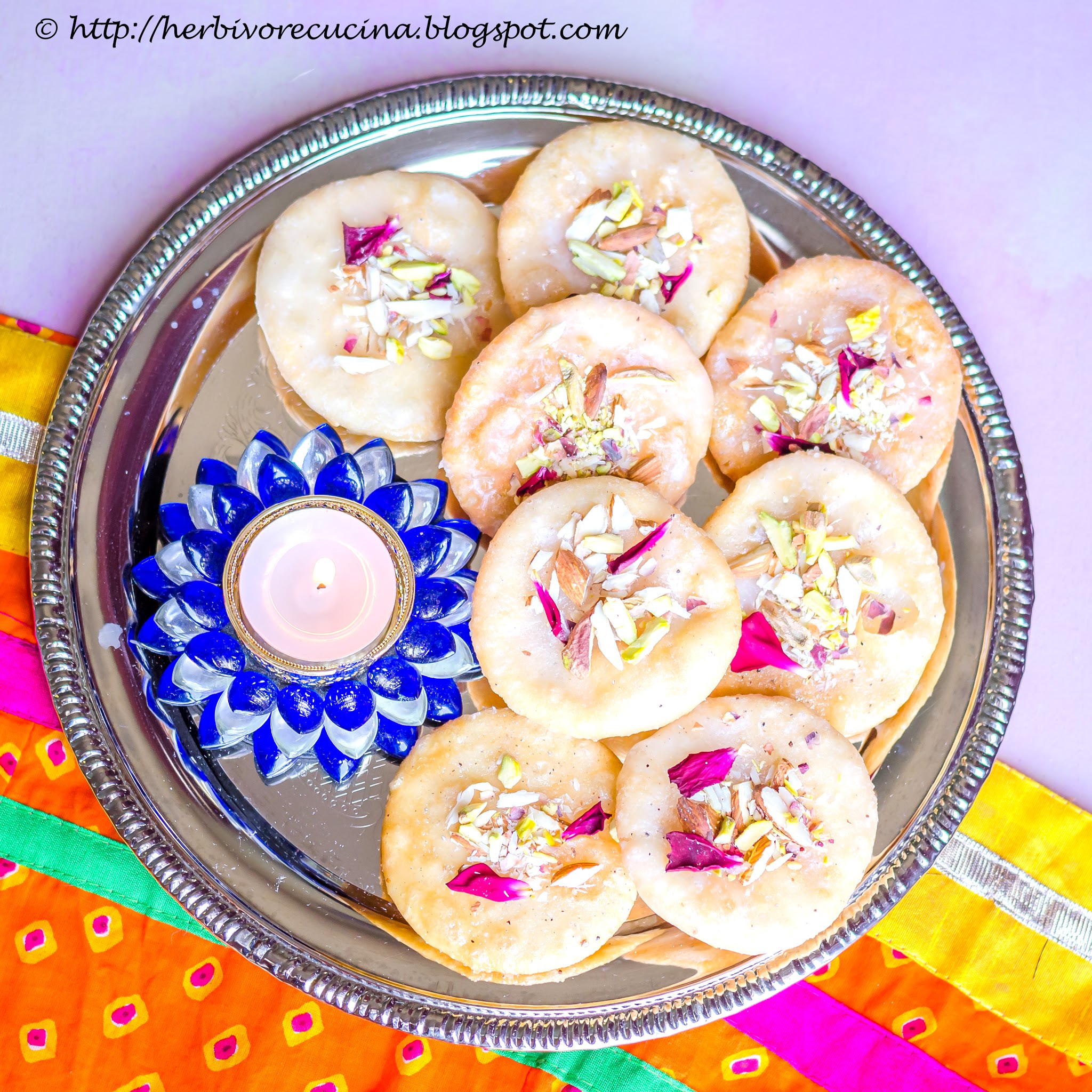 While some sweets are traditional to the festival, I like to try something new each year. This year I plan to make these sweet saatha. For those not familiar with the sweet, this is a Gujarati sweet that is not commonly made at home. Discs of flour are fried, coated with cardamom infused sugar syrup that will crystallize on cooling and decorated using almonds, pistachios and dried rose petals. This sweet is handed out as prasad in the temple that is pretty close to my house back in India. Whenever I go back home, I simply love to the temple to get these rounds of goodness!

This week for the Blogging Marathon, my theme is any Indian or American sweets. Given that the Indian festive season is around the corner, I decided to make three Indian sweets. This first sweet is a traditional one from India. Pretty high on calories, Sweet Saatha pretty addictive!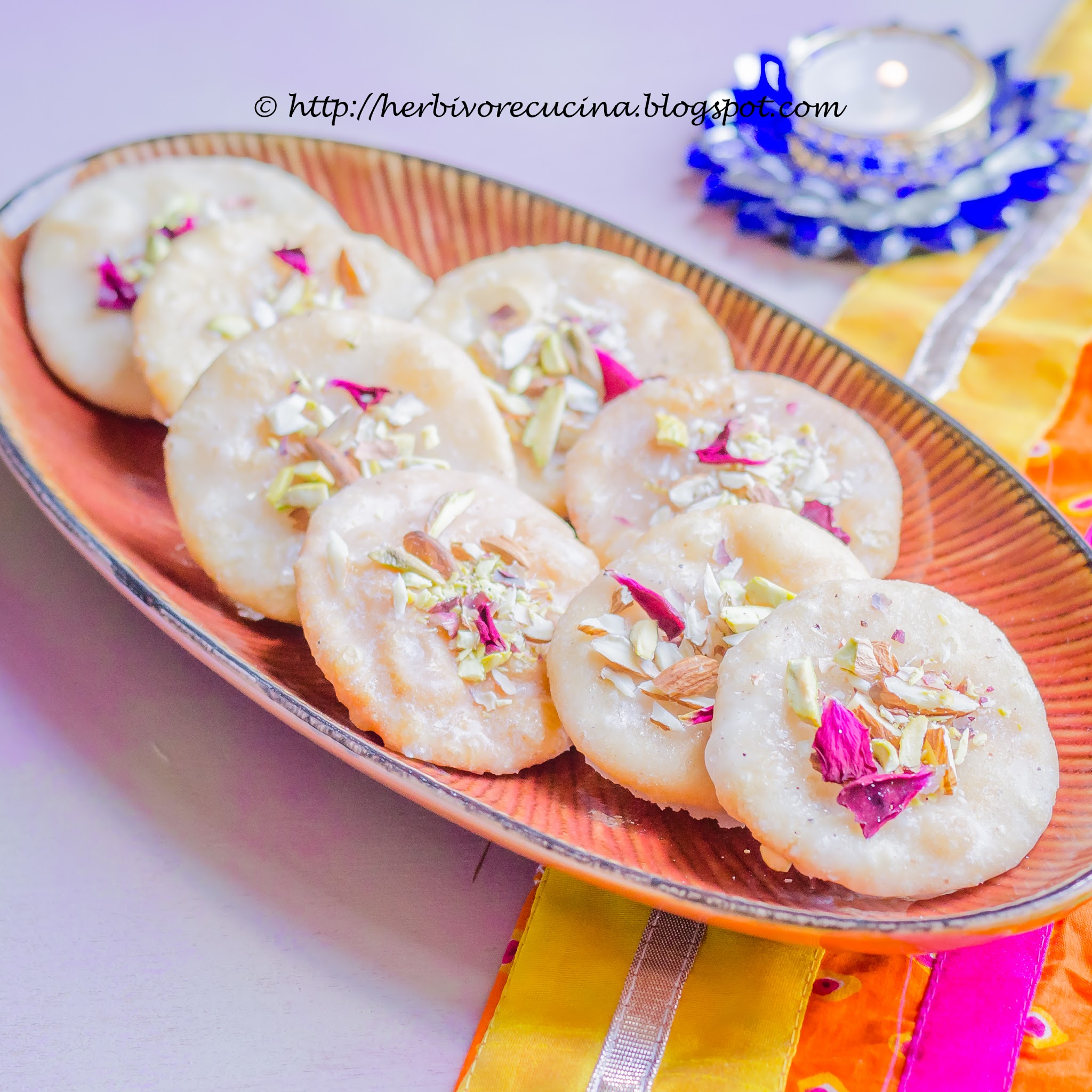 I made these saathas for Ganpati and Navratri and now I am tempted to make more for Diwali. The recipe is pretty simple to follow, and I have modified the original recipe from here. The steps to make this one includes rolling out discs of flour, frying them and dipping them in sugar syrup. While the recipe called for frying in ghee, I fried the discs in oil. You may choose to fry them in either oil or ghee. Decorate them as you like, either with almonds and pistachios or rose petals. However, they taste really awesome without all the add-ons too.


Adapted from here
Ingredients


For the puris
Allpurpose Flour 1 cup
Sesame Seeds 1 teaspoon (optional)
Ghee/ Oil 2 tablespoon (Room Temperature)
Oil to fry

For the sugar syrup
Sugar 2 cups
Water ¼ cup
Cardamom Powder 1 tsp
Saffron strands, a pinch

To decorate
Almond, pistachios 3-4 tablespoon slivered
Dry Rose Petals (Recipe at end of post)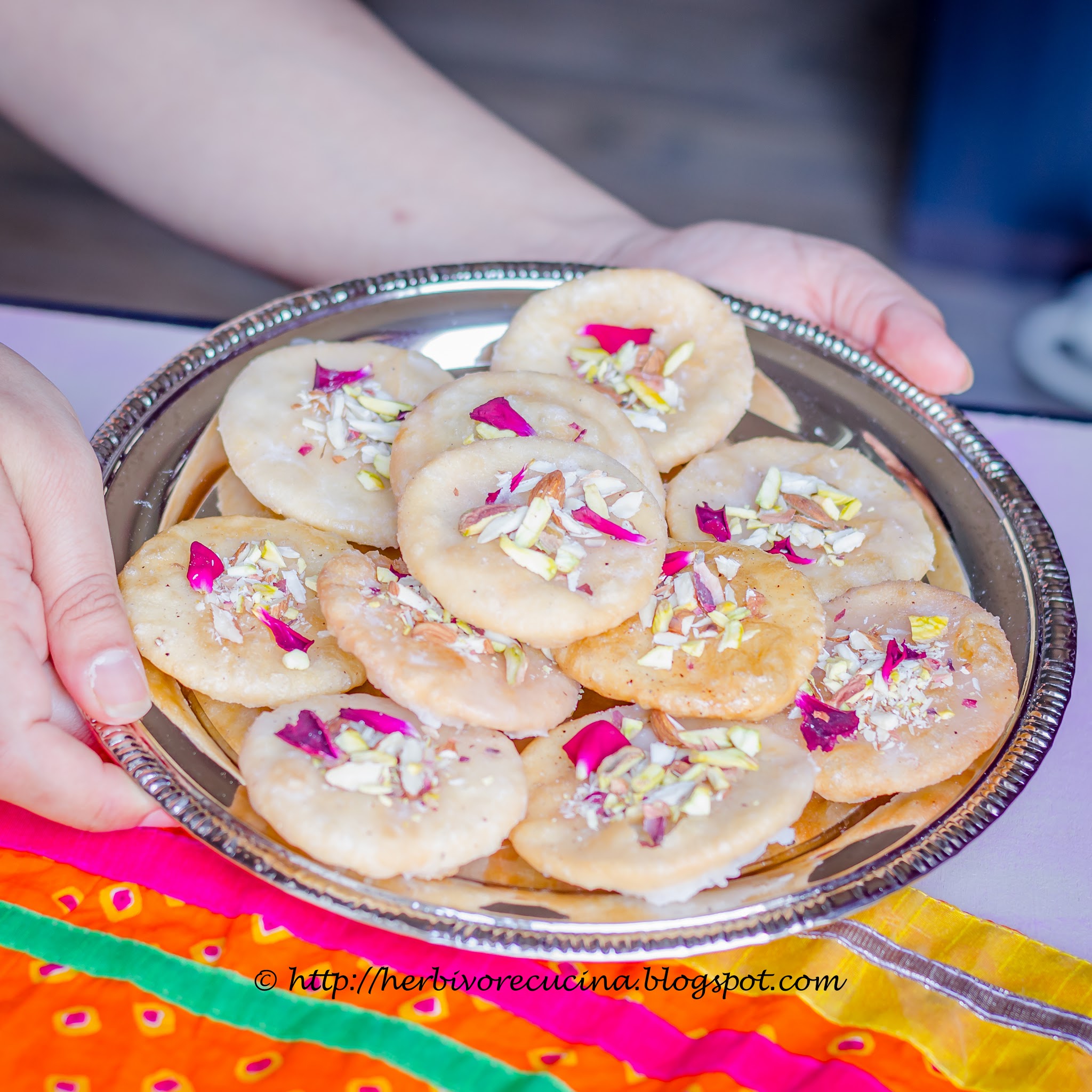 Method


In a bowl add the flour, 2 tablespoon oil or ghee and sesame seeds if using. Mix well to make a crumbly mixture. Add about ¼-1/2 cup water and make a stiff but smooth dough. Cover and let the dough rest for 20-30 minutes. After that time, knead the dough and divide into two parts.

Using one part roll out the dough to a circle of about ¼ inch thickness. Using a cookie cutter of 2 inches diameter, cut out the saathas. Repeat with the leftover dough. Using a fork, make holes in all the saathas, to avoid them from puffing up like puris. Set all the discs aside.

Heat oil in a pan. Once it is hot, drop a couple of puris and fry them on medium flame till the color is light brown and it becomes crispy. Remove and place them on a kitchen towel. Let them cool completely.

Meanwhile prepare the sugar syrup. To do so, heat the sugar and water in a pan. Stir it well. Once the sugar has melted and the mixture becomes sticky, remove from flame and stir in cardamom powder and saffron.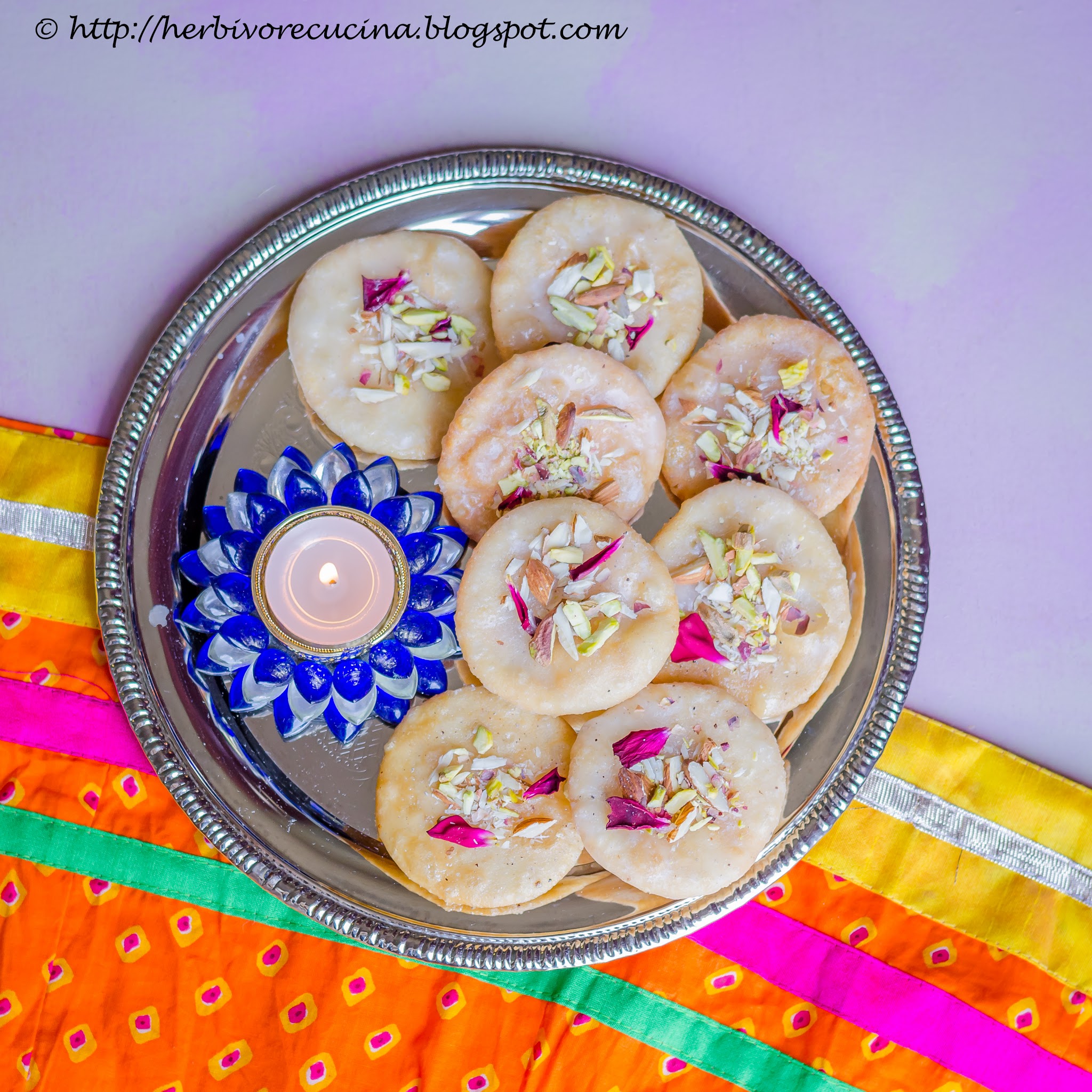 By now the saathas would be cool. Line a tray with parchment paper and keep ready. Dip the saathas one after the other in the syrup using a pair of tongs. Coat them well in the sugar syrup and place them on the parchment paper. Decorate with slivered almonds and pistachios. Place a few petals of rose too. Let the syrup dry on the saathas. The sugar will crystalize really beautifully and all the decoration will adhere to it. Once cooled, store them in an airtight box.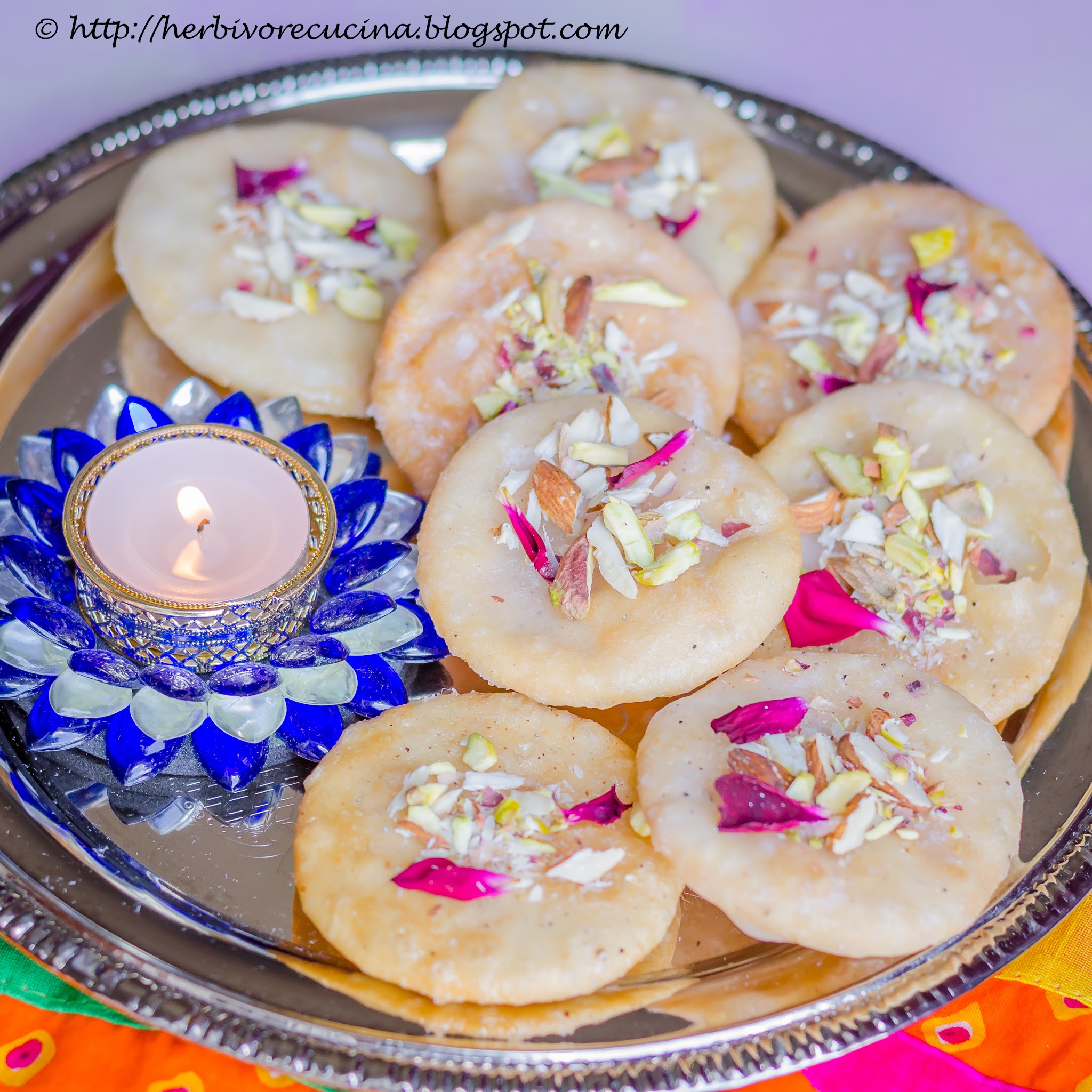 To make the dried petals at home, follow this: Separate the petals from a bright pink rose after washing the flower. Lay them on a paper towel and let them dry completely under the fan. Once they are dry, place the petals with a paper towel below and above. Microwave for a minute. If the petals are not completely dry, microwave for another 30 seconds. Once they are completely dry, remove and store in an airtight container. Use the petals as required.
Check out the Blogging Marathon page to see what the other Blogging Marathoners are doing this BM#66