How to make Edible Fake Blood for Halloween recipes. Five ingredients, ready in under two minutes and perfect for all dishes!
Halloween is around the corner and it is time to bring out all the decor, recipes and all things spooky! October 31st is Halloween and leading up to that day, people indulge in various Halloween activities include trick-or-treating, dressing up and attending Halloween costume parties, carving pumpkins into jack-o'-lanterns, decorating the patios and front yards with pumpkins and Fall decor, lighting bonfires, divination games, playing pranks, visiting haunted attractions, telling scary stories and watching horror films.
To kick off the holiday season, I started with the basic recipe. In most Halloween baking, drinks, desserts and main course, the famous ingredient is BLOOD. Yes, have you seen the red lined glasses full of halloween drinks, desserts smeared with blood and mains with a splash of red? To make all of these one would need to make edible blood.
And that is exactly what you are about to read; how to make edible blood. I had told my husband I was going to make Halloween desserts last week. I made this in the day and was pretty happy with the result. But there is always some need for feedback. To get an honest feedback, I clicked the picture below and sent it to my husband. Working in office he saw the hand with BLOOD and replied that it was perfect! That is when I was more confident of the consistency and color and used it to decorate red velvet cakes (recipe coming up) for Halloween.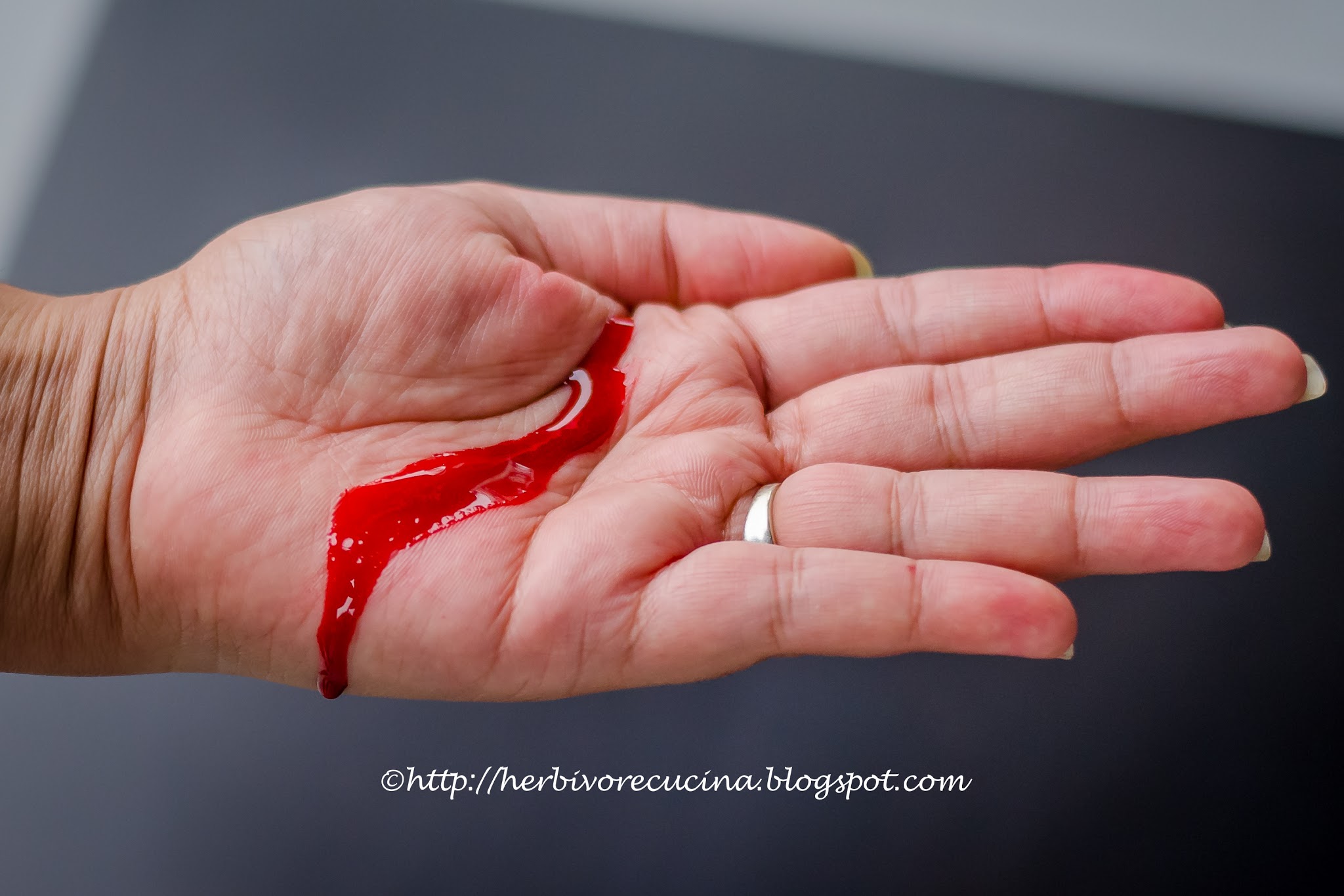 The thought behind this recipe is to get a bright red colored mixture that will flow a little but be thick and look like real blood. The ingredient to get the color is Red Velvet emulsion. It can be substituted with red gel color too. Because it is generally used with sweet dishes, sugar and cornstarch forms the base for the blood. Honey helps keep the consistency right for it. And because red velvet is a little too red to look like blood, I used unsweetened cocoa to get a darker tinge. While the proportions mentioned below work pretty well, make changes if required to get the correct consistency. Use this red liquid to smear all your halloween creations!
Ingredients
Powdered Sugar 2 tbsp
Honey 1 tsp
Cornstarch 1 tsp
Red Velvet Emulsion 2-3 drops
Unsweetened Cocoa Powder a pinch
Water few drops
Method
In a bowl mix Powdered Sugar, Honey, Corn Starch, Red Velvet Emulsion and Unsweetened Cocoa Powder. Add water as required to get the right consistency. Also, add some more of the cocoa depending on the color required. Use as needed and store in an airtight container.