This shop has been compensated by Collective Bias, Inc. and its advertiser. All opinions are mine alone. #daretodip #idaretodip #CollectiveBias
Graveyard Tomato Hummus; a dip FULL of flavorful chickpeas, RO*TEL® and a couple of other ingredients. Served with Halloween inspired Pita Chips, this is a PERFECT appetizer for any party!

Are you ready for all things Halloween? We are in Fall, October is speeding by and before we know it, Halloween will be here! Yes, the PERFECT day to indulge in theme party or just cook up a storm for the family.
Every year I make a few Halloween inspired recipes for my family and this year is no exception. I am kicking off Halloween dishes with this Tomato Hummus and Pita Chips.
Super quick and easy recipe thanks to my trusted can of RO*TEL® Original Diced Tomatoes and Green Chilies, this hummus needs only a handful of ingredients and comes together in UNDER 10 minutes! Plus, I served it with easy to make Halloween Pita Chips. Together, the chips and the dip is a PERFECT match! Would you DARE TO DIP??
Everything you need to make the Tomato Hummus
As I mentioned above, this recipe needs just a handful of ingredients. The great news is that you can easily find ALL the ingredients in one trip to Walmart. Here is what you need to make the dish:
Chickpeas: The recipe can be made using canned chickpeas or fresh. If using fresh, make sure you soak them for atleast 12 hours before boiling and using them. I prefer canned chickpeas because it gives a great texture.
RO*TEL® Original Diced Tomatoes and Green Chilies: An easy way to add kick to regular hummus is to include a couple of cans of these. They are delish and known for delivering bold adventurous flavor to the dip.





Garlic: One of my favorite ingredients to get an extra zing to the hummus. I would strongly recommend adding that for flavor.
Sesame Seeds: An easy substitute for tahini, coarsely ground sesame seeds add a lot of texture to the dip. This can be substituted with tahini if desired.
Olive Oil: Using good quality olive oil is the best option for the dip. It helps get the perfect creaminess to the hummus.
Hover over the image below to get everything you need. RO*TEL® Original Diced Tomatoes and Green Chilies can be found in the canned tomato aisle at Walmart.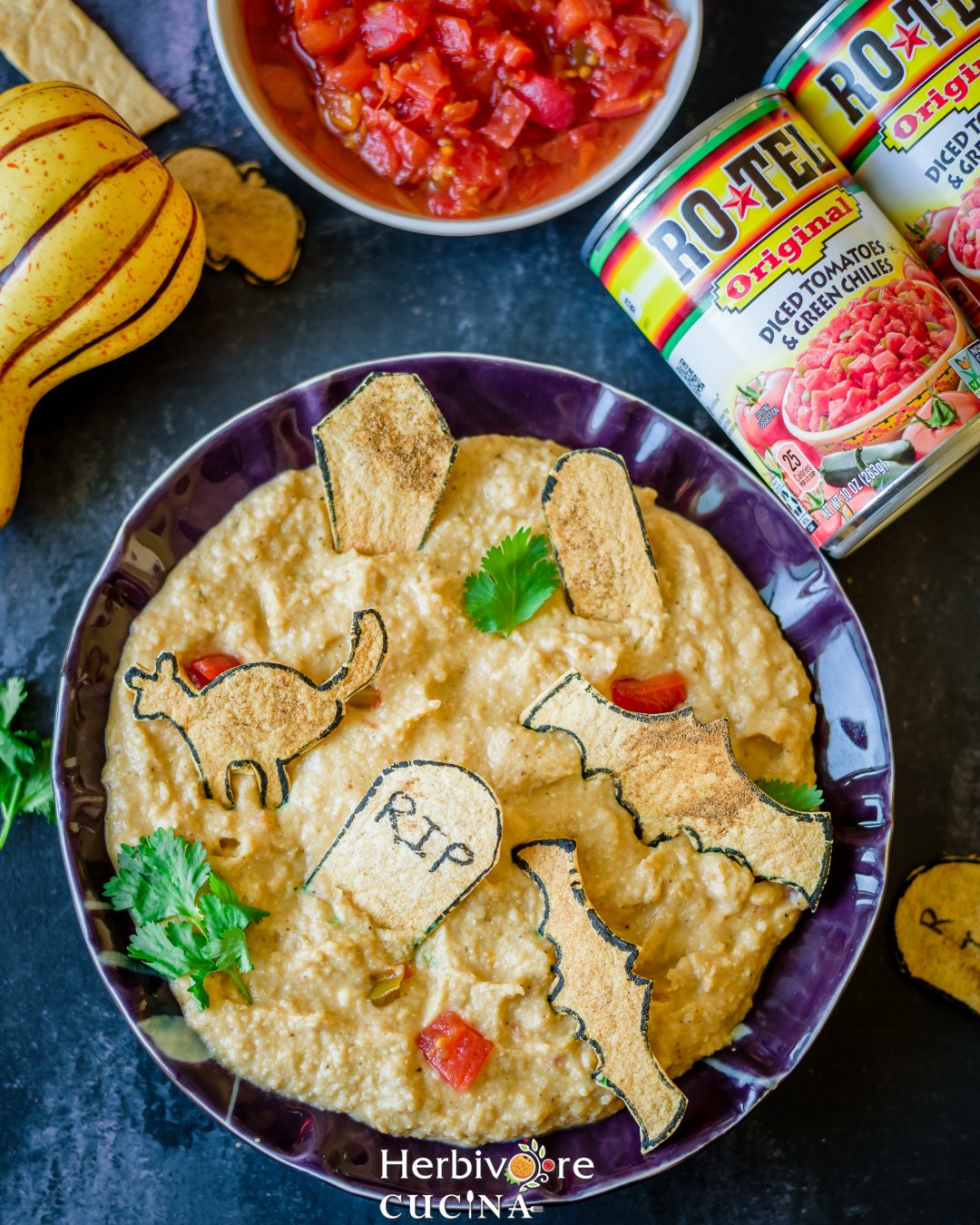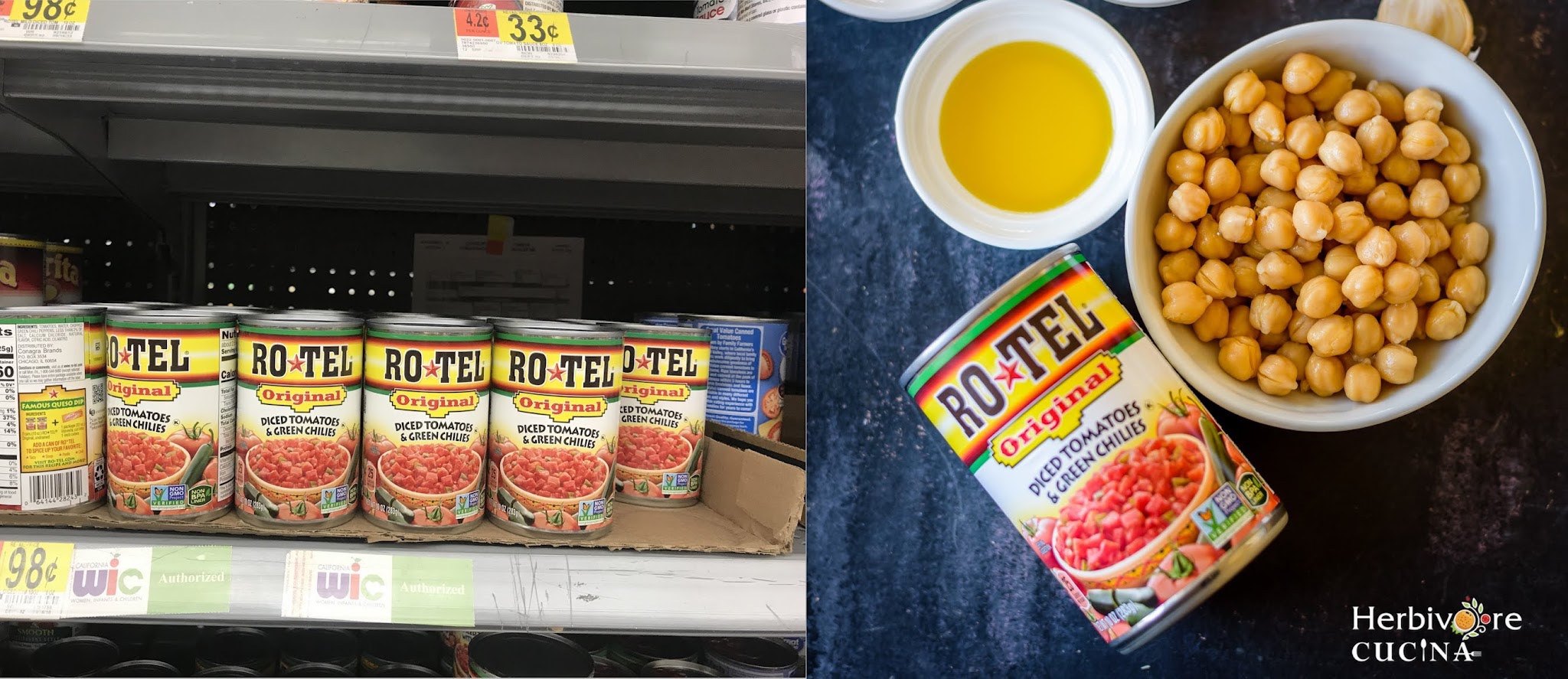 Making homemade Halloween Pita Chips
When you make a graveyard theme dip, you NEED some perfect chips to complement it. Pita chips are great with any hummus and when they are shaped like graveyard creatures, it completes the Halloween appetizer perfectly.
I used Pita chips from the store and used a sharp knife to cut out the shapes. Using Halloween themed cookie cutters works well too. Plus, having an edible marker to highlight the chip borders and draw more details in them is a great idea. I use these markers for chips, cookies and sometimes cakes too.
The chips take only about 5 minutes of preparation time and 9-10 minutes to bake. They are an awesome opportunity to get kids involved in the process too. Let them draw out their favorite shapes while the dip is being made!
Serving the dip and chips
Now that we have the components of the dish ready, it is time to decide how to serve everything.
I like to use a shallow platter to serve this dip. It is a lot of fun to decorate the 'grave' using the sand colored dip and graveyard inspired chips. Plus it makes a great center piece for Halloween parties.
Another great way to serve this dip is to fill it in individual cups and top each with a graveyard theme chip. The remaining chips can be served in a bowl to share. Looking for more Halloween theme ideas? Check these out!
Ingredients
For the hummus (serves 8-10)
RO*TEL® Original Diced Tomatoes and Green Chilies 2 cans
Canned Chickpeas 2 cans drained (reserve the liquid)
Garlic 5-6 cloves
Olive Oil ¼ cup
Sesame Seeds 4 tsp
Salt 1 ½ tsp
Black Pepper Powder 2 tsp
For the Chips
Pita Bread 2-3
Black Pepper Powder ½ tsp
Black Edible Marker
Cooking spray as required
Method
Tomato and Chili Hummus
In a blender add the all the ingredients except the chickpea liquid. Blend to a coarse consistency. Add 2-3 tablespoon of the reserved liquid and blend to an almost smooth mixture. Set aside.
Homemade Halloween Pita Chips
Using an edible marker draw out shapes like graves, bats, cats and coffins. Use Halloween cookie cutters if desired. Sprinkle pepper powder on them.
Preheat oven to 350 F/ 180 C. Spray a cookie tray with cooking spray. Place the pita chips and bake for 9-10 minutes till crisp. Use the marker to decorate the chips.
Serving the Halloween Platter
In a shallow platter add the hummus. Place the halloween pita chips on the hummus and serve.