We are ten days away from Halloween, the day we celebrate everything spooky! For the first time, I am posting recipes related to the theme. I posted fake edible blood a couple of days back, and now using that you can make these spooky Red Velvet Cupcakes. Since a long time I have been wanting to make red velvet cakes. But I was always skeptical about using so much color in my food. Finally I got over that and decided to make a batch. The result was spectacular and the very next day I made a big red velvet cake and decorated it in a non spooky way! That recipe will come up on the blog soon.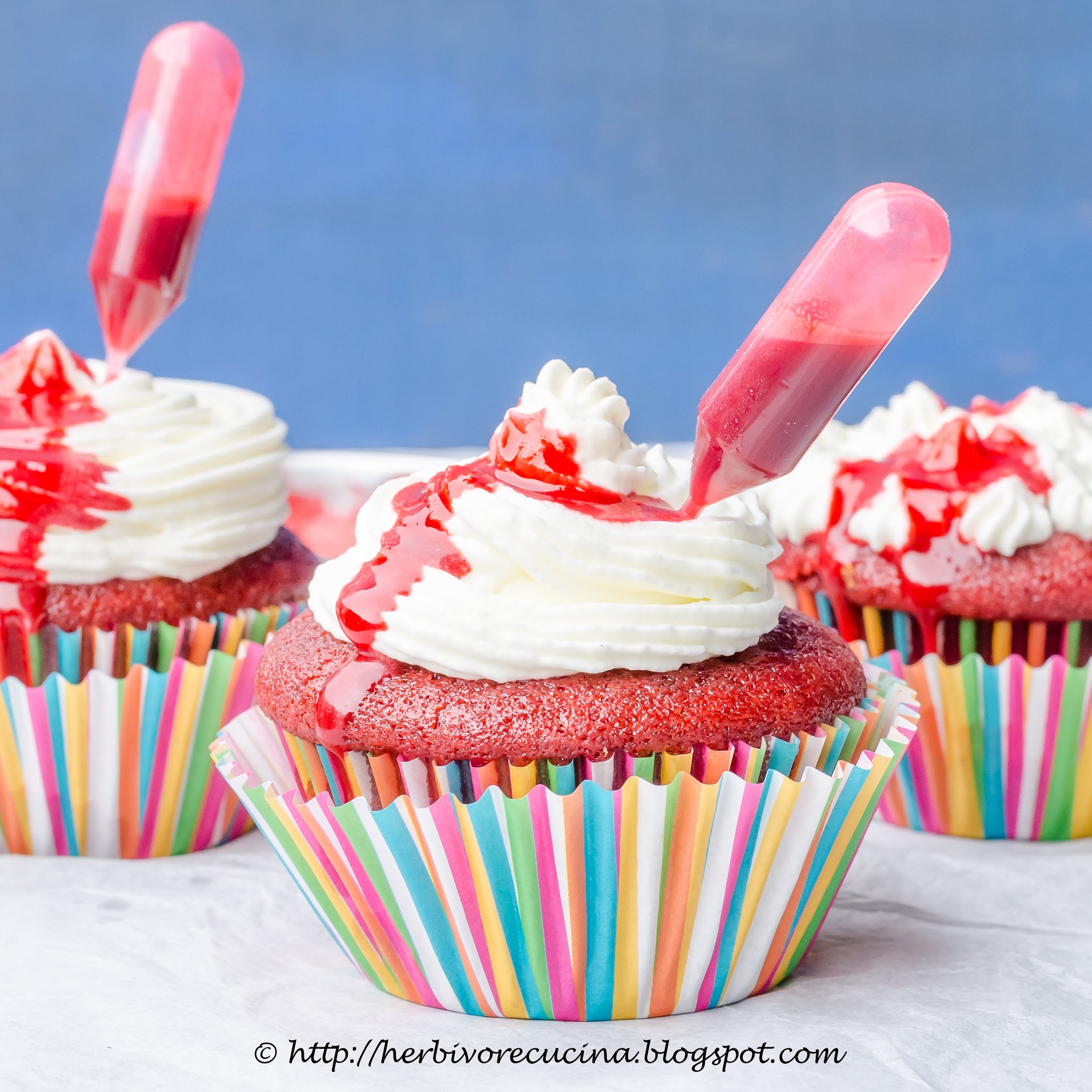 For those not familar to the red velvet craze, here is a small introduction to it. A once classic red cake interleaved with cream cheese filling has spread its color and name to everything: cupcakes, cookies, protein powder, breads, waffles, lattes, teas and every dessert. What's more interesting is the red velvet air freshener and body wash and salt! Yes, we are officially living in a red world now. I made Red Velvet pancakes on Valentines' Day and here is the second recipe using the emulsion; Red Velvet Cupcakes.
This recipe is similar to most recipes of an eggless cake. The minor modifications I made is to make this one eggless. I have a lot of readers who wanted an eggless cake. So I decided to make this one to suit them all! The taste however is not at all compromised in trying to make it eggless. The cake is perfectly soft and so is the crumb.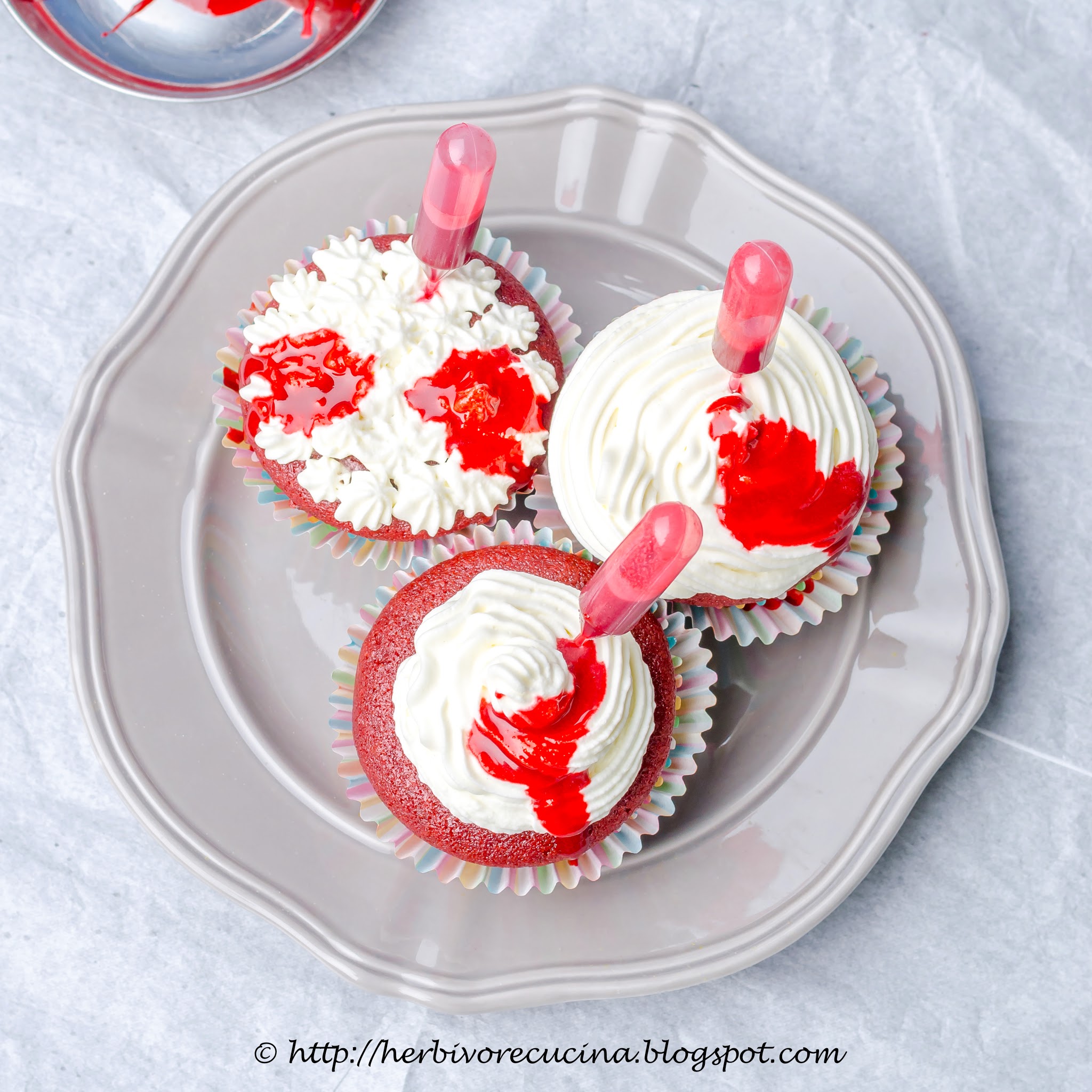 For those who want an eggless Vanilla cake, just substitute the red velvet emulsion with vanilla extract. It will work perfectly well. Just a precaution like all other cakes, measure the ingredients exactly; remember two half cup and one full cup is not interchangeable. Also sift the flours well to incorporate air in them. And yes, make sure all your ingredients are at room temperature when you start. Different temperatures lead to failed cakes!
Coming to the topping, I used heavy whipping cream instead of cream cheese. We do not fancy cream cheese as much as soft whipped cream. Also, I used a stabilizer for the first time. I read this method in the Eggless Black Forest Cake on Pavani's blog and quickly wanted to try it out. The stabilizer works like MAGIC. It helps to get firm peaks quickly and hold the peaks really well after a few hours too. No more leaky cakes!! I added vanilla extract to get a flavor to the cream.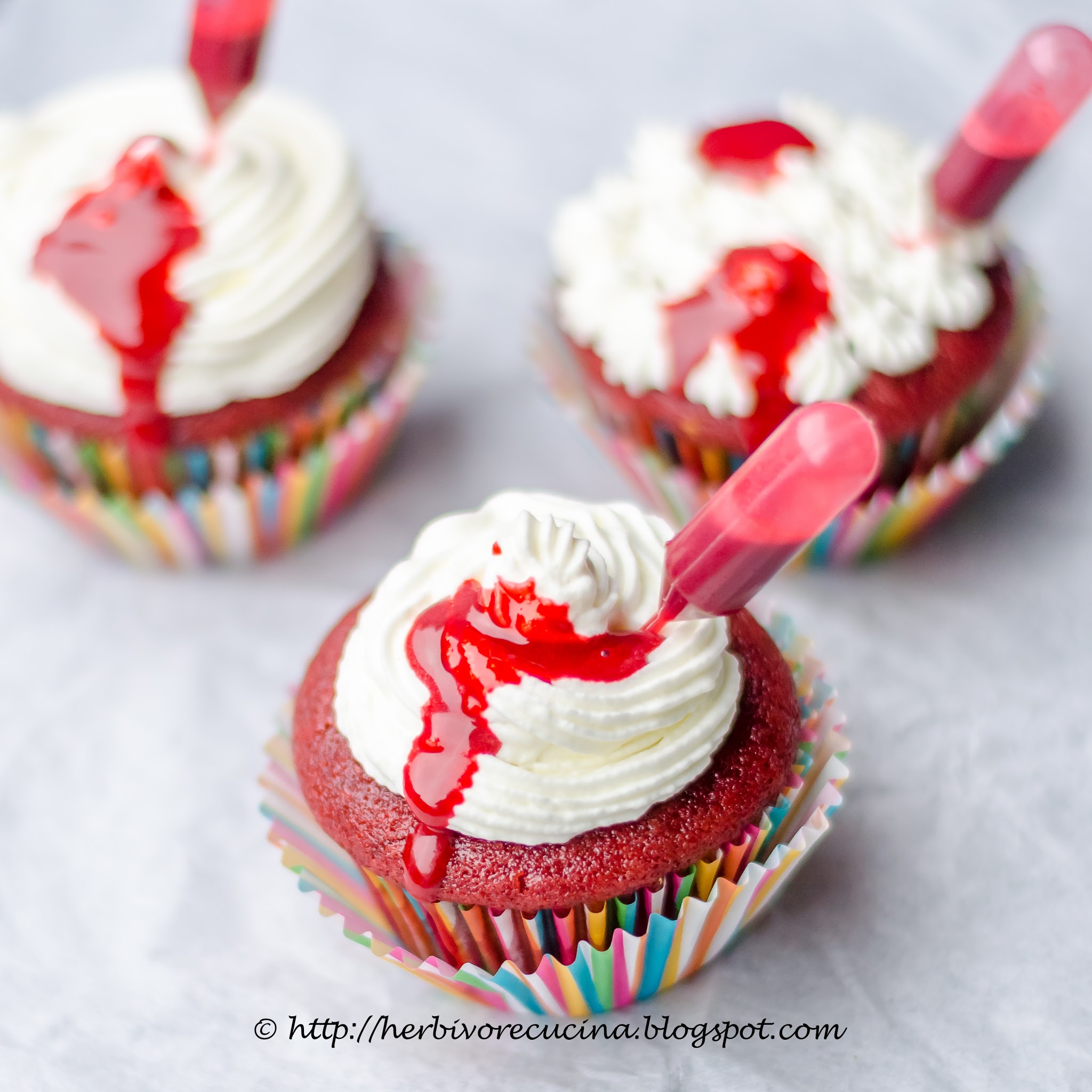 On top of the cream, I added some Fake Edible Blood. Also, I have a set of pipettes to infuse flavor. I filled them with the 'blood' and poked them into the cakes. That makes the entire setup perfect for Halloween. However, if you cannot find those infusers, just smear some 'blood' on the cream. You may refrigerate them before serving. But keep them at room temperature for 15-20 minutes before eating. That helps to get the liquid in the pipettes to flowing consistency. Just squeeze the liquid into the cupcakes and enjoy!


Pin for Later



Ingredients
For the Cupcakes
All purpose Flour 1 ¼ cup
Corn Flour 3 tbsp
Baking Soda 1 tsp
Powdered Sugar 1 cup
Buttermilk 1 cup (1 teaspoon vinegar mixed with 1 cup milk)
Oil ½ cup
Vinegar 2 tsp
Unsweetened Cocoa Powder 2 tbsp
Red Velvet Emulsion ½ tsp
Salt a pinch
For the Icing


Heavy Whipping Cream 1 cup
Dr. Oetkar's Stabilizer ½ packet
Powdered Sugar 2 tbsp
Vanilla Extract 1 tsp
Fake Edible Blood as required
Method


For the cupcakes


Preheat oven to 350 F/ 180 C. Line the cupcake tray with liners and keep ready.
In a bowl sift together flour, cornstarch, baking soda, unsweetened cocoa and salt. In another mixing bowl, beat oil, sugar, buttermilk and vinegar. Once it becomes homogenous, add red velvet baking emulsion and mix it in. Add half the dry ingredients, incorporate well and add the remaining. Mix till just combined. Do not over mix.
Using an ice cream scoop or by eyeballing, divide the mixture into the cupcake mould. I got 12 with this proportion. Place in the oven and bake for 18-20 minutes till the top is no longer wobbly. Insert a skewer in the centre of one of them. If it comes out clean, remove from oven, else bake another minute.
Let the cupcakes cool completely for a few hours.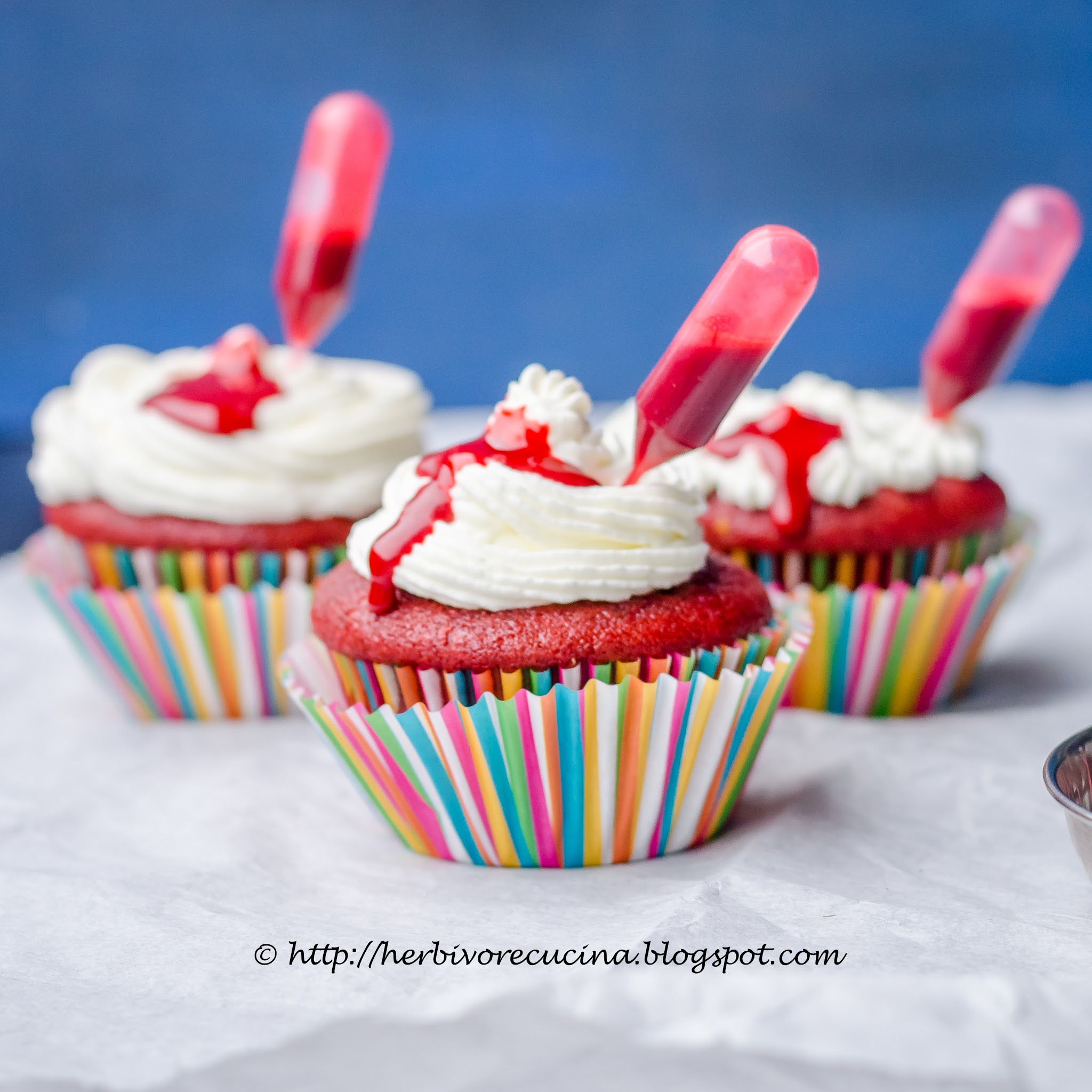 To make the icing


Chill a steel bowl and beater for 30 minutes. Then, add a cup of cream, stabilizer, sugar and vanilla extract. Beat till you get firm peaks. Fill in a piping bag and decorate the cupcakes.
I used these pipettes to fill it with fake edible blood made using this recipe. Poke it on the filling and the cake. Also drizzle some liquid on the icing. Enjoy the cupcakes! To enjoy, squeeze out the liquid from the pipettes into the cake.