This is a sponsored post on behalf of Nielsen Massey and I have been compensated with a free product sample. All opinions are 100% my own.
A perfectly spongy Eggless Vanilla Sheet cake with a delicate whipped cream frosting. Need anything better to celebrate the arrival of Spring?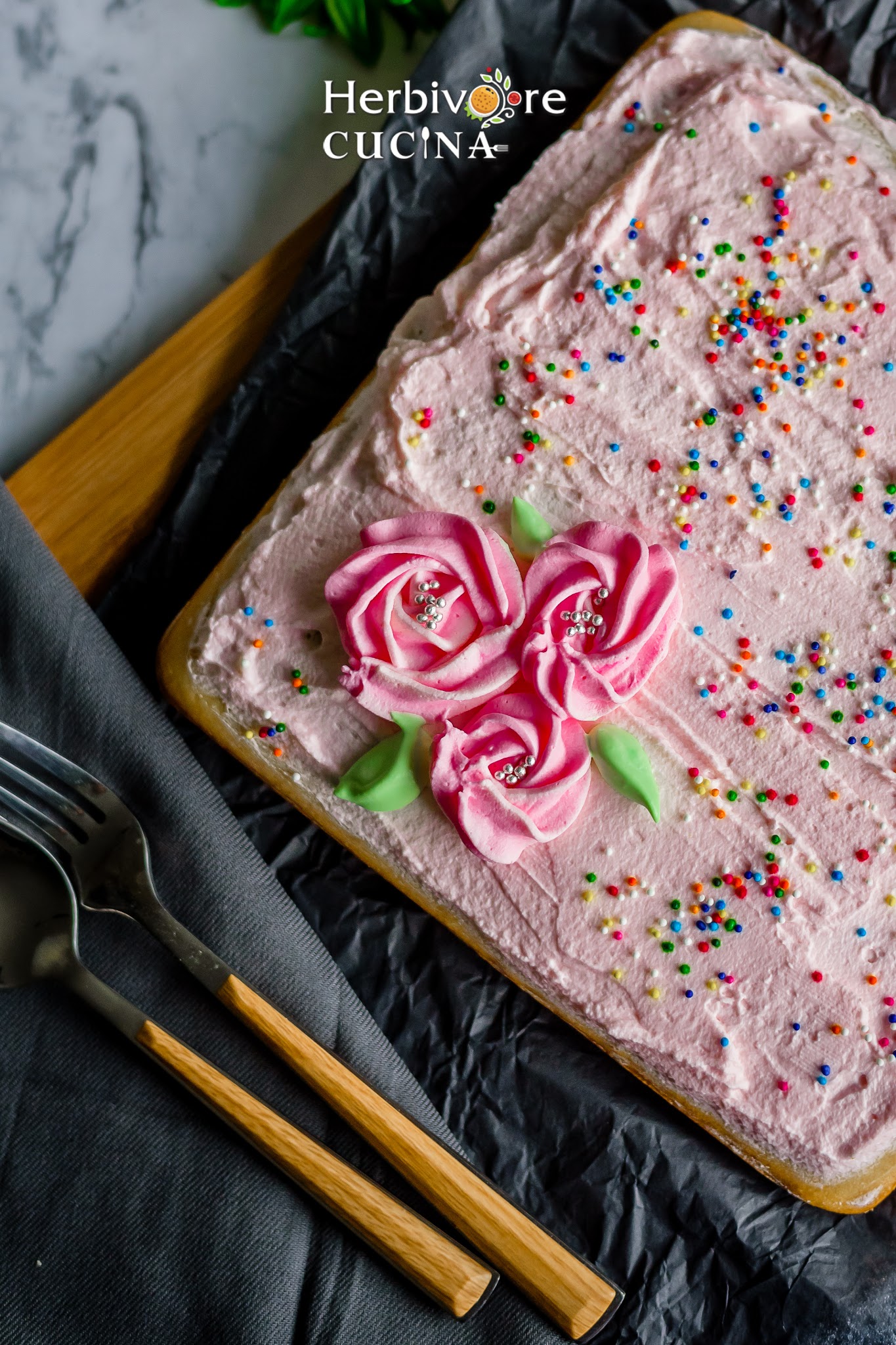 This year has been SWEET. I started off the year with some desserts and sweets and seem to be continuing the trend! I now have a TON of sweet recipes coming up, given the amount that I made in the last couple of months! My husband, who has a sweet tooth has been enjoying himself to the fullest. And I must admit, I seem to be developing a sweet tooth too.
For the longest time, I have never liked desserts and sweets as much as I have in the last few months. I have been working on multiple projects that focus on desserts lately. Plus Indian festivals coming each month. And finally a lot of bookmarked recipes that need to see the light of day. With all these things happening at the same time, we are celebrating everyday! It is someone's birthday somewhere, so why not have a cake for dessert tonight?
While I made a TON of Chocolate cakes all the time, I have been meaning to expand my horizon. My husband is a die hard fan of chocolate and so I always make something overloaded with chocolate. Personally, I love fruits and vanilla, but I can never get myself to finish the entire dessert myself!
Who doesn't like a good spongy Vanilla cake? I have always been a fan of fruity and simple flavors; vanilla being my favorite. For the longest time I have been meaning to put a yummy vanilla cake on the blog; but have been pushing it out for various reasons.
A great vanilla cake starts from the BEST Vanilla Extract. And what better than Nielsen Massey's Madagascar Bourbon Pure Vanilla Extract. That is a great flavoring agent for ALL things vanilla. I love their flavors and how a small quantity is so flavorful. I have tried their Coffee, Lemon and Orange in the past. Now I have their Vanilla Extract and it is amazing.
Coming to the recipe, I decided to give the traditional cakes a miss and make a sheet pan cake. This again has been on my mind for a while. Needing a simple frosting in a small quantity, these cakes are great for those who like the sponge. But bakers beware, this cake requires that the sponge be PERFECT! There is not much frosting to hide the shortcomings of the sponge. But fret no more, this sponge recipe is perfect for all kinds of cakes.
This cake is EGGLESS like many other bakes on the blog. I used to feel that eggless cakes are not as great. But after making them over and over again I realized how you can make them moist, yummy and perfectly spongy. If you like eggless bakes, try one of these cakes or muffins:
I topped this sheet pan with a vanilla flavored frosting and ditched the butter in the cake and the frosting. For sheet cakes, the idea is to frost them while still in the pan and serve them straight from the pan. So if you cannot get the frosting all around the sides, it is PERFECTLY okay. These cakes look best in their not so perfect form and are great for parties where each guest cuts it to the size they desire.
The result of this cake turned out amazing; a soft sponge that was moderate in sweetness, a sweet vanilla frosting that not just taste amazing; it is super cute with the light pink color there.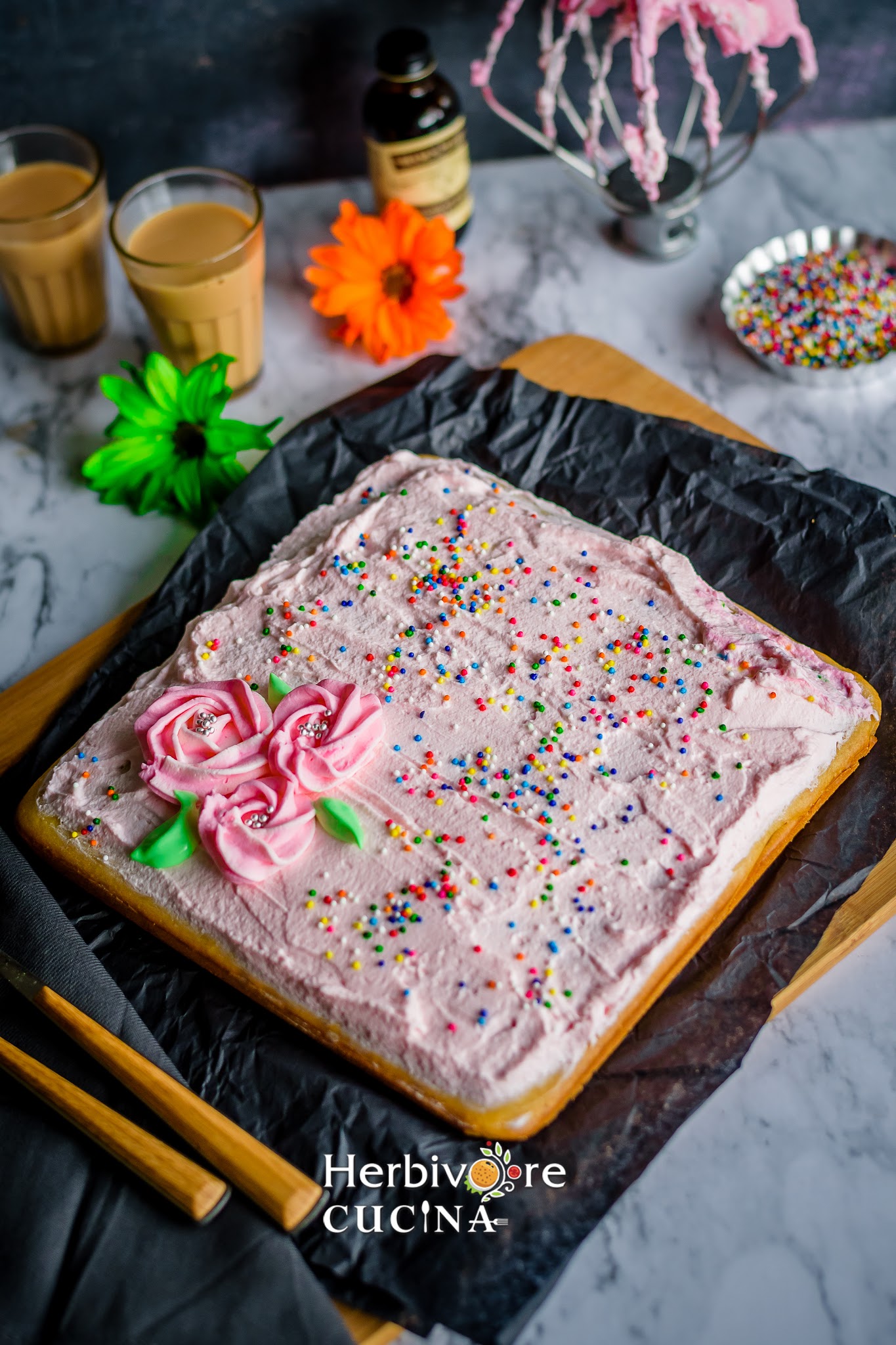 Variations
I kept the cake free from complex flavors to taste the vanilla only. However, if you like, add your favorite fruits in the batter to make this into fruity one. Make multiple cakes to layer them and convert the same recipe to a stacked cake.
The frosting I made is just whipped cream. However, use your favorite topping for the cake. Whether it is cream cheese or buttercream, make your favorite topping.
Are you a fan of decorated cakes? Ditch the frosting on top and use your best techniques to make a colorful cake.
Ingredients
For the cake
All purpose Flour 1 ½ cup
Confectioners' Sugar 1 cup
Buttermilk 1 cup (Can be substituted by 1 cup milk+1 teaspoon vinegar)
Oil ½ cup
Baking Soda 1 tsp
Pure Vanilla Extract 1 tsp
Salt a pinch
For the Icing and Decoration

Heavy Whipping Cream 1 ½ cup
Confectioners' Sugar 4 tbsp
Pure Vanilla Extract 1 tsp
Pink gel color a pinch
Green gel color a pinch
Sprinkles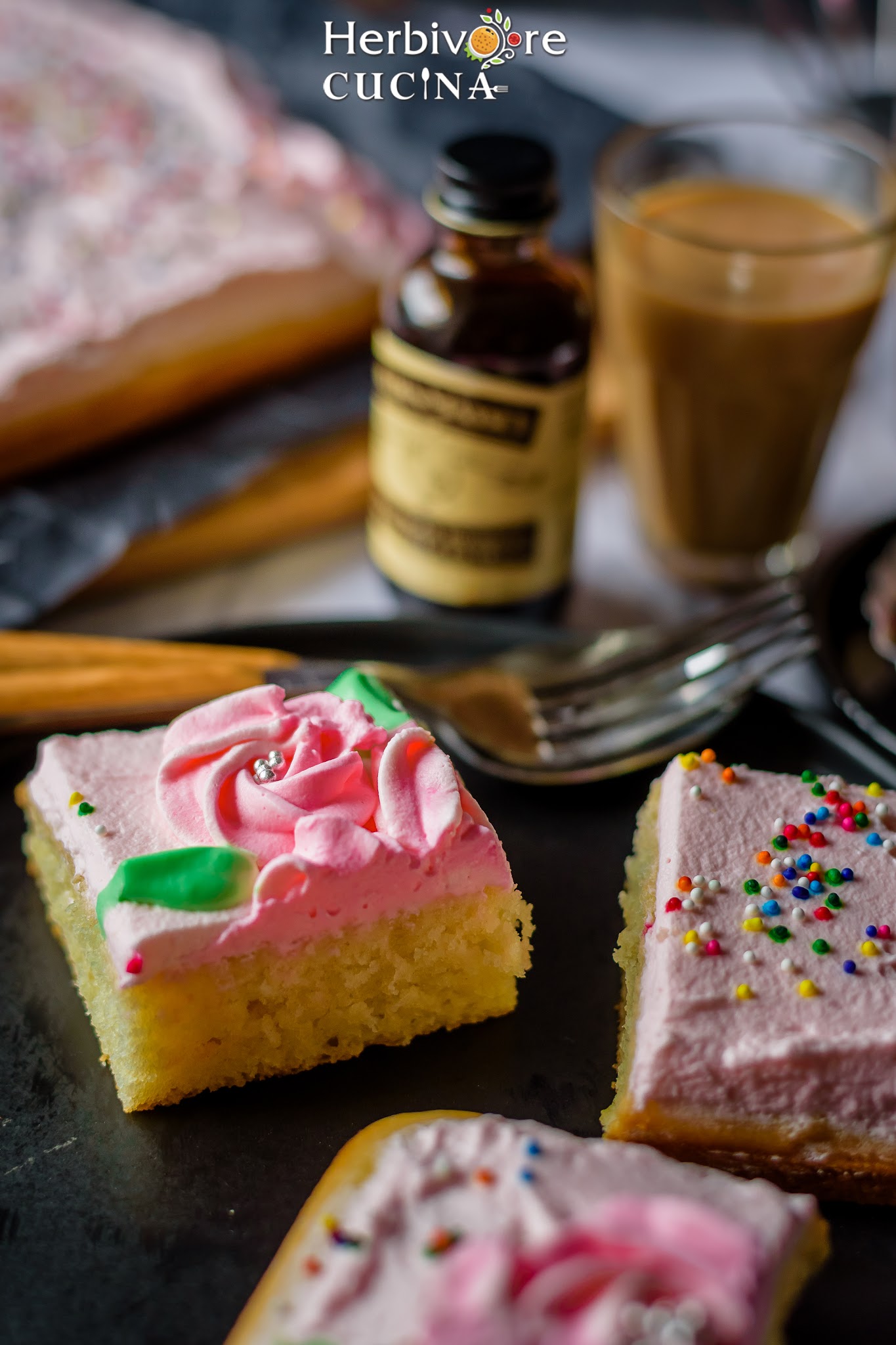 Method
To make the cake
Mix together milk and vinegar and let stand for 5-10 minutes. Preheat oven to 350 F/ 180 C. Line a 9*9 square pan with non-stick spray or parchment paper.
In a bowl sift together flour, sugar, baking soda and salt.
In the base of the stand mixer or in a big bowl mix together buttermilk, vanilla extract and oil. Whip till combined. Add in the dry ingredients and mix well.
Transfer the batter to the prepared pan. Bake for 20-22 minutes, till a toothpick inserted in the centre of the cake comes out clean.
Remove and cool on a cooling rack till the cake is completely cool.
To make the icing

In the base of a stand mixer add cream, vanilla extract and confectioners' sugar (can be substituted by 3 ½ tablespoon powdered sugar and ¼ tablespoon cornstarch). Beat till it has hard peaks.
Remove 2 tablespoon of the frosting and add in the pink color. Mix well and set aside. In the 2 tablespoon frosting that was set aside, mix in green color.
To finish off the cake
Spread the pink colored frosting on the cooled cake. Transfer some frosting to a piping bag and decorate by making flowers. Use the green to make leaves. Decorate using sprinkles and serve.