Layers of thinly sliced chocolate cake, vanilla flavored cream and homemade cherry filling. Need any more to make a sinful cake? Me thinks not!
It is July 2017 and it has been exactly THREE years since I first published a recipe on Herbivore Cucina. It has been such a great journey so far, full of love, luck and learning. I remember wanting to start my own blog, reading up all I could about food blogging and finally taking a shot at writing my own.
From the first time I pressed the 'publish' button on my Cupcake Handvo post to today, I have enjoyed every bit of blogging. Photography, cooking, recipe testing and interacting with fellow bloggers; it has all been perfect to explain the last three years in this space.
What started off as a passion and very little idea of how it will go, turned into something my husband and me are very proud of. We now have our very own small business and it is wonderful to see how it grows each day. From better and more relevant recipes to photography that is much better over the years, we changed quite a few things and are happy about it all.
This blog has a lot of critics and supporters. When I mess up on the pictures, my best friend always sends out an alert with corrections needed. She is a chef and food stylist and has been such a support throughout. Plus, my mom! She looks through every recipe and every social share. She reminds me of upcoming festivals, so that I have the recipes in queue.
Not to forget our friends who try out the recipe from the blog and give us a lot of constructive feedback and new ideas. The bigger the blog becomes, the more I thank my grandma. She taught me almost all the cooking I know and I am sure she would be super proud of my space today.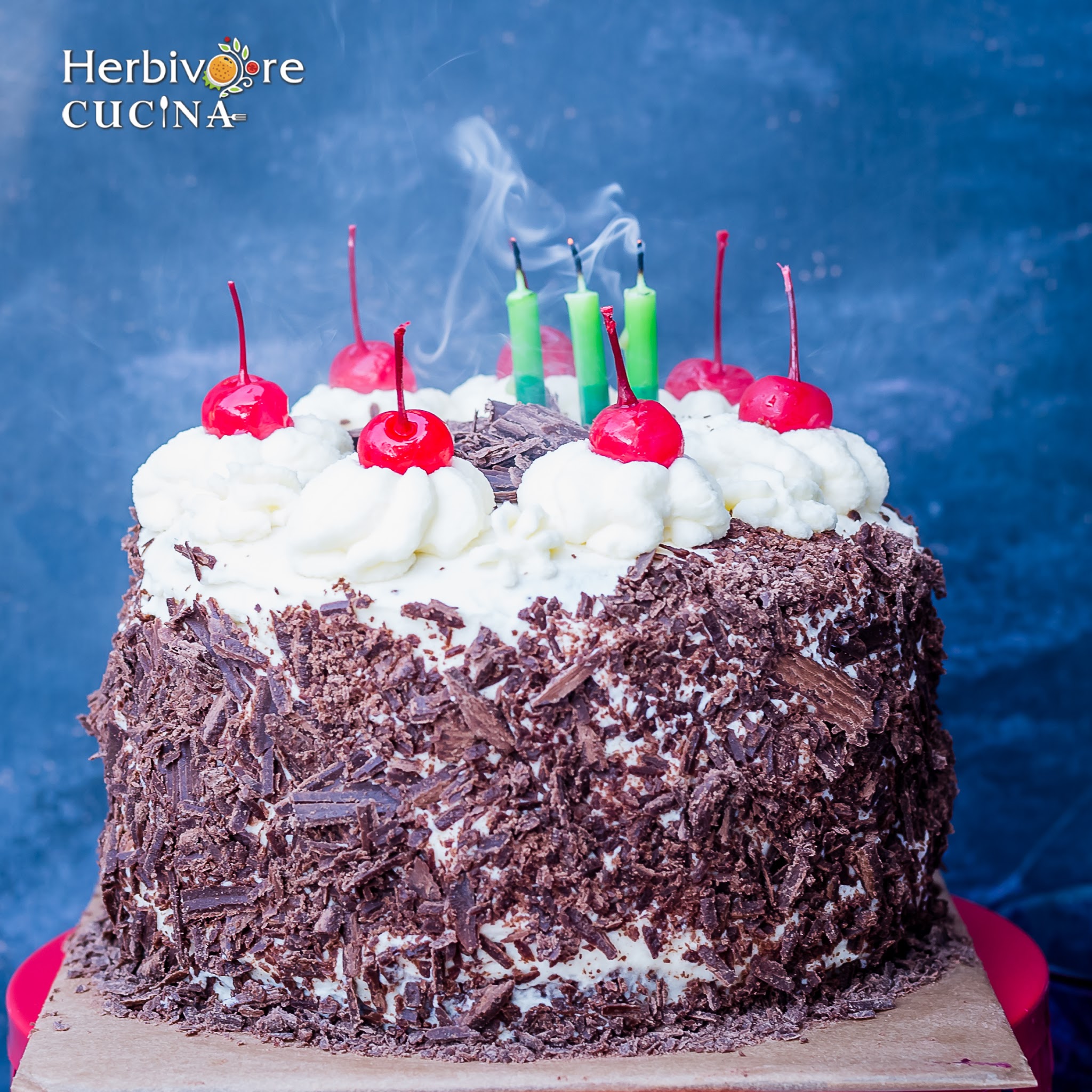 This year I am celebrating the third Blogiversary and decided to make a cake that has been a childhood favorite for most people I know! Whenever I was asked which cake or pastry I want for any occasion, my default answer used to be BLACK FOREST! Thin layers of chocolate cake, whipped cream and cherry filling describes this super delicious cake.
I was never a fan of fondant cakes or of the ganache ones. Now I do like the chocolate ganache cakes, but whipped cream cakes are still my favorite! The melt in the mouth cream with sponge that is super soft; such a treat the combination is!
Variations
When the Blogiversary was around the corner, I was contemplating which cake I should make. After a lot of thought I decided to make this one. Given that many of our friends prefer an eggless version, I made it eggless. The sponge came out PERFECT and all I wanted to do was eat the cake as is!
I made the cherry filling using all the sweet red cherries I had. Adding home-made filling makes the cake EVEN more delicious. If you cannot make it at home for any reason, use the canned cherry filling. I have used it a couple of times when cherries are not in season. It does come out pretty well.
For the whipping cream part, I used just cream. No butter cream and no stabilizer. The result is cloudy soft cream that was perfect with the chocolate cake.
The last part of the cake, the toppings is something that can be made as you like. Use fresh cherries on top or Maraschino, make your own cherry soaking fluid or use it from the bottle of cherries. For the chocolate shavings, I used a peeler to make them off a semi-sweet chocolate block. Use a cookie cutter or mandoline to make them. You can even buy them off the shelf.
Make any changes you like, but you need to make this cake for your next birthday or celebration. Just one bite of the cake brings back a sea of memories!
Ingredients
For the Cake
Eggless Chocolate Cake using this recipe 2 six inches rounds
For the Cherry Filling
Sweet Red Cherries 2 cups
Sugar 1 tbsp
Tapioca Flour/ Cornstarch 1 tsp
Water 2 tsp
For the Cream Layer
Whipping Cream 2 cups
Sugar ¼ cup
Vanilla Extract 1 tsp
For the Topping
Maraschino Cherries a few
Liquid from the Maraschino Cherries can 2 tbsp
Dark/ Milk chocolate 1 slab
Method
Make two six inches round cakes using this recipe. I made the batter using the recipe and divided in two 6 inch pans. I replaced almond extract with vanilla extract and did not add strawberries.
Cool the cakes to room temperature. Slice them midway and set aside.
To make the cherry filling, add pitted cherries to a pan. Heat on medium flame till the cherries are soft. Add rice flour or cornstarch to water. Mix well to dissolve.
Add sugar and flour mixture to the cherries and mix well. Cook till the mixture is thick and the cherries are soft. Do not break them completely. Once done, turn down the heat and set aside.
To make the whipping cream, whip all the ingredients required for whipped cream in a stand mixer. Continue till it has hard peaks. Set aside.
To assemble the cake, place one slice of chocolate cake on a cake board. Add some cherry filling and whipping cream. Also sprinkle some Maraschino Cherries fluid.
Place the next 2 layer and repeat the above process. Finish off all the cherry filling. Place the last cake layer and top with whipped cream. Add the cream to the sides as well.
Using a peeler or mandoline, make chocolate shavings from the chocolate block. Cover the sides of the cake using the chocolate shavings. Also add some on top, leaving a couple of inches to pipe rosettes.
Transfer about ¼ cup cream to a piping bag and pipe flowers or stars on the edges of the cake. Place Maraschino Cherries on them.
Chill till ready to serve. Cut and enjoy!