Handvo is a Gujarati baked dish made from various dals and rice, vegetables, sesame and spices. This savory cake is served either as a meal by itself or as an accompaniment. Generally made in a big baking dish and served as pieces, today we give it a little twist. Pouring the batter into a cupcake moulds, we get single serve pieces, that are just right- Crisp on the outside and soft and savory inside!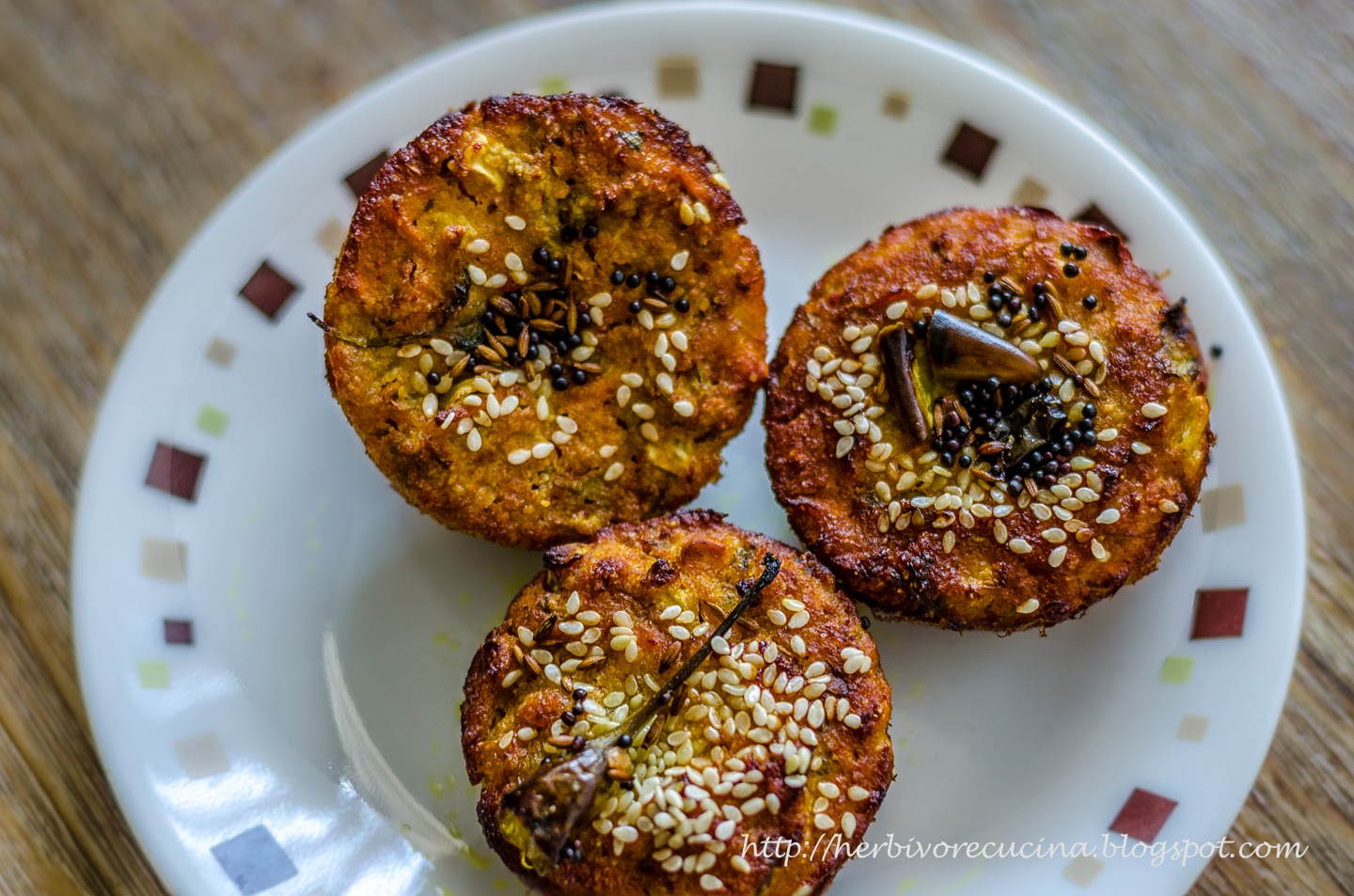 Makes 24 cupcake
Ingredients
2 cup Handvo flour/ dhokla flour
4 tbsp. yoghurt
2 tbsp. Sour cream
1 cup water
2 cups grated vegetables (bottle gourd, onion,carrot, sweet corn, green peas)
3 tbsp. cilantro
4 tbsp. chilli garlic ginger paste
2 tbsp. red chilli powder
1 tbsp. haldi
2 tbsp. fruit salt (eno)
1 tsp. vegetable oil
1 tbsp. salt
½ tbsp. sugar
For tempering
6 tbsp. vegetable oil
1 tsp. cumin seeds
1 tsp. mustard seeds
6 curry leaves
½ tsp. asafoetida
2 tbsp. sesame seeds
4 green chillies chopped into 1 inch pieces
Method
Mix the flour, yoghurt and sour cream in a pan. Add a cup of water or little more if required to soak the mixture. Add salt and let the mixture rest overnight.Add little salt to the grated vegetables and let it stand. After a half hour, squeeze the water out of the vegetables and dispose the water.Take the fermented mixture and add the vegetables, chilli garlic ginger paste, cilantro, oil, chilli powder, haldi and sugar. Mix well.
Prepare the tempering: heat the oil. Add mustard seeds and allow them to pop. Now add asafoetida, cumin seeds, chilli and curry leaves. Once the mixture is boiling, add the sesame seeds and turn the heat down.
Grease the cupcake tray with vegetable oil and keep it ready. Preheat oven to 300 F. Divide the flour mixture in half, and add half the quantity of fruit salt. Mix we'll and pour it equally into the moulds. Fill the moulds upto ⅔rds. ( I used a 12 cupcake mold, if using a 6 cupcake, take ¼th mixture at a time). Add the tempering on each of them.
Bake the handva for 20 minutes or till the crust is golden brown and the handva has shrunk a little from the sides.
Remove the tray from the oven and cool for ten minutes. Then remove the cupcake handva and serve with spicy mint and coriander chutney, sweet imli chutney and tomato ketchup.