A perfect combination of chocolate and strawberries that is colorful, delicious and easy to make. A summer treat that everyone needs to try!
Strawberries are in season and I am making a TON of recipes using them. From milkshake to cake and from ice cream to chocolate dipped berries. We went a couple of weekends ago to pick strawberries. The berries there were super bright colored and looked amazing!
While we had initially decided to bring home only a pound or so, we ended up with FOUR pounds of berries to finish between the two of us! We made glass of milkshake, roasted half a pound of berries and made a couple of smoothie bowls too.
Then I wanted to make a cake that was full of strawberries. I thought I would make a strawberry cream cake. My husband is a fan of chocolate cakes. Thus, I changed my mind and made a chocolate strawberry cake. The sweetness of chocolate and the fruity flavor of strawberry came together really well in the cake. I started to wonder why I had not combined the flavors in a cake earlier.
The cake came out really delicious and we devoured it in two days! We thoroughly enjoyed the chocolate flavor in the cake, with the strawberry pieces studded in there. And with the Nutella based ganache on top, there could not have been a better cake!
Personalize your Strawberry Chocolate Cake
I made an EGGLESS version of the cake. Initially I used to never be convinced with eggless baking. However, I tried a buttermilk version of the cake and I have been in love with this recipe since then. In the past, I have made eggles versions of pineapple cake, chocolate cake and this strawberry cake. However, if you like a cake with eggs, replace the buttermilk part with 1 egg. It should work really well.
Almost all chocolate cakes have Vanilla extract in them. But I was going to try a newer combination. So I added Almond extract in the cake. With all the Nutella on top, the almond flavor worked really well in the cake. If you would rather make a traditionally flavored one, use Vanilla Extract.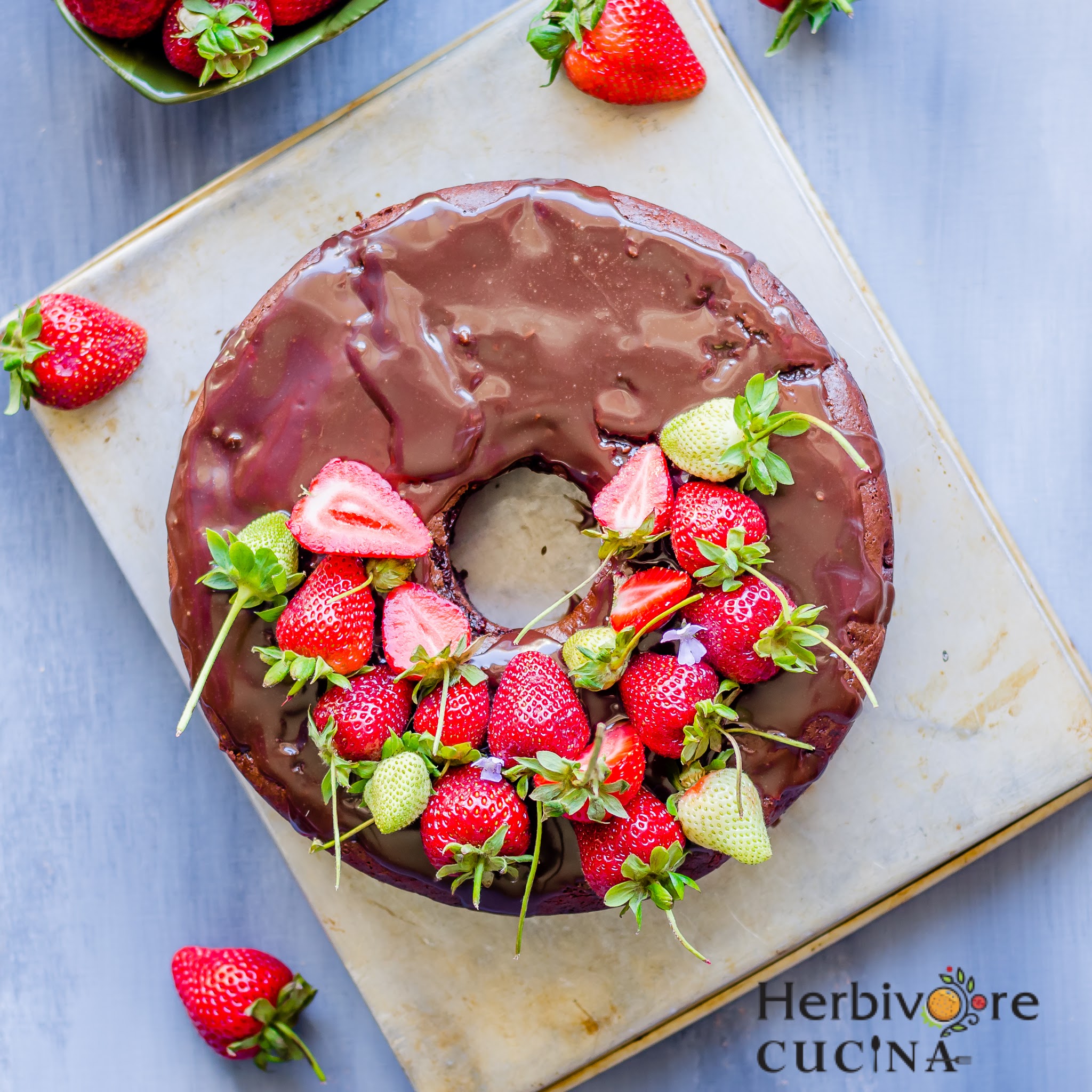 The recipe here uses strawberry. However, the same can be made with blueberries or raspberries too. Better still, you can combine the berries and make a mixed berries version! Do not forget to roll the berry pieces in flour before adding to the batter. Else, the berries will settle to the bottom of the pan.
I baked the cake in a 9 inch Angel food Cake mold. However, the same cake can be made in a 8 inch pan or in two 6 inch pans and stacked. It all depends on how you like your cakes.
Lastly, the ganache I made is from Nutella. If you like a chocolate version, add chopped dark chocolate in a bowl and add cream on it. And decorate the cake with fresh strawberries like this or with chopped berries and chocolate chips.
Ingredients
For the cake
All purpose Flour 1 ½ cup + 2 tbsp
Sugar 1 cup
Cocoa powder ½ cup
Strawberries 1 cup, chopped
Buttermilk 1 cup (Can be substituted by 1 cup milk+1 teaspoon vinegar)
Oil ½ cup
Baking Soda 1 tsp
Almond Extract 1 tsp
Salt a pinch
For the Hazelnut Ganache
Nutella or chocolate hazelnut spread ½ cup
Whipping Cream ¼ cup
Strawberries a handful to decorate
Method
To make the cake
Mix together milk and vinegar and let stand for 5-6 minutes. Preheat oven to 350 F/ 180 C. Line a 9 inch bundt cake or 8 inch round with non-stick spray or parchment paper.
In a bowl sift together flour, sugar, cocoa powder, baking powder and salt.
In the base of the stand mixer or in a big bowl mix together buttermilk, almond extract and oil. Whip till combined. Add in the dry ingredients and mix well.
Roll the strawberries pieces in 2 tablespoon all purpose flour. Add that to the batter and gently fold them in.
Transfer the batter to the prepared mold. Bake for 20-22 minutes, till a toothpick inserted in the centre comes out clean.
Remove and cool on a cooling rack till the cake is completely cool.

To make the Ganache
Add Nutella in a bowl and whip lightly. Heat cream in a pan till it starts to bubble.
Pour over Nutella and mix well. Cool till it thickens a little.
Pour the ganache over the cake and let it settle. Decorate with strawberries and powdered sugar. Enjoy!